Source: People's Network
Editor's Note: The original title is "Quanzhou Realizes Blockchain Electronic Certificate + Entity Certificate Simultaneously Issued"
Yesterday morning, Mr. Qiu came to Quanzhou Administrative Service Center to apply for the qualification certificate for road transport practitioners. He not only obtained the physical license soon, but also received a qualification certificate for the electronic transportation of blockchains in the Quanzhou Government Service App. According to reports, Quanzhou realizes the blockchain electronic certificate + entity license issued simultaneously, which is the first in Fujian and ranks first in the country.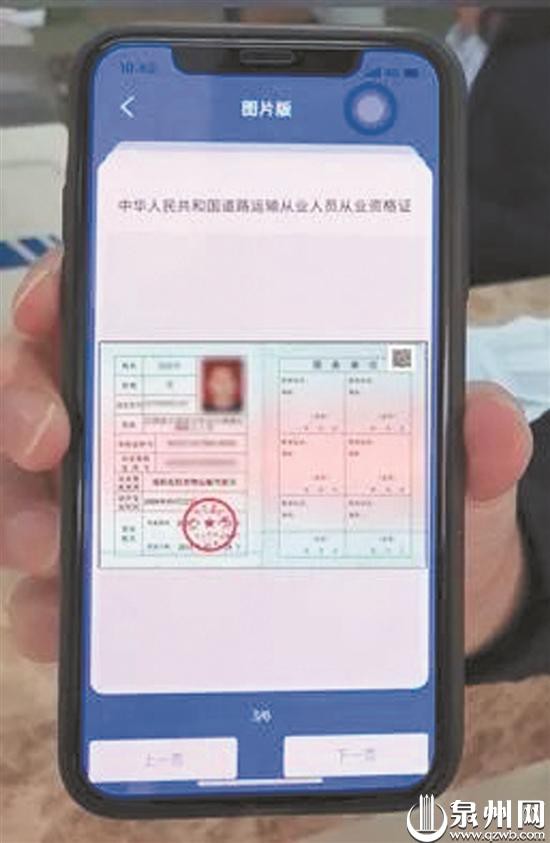 The electronic certificate received by Mr. Qi (Photo courtesy of the department)
The reporter learned from the Administrative Committee of Quanzhou Administrative Service Center that from yesterday, all the licenses for the road transport practitioners, the teacher qualification certificate, the network taxi taxi transport certificate, the doctor qualification certificate, etc. can be realized. The license is issued simultaneously with the blockchain electronic certificate.
In the past, everyone went to the government department with a stack of licenses. Afterwards, the emergence of electronic certificates has enabled different government departments to work. The same type of license can be submitted once and can be used interchangeably among multiple government departments. At the time, the application of electronic licenses was still in its infancy, and issues such as license sharing and security control still need to be improved. Today, blockchain technology perfectly solves these problems.
The decentralization, tamper-proof, traceability and other characteristics of the blockchain have created a trustworthy environment for multi-party authentication for electronic license application, providing the whole process for data security, authorization application and cross-region mutual recognition of the electronic certificate library. The basic technical support makes the management and application behavior of the electronic certificate information life cycle more credible, safe and secure. When the blockchain is combined with the electronic license, the masses can use the licenses for each time, and each license can be used for authorization. Through the consensus mechanism of the blockchain, it is possible to safely record the behavior of the people using the licenses to ensure that all The use of electronic licenses can be traced to prevent misappropriation.
It is understood that the blockchain + electronic license technology, has now covered the Quanzhou electronic license library. In the future, Quanzhou will integrate more online and offline electronic license application scenarios, and realize a mobile phone to replace various physical licenses, so that the public can "go out with a mobile phone and use the license at any time". (Reporter Gong Cuiling)