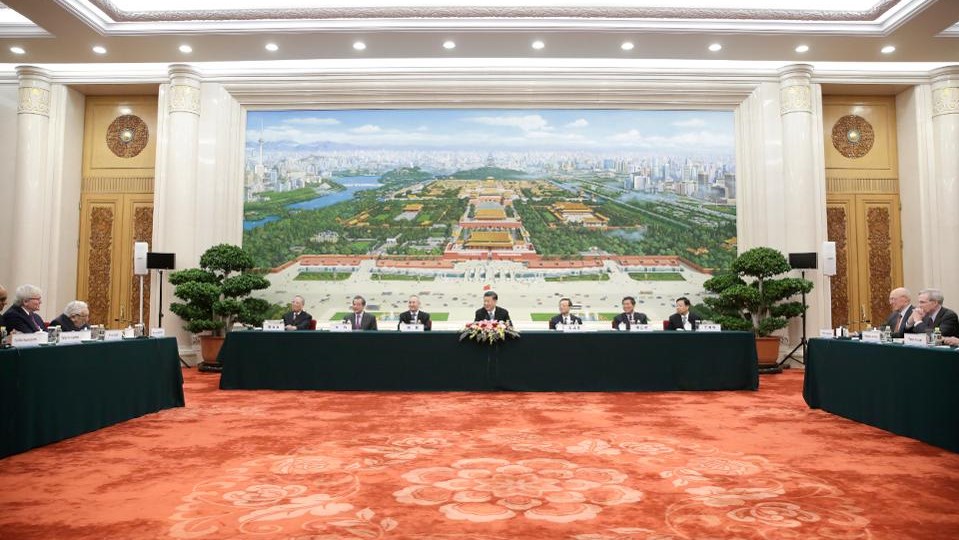 Author | Biser Dimitrov
Last month, Chinese President Xi Jinping delivered a speech encouraging Chinese companies to "seize opportunities" to use and accelerate the development of blockchain technology. In China's view, this is a major event, consolidating several previous public statements on the blockchain. The stock prices of 70 Chinese technology companies rose sharply, the price of Bitcoin ushered in a brief surge, and the number of Internet searches for the term "blockchain" on WeChat increased by 60 times, which surprised the market.
This opportunity has given large domestic companies (such as social media giant WeChat and payment platform Alipay) a green light to innovate freely and put tremendous power in their hands.
Why is this speech so important? There are four main reasons why China's new blockchain policy is meaningful.
Reason 1: Establish a Blockchain Industry Standard
China is strong in technological innovation and has been striving to become a leader. The blockchain we are seeing is the third time that the Chinese government has promoted specific technologies. Previously, 5G and artificial intelligence technologies were promoted, and they were quite effective.
For example, Huawei is one of the largest companies in China, with 76,000 R & D personnel and 26 billion U.S. dollars of revenue in the first quarter of 2019. It is already implementing Europe's largest 5G project.
Now, China is doing the same with blockchain: by announcing that this is a national priority, it will allow each first- and second-tier city to implement its own blockchain and digital asset policies and implement blockchain standards (translation (Note: The latest crackdown on cryptocurrency exchanges in Shanghai and Shenzhen is a good example) .
Reason 2: Gain an advantage in the trade war with the United States
As we all know, no progress has been made in the trade war negotiations between China and the United States. After imposing tariffs on exports and agriculture, the battlefield of the trade war has now turned to technology. After losing the United States as its largest trading partner, China is looking for new export locations in Europe, the Middle East and Africa, mainly around the "Silk Road Economic Belt". "Having the advantages of more advanced blockchain technology will provide huge trade opportunities for China and emerging technology markets.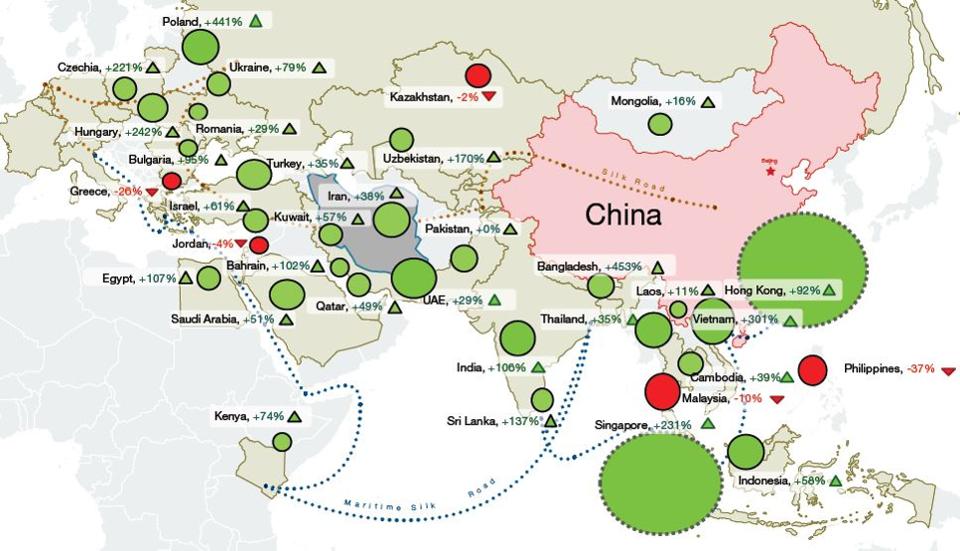 Silk Road Economic Belt
Reason 3: Digital RMB can become a global currency
China is fully investing in the field of digital assets. As part of this, the People 's Bank of China is conducting research on digital currency electronic payment instruments (DC / EP). This type of central bank digital currency requires users to provide private information when registering, but still provides "controllable anonymity" Sex. "
This is an initiative aimed at developing the central bank's digital currency, issued by the People's Bank of China (PBoC), backed by fiat currency reserves, and providing some transaction anonymity and extensive cryptographic services. The central bank's goal is to promote this new digital yuan into a global currency . The current reality is that the renminbi is not liquid in the international foreign exchange market in its current form.
For example, according to official foreign currency reserve currency composition (COFER) data released by the International Monetary Fund (IMF), in 2018, in the global foreign exchange reserve, the US dollar accounted for 61.74% of the US dollar, the euro accounted for 20.67%, and the RMB accounted for only 1.89% There is definitely room for growth in RMB.
With this new digital yuan, China will be able to provide cross-border payments at a lower cost and faster speed . In addition, the use of smart contract automation features will provide easier liquidity management and transaction efficiency, and eventually establish digital RMB as an upgraded version of the current M0 (physical RMB) supply.
Reason 4: Want to create a Chinese version of Libra
When Facebook announced the launch of the Libra project and stated that Libra currency would be linked to and supported by a basket of currencies (excluding RMB), the Chinese government decided to respond. Unlike the Libra Association, which is established in Switzerland, the digital RMB plan has a clear starting path, which is a top-down support policy; Libra must meet the requirements of many national regulators (this May lead to abortion of the Libra project).
Everything Libra wants to achieve seems to be easy to implement in China. China has payment channels such as UnionPay and Alipay, plus the super app WeChat has 1 billion active users per month, and these applications are already in the form of digital banks. Operations.
After Xi Jinping issued a statement, a series of blockchain-related plans and investment-related news were made public; for example, Shenzhen-based Handan Financial Holdings Limited (HDFH) disclosed a $ 1 billion investment fund with the goal of investing globally Digital banking and mature fintech infrastructure platforms within range. The fund was co-founded by HDFH, Zhongguancun Private Equity Venture Capital Association (ZVCA) and Yealink Bank.
All of this is good news for companies focused on enterprise blockchain technology, as it will greatly advance the development of enterprise blockchain technology and will be used on a large scale in the real world.
Surprisingly, these new advances will come from China, not from the common blockchain origins like New York or San Francisco. Finally, these enterprise blockchain technologies will not be open source and accessible to the world as we are used to (note: what the author wants to express is that these blockchain technologies are not based on public blockchains such as Bitcoin or Ethereum, but rather Private chain with access rights) .
Original link:
https://www.forbes.com/sites/biserdimitrov/2019/11/25/why-china-blockchain-plan-is-winning-and-the-us-should-pay-attention/#47bf69b95e7e
[The copyright of the article belongs to the original author, and its content and opinions do not represent the position of Unitimes, nor does it constitute any investment opinions or suggestions. Posting articles is only for disseminating more valuable information. For cooperation or authorized contact, please send an email to contact@unitimes.io or add WeChat unitimes2018]