The same is true of Argentina.
According to the weekly BTC weekly report released by the Odaily Planet Daily, the Brazilian currency BRL has been increasing in the French currency against bitcoin transactions in the past three weeks. Current data shows that it accounts for 14.38% of Bitcoin transactions in French currency. According to Cointrademonitor, which analyzes domestic Bitcoin transactions in Brazil, bitcoin transactions have risen in the past 24 hours. The current transaction is more than 220,000 bitcoins, worth about $120 million.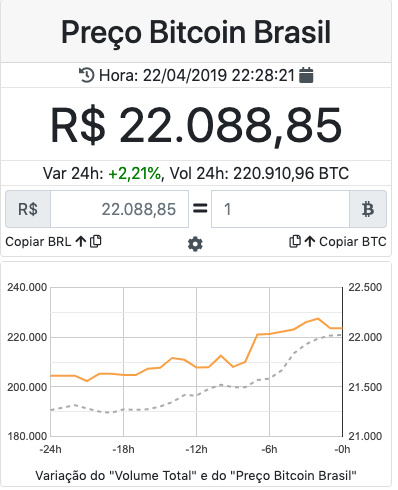 Local media Crypto Facil reported that since the beginning of April, with the unexpected rise in bitcoin prices, the cryptocurrency boom in the Brazilian market has stimulated the development of cryptocurrency-related businesses, and the transaction volume has increased by more than 500%. The current high transaction volume in Brazil has hit A new record for bitcoin transactions in Latin America.
In addition to the trading enthusiasm brought about by the increase in bitcoin prices, the rising inflation rate in Brazil is also an important reason.
According to a report released by the Brazilian Institute of Statistics and Geography (IBGE), the inflation rate in Brazil reached 0.75% in March, the highest month since 2015. The cumulative inflation rate in the past 12 months reached 4.58%, exceeding the central bank's target of 4.25%.
Many people have suggested that economic problems have led to a sharp increase in bitcoin trading volume. The Rio Times reported: "The economic downturn may be the reason for the rise of Brazilian cryptocurrencies."
Argentina, which also increased the trade of secret currencies because of inflation. According to Bloomberg, Argentina's March data showed that the inflation rate in the past 12 months rose to nearly 55%.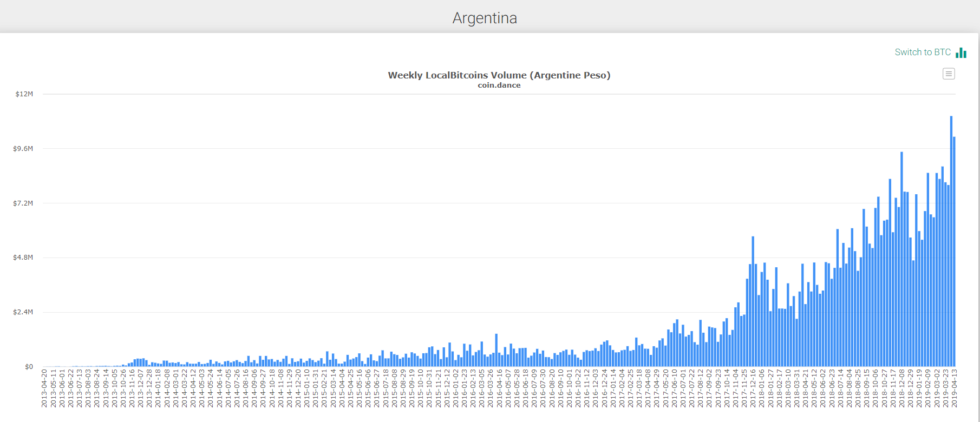 Argentine bitcoin trading volume continues to rise
On the other hand, the Brazilian government seems to be actively embracing the blockchain.
Earlier, the Brazilian Ministry of Justice and Public Security recently revealed in an interview that the agency is studying bitcoin to better understand how bitcoin is used for crime. The Brazilian Ministry of Finance announced that it has partnered with Blockchain Academy to provide training for government officials on cryptocurrency and blockchain.
In February of this year, Brazil's new president Jair Bolsonaro nominated Roberto Campos Neto, a strong supporter of blockchain technology, as the central bank governor. In his application to the Senate, Campos said he intends to use the blockchain technology in the central bank. He also mentioned that he has conducted in-depth research on blockchain technology and digital assets, using blockchains to prepare for future markets.
Author: gourmets
Source: Planet Daily