In October 2018, the Hainan Provincial Department of Industry and Information Technology officially awarded the Hainan Ecological Software Park and established the Hainan Free Trade Zone (Hong Kong) Blockchain Pilot Zone. The "Chain Shanghai South" was officially launched. Hainan Province has become China 's development of the blockchain industry. The largest window.
On December 1 this year, the construction of Hainan International Offshore Innovation and Pioneering Demonstration Zone and the Blockchain · Digital Asset Trading Technology Innovation High-end Forum was held in Sanya, Hainan. At the meeting, "digital asset trading" became a hot topic among leaders and experts. The fall of the STO of the altar may usher in the biggest turning point.
STO welcomes favorable policies
In terms of establishing a digital asset trading demonstration zone, Wang Lu, deputy governor of Hainan Province, said in a speech, "We do n't know exactly what to do next in terms of blockchain and digital asset trading, but there is a wish that Hainan will become The center of the Offshore Innovation and Entrepreneurship Demonstration Zone also hopes that Hainan will become the center of national blockchain research and application demonstration, and also hopes that we will become the national digital asset trading demonstration zone. "Chen Yang, the director of the local financial supervision bureau of Hainan Province, mentioned in particular that Hainan A "regulatory sandbox" model will be introduced.
The specific principle of the "regulatory sandbox" is that the regulatory requirements have been relaxed. Fintech companies do not need to worry about being immediately subject to regulatory rules when they encounter problems when testing their innovative products. At the same time, they also solve the problem that the regulatory system cannot keep up with the development of fintech. Question of pace.
Although China is currently at the forefront of the world in the use of blockchain technology, it is still cautious in digital asset transactions, and "no currency" has become the current general status quo. Today, this deadlock may be broken first in Hainan. The friendly attitude of local governments is always the best support for the development of the blockchain industry.
China Asset Securitization Forum Chairman Meng Xiaosu pointed out at the forum that blockchain and asset tokenization will become a disruptive technology for real estate asset trading, and called for the establishment of a Hainan REITs exchange in Hainan.
Meng Xiaosu further pointed out that in theory, all assets that can be asset securitized can be made asset tokenized. It is internationally known as "STO". There are already existing regulations in the United States. It embraces regulation and is determined by its nature. In terms of investment management, it is more suitable for the development of REITs. The asset securitization to be promoted in the past is through fiat currency, and in the future it may be through digital tokens, including bitcoin.
The positive information released in these speeches may indicate that Hainan may first implement STO, that is, the issuance of securities tokens, and use this as an important breakthrough in the field of digital asset trading.
STO and current status
STO is a new concept born in 2018 and originated from 1CO (Initial Coin Offering) in 2017. 1CO detonated the cryptocurrency market in 2017.Although it has made a lot of money, mixed projects have also caused some investors to suffer heavy losses. This lack of regulatory financing was eventually stopped by the government. Since then, a new financing method known as embracing supervision has debuted, namely STO.
STO is the abbreviation of Security Token Offer, that is, the issuance of securitization tokens. Its goal is to conduct the public issuance of tokens within a legal and regulatory regulatory framework. STO can be said to have inherited the characteristics of 1CO's low threshold financing and also accommodated the regulated nature of IPO (Initial Public Offering). When 1CO almost came to an end, people put their hopes on this new financing method.
Although industry insiders feel good about this financing method, in our country, STO is still regarded as an illegal financial activity.
In December 2018, Huo Xuewen, director of the Beijing Municipal Bureau of Local Financial Supervision and Administration, publicly stated that doing STO in Beijing would be regarded as illegal financial activities to drive him away. After that, STO did not finally reach the stage in the domestic market.
Unlike domestic policy, the United States accepted the STO in a cautious and tolerant manner. The U.S. Securities and Exchange Commission classifies both Bitcoin and Ethereum-exclusive tokens as securities, and includes all securities-type tokens under supervision. Enterprises issuing securities must abide by the securities legal system, regardless of changes in the way securities are issued.
Countries such as the European Union, Canada, and Japan have also adopted an inclusive attitude towards STO. The Lithuanian Central Bank has even become the first market regulator to issue STO guidelines in the world.
Although STO has various advantages, it has also been recognized by many countries. After the hype, it has not reached the height expected by people and has always been in a tepid state.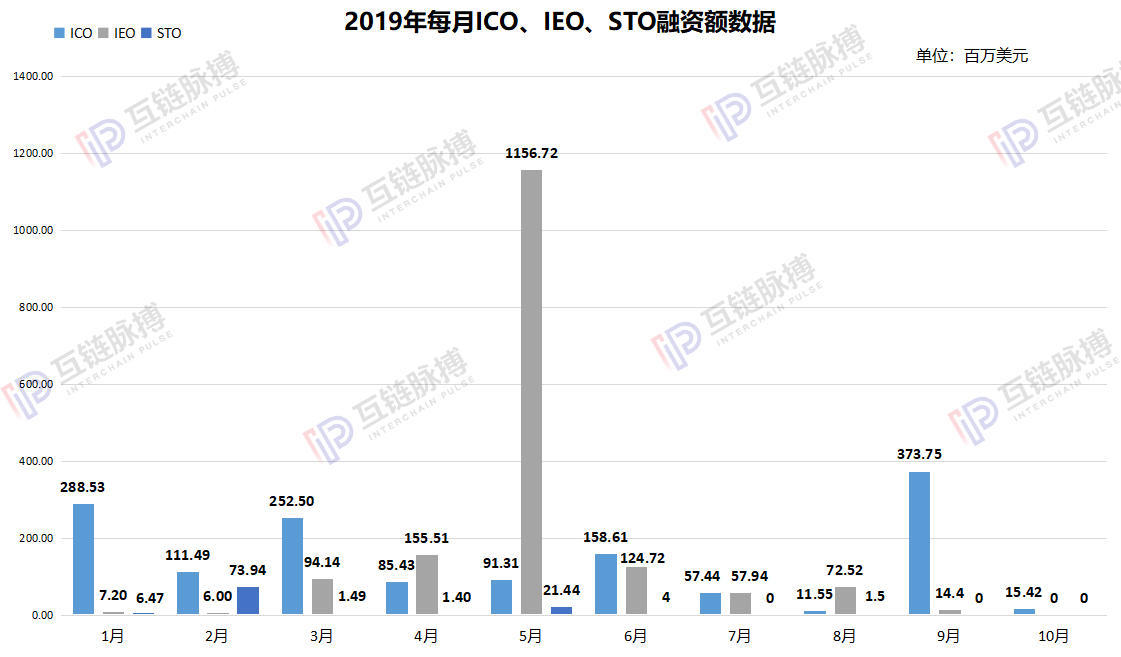 According to the recently released data from Interchain Pulse, from January to October 2019, of the three new financing methods in the blockchain industry, STO has all the advantages, and even in July, September and October, financing appeared. In the case of a zero amount, STO was initially enthusiastically promoted to the top and has now fallen to the altar.
STO placed in the regulatory sandbox or revived
China Asset Securitization Forum Chairman Meng Xiaosu Meng Xiaosu pointed out at the forum that blockchain and asset tokenization will become a disruptive technology for real estate asset transactions. This has been achieved successively in other regions.
For example, Fundament Group, Germany's first real estate digital bond STO token project, has been approved by the German financial regulator BaFIN, and will provide 250 million euros (280 million US dollars) in token issuance, which is open to any retail investor. There is no minimum investment limit. There are 5 independent real estate construction projects behind its tokens.
The project will eliminate the threshold of 100,000 euros, and anyone in the world can invest in any amount; and using ERC-20 tokens running on the Ethereum blockchain, self-issuing to reduce costs, thereby increasing investors s return.
The tokenization and tokenization of traditional real estate assets has surpassed the traditional asset securitization in many aspects.
STO will provide lower issuance costs, more transparent information disclosure built on the blockchain, efficient smart contract revenue distribution and greatly increase the liquidity of assets.
Burkhard Balz, a German politician and a member of the board of directors of the Bundesbank (German Bundesbank), also believes that asset tokenization is the biggest potential of blockchain technology.
He said that for securities settlement or providing collateral, blockchain technology can also provide greater savings potential. The reduction in the number of intermediaries, access to public databases by all parties, and automated processing of corporate actions can significantly reduce processing time.
In short, for China, there needs to be a window for STO. Under the current ban environment, related policies in Hainan Province may have become the best opportunity. In the supervision sandbox, trial and error is bold. The achievements of STO are by no means comparable to 1CO and IEO, and the prospects must be brighter.
However, it cannot be blindly optimistic. The STO that is finally implemented is not only an upgraded version of 1CO or IEO, it must have a more complete set of rules.
Conditions such as investment entry thresholds, circulation venues, supervision, and token transfer agreements are all restricting the current STO development. This has also led to poor results, but we still need to try and improve.
1CO detonated the Bitcoin bull market in 2017, IEO also brought a wave of Bitcoin bull market in 2019, and the next Bitcoin bull market may be detonated by STO.