Ivan Komar, 21, is the founder of a startup called "Sponsy". After the failure of ICO in 2018, he was trying to sell his project on eBay for $60,000.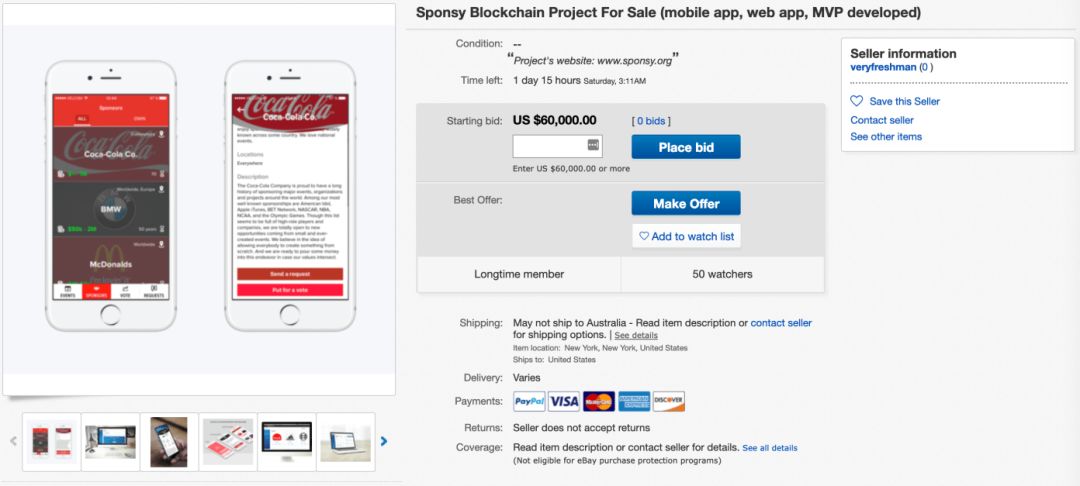 I saw the opportunity but couldn't get the money.
At the end of 2017, an opportunity, Komar launched his project.
Three years ago, 19-year-old Komar was planning a hackathon for software developers. When he tried to raise sponsorship funds for this offline event, he encountered some difficulties. He said: "I need to directly contact every sponsor. And talking to them one by one, it took me a lot of time and energy. But in fact, only a small percentage of all the sponsors I have contacted are willing to sponsor our activities."
Therefore, Komar decided to create a decentralized sponsorship platform, hoping to make event sponsorship more efficient, convenient and transparent.
" We are working hard to develop technology. We also hope to speed up software development by raising some funds. However, we have not raised a penny. "
Although Komar claims to be a "blockchain project", the core components of the project are actually centralized. "There is a centralized server in the project, but there are some components that run on the blockchain. We also wrote some smart contracts based on Ethereum technology."
Komar also said he missed the 2017 ICO boom. Nowadays, no one is interested in the tokens issued by his project . The reason for this is that the lawyer suggested that he develop an actual product before the ICO .
"At that time, I should not try to develop a product first, but to quickly join the 2017 boom, and raise as much funds as possible to support the normal development of the project, which was what most people were doing at the time. But he is a good lawyer, I have to listen to his advice, at least he will not send any of the parties to jail."
Although the lawyer's legal advice was accepted in 2017, Komar also carried out the so-called "fundraising activities" in 2018 due to funding problems , but the bubble was broken and the smart people began to become rational.
According to Komar, the fundraising began on January 28 and ended on April 7, and sold its issued token at a price of $0.085 per piece.
"Only one person spent $10 to buy some tokens, so this is not an ICO. "
Komar added that almost no one would buy our tokens, and no media would be happy to help. "We tried to contact some media to promote our project, but none of them were interested because many ICO projects have failed before."
Non-existent sponsors and unattended events
Although the disappearance of the ICO bubble can be a major cause of financing difficulties, Komar's project does have many problems.
You can find this product in the App store, but it doesn't seem to be fully developed yet.
Although there are only three sponsors, two of them are Adidas and Coca-Cola. Interestingly, we may be deceived by these logos.
When asked if he had signed a cooperation document with commercial giants such as Adidas and Coca-Cola, Komar gave a negative answer: "No, we have not signed any legal agreements with these companies. In fact, what you see on the App These sponsors are just some of the logos added during the test. The Adidas you see is not really Adidas."

In addition, Komar also said that they participated in various blockchain meetings, but in fact, the truth is not the case.
Komar claims that they participated in BlockShow in the San Francisco blockchain week, but their attendee database shows that there is no record of participation in Komar or Sponsy, and there is no association when searching for "Sponsy" on Google and the meetings listed on its website. Sexual news.
There are countless examples of this.
Komar also said in an interview that Sponsy held roadshows in São Paulo, Singapore and Hong Kong, where they enjoyed the treatment of top investors , but the result was "randomly selected people who have nothing to do with investment." " .
In addition, Komar claims that Sponsy has a large community of members, with over 10,000 likes on official Facebook and 8,000 subscribers on Twitter.

From a numerical point of view, Komar does not lie.
However, since the public fundraising in December last year, its Twitter page has only been updated twice a month, with an average of only 10 people alike. Sponsy also has similar accounts on other social media, and some posts are randomly commented by robot users, most of which describe how profitable the Sponsy project looks .
But Komar countered that these are completely real people.
" These people come from a project called the Bounty Program. This kind of hiring comment is very common among blockchain startups. Their goal is to promote their projects through cheap, high-quality reviews, likes, and forwarding.
But the English level of "the people who pay for it" is really bad , mainly because they come from Indonesia, the Philippines and other poor Asian countries. All they can do is paste, copy and write similar comments. significance. "
At the time, Komar gave these people a lot of SPONS tokens as a reward, but now it seems that they have not had the opportunity to convert them into cash because Komar did not sell enough tokens and failed to bring them to any exchange.
The reason for this is also to get more attention! But practice has proved that it is the best means of publicity to hang the project on eBay.
I hope I can sell for $60,000.
Today, Komar has to sell the Sponsy project on eBay.
Komar also revealed that lawyers who had suggested that he first develop the product and then raise funds said that if the STO was to be started, some other funds and documents would be needed, so Komar gave up.
But he still believes that someone will be interested in it , so Sponsy will be sold on eBay.
In this regard, Andrew Hinkes, a professor at New York University School of Law, said that all projects involving fundraising, advertising, and blockchain involve complex regulatory issues. "If the seller induces consumer purchases by providing false information, the seller will be subject to severe civil and criminal penalties. Investors should conduct detailed due diligence on the project before investing in a project."
"Prices can also be negotiated."
Ironically, Komar did get the attention of the outside world in this way.
"When I searched Google for other blockchain startups that were on sale on eBay, I realized that this might attract worldwide attention."
Since the Financial Times published a report on Sponsy, 47 people on eBay have focused on Sponsy . Even more unexpected is that Komar has already reached seven people . Although no one is willing to pay the full price, it is clear that someone is willing to bid $50,000 for the startup. "But I hope to be able to negotiate a price close to $60,000. " .
When asked how much he spent on the project, he paused for a while and then said:
"I guess it is worth at least $50,000."
Komar added, "I won't believe in ICO anymore, and no one else believes that the market has been corrupted by evildoers. "
In this regard, Andrew Hinkes, a professor at New York University School of Law, said that although the sale of a startup through eBay seems quite strange, it can be legal. Generally, a person can sell their property, including the businesses they may have. "
However, Hinkes added that such transactions are complex and require the involvement of a lawyer , but if there are no other legal documents signed by buyers and sellers, the deal is unlikely to be affected on eBay.
Today, Komar does sell Sponsy for $60,000.

Although blockchain startups tend to avoid traditional financing, in the final analysis, investors are looking for a sustainable business model and product market fit. At the same time, technology is good and ideas are new. The best weapon. In fact, the ICO boom has receded and all the "real" projects have survived, aren't they?
Author | George
Produced | Blockchain Base Camp (blockchain_camp)