Editor's note: Original title was "Ethereum 2019"
Foreword: 2019 is clearly the winter of crypto. Nevertheless, the project is still under construction and things continue. Among them, the Ethereum ecology has made great progress. The most noticeable is DeFi, and in addition, its network, DApp, and developer ecosystem have also made continuous progress. In any case, 2020 is even more worth looking forward to. Of course, not only Ethereum, other networks including Bitcoin, Cosmos, Polkadot, Solana, Harmony, Nervos, EOS and other public chains are continuously under construction. The author of this article is ConsenSys, translated by "CoQi" of the "Blue Fox Notes" community.
Year after year, the Ethereum ecosystem continues to expand, bringing new innovations and blockchain growth this year.
Through network upgrades and increasing developer influence, the Ethereum network has achieved improvements.
DeFi brings hundreds of millions of dollars into the Ethereum ecosystem.
This year, more than 520 new decentralized applications were born.
Let us take a moment to analyze the performance of Ethereum in the past year, and we are optimistic about the future development.
Network
Ethereum new accounts this year: 20,000,000+
Ethereum's new active address in 2019: 4,00,000
Ether block rewards Ether release this year: 4,728,152+
Increase in average gas limit: about 2,000,000 (less than 10,000,000 gas from 8,000,000 gas)
Ethereum active nodes: 8,516 (Blue Fox Note: From the perspective of country distribution, the United States exceeds 20%, China exceeds 15%, and then Germany approaches 10%; from the client perspective, more than 75% are geth, parity- ethereum is over 23%;)
2.DApp
New DApps in 2019: 520
Bringing crypto technology to mobile phones in 2019: MetaMask Mobile, Argent, Coinbase Wallet, etc. have all released mobile wallets in the past year
ENS (Blue Fox Note: Ethereum Domain Name Service) owners purchase an average of 1-2 domain names, and some "whales" own hundreds of domain names. And (although the data point is no longer accurate), there were more than 600,000 ENS domain auctions at some point in time
The longest ENS domain name is:
Forwhatshallitprofitamanifhegainthewholeworldandsufferthelossofhissoul.eth
(Blue Fox Note: This Ethereum's longest domain name means, "If a person wins the entire world but loses his soul, what good is it for him?" The philosophical longest Ethereum domain name, this may be this domain The most poetic expression of the owner)
NFT's trading market: OpenSea, which has sold more than $ 7,000,000 in auctions over the past two years, of which the total in October reached $ 1.7 million.
One of the most popular DApps on Ethereum: Gods Unchained, 6,714,445 items have been created (Blue Fox Note: currently has 6,721,354)
DAO: Born of Moloch, MetaCartel, Ethereum Marketing, and at least 25 other DAOs
3.DeFi
The Dai stablecoin runs through the 2019 DeFi story, and it supports a variety of new applications.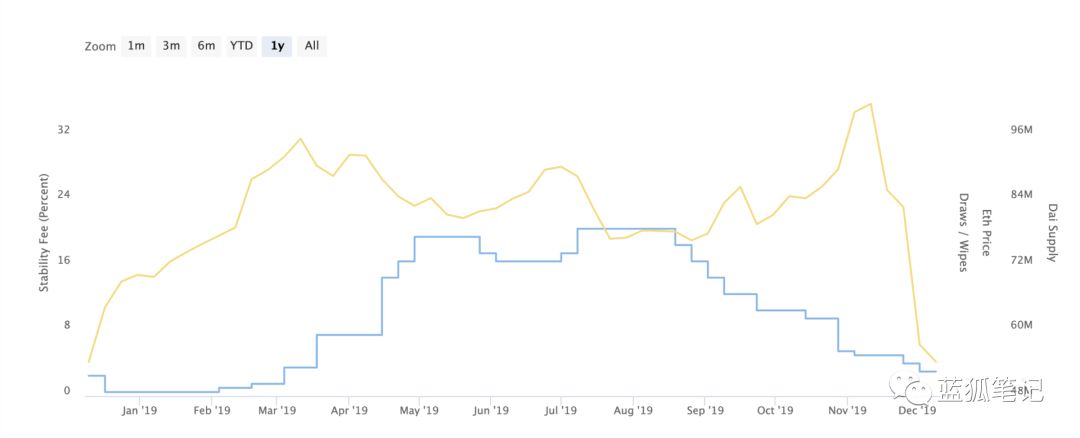 (Stability fee and Dai supply, by Mkrtools)
55,000,000 Dai. During 2019, Dai eventually reached the 100 million Dai limit imposed by Maker Governance, which required a vote to increase its supply. The sharp drop at the end of the year merely indicates the migration from Sai (the original single-collateral Dai) to the new Dai (multi-collateral Dai).
Maker stabilization fee: The blue line in the figure above shows that the stabilization fee went from 2.5% at the beginning of the year to peaking at 20.5% in August, and finally recovered to a more modest 3%. Accumulated annual stability fees total 1,640,555 Dai. (Blue Fox Note: Synthetix's annual cumulative cost exceeds $ 3,431,438 +)
Changes in CDP: A visualization of the CDP over the past year shows changes in Maker CDP (now called Vault) in size, age, and mortgage rate.
Thousands of Maker Vaults can be seen this year. The chart below shows that some Vaults have mortgaged a considerable amount of mortgage assets at a relatively low mortgage rate (less than 150% of the Maker Vault will cause them to be liquidated)
(History of CDP, byMkrtools)
DeFi Locked Assets: Over the past year, the amount of assets locked on DeFi has increased dramatically, recently exceeding $ 650 million. Ether has become the preferred mortgage asset for DeFi platforms and applications.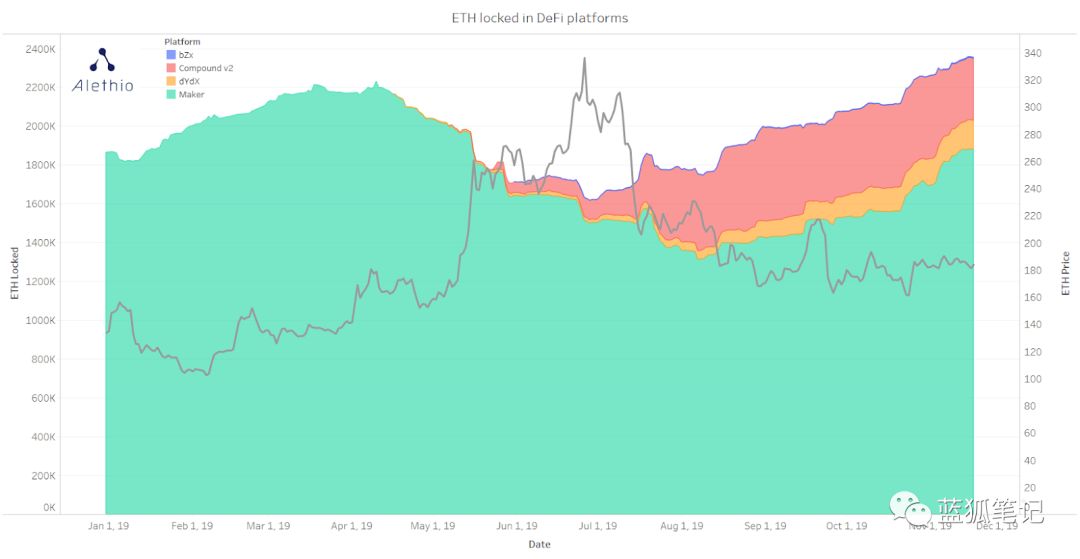 (Ether locked in DeFi, by Alethio)
On January 1, 2019, Uniswap only had 31 users, and its daily transaction volume was only over 30 ETH. After nearly a year, its daily transaction volume has reached thousands of ETH. Synthetix is ​​a synthetic asset platform built on Ethereum, achieving unprecedented growth in 2019, and its total value locked up increased from 1.6 million US dollars to 160 million US dollars.
4. Developer
Truffle downloads: Truffle has over 25,000+ new downloads per month in 2019. (Blue Fox Note: Truffle is an Ethereum smart contract development framework)
Hackathons: There are 8 Hackathons in 2019. Among them, Virtual Hackathons, which Gitcoin supports in 2019, issued more than $ 200,000. In November 2019 alone, Gitcoin facilitated a $ 302,000 value transfer through its platform, whose platform has transferred more than $ 2,800,000 in total value to date. Gitcoin Quests has been participated by more than 700 community members over 12,157 times.
1 Million Developer Program: ConsenSys has launched a program to bring 1 million developers into the Ethereum ecosystem. More efforts have been made this year to analyze the developer community. In mid-2019, Electric Capital released a report showing that the developer community of Ethereum is 4 times more than any other crypto ecosystem. With the rise of fields such as DeFi and DAO, the Ethereum developer community is still expanding.
Thinking material
December: Crypto Winter
2019: Year of DeFi
1TB: Ethereum blockchain exceeds 1terabyte
5: This number is the number of Twitter employees trying to build a decentralized infrastructure
Risk warning: All articles of Blue Fox Note can not be used as investment advice or recommendations. Investment is risky. Investment should consider personal risk tolerance. It is recommended to conduct in-depth inspection of the project and make good investment decisions.