Compilation: Barley
Source: Satoshi Shinmoto
Blockchain Capital, a blockchain investment fund, released the " State of Crypto 2019 " report, which reviewed the entire 2019 and looks forward to the future.
Bitcoin is an unrelated asset
Facing increasing global instability and negative yields, wealth owners need an alternative means of value storage.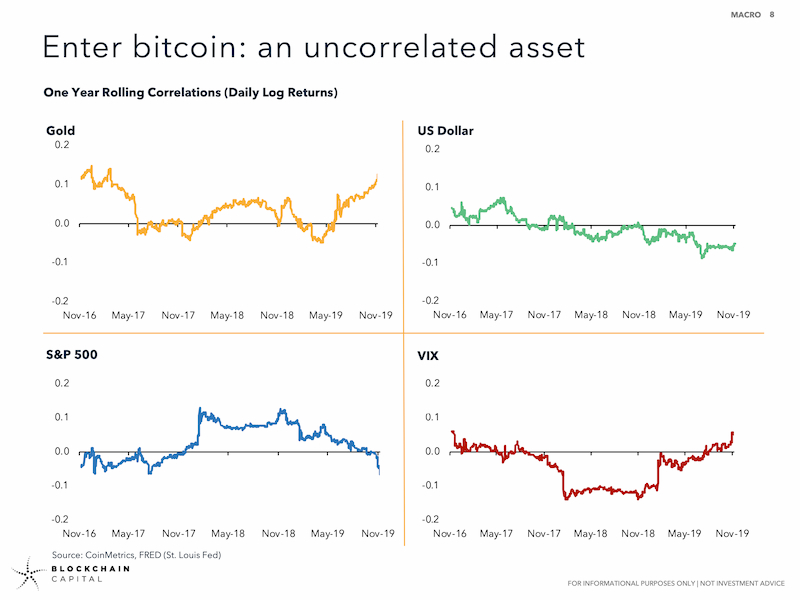 Note by Satoshi Masamoto: The picture above shows the performance of mainstream global assets over a period of one year, reflecting the degree of correlation between various assets: Gold (Gold), US Dollar (US Dollar), S & P 500 (S & P 500 Index) ), VIX (Chicago Options Exchange Market Volatility).
Crypto markets are recovering, but that's thanks to Bitcoin
The crypto asset market has recovered in 2019, with a market value increase of approximately $ 73 billion, but this is mainly due to Bitcoin, which saw a 98% increase in the price of Bitcoin.
Market attention returns to mainstream assets, small and medium assets are declining
In 2018, the total market value of the Top 10 assets accounted for 70% of the entire crypto market, and one year later, this number became 76%, indicating that market attention is returning to mainstream assets.
The market trend of small and medium-sized market capitalization assets is falling. The left side of the above chart compares the trends of Bitwise 10 (mainstream assets), Bitwise 20 (medium market capitalization assets), and Bitwise 70 (small market capitalization assets). , Which performed strongly in the first and third quarters, but is in recession in the fourth quarter.
The stablecoin market is growing, but Tether still dominates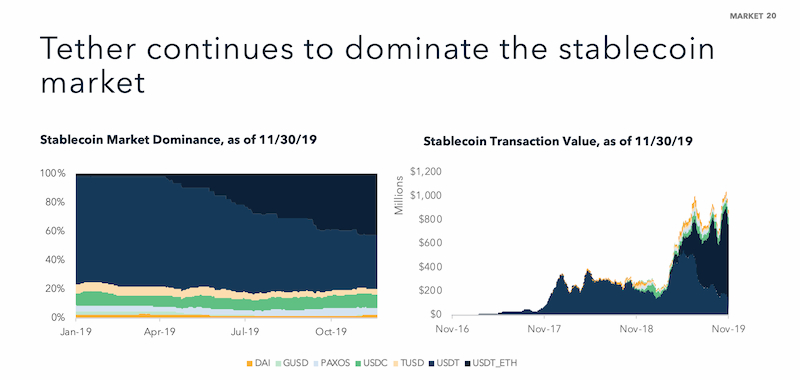 The total market value of the stablecoin market has increased from US $ 3.3 billion to US $ 4.7 billion in 2019, an increase of about 42%. Despite continuous investigation of Tether, it still dominates the stablecoin market with a market share of more than 80%.
At the same time, most newly issued Tethers were transferred from Bitcoin (USDT_Omni) to Ethereum (USDT_ETH), which exacerbated the blockage of the Ethereum blockchain.
At the same time, the market value of USDC has also increased by 76% and Paxos has increased by 50%.
The rise and decline of platform coins, IEO is unsustainable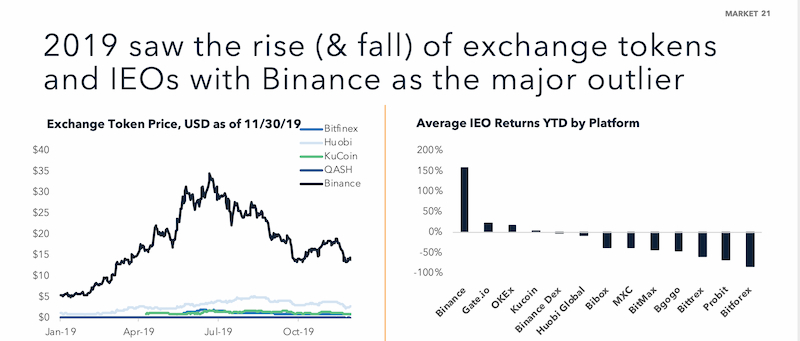 Platform currency and IEO are hot in 2019, but they are dying after the rise, and the IEO model is not sustainable. BNB trend is stronger than other platform assets.
Ethereum killer has not appeared yet, but competitors still follow
For example, mainstream projects such as Cosmos, Algorand, and Hedera Hashgraph have been launched, but Ethereum has not been killed yet. At least 15 other projects are about to start soon.
Cryptofinance infrastructure is slowly maturing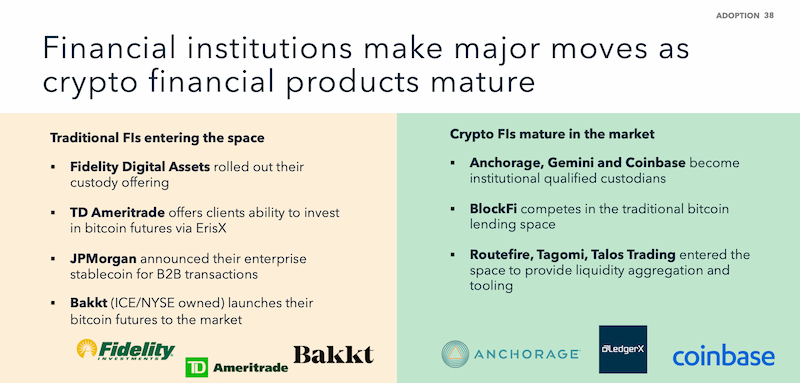 Crypto financial products are slowly maturing. Fidelity Digital Assets has launched a custody service. Customers of TD Ameritrade can trade Bitcoin futures through ErisX. JP Morgan Chase announced its corporate stablecoin for B2B trading …
Social giants are launching their own blockchain and tokens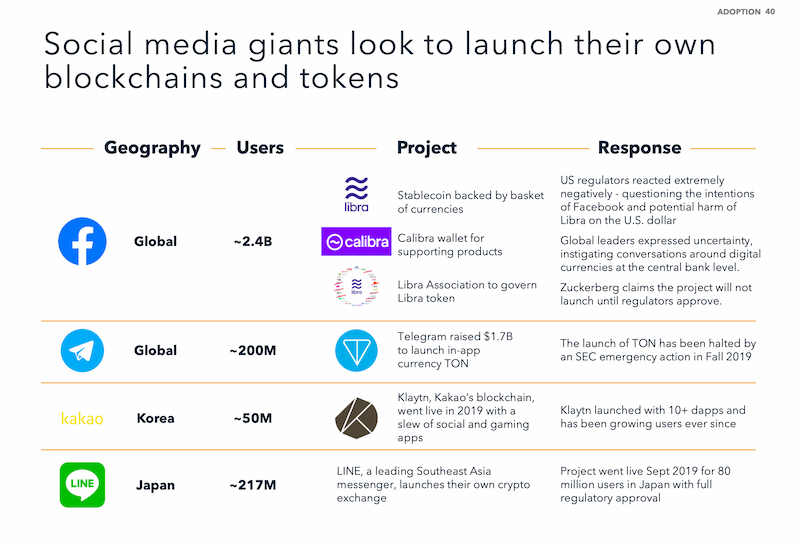 Social giants Facebook, Telegram, Kakao, Line, etc. are launching their own blockchain and tokens.
Facebook surprised everyone with Libra by asking questions about "the dominance of large technologies" and "the potential impact of Libra on the dollar" to the world.
U.S. regulators are busy in 2019
U.S. regulators are very busy in 2019 and have sued many blockchain projects, including Block.one, Telegram, and others. Two regulatory areas have emerged in the United States: asset classification and value transfer.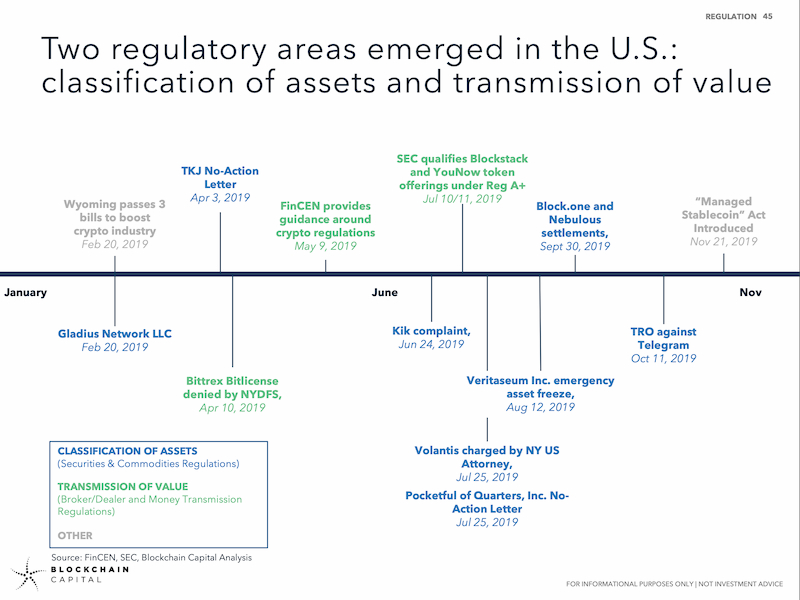 DeFi is in full swing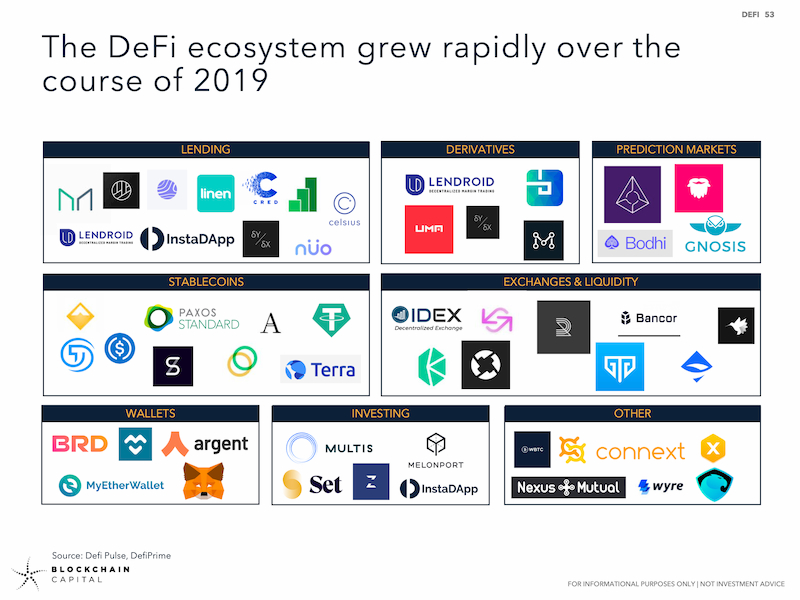 DeFi application
The DeFi ecosystem is growing rapidly in 2019, which is mainly concentrated on Ethereum.
MakerDAO, Compound, and dYdX led the lending market. From the beginning of the year to January 19, only 22 million US dollars of loans were issued, but it has grown by a factor of 28 times and reached 648 million US dollars at the end of the year.
Due to the lack of identity and reputation, today's lending products are realized through excess collateral, which reduces their capital efficiency.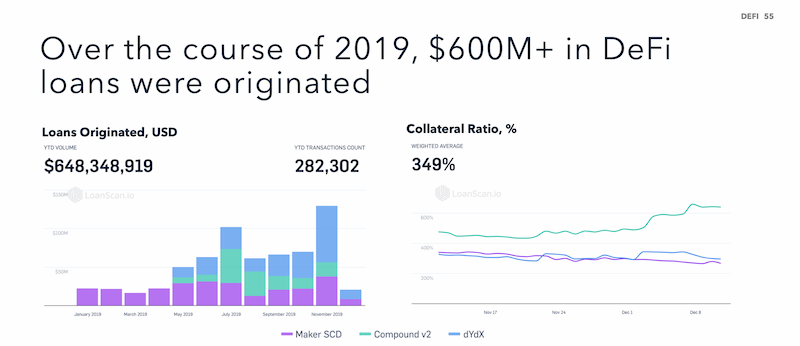 Blockchain games are still developing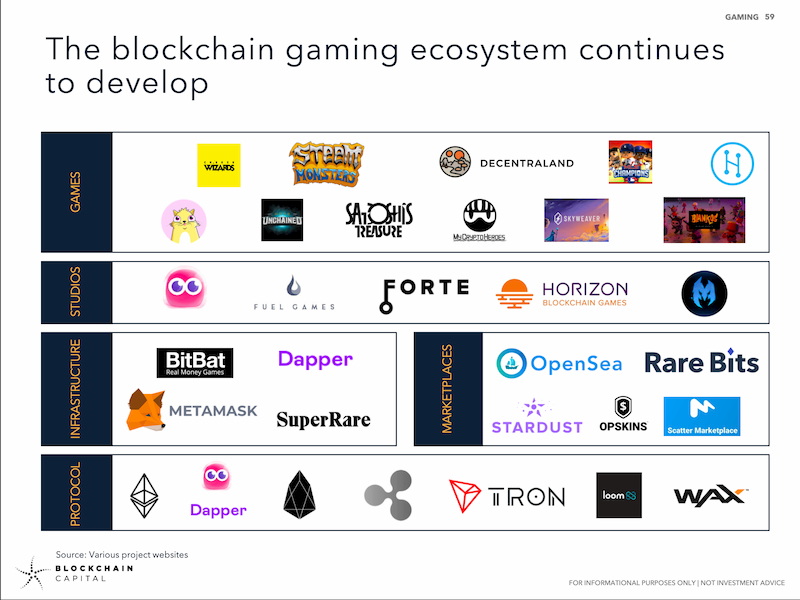 Despite fierce competition, Ethereum still has an advantage.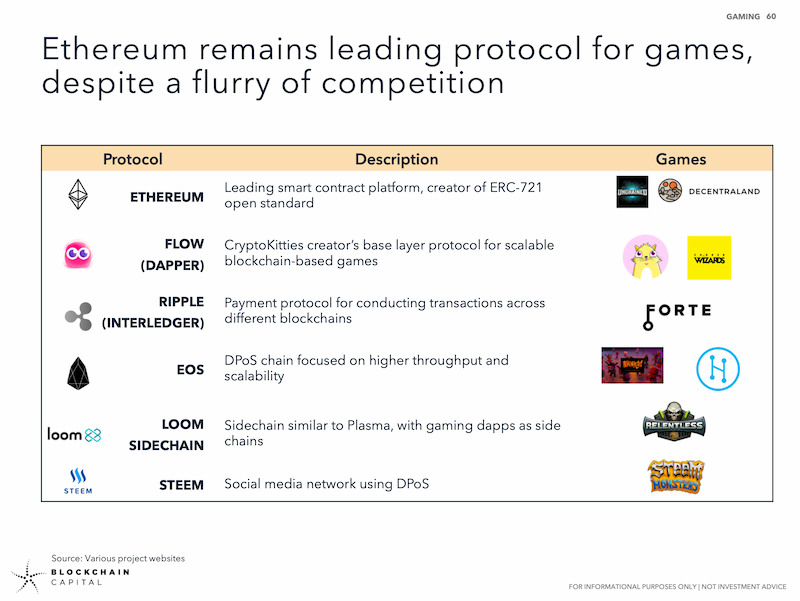 The agreement is competing horizontally, but the future can shift to vertical construction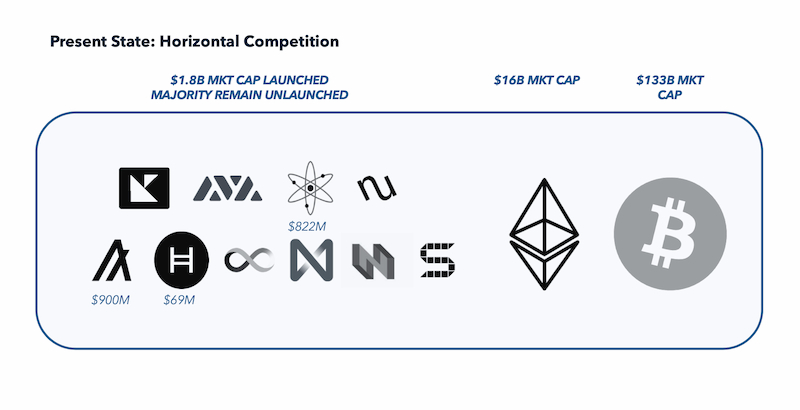 At present, different underlying protocols are still competing, but with the advantages of certain underlying protocols, developers may turn to certain underlying protocols for vertical construction.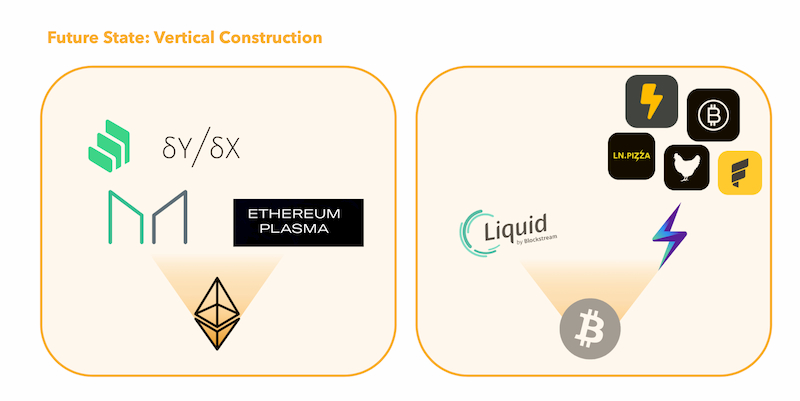 Here are Blockchain Capital's bold predictions for 2020:
A crypto company will be acquired for more than $ 500 million
$ 5 billion locked in DeFi
Libra based on value rivets in US dollars will receive green light
In a crypto case, a federal judge will rule against the SEC
None of the Layer 1 agreements released in 2020 will enter the top ten
USDC is expected to grow more than 300% (measured by transaction value, issue, market cap, and transaction volume)
Demand for Bitcoin transactions drives transaction fees in excess of $ 100, prompting larger transaction sizes
FinCEN / FATF will set stricter standards than paper money compared to paper money
MaAfee lost the bet and ate his …
KYC / AML will be DeFi's main regulatory battleground
Privacy coins are delisted from major exchanges
Bitcoin price hits record high