Author | Paul de Havilland
Source | CryptoBriefing
Translation | First.VIP Winny
Many Wall Street veterans believe that returns on stocks and bonds will slow over the next decade. Is it time to add cryptocurrencies to the investment plan?
Underperforming traditional portfolios
Morgan Stanley analysts told Bloomberg: "The return prospects for the next ten years are not optimistic. Investors face a more negative outlook than in previous decades, especially with Compared to a decade after the global financial crisis, the prices of risky assets back then were backed by unconventional monetary policies that were disintegrating. "
Investment management company Research Affiliates is even more pessimistic. Their ten-year forecast shows that large US stocks will grow at a disappointing 0.4%. Small-cap stocks are only slightly higher at 1.9%. With interest rates at record lows, bond yields will change from zero to plural. They point out that emerging markets are the only place where significant returns can be made in the stock market, although returns are only slightly above 7%.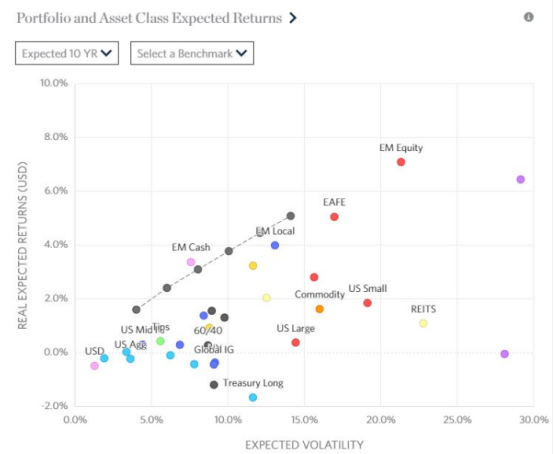 10-year stock and bond returns predicted by Research Affiliates
Bank of America analysts caution investors that the 60/40 rule may need to be reconsidered over the next ten years, that 60% of funds are used for stocks to earn returns, and 40% of funds are used for sound bond investments. they think:
"The relationship between asset classes has changed so much that many investors now buy stocks not for future growth, but for current gains, and participate in price competition in bonds."
Investors are worried about the recession, and both the inflow of bonds into and out of the stock market hit new highs in 2019, which lowered bond yields and triggered the risk of selling. Bank of America analysts point out:
"The challenge for investors today is that the returns from bonds and diversified investments seem to be weakening, and this happens when many fixed income investment positions are very crowded, which makes it very easy to raise bond prices. When asset managers rebalance their investments, these bonds are instantly sold off. "
GMO's forecast for the next 7 years shows that the yield of large US stocks is -3.7%, while the yield of bonds is flat or negative.

GMO forecasted stock and bond expected returns for the next 7 years
Is it time to list cryptocurrencies as a portfolio?
Bitwise recently published a hypothetical paper evaluating the impact of 1%, 5%, or 10% of Bitcoin's investment allocation on its portfolio since January 1, 2014, and the results have been staggering.
Adding a 5% bitcoin allocation to "57% stock allocation and 38% bond allocation" will increase investor returns from 26% to 67%. Allocating a 1% bitcoin investment will increase the total return by 4.5%, while the loss from the highest price to the lowest price is actually lower than the loss of a traditional 60/40 portfolio.
Allocation of 10% of Bitcoin investment will bring close to 80% return. However, the study did not show relevance because the stocks have performed well over the past five years.
But Bitwise also pointed out three catalysts that are likely to cause the price of Bitcoin to soar. The first is to halve the block reward in May 2020, which will halve the growth rate of Bitcoin supply.
Facebook subsidiary Calibra (Libra's wallet) will also launch a new way to use cryptocurrencies through WhatsApp and Messenger, which could add 2.7 billion users to Facebook.
The "leading index and crypto asset fund provider" company also cited a report from Cerulli Associates late last year that fund managers were seeking to diversify their investments in stocks and bonds into alternative asset classes.
Non-relevant parameters of cryptocurrencies
Traditionally, the correlation between crypto assets and traditional asset classes has been low. Yields on stocks and bonds are expected to decrease over the next ten years, and many see bitcoin's non-relevance as a positive factor.
Anthony Pompliano of Morgan Creek Capital recently told FXStreet, "Half the halving will be a major moment for Bitcoin. I don't think its price will skyrocket the next day, but I do think From now on, by December 2021, the price of Bitcoin will reach $ 100,000. "
As millennials (those born under the age of the 20th century and reaching the adult age after entering the 21st century) surpass the baby boomer generation (the peak childbearing period in each country) in population, in any case, The turn of Heyuan's traditional portfolio is the general trend. If this becomes a reality, the demand for crypto assets will increase, leading to higher prices.
As Crypto Briefing recently reported, Blockchain Capital Blog defines Bitcoin as a "Demographic Mega-Trend." People of all ages have increased interest and awareness, but "in the 18-34 age group Medium: Nearly a third of people prefer Bitcoin over government bonds; more than a quarter of people prefer Bitcoin over stocks; nearly a quarter of people prefer Bitcoin over real estate; more than five One in every one prefers Bitcoin over gold. "
The impact of demographic trends may have already begun. As Crypto Briefing reported last week,
"The Gray Bitcoin Trust (GBTC) ranks fifth among millennial positions, accounting for 1.84% of positions."
Standing at the crossroads
In the post-global financial crisis era of low interest rates, the stock market has soared to an all-time high, partly because investors have no other choice. As more and more people think that both stocks and debt products face long-term downturns in returns, crypto assets may be able to enjoy the same "no choice effect" (TINA Effect).