Original: Cryptopotato , original author: Jordan Lyanchev
Source: Odaily Planet Daily, Translator: Yu Shunsui
According to a recent report, Coinbase, the largest cryptocurrency exchange in the United States, has become the largest verification node for Tezos (XTZ). This makes one wonder whether the verification by the exchange will become the next trend in the cryptocurrency world.
Coinbase leads in Tezos validation node
Tezos (XTZ) has recently received attention not only from the community, but also from major cryptocurrency exchanges.
A report shows that exchanges are increasingly participating in the verification of digital assets XTZ. It is said that Coinbase has defeated PolyChain Labs to become Tezos' largest verification node.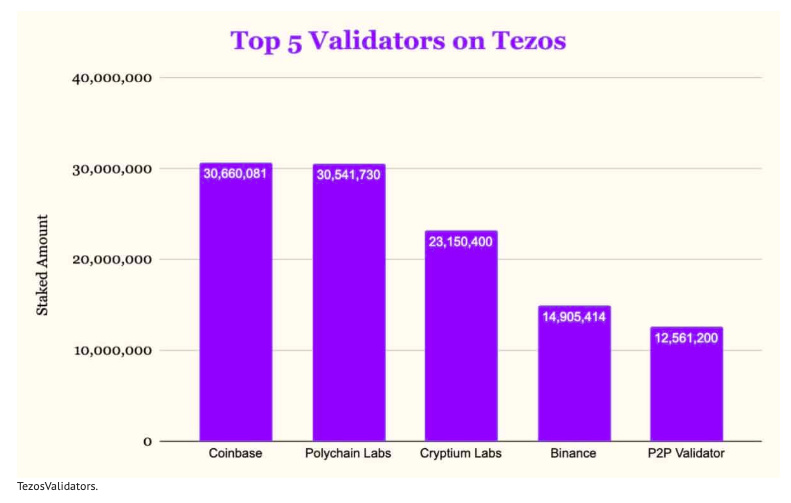 It is also obvious that Binance has made progress in this area and currently occupies fourth place. However, the chart does not include Foundation Bakers, and if included, Foundation Baker 2 should be ranked third.
Validation is the process by which a miner (in PoW) or a token holder (in PoS) validates a particular transaction. As far as Tezos is concerned, since it is based on PoS, the more tokens a person or entity has, the greater the staking power it controls.
Is verification a new trend?
Cryptocurrency exchanges are increasingly interested in validating major digital assets, which raises the question of whether this will become the next trend. The idea was proposed by Coingecko co-founder Bobby Ong. He said that we will soon see the exchange dominate the list of most top verification nodes. He seems to think that Staking-as-a-Service companies may face difficulties as exchanges will compete to provide zero-fee Staking.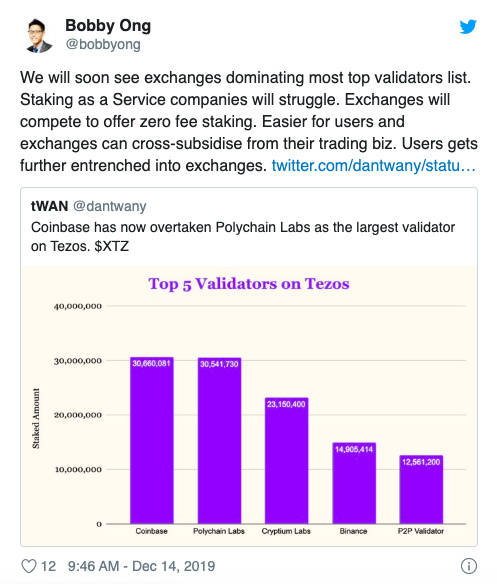 He also made another exciting point: if exchanges allow users to choose specific bakers, they can't do it now.
Regardless, the positive developments surrounding Tezos clearly have an impact on its price, as Tezos is one of the strongest cryptocurrencies recently. Recently, Tezos' market capitalization has returned to the top ten. According to the latest CMC data, Tezos (XTZ) has increased by 3.22% in the past 24 hours and is currently reported at $ 1.72. This is particularly impressive considering that most digital assets have experienced recent price declines.