This article from the Finance Yahoo , the original author: Daniel Kuhn
Odaily Planet Daily Translator: Moni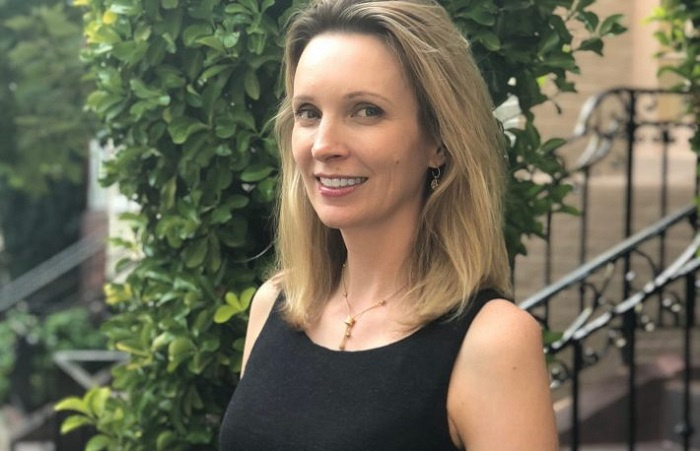 2019 is coming to an end, and Kristin Smith, head of external affairs at the Blockchain Association, headquartered in Washington, D.C., shares his views on blockchain and the state of the world. By bringing together different projects, investors, exchanges, and regulators, the Blockchain Association is committed to building a general framework for more people to understand emerging fintech.
For Kristin Smith, the blockchain industry cannot stand still and wait for legislators or regulators to decide on public policy issues. In fact, blockchain technology has become the next field of competition in the United States, and an independent organization is needed for legislative clarification. As a result, Kristin Smith tried to talk to you about what regulatory changes have taken place in 2019 and what they might mean for the future of cryptocurrencies.
Kristin Smith, can you talk about one of the most important things in the blockchain and cryptocurrency industry in 2019?
In my opinion, the reintroduction of the Token Taxonomy Act into Congress in April 2019 by the U.S. Democrats and Republicans is the most important thing this year. Because the bill addresses many concerns in the crypto industry, such as how states should collaborate with the bill, it also represents the future role that the US Congress may play in solving blockchain and cryptocurrency regulatory issues.
The Facebook digital currency project Libra has had a very "fun" impact, and now almost all MPs realize that "Oh my God! Cryptocurrency is a real thing, and there are really companies trying to enter this space." Under Libra's "helping the flames", Washington's political community's interest in cryptocurrencies has skyrocketed. In fact, Libra did change Congress's view of the cryptocurrency industry, and now lawmakers are keen to figure out this emerging technology and try to continue to lead in this area. U.S. blockchain and cryptocurrency companies need congressional support to ensure the U.S.'s leadership in this area, just as the dollar has been strong. With the exception of the Federal Emergency Management Agency (FEMA), blockchain and cryptocurrency companies do not need to confront the US Congress, but instead focus on how to get lawmakers to accept the technology while meeting public policy goals. In the past year, the blockchain industry has made huge money, but there is still a long way to go.
Has the U.S. Congress decided to take a closer look at blockchain and cryptocurrency technology?
Initially, some forward-thinking lawmakers were interested in blockchain and cryptocurrency technology, and they wanted to do what others haven't done to open up a niche market. At first, we only received the attention of junior members of Congress, but now senior officials in the House and Senate are also paying attention to this emerging technology, and they are considering how to ensure that appropriate regulations are in place. We used to "beg" the regulators to pay attention to blockchain and cryptocurrency technology, and now they are actively looking for us and want to know what to do to solve these problems.
Did the US Congress' response to Libra surprise you?
Actually, I'm not surprised. For a number of reasons related to elections and privacy issues, Facebook is not a popular company in the eyes of US lawmakers. No one has ever known that Facebook makes money by selling user information, and I feel that Facebook has been "unseen" from the beginning, which may surprise me a little.
In fact, lawmakers have realized that if Facebook persists, it will be powerless.
However, Maxine Waters, the chairman of the House of Representatives Financial Services Committee, had such a big objection to the Faecbook digital currency project, but I was very surprised, because she directly asked for the immediate termination of the Libra project without raising any questions. For members of the Blockchain Association, there may be some concerns about seeing regulators doing this. However, we also see some legislators wanting blockchain and cryptocurrency projects to develop and encourage industry innovation. Perhaps lawmakers have realized that if Facebook persists, it will be powerless. Indeed, the lawmaker's approach is a bit reckless, and I don't know if Facebook will choose to do some more advanced work after hearing this news.
In a way, the focus of Kik's legal battle with the Securities and Exchange Commission (SEC) does not seem to be on whether Kin tokens are considered securities, but on how Kik CEO Ted Livingston and his company responded to "Trouble" regulator, the Blockchain Association, what do you think of Kik challenging the Securities Act?
Kik is not a member of the Blockchain Association, but we are watching this case closely. We believe that this may affect how other blockchain and cryptocurrency projects and cryptocurrency exchanges interpret the Securities Law. In any case, the current situation is very important. Kik has created a Defend Crypto fund and invested about $ 5 million. A month later, they decided to recover the money and donate the remaining money to the Blockchain Association to support other blockchain and cryptocurrency projects that are not related to Kik. We greatly appreciate Kik's trust.
For blockchain and cryptocurrency companies, how and when to use the Securities Law is really difficult and confusing, as regulators have never clarified this. In addition, the cost of complying with these laws is also very high, and some extremely creative small blockchain and cryptocurrency projects may not have enough funds to hire a lawyer for help. Although policies can be made clearer through revisions, this process takes time. Regulators like the US Securities and Exchange Commission will either make some recommendations to Congress, or formulate clear rules, or just as we did in the defense of investment contract analysis. As you can see, settle it through judicial procedures and let the courts use their methods to explain policy.
In addition, we also saw some notable cases in 2019, such as the US Securities and Exchange Commission and Block.one's initial token issue reached a settlement, and Block.one did not disclose information to investors in real time, just to the regulator Got some fines. Do you think the settlement agreement of Block.one can provide some clear messages for the entire blockchain and cryptocurrency industry?
When it comes to the US Securities and Exchange Commission's settlement with Block.one, the most "interesting" thing is that they did not pay attention to EOS tokens. Block.one raised funds by selling such tokens from the beginning. You know, in the Kik case, they did the same thing, essentially token distribution, but when the SEC targeted Kik, it focused on whether the tokens were securities. Similarly, Ethereum is not regarded as a security today, although Ethereum originally used the same method to sell tokens to raise funds. Therefore, for blockchain and cryptocurrency projects, they do not know when they will be identified as securities, or whether their products should really be classified as securities, and sometimes even this situation will It happens in many ways, and the SEC will only say, "Okay, your product is not registered, you are wrong!"
Regulators are not helping. To this day, they have not clearly stated how to judge whether a blockchain or cryptocurrency project is a security or a commodity.
Personally, I think Block.one is very smart, because compared to the funds they raised, the payment with the SEC settlement is actually very small. But as a regulator, the SEC has not pointed out a way forward for crypto projects, and that is the real problem.
What projects does the Blockchain Association fund with Kik's Defend Crypto funds?
So far, we have not decided to publicly use this fund for any specific project. We have enough funds ourselves to do things, and no project has been entangled with the SEC and needs support.
Will the SEC take more enforcement action in 2020?
The SEC has been investigating blockchain and cryptocurrency projects, and I don't think they will stop. However, they may make some decisions, especially when dealing with the Telegram and Kik cases later next year, and may clarify some things, but it is unknown whether they are good or bad.
Do you have any predictions for 2020?
I think we will see some legislative action in the US Congress. But as long as Jay Clayton, the chairman of the Securities and Exchange Commission, is still in office, they will not make much progress. However, I do think that there will be some legislation and new bills in 2020. We are actually discussing the formulation of relevant bills with the Senate and hope to launch them as soon as possible.
Regulators will also take more legislative action to eventually solve problems or put pressure on the agencies to let them handle things on their own. As we see more and more consumers start using cryptocurrencies, Congress should pay attention. In the future, people should not aim to use Bitcoin in their exchange accounts, but should really use cryptocurrencies and interact with more online services. When there are more and more daily users of cryptocurrency, it will "explode" Congress. After all, to this day, cryptocurrency is still a niche market, not a mass market. Libra wants to do this, and for people around the world, convenient and affordable cross-border money transfers are a very real use case.
If reprinted, please indicate the source.