Source: Zero One Finance
Author: Ren Jundong
In January of this year, the State Internet Information Office issued the "Regulations on the Management of Blockchain Information Services". The "Regulations" require that blockchain information service providers should report relevant information in the "Blockchain Information Service Filing Management System" of the National Internet Information Office Information and filing, as of now, there are 414 companies with 506 registered projects.
According to the "Global Blockchain Patent Report" recently released by Zero One Think Tank, there are 532 domestic blockchain international patents. The above three sets of data reflect the typical samples of the development and layout of the blockchain industry. In order to see the true outline of the development of the blockchain industry, and to give a more objective picture of the industry, we use this data as an analysis for readers' reference.
The Central Blockchain Learning Conference emphasized that "the integrated application of blockchain technology plays an important role in new technological innovations and industrial changes." It also pointed out that the application of blockchain technology has extended to many fields such as digital finance, the Internet of Things, intelligent manufacturing, supply chain management, and digital asset trading.
Financial, intellectual property, and government services are important application scenarios
At present, the blockchain industry ecology is mainly focused on industry applications and infrastructure. Go deep into the enterprise infrastructure and platform level, and play an important role in blockchain hardware, underlying platform architecture, solutions, digital storage, and network security.
Table 1: The scope and specific content of blockchain technology in the industrial application field

Source: Public information, Zero One Think Tank
Among the 506 blockchain product filings of 414 companies, the number of filings in the financial sector reached 120, accounting for approximately 23.72%, becoming the field with the largest deployment of blockchain technology applications; the number of filings in the basic service field was 109, accounting for approximately 21.54% , Focusing on blockchain platform and system services.
Figure 1: The number of blockchain record projects in various fields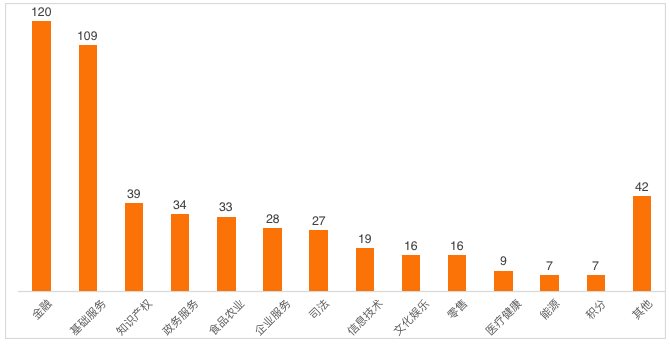 Data source: Zero One Think Tank
In addition, the application of blockchain technology in the fields of intellectual property, government services, food traceability, and justice has also accelerated to land, with a total of 161 filing services, accounting for approximately 31.82% of the total. In addition to the underlying basic services, there are many record-keeping service products in the fields of finance, intellectual property, government services, and food and agriculture.
Figure 2: Proportion of Blockchain Recorded Projects in Various Fields
Data source: Zero One Think Tank
According to the "Global Blockchain Patent Report" released by Zero One Think Tank (click "read the original" at the end of the article to view the full report), 70% of China's blockchain international patents are related to infrastructure and underlying technologies. According to the map of the blockchain industry chain, blockchain patents can be divided into two categories, industry application layer, infrastructure and bottom technology layer.
Figure 3: Distribution map of the international patent industry of the domestic blockchain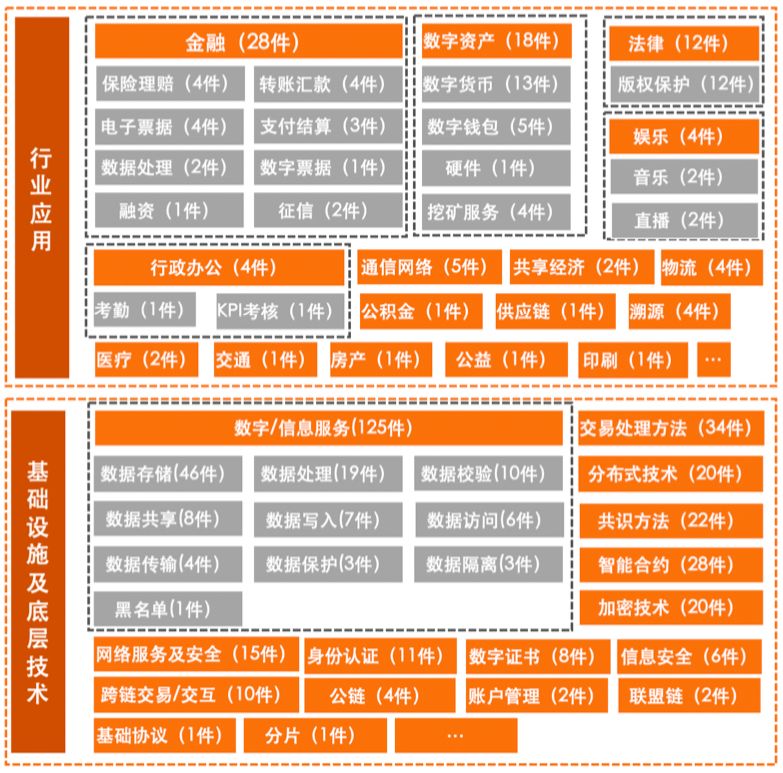 Data source: Zero One Think Tank
Among them, more than 70% of blockchain international patents are related to the infrastructure and underlying technologies. Among them, data / information services, transaction processing methods, and smart contracts are the three technologies with the most patents, with 125, 34, and 28 Pieces.
At the industry application level, finance, digital assets, and blockchain law are the three industries with the most patent distributions, with 28, 18, and 12 respectively.
The layout of the blockchain industry of the leading Internet companies is basically the same as the layout of their respective industries
Baidu has strong technical attributes to create a blockchain bottom chain system and platform that combines security and performance. In August 2018, a subsidiary of Baidu established the blockchain technology company "Duchain" to engage in blockchain technology research and development services. In addition, a blockchain laboratory has been set up to develop Baidu's self-developed blockchain technology, the "super chain", which provides solutions in the fields of justice, copyright, government affairs, traceability, finance and other fields.
Table 2: BATJ's layout in the blockchain industry

Source: Organized according to public information, Zero One Think Tank
Tencent's blockchain is concentrated in the fields of government services, finance, public welfare, and games, and has its own underlying platform. Tencent established a blockchain research and development team in 2015, and currently has two blockchain services on file: Tencent blockchain and Tencent cloud TBaaS blockchain service platform.
The Tencent blockchain mainly provides solutions for multiple industries. At present, the cases that have been implemented are blockchain games (to catch monsters together) and taxation (micro-enterprise chain). Tencent Cloud blockchain service TBaaS mainly provides users with public cloud, financial cloud, and proprietary cloud services. Application scenarios include shared ledgers, notarization records, digital assets, and anti-counterfeit traceability.
Alibaba's Alibaba Cloud and Ant Financial Services are the group's core distributors, with blockchain patents leading the world. Ant Financial has established a blockchain team in 2015 and independently developed the Ant blockchain BaaS platform. It has now been implemented in scenarios such as the procuratorate, the financial department, medical institutions, and public welfare.
Alibaba launched the first blockchain project in 2016, "The Hearing Impaired Children Regained a New Voice," a charity tracking project. In 2017, the total amount of 49 blockchain patents developed by Ant Financial ranked first in the world; in 2018, the total number of 90 blockchain patents re-elected. In addition, Alibaba Cloud has recorded Alibaba Cloud blockchain services, which have been applied in scenarios such as commodity traceability, supply chain finance, data asset sharing, and digital content copyright.
JD technology and application innovation are in parallel. The blockchain layout is combined with its three core businesses: e-commerce, finance, and logistics. JD Group began to explore and develop blockchain technology in 2016. JD Digital and JD Cloud are the main promoters, and they are actively setting up innovative enterprises for in-depth layout.
JD.com established a blockchain service platform, JD.com, in 2018 to provide services in anti-counterfeiting traceability, medical traceability, and digital certificate storage. In addition, the related related companies and services that have been filed include: Beijing Jingdong Zhenshi Information Technology Co., Ltd.'s blockchain-based logistics document signing platform "on-chain signing", Beijing Jingdong Sanbailu Shidu Electronic Commerce Co., Ltd. (Jingdong Cloud Blockchain Data Service), Beijing Dongbang Zhuoyi Technology Co., Ltd. Jingdong Zhizhen Chain Cloud Network, Blockchain ABS Cloud Platform, JDChain.