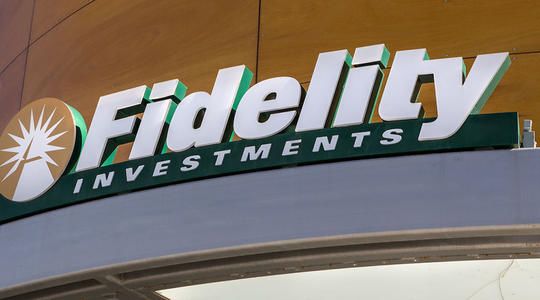 Today, according to shared financial news, Fidelity's digital asset unit Fidelity Digital Asset Services (FDAS) may launch Ethereum custody services in 2020.
"The company has already done a lot of work on Ethereum and will support Ethereum hosting services in 2020," said Tom Jessop, head of Fidelity Digital Asset Services, in an interview.
From the experimental trial mining of bitcoin in 2015 to the current success in the field of crypto asset custody business, it has to be said that in the face of the crypto market, Fidelity, which has a strong financial position, has super forward-looking and execution power. According to the reporter, in addition to moving their minds on Ethereum, Fidelity will also take action on crypto asset transactions other than crypto custody business.
Traditional giant Fidelity and emerging crypto markets  
When it comes to Fidelity, many people's first impressions are Wall Street giants.
Fidelity Investment Group is currently the world's largest professional fund company. It has offices in 25 countries and regions around the world and has more than 7,000 employees, including more than 400 professional investment staff.
Not only that, it owns more than 700 stocks, fixed income, real estate and asset allocation funds. Its research covers more than 95% of the world's largest listed companies, and the number of customers exceeds 26 million. According to data, as one of the world's largest asset management companies First, Fidelity's assets amount to US $ 7.2 trillion.
When such a traditional giant encounters the emerging crypto market, a wonderful chemical reaction begins.
As a world-renowned asset management company, there is no doubt that Fidelity has a unique investment vision. Its focus on Bitcoin dates back to 2014 at the earliest.
According to Bloomberg news, Fidelity started researching bitcoin as early as 2014, conducted bitcoin use trials in the company's in-house restaurants, and started bitcoin mining in 2015, obtaining hundreds of bitcoins.
In 2015, the Fidelity Charitable Fund began accepting bitcoin donations. According to the official announcement of the Fidelity Charitable Fund, the company received up to $ 69 million in digital currency donations in 2017 alone. Fast asset type.
In April 2018, Hadley Stern, vice president of the Fidelity Investment Group Research Institute, stated that in the future, 1% of pension funds can be used for digital currency investment. He believes that digital currencies are not completely decentralized, but rather between centralization and decentralization Centralize things. He feels that although digital currencies are no better than blue chips, they do not rule out putting water in their investment portfolios.
And this is the idea of ​​trying water to make Fidelity's pace in the field of crypto assets fast. At the same time, due to the entry of Fidelity, the crypto market has ushered in major benefits again and again.
Cryptocurrency market layout, custody is the key
In June 2018, according to Business Insider, Fidelity, a U.S.-listed company, was hiring to establish a digital asset exchange, and Fidelity was also working on a digital currency custody solution. The article commented that if Fidelity successfully launches these products, it will be a major step for Wall Street companies to enter the digital asset market.
At the same time, in October 2018, Fidelity launched a new subsidiary, Fidelity Digital Asset Services LLC, for trading and storing digital assets such as Bitcoin, and said that it will initially Provides Bitcoin and Ethereum two largest cryptocurrency trading services.
At the time, regarding Fidelity 's big move, Binance founder Zhao Changpeng commented that Fidelity's admission showed that the crypto market value would increase even more. Yaniv Feldman, founder and CEO of One Alpha, even believes Fidelity's foray into the cryptocurrency market is one of the most important events of 2018.
Once the decision was made to enter, Fidelity's layout began to accelerate significantly.
In early March 2019, Fidelity Digital Assets issued an announcement announcing that its Bitcoin custody service has been launched to a select and qualified customer base. Its solutions focus on the needs of hedge funds, family funds, pensions, endowment funds and other institutional investors.
On May 6, Bloomberg quoted people familiar with the matter as saying that Fidelity Digital Assets will launch a bitcoin trading service in recent weeks. This trading service will face institutional investors, not retail investors.
On July 20, according to a person familiar with the matter, Fidelity Digital Assets has officially applied for a trust license from the New York Department of Financial Services (NYDFS). If the application is successful, the FDAS can add New York to the few states where it currently operates its digital asset custody business.
On October 19, Fidelity CEO Abigail Johnson said in an interview that Fidelity is expanding its cryptocurrency custody business, hoping to profit from large regulated institutions in the digital asset world. She said, "Many people hold a lot of cryptocurrency wealth (probably Bitcoin), and they are looking for reliable custodians to hold these cryptocurrencies for them, because once the token holder dies (this will always be in (Sometimes or sometime in the future), so we must have a plan so that we can provide better hosting services for our customers. "
On November 20, Fidelity Digital Assets officially received a New York State Trust License. Fidelity founder Tom Jessop said the move would expand its potential customer base to compete with hosting businesses such as Coinbase Custody and Bakkt, which already has operations in New York.
In addition, the company has completed SOC1 Type 1 certification through four major accounting firms. Fidelity's escrow solution is paired with a transaction execution platform that allows its customers to buy and sell Bitcoin through multiple liquidity sources.
It can be seen that at present, Fidelity's layout has always been based on crypto asset custody services, and with the arrival of trust licenses, Fidelity's digital asset trust business has completely reached a formal level, so, In order to expand the existing boundaries of the business itself, it is no surprise that Fidelity wants to launch an ETH custody service in 2020. According to the style that Fidelity has said in the past, it is believed that it is not far from the launch of ETH custody service.
Managed before trading, Fidelity cannot let go of fat
In fact, until the dust of the custody business landed, Fidelity officials have always held a negative attitude towards the launch of the cryptocurrency exchange.
Earlier, at the beginning of the establishment of Fidelity Digital Asset Services, its president, Tom Jessop, stated that asset managers will take digital currencies to a new level by providing secure Bitcoin custody solutions. He believes that the current exchanges have done quite well in digital currency trading, and Fidelity is more focused on providing custody services for institutions that want to participate in digital currency.
However, since the goal of escrow has been initially achieved, it is natural to consider the issue of transactions. At present, according to Tom Jessop's ambiguous claims, Fidelity may have three trading methods, including:
1.Cooperate with other cryptocurrency exchanges
According to Tom Jessop, president of Fidelity Digital Assets, Fidelity Digital Assets is not a major broker or a broker-dealer. They now provide custody and execution services. In addition, Fidelity will open its first transaction in January next year, but declined to say which exchange it was.
2. Through OTC transactions
Fidelity Digital Asset President Tom Jessop said that Fidelity currently prefers to play the role of a market maker rather than an exchange. It noted that the scale of liquidity offered by OTC providers may now be better than shown in the order. Despite the high volume of exchange transactions, some investors are more interested in obtaining liquidity through off-exchange transactions than trading through exchanges. In addition, Fidelity is negotiating with many traditional institutions, hoping to make Bitcoin one of the basic investment targets preferred by institutions.
3. Register your own exchange
On November 22, according to Coindesk, Fidelity Digital Asset President Tom Jessop stated that Fidelity Digital Assets (FDAS), the Fidelity crypto unit, is expected to register the first cryptocurrency exchange by the end of this year. This move may push the FDAS into a wider market and provide liquidity for smaller transactions.
Although it is not clear which approach Fidelity will take, for now, trading in crypto assets will be Fidelity's next main attack.
On the one hand, we will continue to expand the scope of crypto asset custody; on the other hand, we are ready to open up channels for crypto asset trading. It can be seen that Fidelity has completely established itself in the crypto market. It is Fidelity's established goal to choose to start from the custody business and extend to other fields.
Of course, it is clear that as an asset management company, Fidelity only deals with assets. And when it comes to playing assets, who can play Fidelity?
Original: Share Finance Neo