Author: IOSG Jasmine
Source: IOSG
Editor's Note: The original title was "Behind the Real Prosperity of the German Blockchain Ecology | The German Government Blockchain Exploration Journey"
This article is intended to convey more market news and does not constitute any investment advice. The article starts with the latest government blockchain policy promulgated by Germany, and provides a more comprehensive understanding of the German blockchain environment and ecology through the policy changes and project development examples experienced by the IOSG Venture Berlin office.
Summary
German blockchain layout
German blockchain companies are concentrated in Berlin, Munich and Frankfurt. Berlin focuses on infrastructure development, Munich develops industrial blockchain, and Frankfurt focuses on blockchain service agencies. The Berlin blockchain project is mainly divided into the industrial blockchain (B2B2C) project community and the developer-backed ether and cross-chain communities. At present, the two communities have not developed a close cooperative relationship, but I believe that the design of the Polkadot project's parallel chain-relay chain-bridge will provide security, scalability and Interoperable low-level facilities make industrial projects focus on considering specific scenarios, improving user-friendly experience, and accelerating industrial landing. In this way, the two types of communities can better integrate and help each other. After all, good technology needs a test field, and good ideas need solid technology.
· More European Old Money Admission Blockchain
A number of family companies have invested in new investment companies focused on blockchain technology in 2019, which will lead to the arrival of a new batch of technologies. The number of German blockchain projects is relatively large and pragmatic, which provides a good industrial foundation for the landing of German projects. German companies among the top 500 companies have a positive attitude towards blockchain. Siemens alone has done 120 proof-of-concept (POC) projects. Although the German regulatory level has always been criticized for being too conservative, the German government has frequently expressed its position in the blockchain layout in the second half of 2019, which provides a better opportunity for the development of blockchain technology, industrial landing, and currency transactions. At the same time, Germany's invisible champion companies (companies with low social visibility but first or second market share in some industries) are also trying to understand blockchain technology.
· Optimized layout of industrial blockchain
European government level will focus on similar directions such as Industry 4.0 technology upgrade. It is expected that there will be more early-stage technology prototype projects in Europe in the next two years. Although limited in 2-5 years, it will have a large-scale market application. Germany pays particular attention to the real economy and has always been generous in its investment in upgrading traditional pillar industries. In the absence of economic development in areas such as digitalization and mobile Internet, the European representative-Germany, the state federal level is planning to flow the foundation to the direction of similar industrial blockchain projects. The government-level strategy does not mention too much public chain infrastructure. Most German enterprise research departments will instead use different intermediate protocol layers for concept verification on the public chain facilities they deploy, which is an opportunity for protocol layer projects. Protocol layer projects should focus more on generality and commit to its perfection.
If you feel angst and anxiety in the bull and bear markets, if you need to recharge faith, are committed to finding the original impetus for Web 3.0 and want to give a new meaning to the digital age, then it will be easier to find like-minded partners in Berlin. It is easy to appreciate the change of privacy advocated by Cypherpunk in the hands of individuals.
I. Project situation and review of the German blockchain industry
(German blockchain project distribution. Source: Chain.de)
Berlin has become Germany's veritable blockchain center with 104 blockchain companies, and Munich, the traditional industrial financial center, ranks second and third. Berlin's low-cost infrastructure, the collision and accumulation of modern history and culture, and the better treatment of programmers compared to Eastern European countries, have attracted many development teams to Berlin to start a business or recruit project ambassadors in Berlin. The gathering of programmers has also made Berlin the home of many well-known public chains . As a gathering place of traditional German pillar industries (Allianz, Simon, Audi, etc.), Munich has been supported by academic research institutions such as the University of Munich (LMU) and the Technical University of Munich (TUM), which are famous for cultivating German high-quality engineers. Developed many industrial blockchain projects . As the financial center of Germany and the seat of the European Central Bank, Frankfurt has cultivated financial talents in Germany and even Europe, and has gathered a large number of family offices and venture capital institutions. Therefore, many institutions serving the blockchain have been developed, including some asset solution consulting companies. Wait. Stuttgart is also worth paying attention to. Although there is only one company at present, the surrounding industry chain including the Stuttgart Stock Exchange, Daimler, Porsche, Bosch and other investments in blockchain may help Stuttgart attract more blockchain practitioners.
The Berlin blockchain project is mainly based on the traditional business business background (industrial business-backed) industrial blockchain projects and developer-backed infrastructure and protocol-level blockchain projects (generally two types) The project community rarely intersects), of which the latter can be mainly divided into the Ethereum community and the cross-chain technology community dominated by Boca and Cosmos. The former community project is currently focusing on proof-of-concept (POC) to promote enterprises' understanding and acceptance of blockchain technology ; the latter community project focuses on technical level consensus and pursues technological level innovation and breakthroughs . This can also be manifested mainly by the number of hackathons held in Berlin and the types of activities on weekdays.
At present, there are many developers in the Ethereum community and the community is relatively large. Full Node often holds technical meetups. Many Ethereum ecological projects such as MakerDao, Kyber Network, Metamask, and even Vitalik and Joseph are also regulars of Full Node. On the other hand, with the approach of the main network of Poca and the expansion of the Rust community, the use of Substrate with strong operability is also attracting more developers, and many projects in the Ethereum community are also cooperating with Poca. At the same time, Poca held regular events in Berlin to showcase technological innovations. For example, the annual Web 3 Summit in Berlin is also the highlight of the Berlin Blockchain Week. This year, two Substrate conferences were prepared to help developers get started quickly; and the average technical update meetup every 2/3 weeks. The architecture of the Poca Parachain-Relay chain and the design of the bridge make the scalability and security more dependent on Poca and enjoy interoperability in real time, so that some developers who want to develop the public chain can focus more on consideration Specific industrial application scenarios to provide a more user-friendly experience. With the German government's emphasis on the industrial blockchain, Poca may also become the underlying infrastructure for similar projects.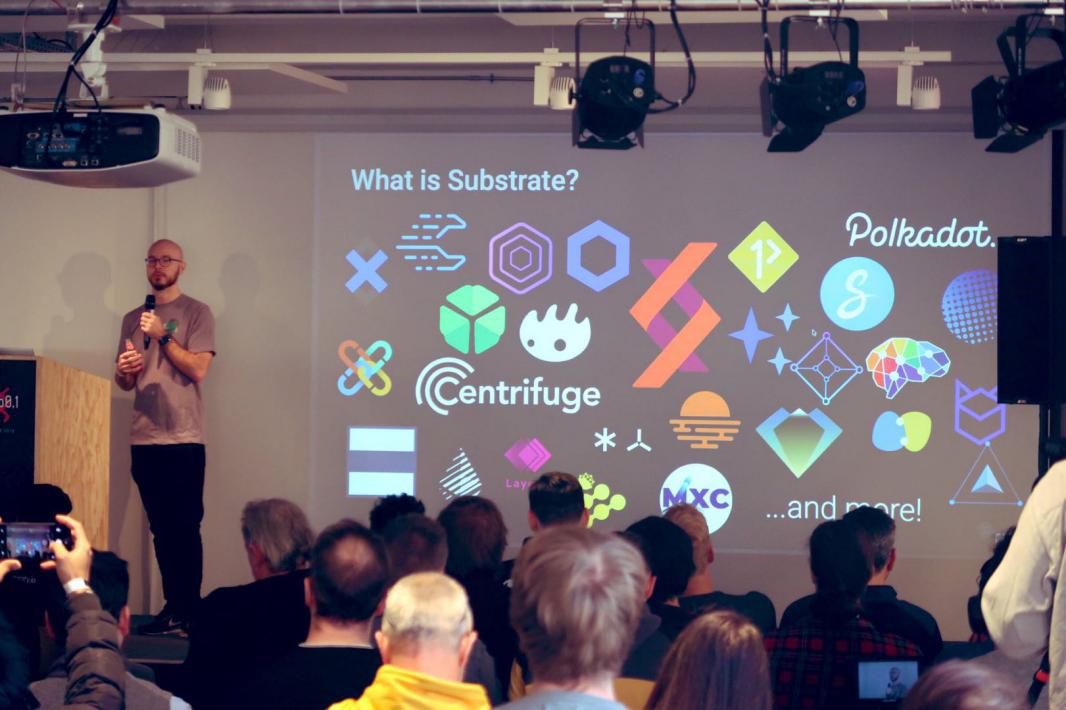 (At the Sub0.1 conference held on December 5th, the Parity CTO introduced the Substrate ecological project. There are currently 41 projects based on Substrate.)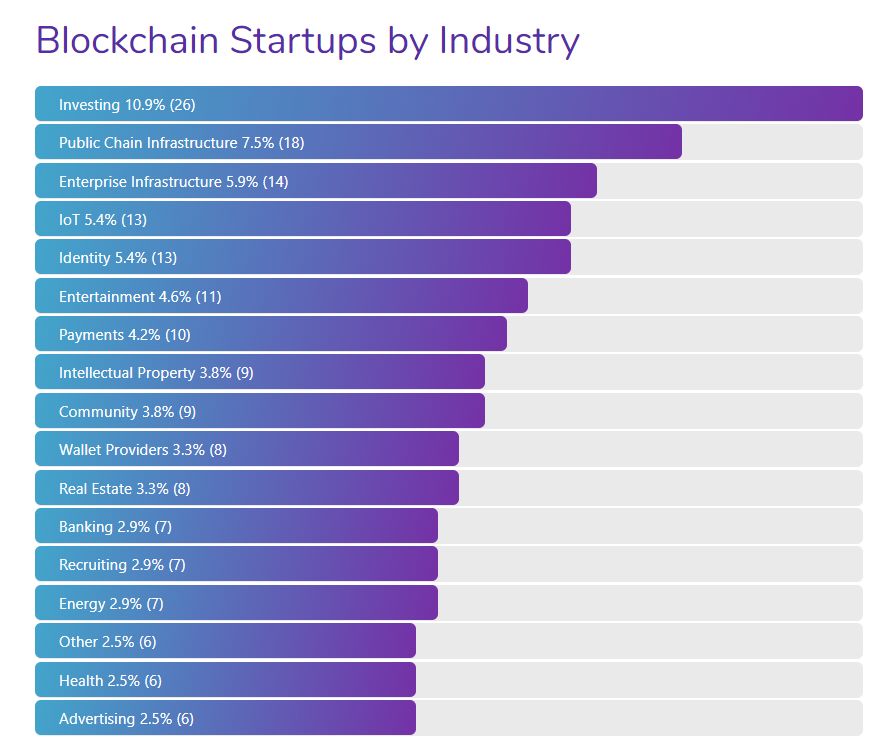 (German, Austria, Swiss blockchain companies specific industry distribution. Source: Chain.de)  
Ethereum Community Highlights Project:
Gnosis :   The prediction market based on Ethereum is the organizer of the DappCon event and one of the launching projects of Full Node, Berlin's well-known blockchain joint office space. (Full Node was established in Berlin with Cosmos in 2018, attracting projects such as Raidon Network, 0x, Centrifuge, etc., and gradually evolved into the Ethereum project base in Berlin, almost 90% of which are project technology developers). In 2015, Gnosis started as part of Consensys and was the first team to deploy a prediction market Dapp on Ethereum. The ICO was completed in April 2017 and currently has a team of 50 people. As an early Ethereum ecological project, the team has made different attempts to predict the lack of liquidity in the market and the efficiency of Ethereum itself, including the decentralized exchange DutchX, the multi-signature wallet Multisig, and the two-factor authentication software wallet Gnosis Safe.
0x : Open-source protocol for decentralized transactions to promote trust and low-friction transactions on Ethereum assets.
Raiden Network: Ethereum- based provider of off-chain trading solutions.
Highlights of the cross-chain community:
Parity (Polkadot, Substrate): A cross-chain solution using the Relay Chain / Parachain model.
Cosmos:   Cross-chain solution using Hub / Zone model.
Kilt: An identity trust market built using Web3 tools. The Kilt protocol enables end users (individuals, organizations, objects) to store and manage their data in a decentralized and autonomous manner as claims-based verifiable credentials. At the just-concluded Sub0.1 event, Kilt also announced its collaboration with German digital hosting provider Finoa, which aims to allow institutional customers to store and manage (eg, mortgage) their crypto assets and KILT credentials, and is expected to be in the Polkadot native generation Coin dot provides services when it goes online. MXC Foundation: Use Web3 tools to implement IoT protocols and set up IoT protocols for machine-to-machine communication. Ocean Protocol: Use Web3 tools to build a decentralized data trading market. In addition to the above-mentioned resident projects in Berlin, there are often ecological partners of the project parties to come to Berlin to hold meetups. For example, on December 11, the Russian project waves organized a roadshow and round table in Berlin with its ecological project and Berlin partners. In this programmer-oriented speaker, I was very curious to hear that many people mentioned how we can make blockchain technology landing on a large scale. The answer is no longer just starting from technology, but more from From the user's perspective, understand your user habits and understand who they are built for.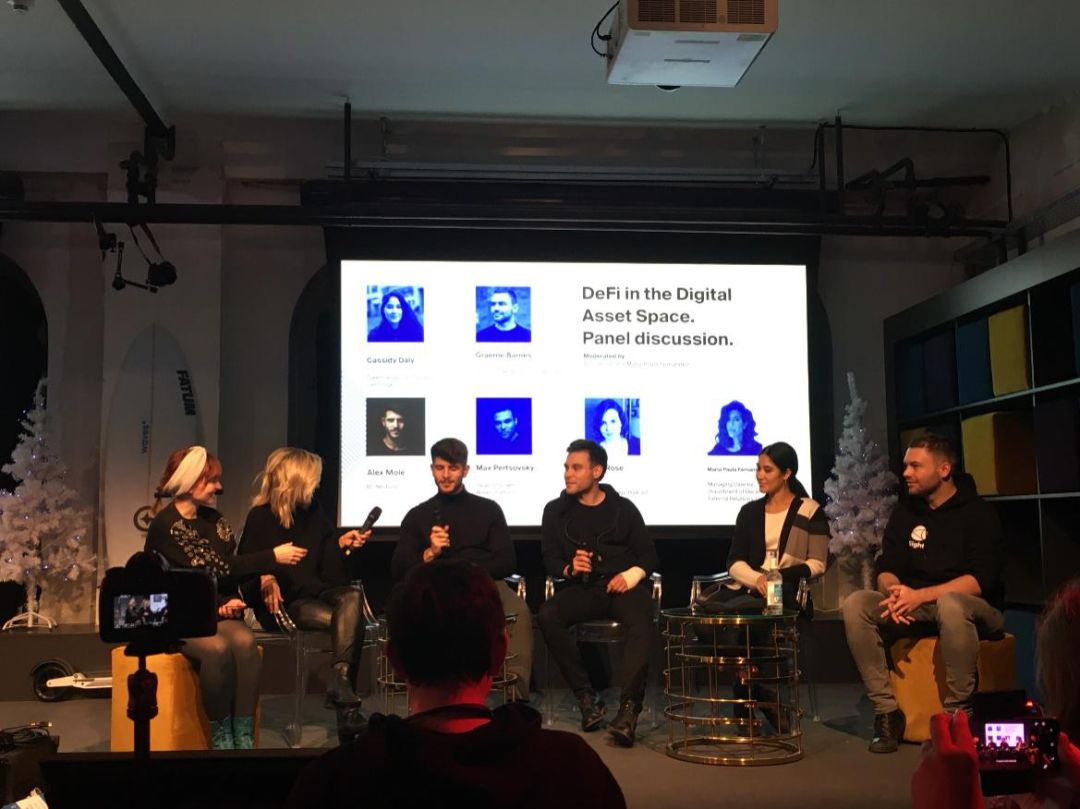 (From left to right: two moderators, Neufund representative, Waves representative, Centrifuge representative, Gnosis representative)
The theme of the round table is decentralized finance in digital assets . Everyone, from the fact that DeFi is just a symbolic Meme, talk about what Berlin has inspired decentralized finance. Alex 's answer from Neufund is very interesting: Liberalism and rebellion are the DNA of the city of Berlin, and the financial industry is currently It is the most centralized and lacks liquidity. We want to trigger a change so that everyone can enter an open market fairly.
As early as August 2013, the German Ministry of Finance (Bundesministerium der Finanzen) officially classified Bitcoin as a financial asset and marked Germany as the first country to have clear regulations for Bitcoin. The German Bitcoin community is also very active. Lightning Network has also hosted several developer conferences in Berlin. Here is the event website for June 2019: https://lightninghackday.fulmo.org/.
(German Blockchain Project Mapping)
Second, the German federal government's national blockchain policy analysis and examples of industrial blockchain projects
On September 18, 2019, the German Ministry of Energy and the German Ministry of Finance issued a national blockchain strategy decision. It provides standardized plans for financial assets, currencies, virtual assets, and stablecoins, and also provides legal foundations for projects, industrial institutions, and financial institutions in compliance transactions.
The German blockchain strategy mainly explains the following aspects:
1. Affirm the willingness of blockchain technology, Bitcoin and Germany to maintain a leading position in the industry;
2. The principles and agenda of the Federal Government's strategy;
3. The federal government will publish plans for securities tokenization and digital currency public offering policies, and emphasizes the distinction between securities tokens and functional tokens;
4. Federal government's plan for proof-of-concept in the application of blockchain in the energy industry and higher education blockchain certificate ; and sustainability as an important consideration for measuring the implementation of state-funded projects;
5. Industrial applications of blockchain technology, with particular emphasis on digital identity , credit, and public affairs applications;
6. The strategy clearly states that the German federal government will ensure that the stablecoin does not become a substitute for the national currency .
The release of the national strategy also illustrates the importance the federal government attaches to securities tokenization, anti-money laundering, digital currency transactions, and industrial blockchain.Here we explain the following aspects as examples:
1. Securities tokenization (STO)
Tokenization of securities has been one of the topics that Germany and even the DACH region (Germany, Austria, Switzerland) have been keen to discuss in the past two years. The federal government believes that issuing securities assets on the blockchain can effectively reduce the demand for intermediary service providers and make the execution and settlement of securities transactions faster and more secure. Most German institutions even believe that asset tokenization and on-chain will be the future of blockchain applications.
Bitbond
Bitbond, a Berlin-based loan financing company, is the first STO project to receive BaFin approval. Bitbond was founded in 2013 and has customers from 120 countries worldwide. Bitbond plans to reduce the cost of borrowing and financing, especially for SMEs, and provide global business through tokenization of securities in 2018. At the beginning of 2019, Bitbond was approved by BaFin, the regulator. It plans to start raising funds from June 2019 to July and plans to raise 3.5 million euros. Users outside the United States and Canada can purchase transactions. In the initial stage of token issuance, each Bitbond token BB1 is priced at 1 Euro. Users can use Euro, Bitcoin, Ethereum, and Stellar to trade. Token holders will receive 4% annual fixed coupon rate and 60 % Profit distribution; at the same time, users can trade on the stellar-based decentralized exchange immediately after the end of STO. According to Bitbond, a total of thousands of investors from 87 countries participated in the STO. The final financing amount was 2.3 million US dollars, making it Germany's first securities issue without the intervention of investment banks or related traditional institutions. It is reported that the first profit distribution was October 1, 2019, and Bitbond has not released relevant data.
Since Bitbond's regulatory approval, many German lenders and real estate companies have begun researching and exploring the possibility of issuing STOs, such as Berlin-based digital bank Bitwala and Berlin-based real estate company Brickblock. However, for a period of time, no second STO project was seen on the German market. It now appears that the German and European markets generally have positive views on the tokenization of securities, but there are still many challenges . First, in terms of regulation , although Bitbond defines its token as debt financing that has passed regulatory inspections, the actual risk may be much higher. Start-up companies need to provide clear token usage and be prepared ( time ) for a long-term battle with the regulatory authorities. The cost (money) of lawyer taxation cannot be ignored. Second, there is no secondary market in Germany that can trade this type of tokens, which will hinder the willingness of some investors in the market to invest in STO. At the same time, examples of securities tokens in the market and education and publicity are not enough, and the market is lacking. Understanding of security token investment methods and returns. Finally, especially for institutional investors, the regulatory requirements on how to store and keep such tokens after investment are not clear in Germany.
2.Anti-money laundering and digital currency transactions
In December 2018, the G20 set out to establish anti-money laundering standards for virtual currencies. At the end of July 2019, the German Federal Government agreed to the Fifth EU Anti-Money Laundering Draft, stipulating that not only virtual currency exchanges, but also wallets and escrow service providers need to obtain the license and identification of the German Financial Regulatory Authority BaFin . The release of this strategy affirms this resolution again.
The release of this series of bills marks the introduction of high-cost infrastructure in traditional financial markets into virtual asset management. Similarly, a company will be allowed to perform escrow services after applying for a BaFin license, but cannot perform other financial services. If the bank wants to conduct escrow business, it needs to set up a new entity and apply for a new license.
Compared with Germany's previous ambiguous attitude towards virtual currency custody services, this draft proposal puts forward the feasibility of institutions that want to get involved in this field. But it may bring a series of challenges: In future Industry 4.0, each machine will generate data, and the interaction between machines will equip each machine with a wallet that can store virtual assets, which will require factories to find A solution that is suitable for regulations; for example, companies that implement such services in the EU, such as Bitstamp, Bitpanda, etc., if they want to be allowed to provide exchange transactions for German users, they must re-apply to BaFin for a German-oriented company. Investor's license. To a certain extent, this may have a certain negative impact on the German blockchain environment. If some projects fail to meet regulatory requirements, they will have to leave the blockchain industry or continue to develop business in other blockchain-friendly areas. As in 2017 when ICOs were in full swing, most German companies set up foundations in tax-friendly Switzerland or Singapore.
BSDEX & Bison
SDEX is Germany's second largest stock exchange. The Stuttgart Exchange and the German media giant Axel Springer launched the Börse Stuttgart Digital Exchange (BSDEX) to launch virtual currency trading in September 2019, and cooperated with Solaris Bank, a well-known digital emerging bank in Berlin, which provides payment processing and custody services. Its mobile app, called Bison, was launched earlier and has opened trading services for euros and Bitcoin, Ethereum, Litecoin and Ripple to German retail and institutional users. It is reported that Bison has 50,000 users by January 2019, and plans to reach 100,000 users by the end of the year. Bison does not charge users any fees for account opening, trading, and cash withdrawal, and its profit model comes from the spread.
(Bison can get the spread ratio in each transaction. Source: https://bisonapp.com/en/gebuehren/)
Bitwala
Partnering with Solaris Bank is also Berlin-based blockchain bank provider Bitwala. (Solaris Bank has a bank license and is fully regulated by BaFin and the European Central Bank ECB. It provides Bitwala with a white card service.) Currently it is only available to German users. Users can open an account for free and conduct regular bank transactions as well as send and receive, store and trade Bitcoin. The holding of the euro account and the use of the debit card are free, and the company charges a 1% Bitcoin transaction fee. At the same time, Bitwala cooperated with CryptoTax.io in Munich to deal with the tedious tax reporting system of the German government. Bitwala's vision is that users can manage digital currencies and fiat currencies at the same time in a bank account (currently only the euro is supported). The company has received two rounds of funding support from the well-known German investment institutions Earlybird and Coparion.
3.Industrial blockchain
The German economy is an engine that has been relatively stable and continues to move forward. Even in the European debt crisis environment that began in 2008, there has been no unemployment problem. Its root lies in Germany's strong real economy and productive services. "Made in Germany" is considered a guarantee of quality. Chemical and pharmaceutical, electronic and electrical industry, automotive and machine building are the four traditional pillar industries of Germany, which are well known. Germany has always been a world leader in the export of chemical products, the global market share of premium cars, and the export of machinery and equipment. Well-known German companies in the world's top 500, including BMW, Daimler, Bosch, Continental, Siemens, Bayer Pharmaceuticals, Rheinland, etc., are all involved in pillar industries. At the same time, Germany's investment in innovation and research and development in pillar industries is also increasing year by year. The Industry 4.0 concept presented at the Hannover Messe 2013 is aimed at improving the intelligence level of the machine manufacturing industry.
The application and cooperation projects of the blockchain technology in the energy industry, industry 4.0, and identity verification mentioned in the German blockchain strategy white paper many times will become the big blue ocean direction. It can also be seen that the federal government's expectations for the combination of blockchain technology and industry. In recent years, German companies such as Bosch, Daimler, Commerzbank, Deutsche Börse, SAP, Deutsche Telekom, Siemens, etc. have actively participated For blockchain projects, a proof of concept (POC) cooperation plan is implemented.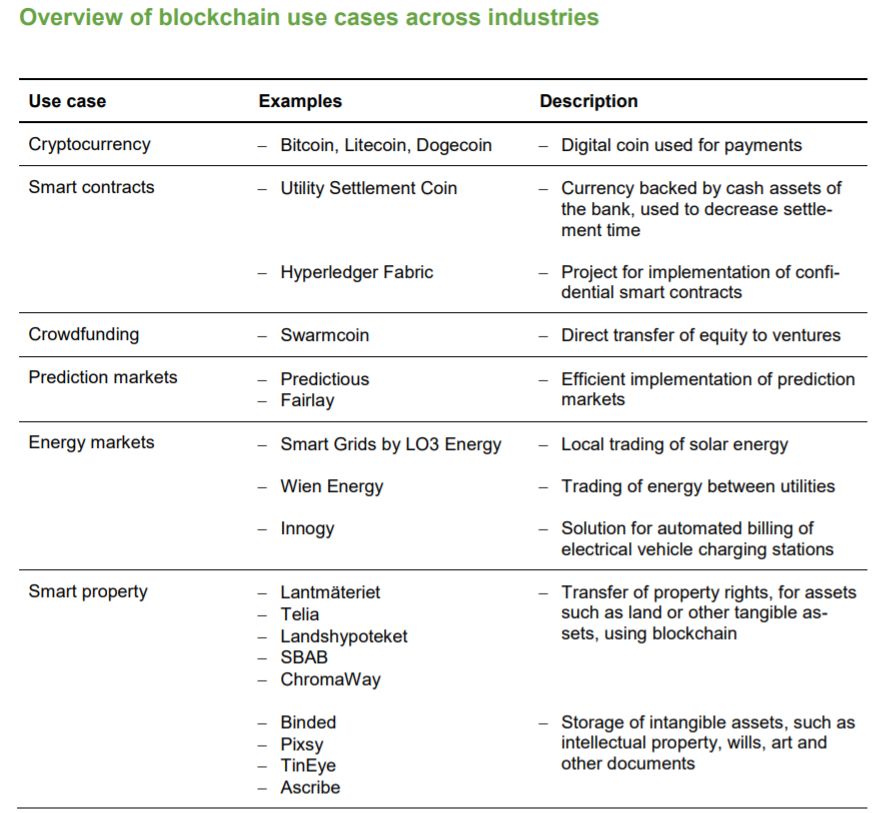 (Source: Example of the classification of the blockchain industry application jointly written by the Technical University of Munich, Germany * TUM, the German energy project StromDao, and the Frankfurt Blockchain Center, especially the energy market and asset transfer and storage Application)
· Energy industry
In the German blockchain industry strategy, the energy industry is particularly important. The federal government believes that blockchain applications can provide a variety of added value, such as price advantages and changes in production relationships. To this end, the government actively promotes experimental cooperation projects. In May 2019, it began to conduct research on the blockchain-based power system login management with the assistance of smart meter gateways. It is expected that related research results will be published at the end of the year and the project will begin in early 2020. On the other hand, in recognition of the improvement in efficiency and transparency brought by blockchain technology, the need for environmental and resource consumption is also taken into consideration, that is, sustainability is taken into consideration. The federal government will continue to explore how to fund blockchain projects that can protect the environment, climate, and nature.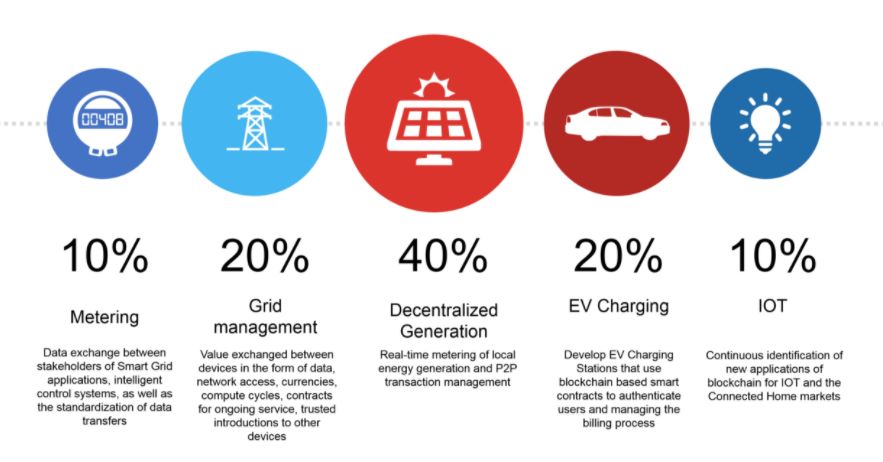 (5 industries with the most concentrated blockchain technology in the energy industry)
Slock.it : Founded in 2015, headquartered in Germany and created by Ethereum CCO Stephan Tual, the company's goal is to embed the Ethereum smart contract platform into multiple IoT devices and applications to accelerate the development of blockchain technology. Large-scale landing applications. The project started several cooperations with German companies in 2016. For example: The Demos project cooperates with German energy giant Innogy (later Germany's largest energy provider E.ON), so that users can rent their mobile vehicles to others to get points in exchange for cash or services, and later expand the service to parking spaces Rental of electricity with energy charging piles. In 2017, he also helped Siemens establish the first distributed autonomous system within the company, which was used to vote for the company's primary social responsibility.
Share & Charge: is an energy agreement project supported by Innogy and Slock.it, with the goal of providing more interaction and transparency for the power energy industry. The project also did a lot of concept pilot projects. At the end of September 2019, it cooperated with Innogy and MakerDAO to charge the vehicle charging pile provided by Innogy in Germany and pay with Dai.
Energy Web Foundation: Established in 2017, and launched the Energy Web Chain in June 2019. It is also the world's first open source energy industry customized public chain to help build a participant ecosystem. The project was jointly established by the energy think tank Rocky Mountain Institute (RMI) and Grid Singularity. As of March 2019, a total of 100 member partners have developed a proof-of-concept project.
Conjoule:   The blockchain platform, which focuses on the energy industry, has been conducting pilot projects in different regions of Germany since 2015. In 2018, we cooperated with Innogy in the German industrial area Ruhe to install microgrids for local users to monitor real-time usage and provide transparency and instant billing.
· Industry 4.0
The German construction industry and automation also proposed the concept of Industry 4.0 in the early years. The German government has also attributed the Internet of Things to another area that will be vigorously explored in the future to enhance interoperability and continuity between IoT solutions. The Internet of Things (IoT) is also the technological foundation of Industry 4.0 . Internet technology connects computers all over the world, enabling remote information exchange between people, while the Internet of Things technology connects various devices and machines to create a smart and convenient society.
IOTA: The early blockchain project IOTA in Berlin sought to provide an extended solution for the growth of IoT applications. IOTA is based on a new type of distributed ledger-Tangle (Tangle), which provides a solution for the inefficiency, low verification speed and transaction costs of blockchain technology in IoT applications. These performance advantages also make DAG (Directed Acyclic Graph) the most suitable distributed communication protocol for the Internet of Things. It enables machines to interact directly with each other to build the era of machine economy. Since the beginning of the project in 2015, IOTA has actively explored industrial cooperation and announced cooperation with companies such as Bosch, Volkswagen, and Cisco. At the same time, IOTA has also begun to actively explore applications in the automotive, energy, and supply chain industries.
MXC:   The MXC polar domain protocol combines LPWAN technology and blockchain to tokenize the value of network resources and data. Provide efficiency and security for businesses through a wide range of connected devices and scenarios of the Internet of Things. In 2018, MXC Polar Domain cooperated with Deutsche Bahn in Berlin to deploy a smart city network to monitor the operation of railway stations, including the management of pedestrian flow and LED usage. In March this year, MXC and Yangpu District of Shanghai signed a cooperation agreement to provide technical support for urban management such as waste classification management and public pipeline monitoring, and to build a smart city bidding system for the public frequency band of smart cities to improve the efficiency of the use of public frequency bands. And management. They cooperated with the South Korean National Grid in South Korea to install wirelessly collected meters in homes in Suwon to collect electricity at a lower cost and more efficiently. In addition, in collaboration with local IoT companies in New York City, it is deployed in Manhattan's garbage recycling project to reduce workers' rework and improve recycling efficiency.
ZkSystems: Another Berlin-based company, ZkSystems, founded in 2018, is also actively conducting a proof-of-concept project (POC) with German companies. The company claims that applying its device-as-a-service blockchain technology solution can provide enterprises with more Users have more than 400% of revenue and access to data using access. Many viewpoints believe that in the future of 5G and the Internet of Things, blockchain can promote more interaction between machines and can also become a natural distributed node. The company has done proof-of-concept projects with Bosch, Oracle, Telefonica, Siemens, and SAP. For example, in cooperation with Bosch's Nexo Intelligent Screwing Machine, Nexo usually has a wireless network and the function of measuring electronics. It is usually used in the manufacturing process of automotive machinery. The cooperation project mainly uses the non-tamperable modification of blockchain technology to send the data collected by Nexo during the manufacturing process to the ZkSystems chain through smart contracts. The main benefits for businesses are:
1. Supervise the entire manufacturing process. Reduce the hidden dangers caused by machinery manufacturing, especially in automobile manufacturing, reduce the insurance costs of enterprises, and save costs;
2. Automated quality management. The full history of each manufactured part stored on the chain enables an automated quality management solution;
3. Streamline data integration. Compared to traditional data sets or cloud data management, distributed ledgers can provide streamlined data management.
(In this proof-of-concept project, ZkSystems attributed its ability to store data on-chain to its high TPS. Source: https://medium.com/zksystems/bosch-nexo-case-study-blockchain-powered-nutrunner -597851a2299)
·Authentication
The German government will also launch a digital identity project based on blockchain technology to verify whether it can provide significant added value and meet the requirements of data protection requirements (GDPR) related laws and designs. Although identity verification has been continuously researched worldwide, there are currently no solutions dominating the market. The German government will encourage project companies to invest in identity verification.
Xride : is a blockchain battery car project led by T-Labs, an innovation department of Deutsche Telekom, in cooperation with three German blockchain companies Riddle & Code (hardware layer wallet), Bundesdruckerei and Jolocom (software layer identity verification). Deutsche Telekom has been active in the blockchain innovation department. The project began a trial run in Bonn, the former capital of Germany and Deutsche Telekom headquarters in Bonn in September 2019. The original intention of the project is to solve the complicated registration procedures in a centralized mobile device system. Different mobile devices require users to register multiple times, and sensitive data is controlled by private companies, which is easy to be hacked.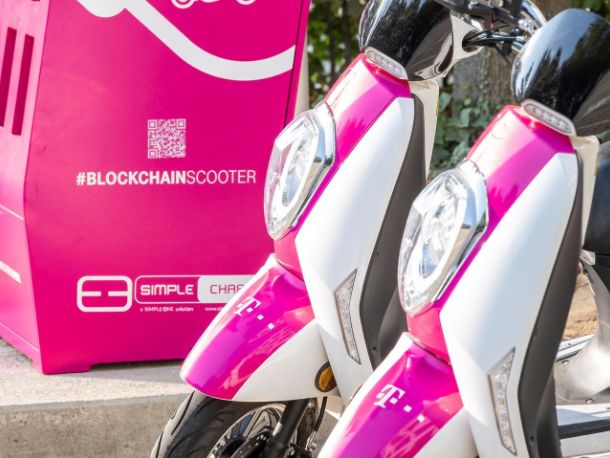 (After the user has registered once, the digital identity can continue to be used in shared projects supported by other programs. At present, this project is mainly trial run in Bonn among Deutsche Telekom employees)
· other industry
In addition to the energy industry, supply chain finance, health care, and academic qualifications will also be the direction of government attention and funding.
Centrifuge: Headquartered in Berlin, it is committed to liberating the issue of liquidity in the supply chain (Invoice Financing) by means of decentralized finance. It takes an average of 59 days for companies to receive bills payable; at any time, $ 15 trillion is locked in unpaid invoices and cannot flow in the supply chain system; small and medium-sized enterprises in new markets often face trillion-level credit gaps, and banks SMEs have high credit requirements, making them often face financial difficulties. Centrifuge converts the bill through the platform into a non-homogeneous token standard format (NFT), obtains value performance, and mortgages, lends Dai, and finally obtains liquidity.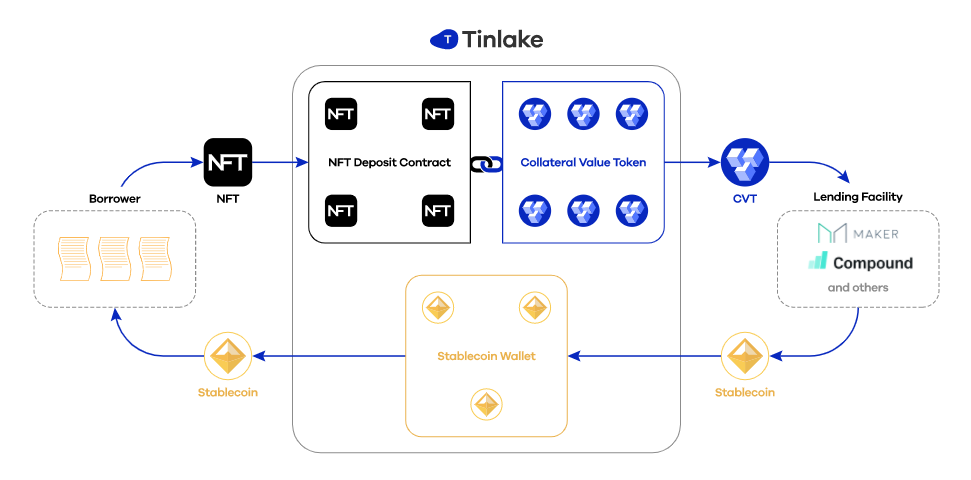 summary
In general, German projects like to compete against technology, talk about technology, and focus on the consensus and culture of the developer community. Various technical exchange workshops are held in different communities every week. Developers as the core of the bottom-level and infrastructure projects, they take into account the exploration of community autonomy, more idealistic to create a utopian community of open source. In terms of cryptocurrencies, they do not actively list and do not do market value management, which has almost become the standard for German projects. On the one hand, the market funds and investors are becoming more rational, and many speculative institutions have given up chasing the market. On the other hand, they have made European projects more indifferent to the market's warm and cold, and do their own projects with peace of mind.
Looking at the entire Crypto market, after experiencing two watersheds, from 2017, we began to focus on how to use the blockchain technology to lead the mass application of the mass market. With the following 18 years, we saw more layer1 and layer2 solutions. Public chain performance issues. At the same time, we also see various agreements under the banner of "high tps" promoting their indestructible "moat" and forming a relatively independent value network. In early 19th, the market began to pay attention to cross-chain, intending to "data "Isolated islands" to connect; then, with the advent of the bear market, some head projects broke in the market, regulations from various countries were under severe pressure, and the market became calm or even negative.
A considerable number of German developers have great expectations for the upcoming 2020. With the arrival of Ethereum 2.0, the Polkadot mainnet is launched, a more comprehensive and versatile protocol layer, and the government's overall support for the blockchain attitude. These will drive more and more high-quality development teams and industrial talents into this circle to solve the demand for blockchain technology, and even create more demand. We also predict that more protocol-level projects will appear in Germany and even Europe in the next 2 to 5 years. The importance of protocol-level projects is that various protocols are called to serve to shape more user-friendly specific products as their own attributes. To B's business is part of the richness and prosperity of any public chain. Compared to the To C end, it is close to users and is easy to realize. It belongs to a market that is relatively impetuous, requires innovative and flexible business models, and has a huge traffic dividend. This is not the strength of German engineers or the German environment itself. The To B side requires strong technology and segmented professional markets, which is also an important advantage for the To B side in German traditional industries to be successful.
Persisting in doing the right thing for a long time will not change your strategy due to external influences. This is the habit of European projects. In the European utopia open source community, many early agreement projects continue to immerse themselves in development according to their own steps and plans after experiencing countless failures, while advocating and laying out the ideal and vision of decentralization
Looking forward to the next five years, Berlin will be the center of the European blockchain industry. Web 3.0 originates from Europe and it is believed that more early-stage excellent projects will emerge in this market. We see that industrial blockchains throughout Europe will be more open and open source in the future, niche modular startups are emerging, and traditional large enterprise markets are undergoing transformation and upgrading. This market is about to usher in a new round of upgrades.
Special Advisor Editor: IOSG Jocy Lin
https://www.coindesk.com/germany-official-recognises-bitcoin-as-private-money
https://www.bmwi.de/Redaktion/DE/Publikationen/Digitale-Welt/blockchain-strategie.pdf?__blob=publicationFile&v=8
https://www.handelsblatt.com/finanzen/maerkte/devisen-rohstoffe/kryptowaehrungen-neues-geldwaeschegesetz-banken-duerfen-bitcoin-verwahren/25276392.html?ticket=ST-47913251-4M3VrZRE6hbCTdGtSFSG-
https://www.fintechfutures.com/2019/07/bitbond-celebrates-sto-raising-2-3m/
https://medium.com/zksystems/bosch-nexo-case-study-blockchain-powered-nutrunner-597851a2299
https://www.telekom.com/en/media/media-information/archive/xride-first-of-its-kind-blockchain-based-e-mobility-project-580934
https://www.indigoadvisorygroup.com/blockchain
https://blog.slock.it/slock-it-innogy-se-receives-2016-german-mobility-award-for-d%C4%93mos-project-fcea544e9a25
https://blog.slock.it/siemens-ddo-the-first-fortune-500-company-using-the-dao-framework-2fd970b0b138
https://analysis.newenergyupdate.com/blockchain-energy/innogy-and-conjoule-offer-community-solar-test-case-key-questions-remain
https://files.pitchbook.com/website/files/pdf/PitchBook_4Q_2017_Blockchain_Market_Map_Non_Client.pdf