Looking for "new rich mines" in the automotive industry: blockchain may become a breakthrough
Source: China Youth Daily , December 19, 2019, 11th edition, with the original title of "Finding" New Rich Ore "in the Automotive Industry"
Author: Xu Yajie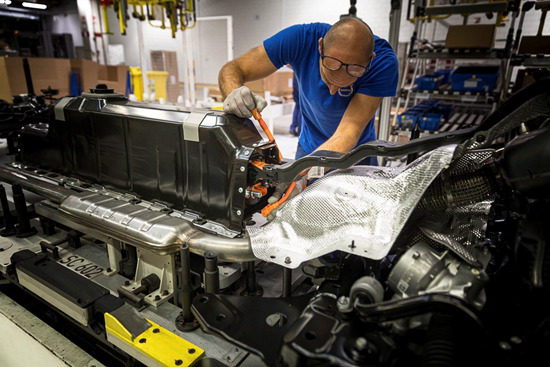 Volvo becomes the first car manufacturer to use blockchain technology to achieve global traceability of battery raw materials. Profile picture
For the vast majority of those engaged in the automotive industry, the imminent passing of 2019 is likely to be classified as a black area in memory.
According to the analysis of the German Automobile Industry Federation, global car sales will fall by 5% this year, creating the largest decline since the 2008 financial crisis. According to the data released by the China Association of Automobile Manufacturers, from January to November 2019, the domestic automobile production and sales completed 23.038 million and 23.11 million, respectively, down 9% and 9.1% year-on-year. Among them, passenger car sales in January-November fell by double-digits year-on-year; new energy vehicle sales fell for the fifth consecutive month.
The cold winds in the new car sales market not only gradually eroded the profitability of car companies, but also devoured the "incremental market" hope of lying and making money. Data show that the proportion of first-time users in the Chinese passenger car market has fallen from 75.6% in 2011 to less than 60% in 2019, and even less than 50% two years later. In the 2019 third quarter report of 22 "automotive vehicle companies", the net profit attributable to mothers of nine auto companies increased year-on-year, value.
This means that some simple and rude but once effective methods will not work. According to the forecast of the German Automobile Industry Federation, the decline trend of global automobile sales in 2020 will continue. The market will not leave enterprises discouraged. In the face of increasingly fierce market competition, Chinese companies must find new profit points as soon as possible and dig the next "new mine."
Blockchain may become a breakthrough for enterprises to reduce costs and increase efficiency
Despite the chill in the auto market, the wave of technology empowerment still surpasses the wave. Emerging technologies such as blockchain, 5G communications, and artificial intelligence have become the "knockers" for companies to open new fields.
On the afternoon of October 24th, the Political Bureau of the CPC Central Committee conducted the eighteenth collective learning, and made a new positioning on the development of China's blockchain. It emphasized that the integrated application of blockchain technology plays an important role in new technological innovation and industrial transformation. We should regard blockchain as an important breakthrough in independent innovation of core technologies, focus on overcoming a number of key core technologies, and accelerate the development of blockchain technology and industrial innovation.
"Blockchain technology is actually still in the technical research stage, and there is still a long way to go from large-scale practical applications." Chen Chun, a professor at Zhejiang University and a member of the Chinese Academy of Engineering, said in an interview that in addition to technical bottlenecks, Another major issue that needs to be addressed in the development of blockchain is regulation.
"The biggest feature of blockchain technology is that it cannot be changed. Therefore, all the data of the vehicle can be retained, which is a major benefit for all consumers of used and new cars." On December 16, the CEO of Chehaoduo Group In an interview with reporters, Yang Haoyong said that blockchain technology can make used car quality more credible, especially for used car trading platforms that are interested in exploring overseas markets.
As a new application mode of computer technologies such as data storage, peer-to-peer transmission, consensus mechanism, and encryption algorithms, blockchain was first regarded as the core component of electronic money Bitcoin. As Bitcoin becomes a source of inspiration for other applications, blockchain technology stands out with its decentralization, openness, independence, and security. Some experts have said that blockchain technology is expected to be widely used in the fields of finance, public services, the Internet of Things and logistics, and digital rights.
For example, in blockchain technology, as long as you cannot control 51% of all data nodes, you cannot manipulate and modify network data. This makes the blockchain itself relatively secure and avoids the phenomenon of artificially changing data. For second-hand car buyers who value the authenticity of vehicle information, this undoubtedly adds a reassuring "insurance".
"Before we exported used cars to Russia, Russian buyers would ask, what about the car's file? Why didn't you know anything about this car before?" He admitted that the lack of reliable data caused the export of used cars to the overseas market. It 's a big obstacle, "If you want to increase the scale of used car exports, you must use blockchain technology to solve this problem. Every car has a data record that everyone believes will help us better develop in overseas markets . "
In fact, blockchain technology is equally promising in the field of IoT and logistics. Blockchain can not only reduce logistics costs, trace the production and shipping process of items, but also improve the efficiency of supply chain management. Therefore, for automotive companies that want to "reduce costs and increase efficiency", the logistics field is a promising application direction for blockchain.
On November 6, Volvo Cars in Gothenburg, Sweden announced that it has reached an agreement with battery supplier Ningde Times (CATL) and LG Chem and blockchain technology companies to implement the traceability of cobalt used in lithium-ion battery production from this year. This means that Volvo has become the first car manufacturer in the world to achieve global traceability of battery raw materials by applying blockchain technology.
"We have always been committed to establishing an ethical and legal supply chain of raw materials." Martina Buchhauser, senior vice president of procurement for Volvo Car Group, said that with blockchain technology, Volvo can work closely with suppliers to ensure full traceability of the supply chain To minimize any associated risks. According to reports, Volvo used blockchain technology to record the properties, chain of custody, and other attributes of cobalt, and determined that participants' behavior complies with the OECD's supply chain guidelines.
"This approach helps build trust among participants in the supply chain." In her view, blockchain technology has created a transparent and reliable shared data network that can greatly increase the transparency of the raw material supply chain, because Any change in the information about the source of raw materials will be monitored.
For a long time, automobile production and parts supply have been one of the industries with the highest internationalization. The traceability of the raw materials and data used in the production, sales and other links of each vehicle is one of the major challenges facing car manufacturers.
In May last year, four major multinational automobile companies including BMW, Ford, GM, and Renault joined forces with IBM, Accenture, and Bosch technology component manufacturers, as well as 30 companies including blockchain companies Consensys and Hyperledger. To jointly develop vehicle blockchain technology. Surveys show that as many as 62% of auto executives believe that blockchain will become a disruptive force in the automotive industry within three years.
"The underlying technology of the blockchain is not complicated. The key is that the relevant partners are willing to contribute data, because all data cannot be modified after it is stored." Yang Hao Yong said that in the used car market, car companies and all offline Repair shops upload every recall record or repair data. "We are willing to take out all our data to support the creation of such a system, but we need related laws or policies to promote it. After all, this is a major benefit for all consumers."
At present, the application of blockchain technology has extended to many fields such as digital finance, the Internet of Things, intelligent manufacturing, supply chain management, and digital asset trading. Relevant companies in Europe, the United States, and Japan are accelerating the development of blockchain technology.
As a new technological means, the application scenarios of the blockchain are expected. On December 17, at the 3rd China Internet Finance Forum in 2019, Chen Liwu, deputy director of the Science and Technology Department of the People's Bank of China, said that China's financial institutions have achieved some blockchain application results, but how to make good use of blockchain technology, they still face Some challenges.
He said that the rational use of blockchain technology will help reduce financial transaction costs and improve the efficiency of financial services. "It is of great significance to serve the real economy, prevent and control financial risks, and deepen financial supply-side structural reforms." Therefore, strengthening the rational application of blockchain technology in the financial field will also feed the real economy such as the automotive industry and release more consumption potential through automotive financial products.
"Do not buy a car" breeds new markets
The new car sales market is generally cold, but the travel service field is cultivating new opportunities. In addition to "cutting costs and increasing efficiency" through technology dividends, emerging markets such as used cars and travel services may be more attractive to companies. According to statistics from reporters, 8 of the top 10 auto companies in terms of sales from January to November this year have officially entered the travel service market.
On the one hand, due to the rising cost of car use and new consumption perspectives such as the sharing economy, travel services such as carpooling and car sharing have become "new favorites" for consumers, and demand for travel services has grown rapidly. On the other hand, with Uber, Didi's With the emergence of new forces and the development of artificial intelligence, big data and driverless technology, more and more companies have discovered that the growing travel service market holds great opportunities.
Since the beginning of this year, the travel market has continued to be refined, and new segments such as car-sharing, high-end business travel, and RV travel have welcomed many new players. On the one hand, the success of Internet travel companies is still uncertain. Didi, Meituan and taxis that rely on Ali Group continue to grab market share. On the other hand, in this scuffle, weima, Xiaopeng, and Xinte Such new power players enter the game, and there are also traditional car companies such as Toyota, Hyundai, China FAW, Dongfeng, and Changan.
Although companies are fighting fiercely for the travel service market, without driverless and intelligent transportation technology, breakthroughs have not yet occurred, and the "burning subsidies" for online ride-hailing seems to be the only way to quickly gather customers. And this approach is doomed to be unsustainable.
One of the solutions is to follow the trend of consumption upgrade, march into the high-end market and highlight brand differentiation. Not long ago, the "Qiao Miao Travel" led by FAW Group adopted this thinking.
According to reports, as one of the important landing projects of the brand concept of "New Chinese Noble Exquisiteness", "Qiao Miao Travel" mainly focuses on government, business, and business travel scenarios, and provides travel services and management solutions for high-end government and business users. Program. At present, the platform is the first to operate in Changchun and will cover key domestic first-tier cities within this year. The "Qiao Miao Travel" App has been launched in major application stores, with more than 200,000 registered users.
IResearch data shows that in 2018, the scale of the corporate travel service market alone reached 165.6 billion yuan, and is expected to reach 250 billion yuan in 2020. "At present, the travel requirements in the business scene are sufficient, but the requirements of enterprises for travel are getting higher and higher, not only to reduce corporate management costs and increase efficiency, but also to optimize the employee ride experience." "Qiao Miao Travel" platform relevant person in charge I told reporters that there are many competitors in the travel service market, which put forward higher requirements for the platform to provide differentiated products and quality service capabilities in segmented areas.
According to him, in order to make corporate travel management smarter, more efficient, and easier, "Qiao Miao Travel" integrates functions such as vehicle approval, budget management, itinerary management, bill tracking, and data analysis to the platform, enabling online travel management. "As long as an enterprise user opens an enterprise account and configures it on demand, its employees can complete online approval and use of cars in the" Qiao Miao Travel "App." At the same time, the "Qiao Miao Travel" platform is configured with multiple types of security functions and is in operation. In terms of security, intelligent capacity dispatch, hotspot prediction, real-time service monitoring, full-process risk control, and vehicle safety supervision have been implemented.
Unmanned driving must use artificial intelligence + 5G "two legs"
Another solution is to "request dividends from technological innovation". Through artificial intelligence, big data and driverless technology enablement, make travel services a part of smart transportation and even smart cities.
According to McKinsey's forecast for the development trend of automobiles in 2030, the travel industry's revenue will increase by 30% due to the new business model, which is equivalent to $ 1.5 trillion. Among them, the impact of driverless cars on the travel service market and the whole society cannot be ignored.
Uber co-founder and former CEO Travis Kalanick has bluntly stated that the ultimate operating cost of driverless cars is much cheaper than hiring human drivers. "Machines can work non-stop and will not require Raise wages, "he asserted, saying that companies that launched self-driving fleets in the first place could quickly squeeze out peers driven by human drivers.
Including traditional automobile companies such as FAW Hongqi and Internet travel companies such as Didi, many domestic companies have stated that they will launch driverless cars for the travel service market. In 2022, Shougang Park, where the Organizing Committee of the Beijing Winter Olympics is located, has already started trial operation of self-driving cars.
"Autonomous vehicles may encounter a variety of sudden problems, so it is even more necessary to develop a multi-scenario universal autonomous driving navigation and intelligent driving decision-making system." Yang Diange, head of the Special Winter Olympics project and dean of the School of Vehicles and Transportation of Tsinghua University The professor said that L4 level autonomous driving will first realize industrial applications in special vehicles, such as public transportation, mines, ports, and unmanned driving in some specific parks.
The Prospective Industry Research Institute predicts that the global driverless car market size will reach USD 7.03 billion in 2021. It is worth mentioning that most of the self-driving companies previously relied mainly on artificial intelligence technology, and the advent of the 5G era will undoubtedly make technology updates faster and market competition more intense.
Yin Hao, an academician of the Chinese Academy of Sciences, predicts that 5G will drive China's economic growth by 15.2 trillion yuan from 2021 to 2025. Among them, unmanned driving is regarded as one of the core application scenarios of 5G. If it is said that in the past, driverless cars mainly collected data and intelligent analysis through AI, then 5G with low latency, high reliability, ultra high speed and high capacity will make driverless cars "see more clearly" and achieve Cars are connected to everything from roads, people, and cars.
Some analysts pointed out that China is vigorously developing new technologies such as 5G, artificial intelligence and blockchain, and promoting unmanned technology through the layout of the entire industrial chain. This gives China's driverless advantages in terms of policies and regulations, infrastructure, and construction costs. The big travel industry is not an isolated island. Only by building technological advantages and cross-industry ecological chain barriers can we ensure continuous and efficient travel supply.
Although the online ride-hailing platform is also enlarged by "burning money subsidies", the facts have proven that the marketing strategy without technical innovation support is ultimately unsustainable. In the minds of companies hoping to seize the travel service market, the weight of new technologies such as blockchain, 5G, and unmanned driving may be heavier than the sales of a new car. On these new tracks that are already or are about to start, players from all walks of life should seize the opportunities.
We will continue to update Blocking; if you have any questions or suggestions, please contact us!
Was this article helpful?
93 out of 132 found this helpful