Research Report | Survey on Blockchain Application of Charity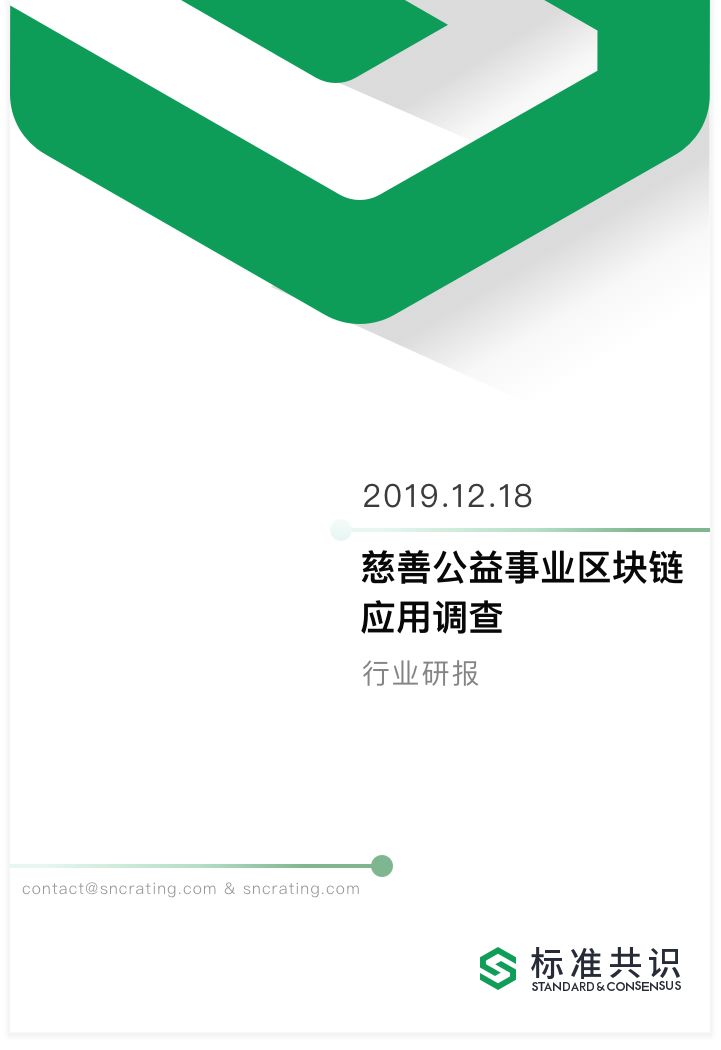 Overview
The most serious problem currently facing charity is the lack of trust. In order for charities to obtain continuous support, they need to make their information more open and transparent. Another problem is the lack of corresponding supervision and audit of the internal management of charities, and at the same time, they are plagued by problems such as cost difficulties and the integrity of charitable organizations. But with the continuous development of blockchain-based detrust technology, it will bring new opportunities for charity. The immutability of the blockchain will help improve the credibility of charitable organizations, reduce the corresponding supervision and audit costs, and make the development of charities more complete.
Report
Overview of Chinese Charities
On September 4, 2017, the Ministry of Civil Affairs launched the Charity China website, which is a national charity information disclosure platform, marking the further transparency of charity data. According to data from China Charity, the data recorded for charity trusts in 2019 increased by 578.95% compared to the data recorded for 2017, and the scale of trust funds increased by 234.88%.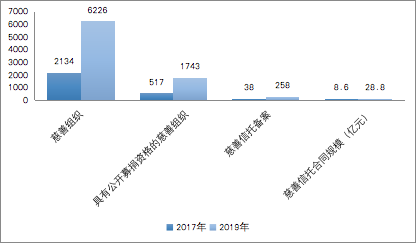 According to data released by the Ministry of Civil Affairs, there were 12,000 regular social donation stations, points and charity supermarkets across the country in 2018. 10.72 million people across the country provided 23.878 million hours of volunteer services in the field of civil affairs.
In 2018, the donation income of social organizations across the country reached 91.97 billion yuan, an increase of 26.1% over the previous year. The direct acceptance of donations by government departments has shown a drastic downward trend. In 2017, the civil administration system directly received donations of 2.5 billion yuan from all walks of life, but it was not disclosed in 2018, indicating that government departments have delegated more power to social donations to social organizations.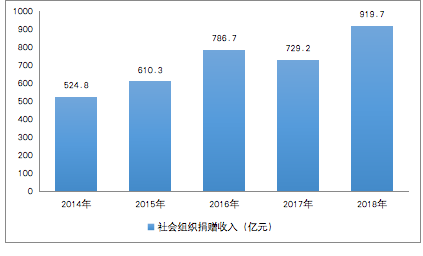 The total value of Chinese volunteer contributions in 2018 was 82.364 billion yuan, an increase of 50.36% over 2017. It shows that the society as a whole attaches more and more importance to the practice and contribution of charity and charity, and puts more enthusiasm and hard work, which will also promote the development and progress of charity and charity, but will further require the transparency and supervision of charity and charity Detailed rules.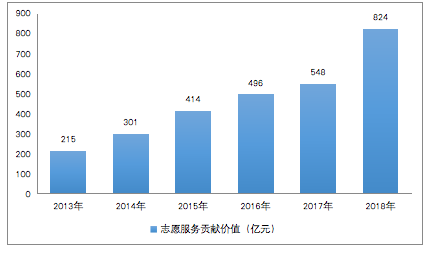 The total value of China's social welfare in 2018 reached 326.52 billion yuan, with a total of 816,000 social organizations nationwide, an increase of 7.1% over 2017; 7,027 foundations, 366,000 social groups, and 443,000 social service organizations, respectively, compared with 2017. Increased by 11.4%, 3.1%, and 10.8%.
Overview of U.S. Philanthropy
According to the "Donation to the United States 2019: Annual Report on Charity" announced by the United States Benefactor Foundation, in 2018, it donated USD 427.71 billion, accounting for 2.1% of GDP. Individual donations: US $ 292.09 billion accounted for 68%; Foundation donations: US $ 75.86 billion accounted for 18%; Heritage donations: US $ 39.71 billion accounted for 9%; Corporate donations: US $ 20.05 billion accounted for 5%. Personal donations are still the main source of donations, but 2018 is the first time that personal donations accounted for less than 70%, indicating that other donation channels are gradually increasing their donations.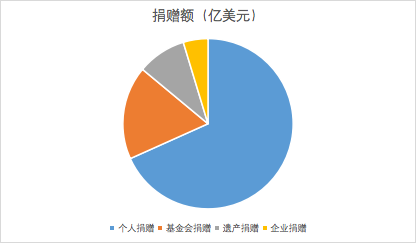 In 2018, China's GDP was 90.0309 trillion yuan, and charitable donations were 91.97 billion yuan, accounting for only 0.1% of GDP. Compared with the United States, charitable donations accounted for 2.1% of GDP, a difference of 21 times. If the United States is a model for a mature country with philanthropy, the development of philanthropy in China still has a long way to go.
Pain points of charity
The legal system for public welfare is incomplete.
Nonprofit organizations have high operating costs and short durations.
The supervision of public welfare institutions is difficult, and the flow of funds is opaque.
It is difficult for donors to select credits from non-profit organizations and doubts about the authenticity of donor donations.
Blockchain technology may help public welfare
Establish an open and transparent traceability system.
Use smart contract technology to improve operational efficiency and reduce supervision and audit costs.
Establish a credit relationship between all parties and a credit evaluation system.
Conclusion
There is still a huge blue ocean market for charity and public welfare. At present, China's overall development is still in its infancy. It still has various pain points, but these are just problems that need to be solved during its development. As a means, what kind of scenarios and development will the blockchain technology bring to charity? It is still in the exploration stage, but it is undeniable that the combination of the two will further accelerate the common development of the two. .
risk warning:
Be vigilant against illegal financial activities under the banner of blockchain and new technologies. Standard consensus firmly resists illegal activities such as using blockchain for illegal fundraising, network pyramid schemes, ICOs, various variants, and dissemination of bad information.
We will continue to update Blocking; if you have any questions or suggestions, please contact us!
Was this article helpful?
93 out of 132 found this helpful