Author: Ripple
Editor's Note: The original title was "ZhongAn Bank, Hong Kong's First Pilot Virtual Bank Has Shocked"
According to relevant news reports, HQ think tank On December 18th, ZA Bank, one of the first virtual banks to obtain a license from the Hong Kong Monetary Authority, announced the start of a trial operation. The technology supervision sandbox is carried out, that is, using the flexible testing ground provided by the HKMA to pilot new services, and it is the first to launch a virtual banking experience service to 2,000 Hong Kong users. The trial operation of ZA Bank brings new technology to Hong Kong citizens with a new financial experience. It has great inspiration for helping itself, the industry and the Hong Kong Monetary Authority to speed up the exploration of virtual banking. significance.

ZA Bank is owned by Zhongan Virtual Finance Co., Ltd., a joint venture between Zhongan Online and Beststar, and a subsidiary of Zhongan Technology (International) Group Co., Ltd. In the past design process of bank financial products, users could not provide feedback and participate in it. This time, Zhongan Bank hopes to invite users to reform the traditional financial product design process, and in line with Hong Kong's strict financial regulatory framework, add Internet interactive elements to make the financial product experience more humane. In the initial stage of the trial of ZhongAn Bank, it will be the first batch of invited Hong Kong retail customers to prepare for the official opening by collecting opinions from selected users. The initial services provided include online banking services such as remote account opening, multi-currency savings accounts, time deposits, local transfers, and electronic statement services.

According to news, since March 27, 2019, the Hong Kong Monetary Authority has issued eight virtual banking licenses, including LiviVBLimited (a joint venture between BOC Hong Kong and JD.com), Zhongan Virtual Finance Co., Ltd., a subsidiary of Zhongan Online, and Ant Merchant Services (Hong Kong) Co., Ltd. (a subsidiary of Ant Financial Services), Ping An One Account Co., Ltd., etc. According to relevant information from the Hong Kong Monetary Authority, there are still many institutions interested in applying for virtual banking licenses, and the virtual banks that have already obtained the license may all open in the first half of 2020.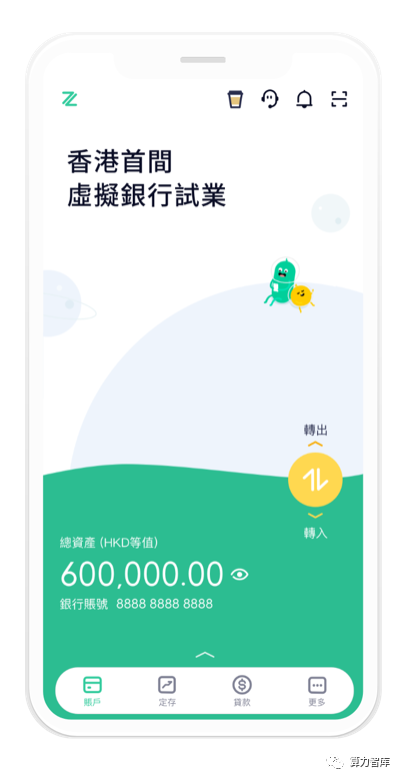 Hong Kong's first virtual bank in trial for 30 years
According to the computing power think tank reporter, virtual banking is different from traditional financial services. The Hong Kong Securities Regulatory Commission, the Banking Regulatory Commission and the Insurance Regulatory Commission are unable to set regulatory standards and issue licenses for such emerging businesses. This means that virtual banks have to face different regulatory authorities and regulatory approaches.

According to a virtual bank in Hong Kong, when applying for a virtual banking license, companies need to sort out their business structure. In terms of technological risks and data processing, the requirements of the Hong Kong Monetary Authority to issue licenses also need to be met. The Hong Kong Monetary Authority also adopted the "Guidelines for the Recognition of Virtual Banks" to guide the healthy development of virtual banks.

According to the relevant channel information, a think tank reporter has learned that despite the difficulty of obtaining a virtual bank license for the enterprise, Zhongan Bank, which is the first pilot of a virtual bank, has taken the lead in making practical attempts in Hong Kong. In this way, ZhongAn will help itself, the industry and the Hong Kong Monetary Authority to expedite the actual landing of virtual banks. Especially for mainland Internet companies, it has a more positive reference meaning, which may become an important springboard for their overseas business expansion.
Low cost + scale, the competition of virtual banks is fundamental
It is understood that virtual banking refers to banks that mainly provide retail banking services through the Internet or other electronic transmission channels rather than physical branches. The general public can use comprehensive banking services such as fixed deposits, loans, or Buy insurance, etc. In theory, because virtual banks can save the resources and manpower of operating entity branches, they have more room to set higher fixed interest rates and lower loan interest rates in order to attract users.

For example, Bank of Internet USA, one of the representatives of virtual banks that started as an Internet bank, has a business model based on interest margin income, low intermediary business income, and driven performance growth through low operating costs, low customer acquisition costs, and scale. It is understood that Bank of Internet USA's services are mainly based on online self-help of customers, in addition to providing remote support, including mail, telephone and online customer service. In terms of account opening and transfer payment, it is easy to operate, there is no minimum deposit limit, and various fees are not charged. Bank of Internet USA has also attracted a large number of non-high net worth young users.

The trial operation of Zhongan Bank in Hong Kong also has positive significance for social financial services. KPMG, a large accounting firm, points out that the entry of virtual banks "will have a great impact on SME finance" and believes that SMEs that cannot obtain sufficient loans due to insufficient guarantees will flow to online virtual banks. In addition, a large number of foreign nanny who came to Hong Kong from the Philippines and other places will also benefit from this. Because they have difficulty obtaining services from traditional financial institutions, virtual banks may gain the demand of these people in one fell swoop.
Virtual bank vs physical bank, new technology is a feature + opportunity
According to the relevant information, a think tank reporter of Hubei Intelligence has learned that, as Hong Kong's first virtual bank, ZA Bank, it will use some core technologies such as artificial intelligence, big data and blockchain in financial innovation. Since March 27 to the first online trial, ZA Bank has deployed more than 200 people across the country to prepare for this for July. Their main energy is to explore in the application algorithm and the underlying architecture. However, the specific technical applications involved have not been disclosed publicly by the Hong Kong Monetary Authority and ZA Bank.

The most special thing about virtual banking is the application of new technology. Mr. Ruan Guoheng, Vice President of the Hong Kong Monetary Authority, said that the HKMA encourages the development of virtual banks, mainly to promote Hong Kong's fintech innovation, enhance user experience and promote popular finance.

The new President of the Hong Kong Monetary Authority, Mr. Yu Weiwen, also said that the use of blockchain technology in trade financing and cross-border payments will continue to be strengthened in the future. According to industry analysts, the Think Tank think tank thinks that this will be a big foreshadowing and opportunity for the rise of new forces of virtual banks such as ZhongAn.