Source: block chain outposts, author: Joyce, original title "by layoffs in transition, HTC has come to dead end? 》

Introduction: The immature cryptocurrency and blockchain mobile phone market can be easily entered for HTC, but it is difficult to say whether a "big but not big" company can be brought back to life.
Not long ago, Taiwan's electronics maker HTC was confirmed to be laying off staff. This is the third layoff of HTC in five years, with 2,250 layoffs for the first time in 2015 and 1,500 layoffs for the second time in 2018. Currently, HTC employs approximately 3,000 people. Although the size and department of the layoffs are still unknown, in accordance with relevant laws and regulations, employees who have been laid off can still receive a year-end bonus for 2 months.
Behind this layoff is HTC's business focus adjustment: VIVE and mobile phones, among which blockchain mobile phones are one of the important development directions of HTC.
The biggest difference between a blockchain phone and an ordinary iPhone or Android phone is that the blockchain phone emphasizes blockchain, encryption and decentralized applications. The most common functions are to enhance security and protect cryptocurrencies and private keys. There are also some features that allow running a full Bitcoin node, and even mining via a blockchain phone.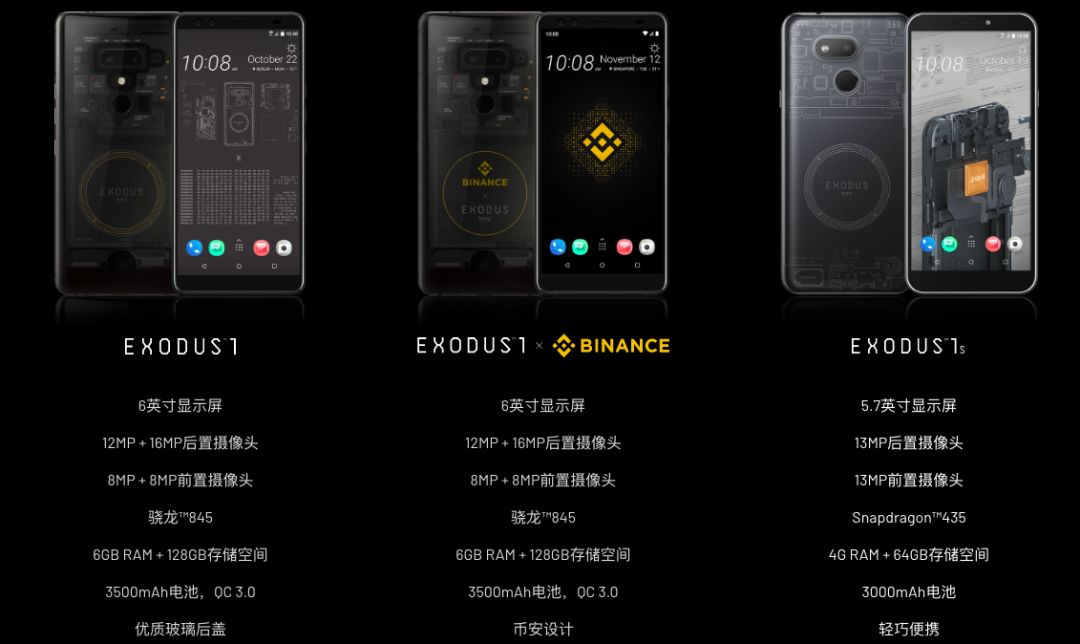 To date, HTC has released a total of 3 blockchain phones.
In the fourth quarter of 2018, HTC launched the first blockchain phone-HTC Exodus 1. In addition to the flagship product configuration, the phone has a built-in secure firmware module (Secure Enclave) that is independent of the Android system. Currency, irreplaceable tokens (NFTs), and electronic data of mobile phones in future versions are properly stored, supporting two payment methods of USD and cryptocurrencies. At that time, the price was $ 699, or 0.15BTC / 4.78ETH / 19.84LTC.
In May this year, HTC launched the second blockchain phone Exodus 1s. On December 5, HTC and well-known cryptocurrency exchange Binance launched the blockchain smartphone EXODUS 1-Binance Edition, priced at $ 599. This phone supports Binance Chain and the DEX on it.
HTC CEO Chen Xinsheng said that in addition to blockchain phones, HTC is also researching a wider range of digital asset management product lines, including cryptocurrency applications.
Smartphone + hardware wallet =?
Prior to the layoffs, HTC announced its October results. According to the financial report, HTC's total revenue was NT $ 656 million (approximately 151 million yuan), a year-on-year decrease of 49.84%, a month-on-month decrease of 48.58%, and it fell below NT $ 1 billion for the sixth time in the year. HTC's smartphone business has also entered a dangerous situation. Based on the revenue of 150 million yuan, if all the revenue comes from smart phones, the average price of the mobile phone is 1,500 yuan, which also means that the HTC mobile phone shipments in October were only 100,000 units. In fact, HTC's revenue not only comes from mobile phones, but its sales are also far below this figure.
In 2010, HTC released the world's first 4G Android smartphone HTC EVO 4G. HTC at that time had completed the transformation from foundry to brand owner and became hot in the smartphone market. But HTC, who has gone 21 years, ushered in a major blow in his 14th year. In 2011, HTC was imposed an import ban in the United States due to a patent lawsuit with Apple, and was also abandoned by European operator channels. At this time, with the rise of domestic smartphones, HTC, which has not been able to clarify its development ideas in terms of strategy and products, cannot respond in time, and has continued to move towards marginalization.
According to a recent report from market research organization Counterpoint Research, Apple still occupies 66% of the market, Samsung accounts for 17%, and the rest is divided by Huawei, Xiaomi, and OPPO. Compared with these brands, HTC's market share is almost zero. HTC was rumored to abandon its smartphone business without products that could be sold.
Now, smartphone + hardware wallet is considered by HTC to be a new type in the smartphone market.
"All indications are that neither Apple nor Samsung will really support people who have private keys." And HTC is between big companies like Apple and small startups, and it doesn't have big data or cloud technology. That makes HTC a good fit for this.
" We are changing the DNA of the entire company. Although it is still very early, there are still many product and marketing challenges." Chen Xinsheng said that this transition is similar to the Android transition in 2008. "At that time, HTC released the first Android phone. Ten years later, we released the first blockchain phone. This is a completely different method and computing platform. It is also an area that requires long-term investment."
At the same time, HTC is also working hard to explore new business models brought by blockchain. Chen Xinsheng said, "We look at some big cryptocurrency companies, and their business models are very different. We will study all models . When people have their own keys, there will be completely different and completely new business models. , And it's very different from the centralized model we are seeing now. "
It cannot be ignored that South Korean electronics giant Samsung has also entered the blockchain mobile phone track.
Compared with HTC, Samsung is also in danger of declining performance. In the first quarter of this year, Samsung's revenue reached US $ 45.18 billion and its profit was US $ 5.4 billion, a decrease of 13.5% compared with the same period last year. Among them, the operating profit of Samsung mobile business also dropped by 40%, and the operating profit was only 1.98 billion US dollars.
On August 30, Samsung announced that it would add 33 digital currencies to the list of assets supported by its flagship Galaxy S10 phone, and it would automatically generate wallets for mobile phone users. The blockchain program in Samsung mobile phones can realize three functions of payment, digital signature, and storage and transmission of cryptocurrency. At the same time, Samsung also cooperated with Sun Yuchen's TRON, and the two parties completed the integration of the blockchain keystore.
Samsung has a clear competitive advantage: research and development technology. Cryptocurrency mining business and smartphone demand for semiconductors, especially for chips, have skyrocketed Samsung chip revenue. At the same time, Samsung Display 's sales in the Chinese market are increasing year by year. In the small-size OLED screen segment, Samsung Electronics 'market share exceeds 90%.
However, HTC lacks the research and development capabilities on basic hardware such as memory, chips, and screens. In recent years, it has not grasped any technological hotspots and lacked fatal competitiveness. At the same time, from the financial report, HTC has almost no wrong costs.
Frankly speaking, the current demand for blockchain mobile phones does not seem to be high. People choose mining machines for mining, and now the competition in the mining machine market is also extremely fierce. The current Android or iOS system for mobile crypto asset trading also fully meets the demand. HTC's main private key and security are not the pain points of current user needs.
The immature cryptocurrency and blockchain mobile phone markets can be easily accessed by HTC, but it is difficult to say whether a "big but not big" company can be brought back to life.