Text | Interchain Pulse · Yuan Shang
On December 19, Alibaba announced a new round of future-oriented upgrades, focusing on the three major strategies of globalization, domestic demand, big data and cloud computing. On the same day, Jingxian Dong, Chairman of Ant Financial Group, ceased to serve as the CEO of Ant Financial. He founded Ant Financial in the first place and focused his work on international business.
The next day, December 20, according to foreign media reports, Ant Financial has made a big move overseas and has quietly acquired a large stake in eMonkey, a Vietnamese electronic wallet.
So far, according to the statistics of the public chain, Ant Financial has achieved business docking in 19 countries or regions and 19 payment companies overseas through self-construction, acquisition, joint ventures and cooperation. The total population of these regions is more than 4.3 billion, accounting for 56% of the global population. Among the top ten countries or regions in the world's population, only the United States, Nigeria and Mexico, Ant Financial has no distribution.
Previously, the blockchain has been used by Ant Financial for cross-border payments in different regions. This means that users in the aforementioned countries and regions can implement cross-border payments through Ant Financial's blockchain network. This network bypasses SWIFT and enables efficient and low-cost financial cross-border payments. Its coverage may exceed Libra and others. Blockchain has become a powerful weapon for Jing Xiandong to carry out Ali's globalization strategy.
Blockchain strung overseas nodes of Ant Financial
On December 13, Cao Yuan, the chief editor of Interchain Pulse, was invited to host a roundtable organized by Southern Publishing Media, a "Blockchain Empowering Payment Industry Transformation" roundtable. Also participating in the round table is Wang Shengze, the head of the ant blockchain market research.
On the round table, Wang Shengze introduced that Ant Financial will mainly use blockchain for cross-border business overseas. Wang Shengze believes that there is Alipay in China, and users can realize low-cost and fast payment. "We are targeting overseas cross-border payments. Cross-border remittances are currently a very inefficient and very expensive process." Wang Shengze said.
On June 25, 2018, Ant Financial announced that the world's first e-wallet cross-border remittance service based on blockchain technology was launched in Hong Kong. Users of the Hong Kong version of Alipay Alipay can directly send money to the Philippine wallet Gcash through blockchain technology. Standard Chartered Bank also announced that it will become a core partner bank to provide settlement services.
The opening of this business has received strategic attention from Alibaba Group. At that time, Hong Kong Financial Secretary Chen Maobo, Chang He Group's co-managing director Huo Jianning, Alibaba Group Chairman Ma Yun, and Ant Financial's chairman and CEO Jing Xiandong attended the business conference.
It is worth noting that the Gcash wallet belongs to the Mynt company in the Philippines, and Ant Financial has completed the acquisition of Mynt company on February 20, 2017.
This business is actually a transfer of an electronic wallet from Ant Financial to another electronic wallet. The traditional SWIFT system required for traditional cross-border transfers has disappeared. The blockchain-based distributed ledger agreement replaces SWIFT's communication protocol. Commercial banks are responsible for the clearing and settlement of remittances.
After this business runs, Ant Financial's global node layout will be connected into a payment network. Mutual Chain Pulse has monitored that Ant Financial obeyed a stake in South Korea's K-BANK Bank in 2015, which has a Korean Internet banking license and can engage in payment business. In 2015, Ant Financial also invested in Paytm, a third-party payment in India. Since then, Ant Financial has built payment networks globally through acquisitions, joint ventures, and cooperation with local companies with payment licenses.
In 2016, Ant Financial acquired the Thai payment project Ascend Money and realized cooperation with Finnish payment company ePassi.
In 2017, Ant Financial has successively acquired KakaoPay in South Korea, Mynt in the Philippines, and HelloPay in Singapore; it has invested in Touch'n Go in Malaysia and cooperated with Modulbank in Russia.
In 2018, it acquired Telenor Microfinance Bank in Pakistan, took a stake in DANA in Indonesia, and cooperated with bKash in Bangladesh.
Most of the above cooperation is concentrated in Southeast Asia.
After Ant Financial completed the blockchain-based cross-border transfer business. Accelerating the pace of overseas expansion, acquired Brazilian financial technology company StoneCo Ltd on October 23, 2018, which has a payment license. This acquisition brings Ant Financial's tentacles to South America.
On February 14, 2019, it was reported that Ant Financial officially completed the acquisition of British WorldFirst company. World First was founded in 2004 and is headquartered in London. It is the third largest foreign currency exchange company in the United Kingdom. It serves 66 online sales platforms around the world and is also the official strategic partner of Amazon. On September 18 this year, the change of ownership was completed. This is an important node for Ant Financial to enter western developed countries.
On October 14, 2019, Ant Financial completed the third round of acquisition of India's largest mobile payment and commerce platform Paytm, and Ant Financial entered another big market of 1.3 billion people.
The latest example is the acquisition of Vietnam's eMonkey on December 19, 2019. In some countries, it is difficult for Ant Financial to obtain an acquisition. Therefore, cooperation and joint ventures are adopted to conduct business docking, such as cooperation with Mizuho Bank in Japan and Vipps in Norway in Northern Europe.
Ant Financial Overseas Nodes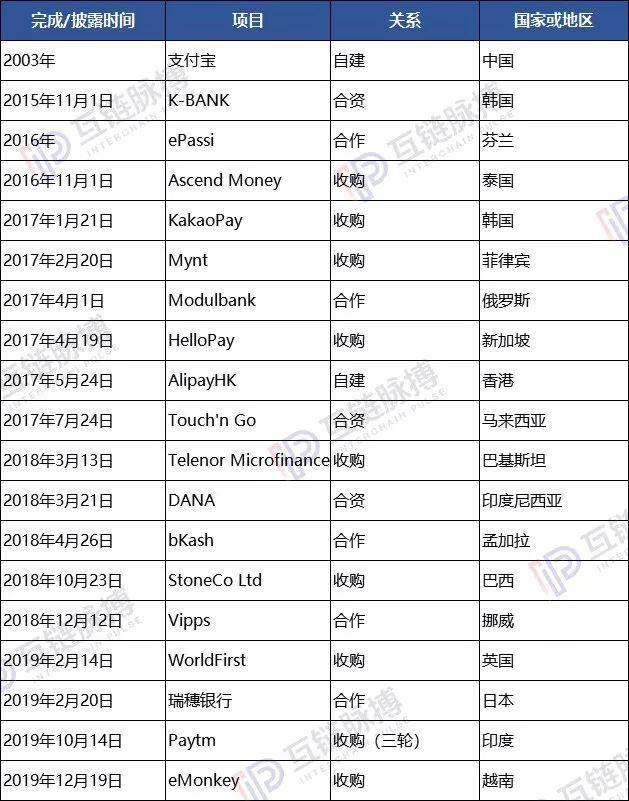 (Tabulation: interchain pulse source: public report)
Andu Chen's vision Ant Financial has already done
On December 19, Jingxian Dong, Chairman of Ant Financial Services Group, mentioned in the full letter, "Starting with the introduction of a secured transaction mechanism 15 years ago to solve the problem of distrust between buyers and sellers on Taobao.com, and now using blockchain technology The new technology included solves the problem of trust. For 15 years, we have been dying with the human society problem of 'trust'. We believe that using digital technology to solve this problem can greatly reduce the cost of trust in the commercial field. Helping "let the world have no difficult business" is getting closer to reality. "
Earlier this year, at the launching ceremony of Pakistan's first blockchain cross-border remittance project, Ant Financial Chairman and CEO Jingxian Dong said that this is a good example of how emerging technologies like blockchain can Helping countries achieve their digital and financial inclusion goals.
Wang Shengze, the head of Ant blockchain market research, also introduced to Interchain Pulse that the domestic payment trust problem, Alipay has been well solved, but international cross-border payments, cross-border remittances, and cross-border e-commerce, cross-border These scenarios of trade have not been solved well, and blockchain is suitable for these fields.
These areas are exactly what Libra wants to achieve. Zhou Xiaochuan, the former governor of the central bank and the chairman of the China Institute of Finance, made it clear after Libra came out that Libra aimed at the pain points of cross-border business. For developed countries with SWIFT systems, there is not much difference in the efficiency of existing payment methods. Small economies and developing countries have a large number of immigrant and semi-immigrant workers, which generate a large amount of remittances, but cross-border transactions, especially remittance efficiency not tall. Libra just caught the pain points of its relatively high cross-border transaction costs, long delays, poor efficiency, and unsatisfactory users.
Libra has also set a banner for "inclusive finance."
However, Libra is facing "difficult labor", and Ant Financial is establishing overseas payment nodes through mergers and acquisitions and cooperation, and then using blockchain technology to achieve cross-border payments, transfers, e-commerce, and trade.
Jingxian Dong made three decisions from his letter. The first one said, "The future of a globalized market will exceed our imagination, and I need to invest more energy. As the chairman of Ant Financial, Ant International Group, intelligent technology business group, HR, finance and strategic investment sections will report directly to me. At the same time, Zhao Ying (Xue Xue) will serve as the president of Ant Financial International Business Group to assist me in promoting the globalization process. Doug becomes Ant Financial Co-President of the International Business Group is responsible for international strategic cooperation, international strategic investment and post-investment governance of investee companies, and promoting the development of credit technology and products. "
——A global payment network is being constructed.
This article is the original [Interlink Pulse], the original link: https://www.blockob.com/posts/info/31331 , please indicate the source when reproduced!