Source: Hive Finance
The unresolved dispute between Zhongying and Yibang for two years finally broke out at the end of this year. The former is an A-share listed company, and the latter is a well-known Bitcoin mining machine manufacturer.
On December 19, Zhongying Interconnection announced that Beijing Chaoyang Public Security Branch opened investigations on Zhejiang Yibang and Yunnan Yibang on the grounds of contract fraud. Yibang countered that it had reported to the Securities and Futures Commission under its real name, and Zhongying Luanxin's letter was false.
The announcement between the two parties not only revealed the contract dispute between the A-share company and the miner, but also revealed the company's actions in the digital currency business in the past two years.
Zhongying Internet's 2018 financial report shows that not only its subsidiary, Cailiang Technology, has added mining machine procurement services, but the parent company's R & D investment also includes digital currency exchanges and mining pools.
Listed companies involved in blockchain and digital currencies are not only connected by the public.
Honeycomb Finance combed the disclosure information of many A-share companies and found that from September to October 2019, 14 companies including Zhongying Internet have already entered the field of blockchain or digital currency. The specific products involved digital currency wallets, mining And trading systems. Among them, Bitcoin mining and exchanges may be important participants.
A-share company Langke Technology already has patents for cold wallets, and patents for trading systems are under review; while Zhidu Co., Ltd. has invested in Bitmain, another mining machine maker.
As one of the focal points of listed companies, the "mine circle" this year has been an eventful one. Now, troubles have arisen in the always low-key billion state.
Zhongying reported to Yibang backhand
A contract dispute over 35,000 mining machines made the former partners "rebellious."
The buyer is A-share listed company Zhongying Interconnect Technology Co., Ltd. (hereinafter referred to as "Zhongying Interconnect"), which entered the Shenzhen Stock Exchange on August 31, 2010, and transformed from a traditional manufacturing company to an online game e-commerce platform company in 2015.
The sellers are Zhejiang Yibang Communication Technology Co., Ltd. (hereinafter referred to as "Zhejiang Yibang") and Yunnan Yibang Information Technology Co., Ltd. (hereinafter referred to as "Yunnan Yibang"), the latter being a wholly-owned subsidiary of the former. In early 2016, Zhejiang Yibang launched the first private-brand mining machine wing bit E9. People in the mining circle often call this company Yibang International.
The escalation of the dispute between the two parties occurred on December 19. Zhongying Internet issued an announcement saying that Beijing Chaoyang Public Security Branch has opened a case for Zhejiang Yibang and Yunnan Yibang for suspected contract fraud. "The company received the" Notice of Initiation "from the public security organ.
On the same day, the "emergency customer service number" of Ebbit appeared in the "emergency statement" of Yibang Company, stating that the relevant materials of the case had been provided in accordance with the requirements of the public security organs, and no personnel were taken away for investigation. At the same time, Zhejiang Yibang also reported to the securities regulatory department in real name about the existence of misrepresentation in the signing date of the sales contract, the amount of the single contract, and the provision of bad debts.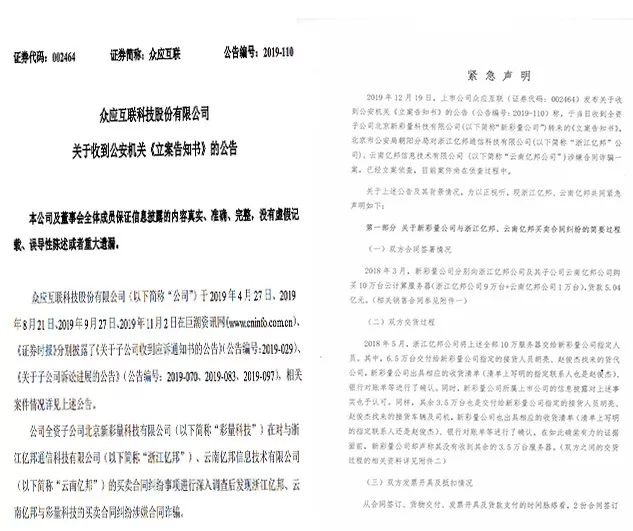 Zhongying Connected to report alarm, Yibang reported backhand
Why is a listed company mainly engaged in gaming business involved in a contract dispute with a mining machine? In fact, the trouble began in 2018, involving the purchase and sale of a mining machine, and the disputes have repeatedly appeared in Zhongying Internet's 2018 annual financial report and 2019 quarterly and half-year financial report.
According to Zhongying Internet's financial report, as early as March 2018, its subsidiary Cailiang Technology signed a "Product Sales Contract" with Zhejiang Yibang and Yunnan Yibang, respectively, and purchased 90,000 cloud computing servers from the two companies. , 10,000 units, the unit price of 5040 yuan each, the total price of 504 million yuan. The so-called cloud computing server is a mining machine.
As of September 11th of that year, Cailiang Technology said that it had paid 380 million yuan to Zhejiang Yibang and 20 million yuan to Yunnan Yibang, but only received 65,000 machines from Zhejiang Yibang, and did not receive Yunnan Yibang. goods.
In response, Zhejiang Yibang and Yunnan Yibang stated that in May of that year, 100,000 servers had been handed over to the designated personnel of Cailiang Technology, and the other party issued the corresponding receipt list and bank statement for confirmation.
The seller claimed that the goods had been delivered in full, and the buyer claimed that they had not received all of them, and the dispute had fallen into Rashomon, and the two sides had a lawsuit.
In early 2019, Zhejiang Yibang and Yunnan Yibang filed lawsuits against Hangzhou Intermediate People's Court and Yunnan Baoshan Intermediate People's Court, respectively, requiring Cailiang Technology to pay a balance of 104 million yuan and corresponding interest. Subsequently, Zhongying Internet filed a counterclaim against Yibang on the ground that it had not received the goods.
The lawsuit has not yet ended, and the whereabouts of the 35,000 miners involved have been a mystery so far. Hive Finance called both parties and as of press time, no reply was received.
After the dispute was exposed on December 20, Zhongying Internet's stock price fell by 9.05% to close at 7.54 yuan / share, compared with the opening price of 8.15 yuan / share, the market value evaporated by more than 400 million yuan.
Zhongying Interconnected Funds R & D Exchange
The two-year contract dispute saw no results. Eventually, the "combat escalation" reported by one party to the police and the other attracted the attention of investors and currency groups. It was found that the original A-shares of the main gaming industry The company has also set up mining circles, in fact, it is not only that.
Zhongying Internet, which went public in 2010, is considered to be a senior A-share market. European gaming e-commerce platform MMOGA and Cailiang Technology are its two major subsidiaries and their core assets and profit sources.
It is not difficult to check Zhongying Internet's 2018 annual report. Doing game promotion programs and mobile Internet advertising business are the same as Zongying Internet's commando team in the digital currency field. Beginning in 2018, Cailiang Technology began to deploy mining, including server technology in the field of digital cloud computing and mine construction, equipment installation, commissioning, etc., which is called "a package of services such as mining machine procurement services" in the financial report.
However, from the perspective of annual revenue, Zhongying Internet's revenue share in the digital currency mining field is not high.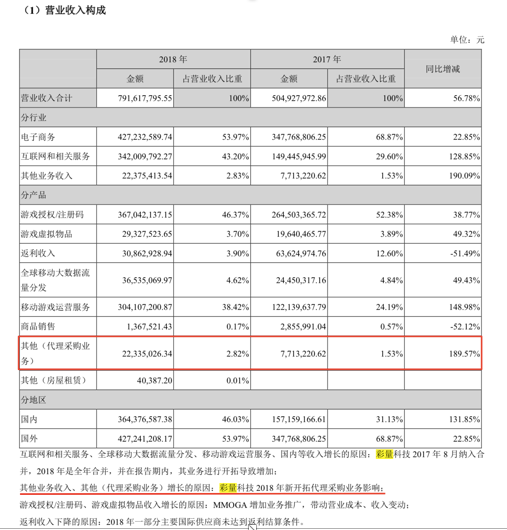 Zhongying Internet's agency procurement business accounted for 2.82% of revenue in 2018
In 2018, Cailiang Technology's agency procurement business revenue was 22.34 million yuan, with a gross profit margin of 100%. This revenue accounted for 2.82% of Zhongying Internet's annual operating income, an increase of 189.57% compared with 2017.
Zhongying Internet revealed the business logic of Cailiang Technology's entry into the mining circle. "In 2019, the country's crackdown on backward production capacity and strict control, large-scale power-consuming industries going to sea are inevitable and will definitely drive a new wave of overseas mines. opportunity."
Not only the mining machine procurement business, but also the research and development and layout of the digital currency exchange and mining pool management system in the "R & D investment" column of Zhongying Internet's 2018 annual report.
According to the financial report, Zhongying Internet R & D is an exchange platform focusing on mainstream digital currencies such as BTC and ETH. As of the end of October 2018, the project has completed the development of all major functions. On the other hand, the mining pool management system also completed the acceptance of outsourced research and development at the end of 2018, and most of the mining machines at the mine have been connected.
As of now, Zhongying Internet has not disclosed the specific brands and operating conditions of its exchanges.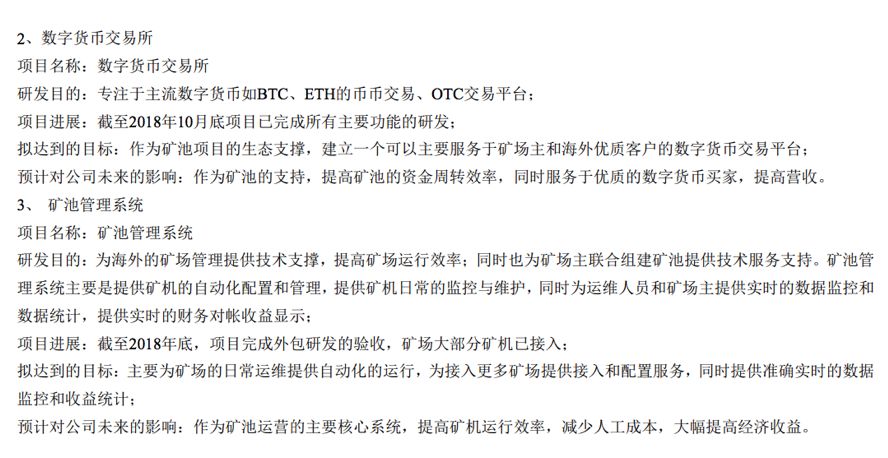 Zhongying Internet's R & D investment in 2018
In terms of R & D investment, Zhongying Internet also provided support to Cailiang Technology, a "coin circle team". In 2018, Zhongying Internet's investment cost exceeded RMB 23,598,800, which was a year-on-year increase of 61.38% compared with 2017's RMB 14,621,800. As for the reasons for the increase in investment, Zhongying Internet pointed out that "mainly due to the impact of the R & D expenses of the subsidiary Cailiang Technology".
Judging from the disclosure of financial reports, the A-share listed company has never concealed its move into the currency circle since 2018 when it developed mining machine procurement services, R & D exchanges and mining pool management systems.
The troubled autumn of the mining machine business comes to Yibang

Everbright and Zhongying Interconnect have exploded A-share "currency-related" companies. In fact, there are more than one public listed companies that are optimistic about blockchain.
According to the public information of some A-share companies, Honeycomb Finance found that companies including Legg Mason Culture and Kodak have mostly disclosed their involvement in the blockchain business in September and October this year. Among them, radio and television operations and Feitian integrity two companies as early as March 2016 launched blockchain-related businesses.
From the information disclosed, the main areas of blockchain business involved in A-share companies include digital currency wallets, media, mining machines, and digital currency trading systems. Langke Technology also owns two patents such as cold wallet and trading system, and Zhidu shares also participate in mining machine maker Bitmain.
Honeycomb Financial organizes according to the public information of some A-share companies
At the same time, the "miner circle", as a blockchain hardware industry that A-share companies are paying attention to, is really an eventful event this year. The top link of the mining circle food chain of the miner manufacturers is also the internal fighting and constant external warfare.
Entering October, the industry leader Bitmain civil strife first, Wu Jihan, as the founder of Bitmain and chairman of the board of directors of the group, cut off all positions of Zhanke Group in Bitmain. A month later, the Zhanke group hired lawyers from various places and took the initiative to convene a shareholder meeting to start a counterattack.
At the same time, the rising star, which is close to Bitmain's mining machine market position, has suffered a problem. The founder Yang Zuoxing has new developments after being taken away by the police. He was arrested by the Shenzhen prosecutors for suspected embezzlement. Asset disputes between Shenma Mining and Bitmain rose from civil lawsuits to criminal cases.
At the same time that Bitmain was fighting internally and externally, on December 11, another mining machine maker Jia Nan Technology (Nasdaq: CAN) finally landed on Nasdaq. The opening price of $ 12.6 began to fall shortly after, and fell once. It broke through the issue price of $ 9, and the recent stock price is hovering near the issue price.
Nowadays, the uneven wave finally comes to the ever low-key Ebang International.
Earlier, according to data from Bernstein and iResearch, among the three major manufacturers of bitcoin mining machines in the world, Ebang International ranked third with a market share of 11%. Therefore, Ebon International, Bitmain, and Jianan Yunzhi are also known as the three major domestic mining machine makers.
It is worth mentioning that Ebang International submitted the prospectus documents to the Hong Kong Stock Exchange at the end of last year. The information shows that two A-share listed companies purchased 700 million yuan of mining machines last year, which are Zhongying Internet and an undisclosed Xinjiang company. The two major customers contributed 700 million yuan for Yibang. Among them, the anonymous Xinjiang company purchased a total of 340 million yuan of mining machines, and Zhongying Internet purchased a 360 million yuan of mining machines. These two purchases accounted for about 34% of Yibang International's total revenue last year.
Now, customers and suppliers have turned their faces, no matter what the outcome of the two parties' dispute, Yibang will lose a big customer.
Do you know which A-share "currency-related" companies?