Text: Wang Ye
Produced by: Odaily Planet Daily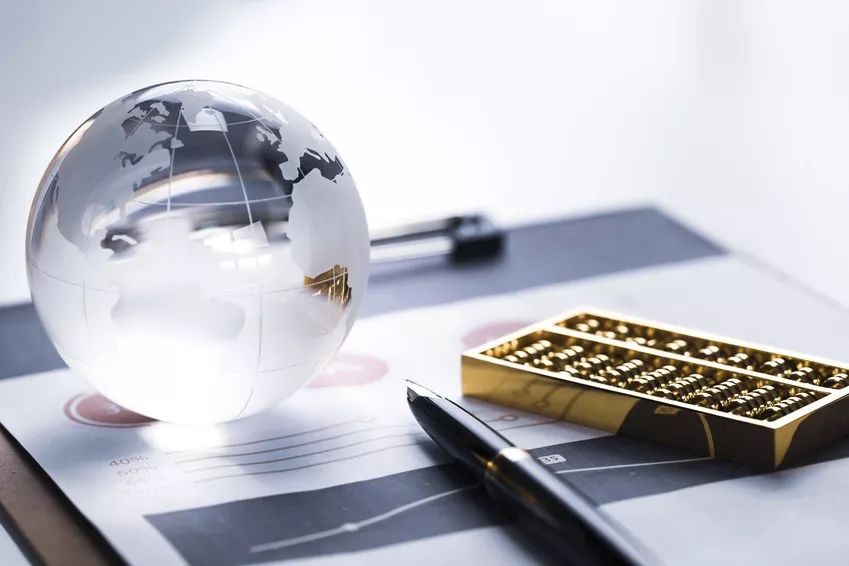 In 2018, Crypto Fund spread investment funds like gold everywhere. As the market turned cold, more than 70 Crypto Funds worldwide have closed down this year.
In 2019, the cryptocurrency market is raging again and again, the public chain is dying in batches, high-frequency deaths are applied, and a number of once-hot tracks have been falsified. Throughout the year, there are very few new projects with high returns.
The Crypto fund, which bloomed everywhere in 17 and 18, also "returned the money earned by luck with their own skills", and many doomed to be doomed by the market this year. However, there are still a small number of crypto funds that are still active in the primary market, making high-frequency shots against the market and waiting for dawn.
Combining with data released by Crypto Fund Research, this article, Odaily Planet Daily, will take a look at it. How will crypto funds survive this year? What happened to quantity and asset size? Which funds are considered to be "model workers" in 2019? What projects have they invested in?

2019 crypto fund trends:
Batch shut down, asset damage, fewer new entrants
As of December 25, 2019, the total market value of the global cryptocurrency market was $ 192.556 billion, down 76% from the highest value of $ 811.8 billion in 2018. As the bear market continues, according to Crypto Fund Research data, more than 70 Crypto Funds worldwide have closed this year.
The number of newly launched Crypto Funds in 2019 is less than half of last year. A total of 38 Crypto Funds were closed in North America this year, 23 in Europe, 14 in the Asia-Pacific region, and 3 in other regions.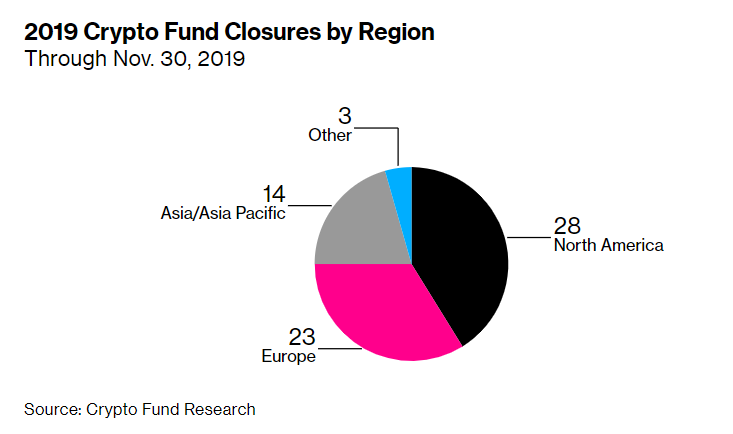 According to statistics from Crypto Fund Research, there are currently more than 800 Crypto Funds worldwide, most of which are venture capital funds (425), and a large number of hedge funds (355) and a small number of mixed funds, including some cryptocurrency ETFs (Odaily Planet Daily Note: Cryptocurrency ETF refers to an investment tool that allows institutional investors to invest in cryptocurrencies without holding any cryptocurrency assets) and private equity funds.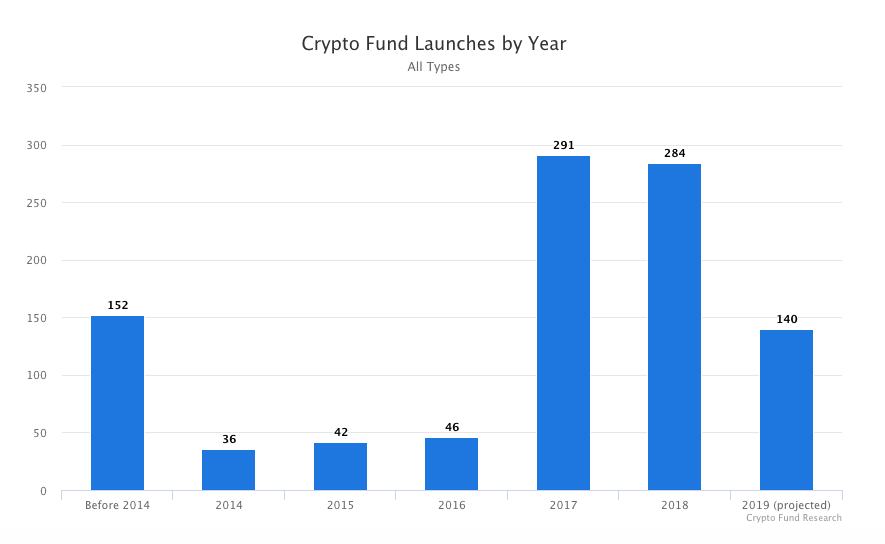 In 2017, with the outbreak of ERC-20 tokens, Crypto Fund also ushered in a peak of fundraising. A total of 291 Crypto Funds were launched to the market. More than 290 new funds, including hedge funds and venture capital funds, were launched in 2016. More than three times the number of funds launched.
In 2018, the launch speed of Crypto Fund remained at a high level in 2017, and a total of 284 new Crypto Funds were launched. In 2019, the new Crypto Fund saw a cliff-like decline. As of December 2019, the number of newly launched Crypto Funds worldwide was only 140, less than half of the number in 2018.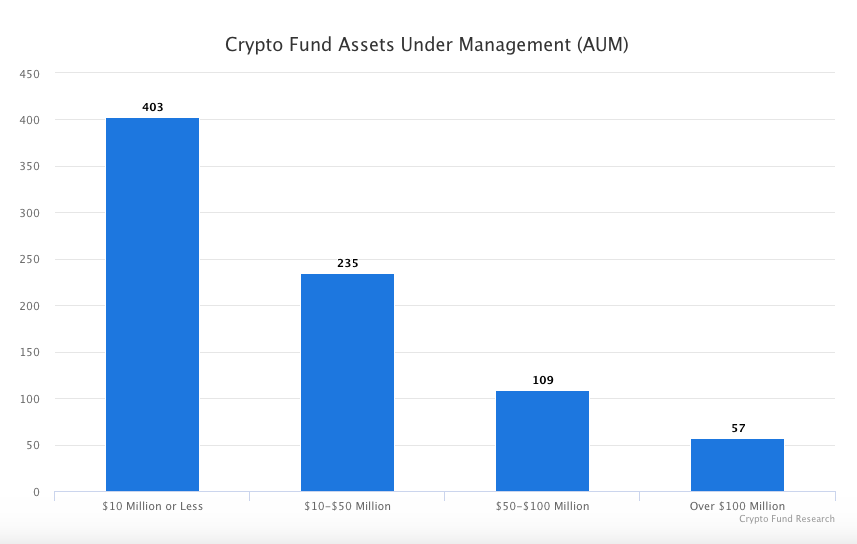 Crypto Fund asset size
Moreover, most of the assets managed by Crypto Fund are very small, compared to traditional VCs. Half of the funds have less than $ 10 million in assets under management. However, there are also some Crypto Funds with assets exceeding USD 100 million, including Pantera Capital, Galaxy Digital assets, Alhpabit Fund, and Polychain Capital.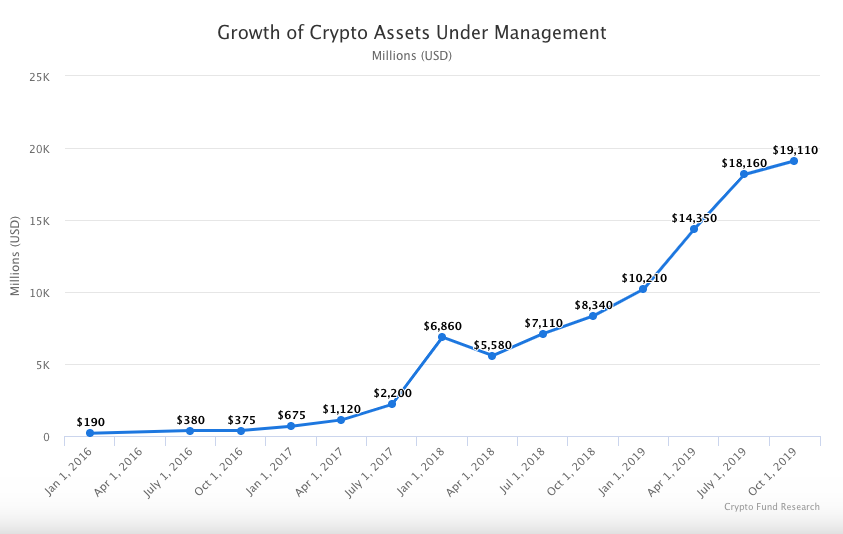 Crypto Fund asset size growth (2016-2019, unit: USD)
The changes in Crypto Fund assets stem from two main factors: the launch of crypto funds and the appreciation of underlying assets. The latter was particularly common at the end of 2017, when the value of Bitcoin increased by almost four times. There may be some contraction in some crypto assets in 2018 as the price of cryptocurrencies has fallen from the highs of early 2018.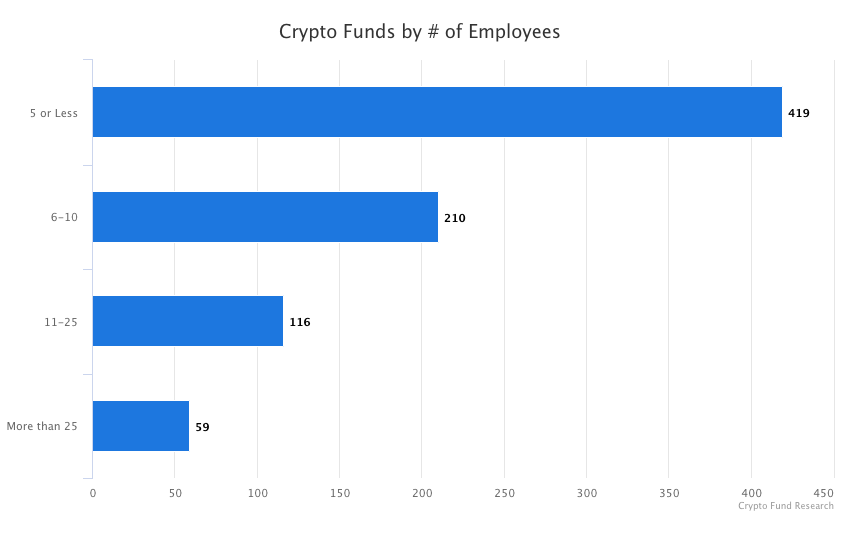 Number of crypto fund team members
Most Crypto Funds are small, many of which are managed by their founders and one or two additional people. Most crypto funds have between four and ten employees. Less than 5% of the funds have more than 25 employees (these are usually VC funds and are not specifically invested in digital assets and blockchain companies). In total, the global Crypto Fund team has approximately 5,000 people.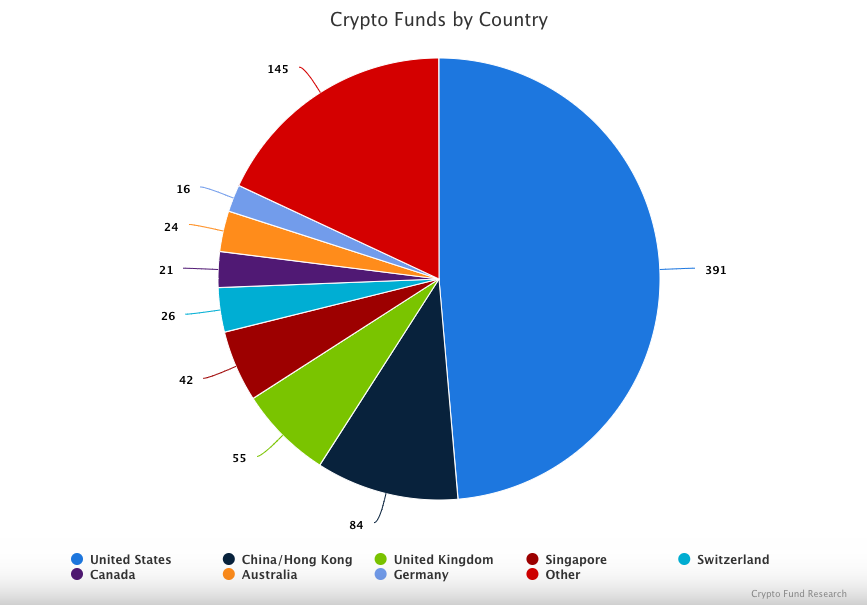 Crypto Fund Country Distribution
Almost half of the Crypto Fund is located in the United States. The UK, China / Hong Kong, Singapore, Switzerland, Canada, Australia, and Germany all have large numbers of funds. Eastern Europe and Russia are also beginning to see new Crypto Funds, as are offshore jurisdictions such as the Cayman Islands.

The 10 most active crypto funds in 2019
In 2018, the Crypto Fund spread money like gold everywhere, and as the market turned cold, there was no investment, no funds in their hands, and they were right to transform, decline or exit the historical stage.
However, after the survival of the fittest, there are still some crypto funds active in the market, and they have made high-frequency shots on the tracks they believe. After summing up, the Odaily Planet Daily lists the 10 most active Crypto Funds in 2019 and organizes them Portfolio and investment amount. (names not listed in order)
1. Digital Currency Group
The Digital Currency Group (DCG), a hidden empire managed by only nine full-time employees, has invested in 125 cryptocurrency-related companies, reaching out to all corners of the crypto world, and mastering CoinDesk, the most powerful media in the industry.
DCG has now quietly become a giant in the cryptocurrency world, and its business has touched almost every corner of the cryptocurrency world. This predator is a hybrid of cryptocurrency direct investment and cryptocurrency venture capital funds. Its business composition is similar to that of Buffett's Burberry. Kerk Hathaway is very similar.
DCG's New York-based company also owns hundreds of millions of dollars in cryptocurrencies, and it owns CoinDesk, a news, event and research company that has an influential role in the cryptocurrency world, and has one of the largest cryptocurrency investment funds in the world Grayscale Investment.
Previously, Odaily Interest Daily has done a comprehensive analysis and reported that it dismantled DCG's investment portfolio and investment logic: " Demystifying the World's Longest Invisible Blockchain Fund" .
Digital Currency Group portfolio 2019
2. Coinbase Ventures
Coinbase Ventures is a dark horse in blockchain investment this year.
Coinbase Ventures is a cryptocurrency venture capital fund established by a well-known cryptocurrency exchange in the United States in 2018 to provide early stage investments for cryptocurrency and blockchain startups. According to Emilie Choi, the head of Coinbase's corporate and business development department, they set up the venture capital fund to support the entire blockchain and cryptocurrency industry.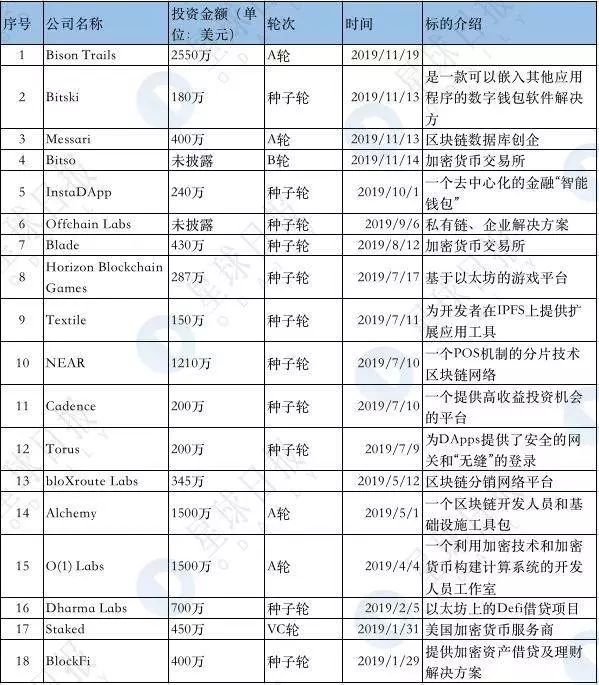 2019 Coinbase Ventures portfolio
3. Galaxy Digital
Galaxy Digital is an encrypted digital currency commercial bank in the United States, founded by billionaire and former Wall Street alignment fund manager Mike Novogratz. The bank's main business is digital currency trading, ICO investment, third-party asset management, and consulting services. It is committed to providing full-service commercial banking services for the digital currency and blockchain industry.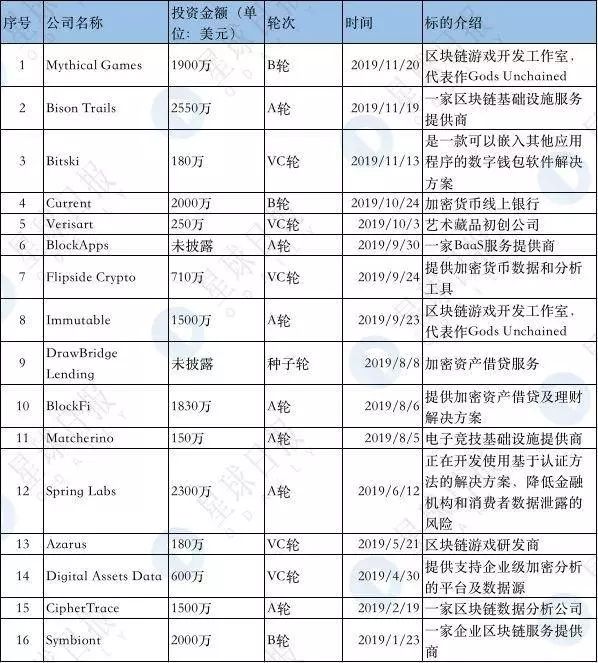 2019 Galaxy Digital portfolio
4. NGC
NGC Ventures was established in late 2017.It is a blockchain technology venture capital fund composed of professionals from the fields of technology entrepreneurship, traditional capital markets, management consulting and other fields. As one of the largest institutional owners in the cryptocurrency industry, NGC has more than $ 400 million in assets and is a major investor in many top blockchain projects such as Zilliqa, OasisLabs, Mainframe, Certik, Bluzelle, Algorand and many more.
At the end of 2018, NGC was independently selected by the well-known financial media PitchBook as the world's top ten cryptocurrency funds (only 2 funds in Asia are on the list).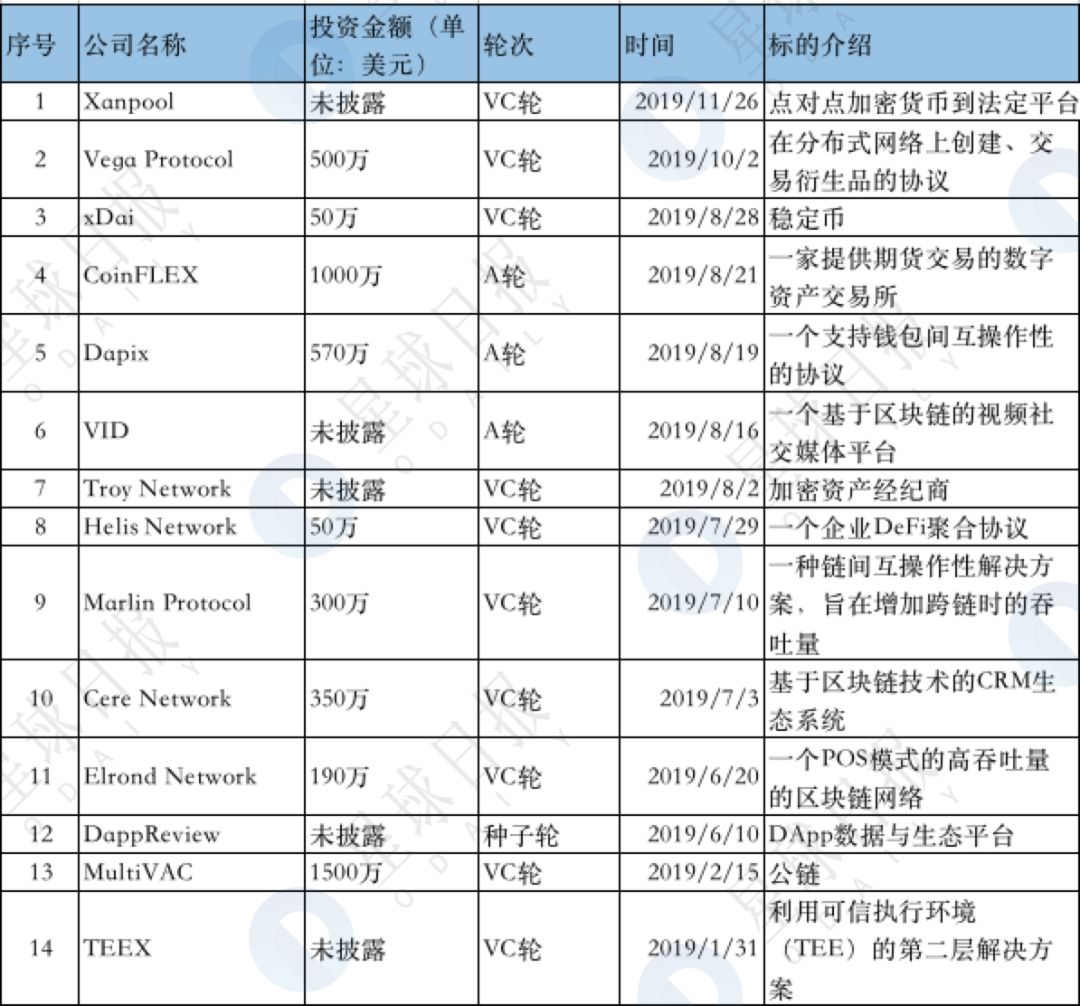 2019 NGC portfolio
5. Distributed capital
Distributed Capital was founded by Shen Bo in October 2015. It has been funded by Wanxiang Holdings with a capital of 50 million U.S. dollars. It has now established a diversified portfolio of a total of 40 companies around the world, covering various stages of development, vertical industries, regions and businesses. The model includes circuits such as the basic chain, the Internet of Things, the supply chain, cross-border remittances, traceability, and enterprise-level applications. The concept of distributed capital is to link the global blockchain ecosystem through the layout of global blockchain companies.
In the latest blockchain industry report released by CB insights, a well-known market research company in the United States, distributed capital ranked among the top five most active venture capital institutions and the only Chinese venture capital company on the list.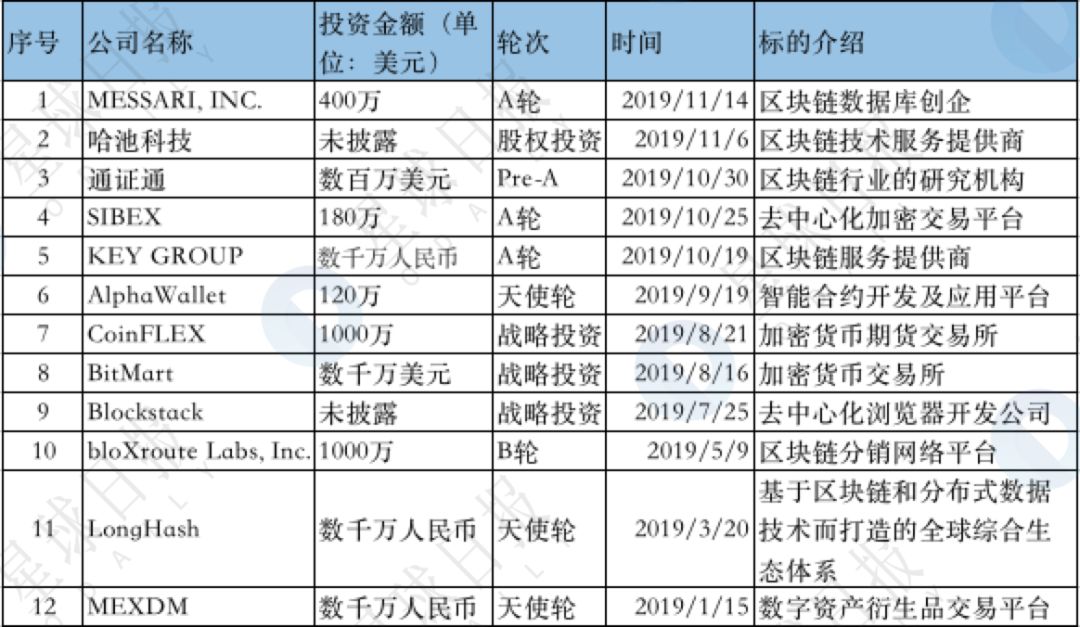 2019 distributed capital portfolio
6. Pantera Capital
Pantera is one of the pioneers in the field of blockchain and cryptocurrency.The Pantera Bitcoin Fund is the world's first Bitcoin fund, which has achieved a return of 16259% since 2013. Pantera currently has three types of blockchain funds: Bitcoin funds, hedge funds, and venture capital funds.
Pantera's executive team is also a leader in the blockchain industry. The current CEO of Pantera Capital, Dan Morehead has served as the CFO of the Tiger Stocks, and has managed more than $ 20 billion in funds. Fund consultant Jed McCaleb is the co-founder of Ripple (the third largest market value project in the digital currency market) and Stellar (the seventh largest market value project in the digital currency market). Fund advisor Joey Krug is the founder of Augur, which is the first application released by Ethereum and the first platform to implement a decentralized prediction market.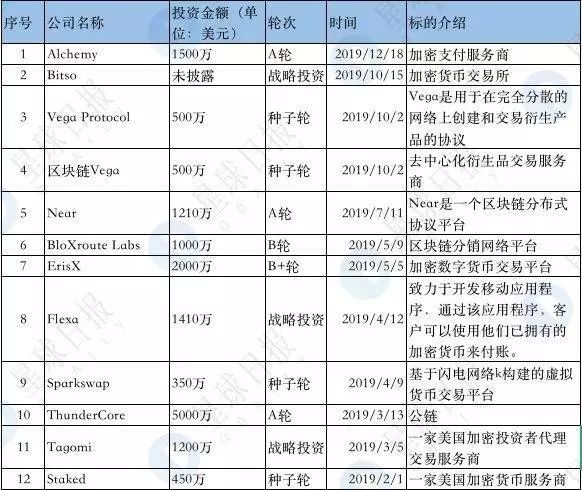 2019 Pantera Capital portfolio
7. Polychain Capital
Founded in 2016, Polychain Capital was one of the first native crypto hedge funds to emerge, investing in many early-stage startups and protocols. The fund was founded by Olaf Carlson Wee, Coinbase's first employee, and has attracted investments from a number of well-known venture capital firms, including: Andreessen Horowitz, Union Square Ventures, and Sequoia Capital.
Polychain has always been convinced that with the development of the cryptocurrency ecosystem, there will be many different protocols to adapt to different use cases, so the fund is named "Polychain".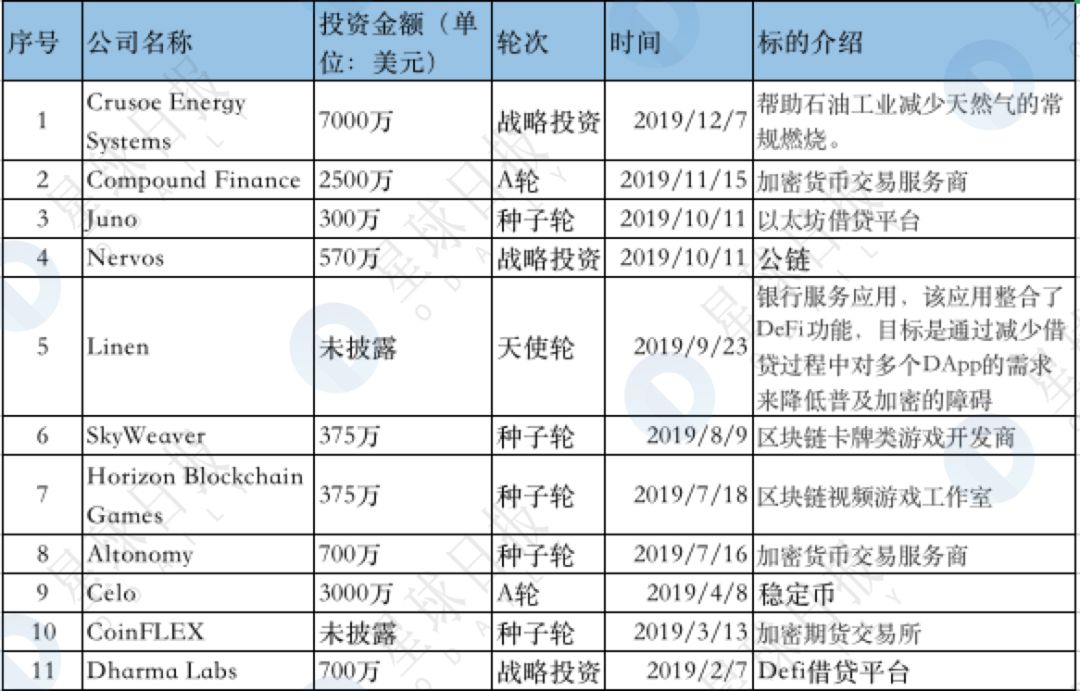 2019 Polychain Capital portfolio
8. Dragonfly Capital
Dragonfly Capital Partners is a venture capital management agency co-founded by Alexander Pack and Feng Bo.
Alexander Pack is also an investment consultant at Bain Capital Ventures, and another founder, Feng Bo, founded Ceyuan Ventures. Dragonfly Capital Partners has now completed a $ 100 million fundraising.
2019 Dragonfly Capital Partners portfolio
9. Blockchain Capital
Blockchain Capital, based in San Francisco, invested early in Fintech companies such as Coinbase, Ripple, Circle, and Kraken.
Since its establishment in 2013, Blockchain Capital has invested in 72 companies, tokens, and protocols, and the company has become one of the top investment institutions in the blockchain industry.
Bart Stephens, co-founder and managing partner of Blockchain Capital, said the company is particularly interested in non-interchangeable tokens such as the virtual pet game CryptoKitties and multi-blockchain solutions.

2019 Blockchain Capital portfolio
10. Arrington XRP Capital
Arrington XRP Capital is a crypto hedge fund based in Seattle, Washington.It was founded in 2017 by Michael Arrington, founder of well-known technology media TechCrunch.
Unlike other funds that mainly invest in Bitcoin and Ethereum, Arrington initially invested all its assets in Ripple. Arrington XRP is reported to have at least $ 100 million in startup funding.
In March of this year, Arrington XRP Capital announced that it had completed a $ 30 million financing with the investor as the company's largest limited partner (LP).
Thanks to this latest financing, Arrington XRP Capital has acquired another fund-ByteSize Capital, founded by the brothers Ninos Mansor and Ninor Mansor, currently from The two Australians have joined Arrington XRP Capital as partners. In addition, Michael Arlington also said that former partner Geoffrey Arone will now be transformed into a corporate consultant.
2019 Arrington XRP Capital portfolio
In addition to the 10 crypto funds with active performance mentioned above, other crypto funds generally show a trend of contraction in investment, such as the well-known Andreessen Horowitz (also known as a16z). According to its publicly disclosed information, a16z only invested in Compund and Arweave in 2019. The four blockchain and cryptocurrency startups, including Dapper Labs and Anchorage, have significantly increased the scale of their investments in the fields of artificial intelligence and biological sciences.
Unlike the investment logic of the bull market, head institutional investors no longer repeat the investment logic of a comprehensive casting net, and pay more attention to the layout of head projects, except for those that are very strong (such as the aforementioned DCG and Cinbase Ventures ).
From the portfolio of the above 10 crypto funds, we can also find some trends: emerging cryptocurrency exchanges are no longer the darlings of institutional investors, and service providers and data providers who do the underlying infrastructure construction are more likely to be in a bear market Get financing.
In addition, it can be found from the carding that Defi's lending projects BlockFi, Juno, and Dharma have been favored by many of the mainstream crypto funds listed above, indicating that Defi is an important racetrack for institutional investors.
References:
CryptoFundResearch: Cryptocurrency Investment Fund Industry Graphs and Charts