Editor's note: The original title was "Twitter Picks | Youtube Crypto Cleanup and V-God. BM was smashed by potential marketing. After all, is it still 1CO? 》
1. Youtube encrypted video sweep affects V God, after all, is it still 1CO?
Youtube has recently burst out to delete videos of many crypto bloggers, triggering a wave of protests from the crypto community over censorship of Youtube. The number of bloggers affected has reached 40+. The content that was delisted includes not only cryptocurrency prices, news, but also videos related to Bitcoin mining. Several bloggers stated on Twitter that this is a censorship of Bitcoin and called on the crypto community to join forces. Some bloggers took the initiative to remove the video in order to avoid being caught.
There are divergent opinions on why Youtube is doing a big cleanup of encrypted videos. In the official YouTube notification to the blogger, the article "violating the sales policy of controlled items" was listed. Therefore, some people believe that the video party has violated the provisions of the securities law, and some big coffees believe that the programs that have been delisted involve promotion. 1CO (then the altcoin coin price plummeted) received a large number of complaints to Youtube to trigger the cleaning. There are also big coffees that the programs promoting 1CO have been removed from the shelves and bloggers who innocently do content seriously. The latest dissatisfied big coffee is Ethereum founder V God.
Let's take a look at how V God and other big coffees think about this big cleaning operation.
1) Youtube removed the video on the grounds that the Ethereum roadmap video made by V God on Coinbase in 2016 violated the "regulated item sales policy". In this regard, Ethereum founder Vitalik Buterin could not understand the move:
I know a poem that says it's too late to fight when you're found, but still, reviewing the Q & A video of the Ethereum roadmap … it's too weird.
It seems we need a replacement for YouTube.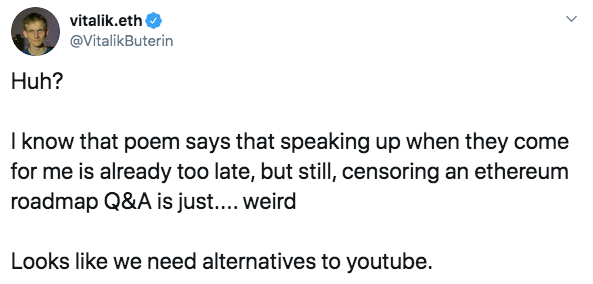 2) CNBC show host Ran NeuNer, who was affected by the deleted video, believes that the time when the crypto community is united against the challenge:
YouTube's removal of all encrypted content has taken a huge toll on the industry. YouTube is the ideal place for educational videos and the first stop for newcomers to enter the crypto ecosystem to learn the basics. As a community, we should formally challenge this move.
Blogger The Moon agrees with this view, arguing that Youtube delisted its Bitcoin price and news content, and determined that the content was "harmful or dangerous".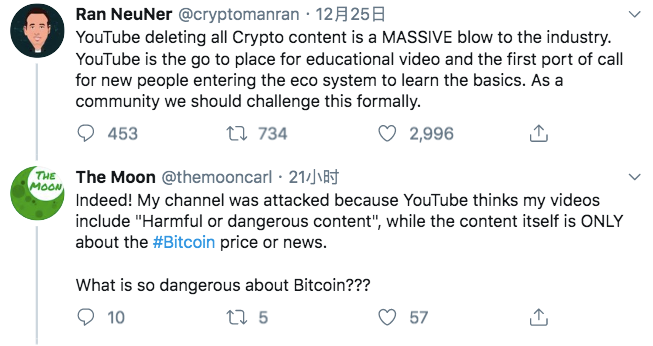 3) Bitcoin evangelist Jimmy Song believes that the video that was taken down is bad news:
All those content creators who have betrayed their souls seem to be doing bad things.
Regardless of whether you agree with @ YouTube's ban, selling channels to promote some altcoins or 1CO in exchange for some dollars will not last.
The Moon believes this is not why the video was censored:
Although I partially agree, this is still not the reason why YouTubers (YouTube bloggers) are censored.
I never received any sponsorship on my YouTube channel, but this YouTube sweep also affected me. This is a censorship against Bitcoin.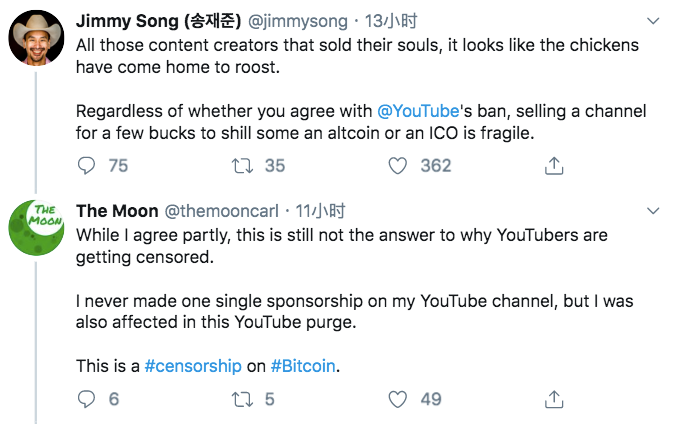 Coindesk's well-known reporter Leigh Cuen hopes that Youtube will not delete the cryptocurrency tutorial videos in the message area:
I just hope they don't review tutorial videos. I use Youtube tutorial to set up a hardware wallet.

4) The Block research director Larry Cermak believes that a large number of user complaints led to the cleaning:
I'm sorry for the honest content creators who were taken down by YouTube for no reason. However, I suspect this is due to the promotion of 1 CO by more than 100 accounts (including Ran NeuNer, Ian Balina, etc.) in 2017/2018, and these altcoin prices plummeted by 99.9%. In the end, too many people complained (and led to the YouTube video being removed).

Cermak's view has received much recognition.
5) Jake Chervinsky, general counsel of Compound Finance, believes that the ban may be related to violations of securities laws:
I suspect YouTube's ban on cryptocurrency shows could be related to a violation of section 17 (b) of the Securities Act (the "anti- peddling " clause) , which requires securities sponsors to disclose any compensation they receive from the promotion. To be honest, it took me so long to ban it, which really surprised me.

But netizen Falcon wrote that some programs that talked about bitcoin mining were also removed, and these programs did not promote unregistered securities.
Jake Chervinsky asked:
Do they only talk about Bitcoin mining? I've seen reports that YouTube cited "regulated merchandise sales" as a reason for its removal, which includes more than Bitcoin mining. I'd love to know what's going on with the channel you mentioned.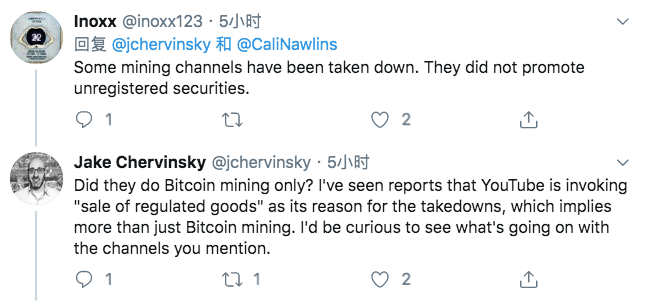 Falcon posted that the podcast host The Moon was removed from the show on January 27, 2019. The reason given by Youtube was "violating the rules because the content is harmful and dangerous", Jake Chervinsky replied:
interesting. The title indicates that this has nothing to do with anti-pedaling terms (although it depends on what exactly is said in the video). Know if there are other regulatory issues (such as transaction-related issues) or if YouTube has misreported the appropriate content.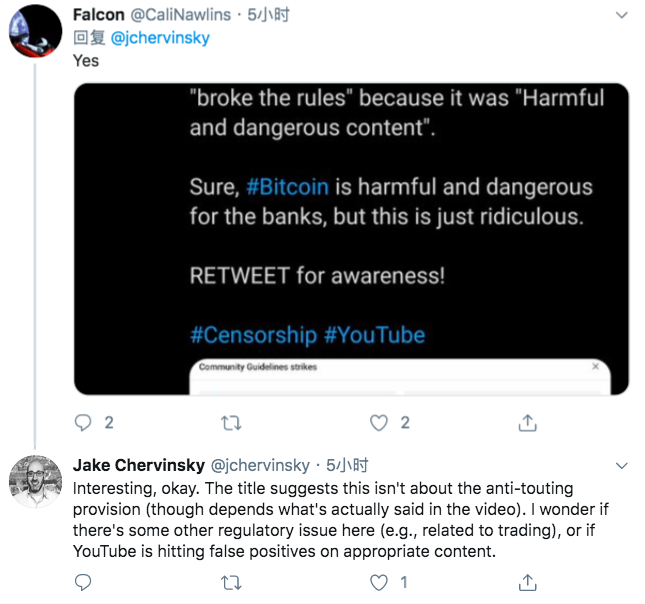 6) Youtube's cleanup of encrypted videos is suspected to have prompted Coinbase CEO Brian Armstrong's views on the news industry:
According to The Economist, the percentage of teens reading newspapers has fallen from 60% to 20% in the past decade. 80% of Arabs aged 18-24 get news via social media (25% in 2015).
One third of the planet 's population is less than 20 years old.

Every time you read a negative article about social media, consider whether the source has a conflict of interest .
We don't believe Ford or GM can write a fair review of Tesla.
This shift may have traced back to Craiglist, a large classified advertising website in the United States . Traditional media have seen their trust / authority diminish as they use their perspective to stop the tide (and become radical in the process).
I want to know how many of those who get news from social media read articles from traditional media. The statistics were not disclosed.
High-quality journalism plays an important role in society, and I admire the great journalists who persevere in an increasingly difficult industry. There is an exciting opportunity to find new business models that will fund outstanding journalism and reverse this trend.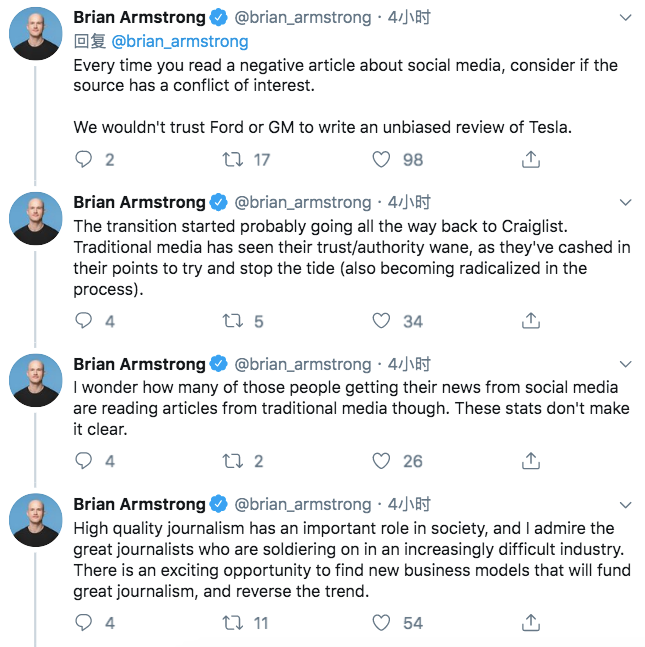 My guess is that it's related to cryptocurrencies , making it easier for the public to pay for good news directly worldwide (as compared to inconvenient credit card payments). The right group can seize this great opportunity.
V God Comment:
We need to quickly upgrade decentralized epistemology.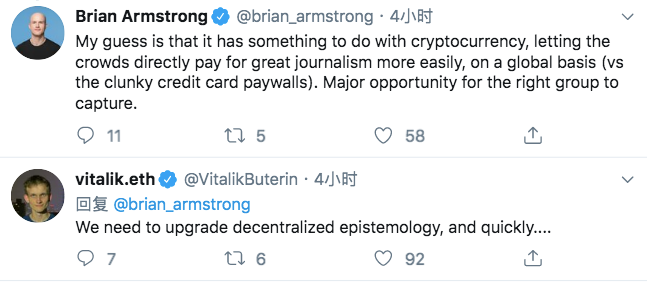 2. Mixed? BM leveraged marketing Voice was sprayed, V God looks forward to Voice performance
EOS founder Daniel Larimer (BM) uses Youtube to delete encrypted video events to leverage marketing:
Remember that YouTube belongs to Google, so if YouTube manipulates your reality by blocking encrypted content, what else does Google manipulate your understanding of reality? It's time to adopt #cantBeEvil (which cannot be used to do evil). #voice is your new year solution, deprecate Google.

Netizen Ron pointed out:
Yes, but YouTube does not require me to provide:
-driver's license
-Social Security Number
-mobile phone number.
And you asked me to provide this information.
BM replied:
They don't need to ask you for this information, because they already know your identity and get more information about you by tracking every action you take on the Internet.
Ron believes that BM's response confuses privacy and security:
You confused the difference between privacy and security.
Google knows that my location will not compromise my security. Announcing my social security number, driver's license, and mobile phone number are security risks.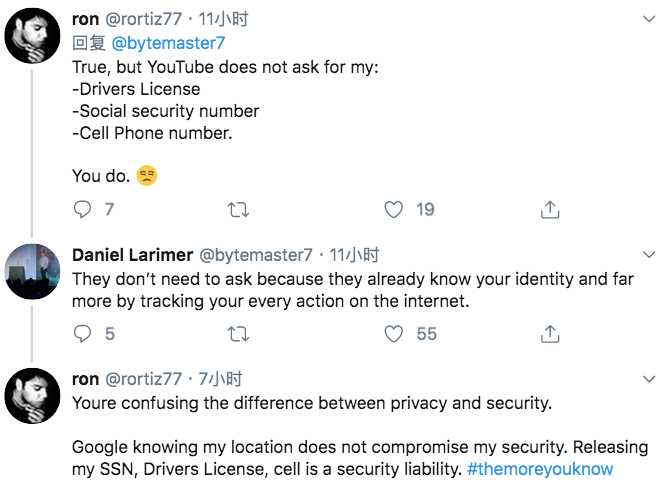 On the other hand, Binance CEO Zhao Changpeng believes that the Youtube deletion of encrypted video events reminds the industry that it is time to explore its own blockchain social media platform in the crypto space:
For the crypto community, it may be time to try your own anti- censorship blockchain social media platform .
Despite many challenges such as spam, scams, irrigation, incentives, copyright, token economics, governance, stickiness, privacy … but
It's time to stand up!
V God retweeted the above tweet and commented: I very much welcome attempts in this area.
Netizen rektkid forwarded the new project Voice of EOS founder BM:
You should know that your biggest competitor has been building such social platforms for over a year.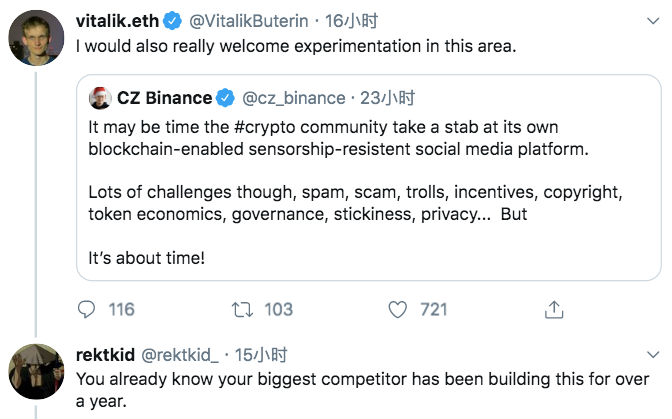 V God replied:
I just applied for Beta access. Looking forward to seeing what they are doing!
Block.one CEO Brendan Blumer said that he valued the feedback from God V:
Great, we take your feedback very seriously. We couldn't solve everything on the first day, but we initially focused on transparency, user-platform coordination, and value feedback to content creators.
Auditing is complex and requires dynamic and customizable solutions designed to be implemented step by step. That said, review systems driven by company interests rather than legal requirements are easy to correct from the start.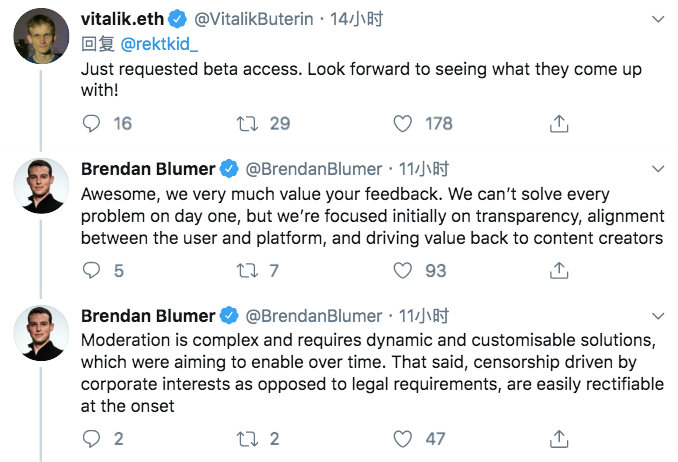 Related reading:
In the 159th Twitter Pick on December 12, 2019, The Block Hub reported that Twitter CEO Jack Dorsey intends to establish a decentralized standard (protocol, not platform) for social media. Twitter is funding a small, independent team, bluesky, to develop open source decentralized standards for social media and to launch a talent recruitment program. Readers interested in decentralized social media can browse through this issue.
3. Tencent establishes digital currency research project group, US investors show "a sense of crisis"
Tencent issued a notice, and after reviewing and determining by the person in charge of the relevant business group, a digital currency research project group will be established.
The new team will study how to use digital currencies in its payment platform and explore other possible business applications. It will also consider how to use cryptocurrencies in existing and future regulatory regimes. According to Quartz and CNBC, the People's Bank of China (PBOC) sees Tencent as a potential issuer of the digital yuan under development. It is reported that the newly established Tencent branch will be committed to formulating the government's pilot digital currency plan in Shenzhen.

Dan Tapiero, co-founder of DTAP Capital, tweeted a sense of crisis:
Merry Christmas! But the Chinese "never sleep." Huge funds and think tanks are all fired up to integrate cryptocurrency / blockchain / bitcoin into the Chinese economy. The promotion of the "Belt and Road" project will push the platform globally. And the United States is still asleep.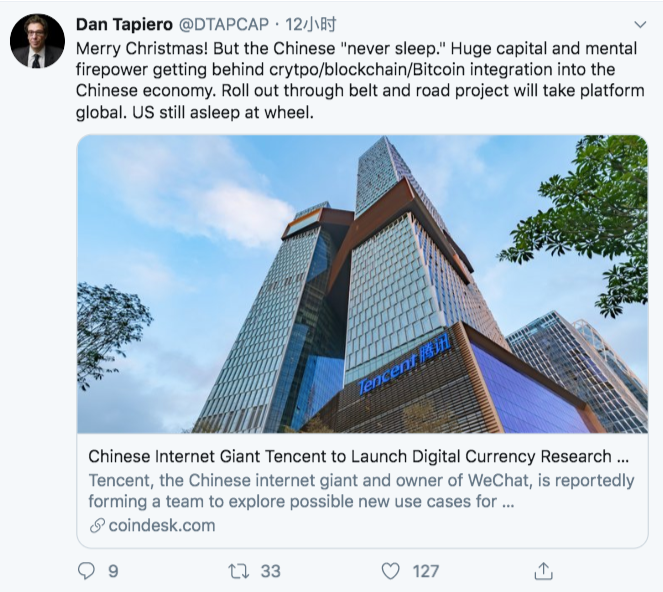 WeChat is currently expanding to only a few countries, and Chinese payment platforms are trying to expand to participating countries through the "Belt and Road" program, including Tencent's concerns about rival Libra and government concerns about Libra's possible replacement of digital RMB. A senior official confirmed on Tuesday that China will expand the scope of blockchain cross-border pilot payment platforms.
4. 2020-2030 will be a decade of wealth redistribution. Are you ready?
Social Capital CEO Chamath palihapitiya tweeted:
2010-2019:
The rise of global technology has accelerated …
The rise of the global elite has deepened …
Increased wage inequality fuels …
Social inequality has increased and led to …
The production of anger …
The rise of populism and …
The rise of nationalism.
2020-2029: A decade of wealth redistribution or revolution.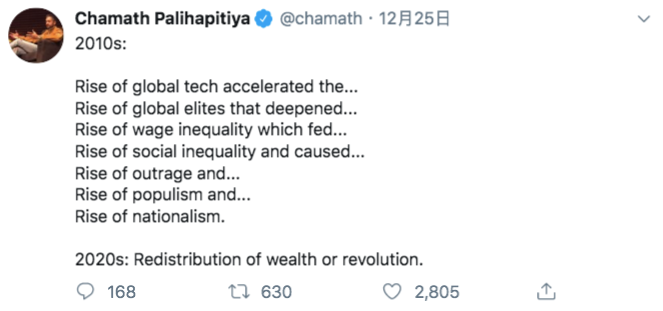 5. Industry News
a. On the afternoon of December 25, 92,000 ETH ($ 11,575,335) were transferred from the unknown wallet to the Krakne exchange. The Twitter account Viewbase pointed out that the ETH received by the unknown wallet is mainly from God V, so the whale may be an Ethereum developer or God V himself.
b. On December 17, the European Central Bank announced a new Proof-Of-Concept for the distributed ledger technology called the EURO chain. The ECB website report states: "This proof of concept has several novel features developed by the European Central Bank's EUROchain Research Network (supported by Accenture and R3) using distributed ledger technology (DLT)." The project aims to study how Privacy is balanced through compliance procedures such as anti-money laundering rules, and distributed ledger technology helps reduce transaction costs.
d. Google Scholar data shows that as of 2019, 14,000 papers have mentioned Bitcoin, an increase of 19.13% over 2018. In 2009, only 83 articles mentioned Bitcoin. Much of the work mentioned in earlier papers is a proof of waste of energy, bitcoin's unsustainability, and a discussion of the revolution that blockchain may bring to the financial industry.
Statement: The opinions of institutions and people in the text do not represent the position of The Block Hub and do not constitute investment advice.