Source: Bplus Singapore
ICBC has a strong operating capability, but its overall technological innovation capability needs to be improved. China Merchants Bank's blockchain cross-border settlement platform is strong, but its blockchain technology application scenarios are not rich enough.
Recently, China Merchants Bank changed its name to reorganize the strategic planning and execution department of the head office, set up a "fintech office" at the head office level, and positioned it as the bank's overall management and promotion department of fintech.
This reorganization is the largest reform of the information technology architecture since the establishment of China Merchants Bank. People in the industry believe that after the establishment of the Fintech Office, China Merchants Bank is expected to accelerate the empowerment of traditional financial services with innovative technologies such as blockchain.
And just last month, another state-owned industrial and commercial bank also announced the establishment of the Fintech Research Institute. Judging from the announcement of the establishment, the main business direction of the Institute is "to carry out forward-looking research and technology reserve of new technology in fintech, strategic planning and innovation application in key fintech fields."
Both China Merchants Bank and ICBC carry out reforms at the organizational structure level to promote the development of fintech innovation. Blockchain plays an important role in the underlying technology, and the two major blockchain horse races have already begun.
01 ICBC: The pace of innovation still needs to be accelerated
The overall layout of ICBC's fintech can be summarized as "one, three centers, one company, and one research institute", that is, the fintech department, business research and development center, data center, software development center, ICBC technology company and fintech research institute .
Among them, the blockchain technology is regarded by ICBC as a breakthrough point for independent innovation of fintech core technology.
In the second batch of blockchain information service filing lists released by the State Cyberspace Office in October 2019, ICBC was the first bank in a state-owned bank to do so. ICBC has filed "ICBC Xixi Blockchain Services" and "ICBC Blockchain-based Financial Services".
In 2016, ICBC began to develop a prototype of a financial product trading platform based on blockchain technology. This platform provides customers with peer-to-peer financial asset transfer and transaction services based on traditional transaction models.
In 2017, ICBC set up a blockchain and biometrics innovation laboratory. After the laboratory was established, ICBC 's autonomous and controllable blockchain 1.0 platform was officially launched in the fourth quarter of 2017. ", An enterprise-level blockchain technology platform.
The platform uses the "smart contract + shared ledger" integration mechanism to help the industry and cross-industry cooperation build a trust system, and supports applications in the fields of supply chain finance, asset trading, certificate tracing, and regulatory auditing.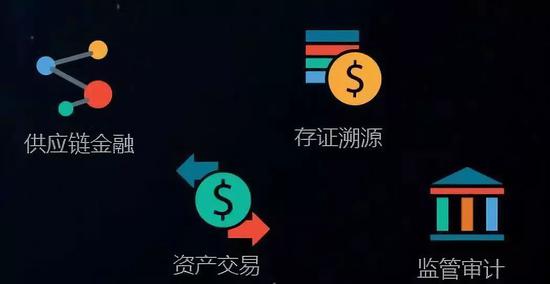 ICBC's autonomous blockchain platform / Figure source network
Subsequently, relying on the "ICBC Xixi Chain", ICBC launched a blockchain management platform for poverty alleviation fund jointly created with Guizhou Guimin Group, which is the industry's first blockchain project serving precision poverty alleviation.
The platform integrates the bank's financial service chain and the government's administrative approval chain across the chain. With the help of technical features such as "immutable tampering and transaction traceability" of the blockchain, it realizes "transparent use", "precise placement" and "efficient management" of poverty alleviation funds.
After the initial success of the targeted poverty alleviation direction, ICBC's independent blockchain platform has been successively built in Xiong'an Smart Forest, Xiong'an Requisition and Demolition Fund Management System, China-Europe Single Cross-Border Trade Platform, Ningxia Smart Government Affairs System, ICBC e-Trust It has some applications.
Although ICBC has stepped up the pace of innovation in recent years, it has used blockchain platforms to serve government, industry, and people's livelihood fields. Overall, ICBC is not in the forefront of the wave of intelligent and digital transformation of the traditional financial industry in China.
In the innovation service platform Yiou released the "State-owned Large Commercial Banks 2019 Development Potential Rankings" in the middle of this year, ICBC ranked first in terms of operating capabilities, but it lags significantly behind the same state-owned banks in terms of technological innovation capabilities. China Construction Bank and Bank of China.
The degree of system intelligence is also at the bottom of the traditional five major banks. From the perspective of indicators, ICBC still has a lot of room for development in the area of ​​fintech innovation, and it is urgent to speed up.
The establishment of the Fintech Research Institute by ICBC today is a sign of accelerating fintech innovation. In the future, ICBC will also need to use its advantages in operating capabilities to catch up with the pace of construction and Bank of China and reverse the situation.
02China Merchants Bank: Focus on cross-border finance
Today, technology-enabled finance has become the consensus of the banking industry, and China Merchants Bank , which has always advocated "technology-based", is naturally not far behind. This year, China Merchants Bank was selected as "China's Best Bank" by "European Currency", and the awarding speech mentioned that China Merchants Bank was "the spirit of innovation, continuous innovation and technology."
It is because of this innovative spirit that China Merchants Bank has long been involved in the field of blockchain. In 2016, China Merchants Bank announced that it has joined the R3 blockchain alliance, which is the second Chinese financial company to join R3 after Ping An Group.
When joining the alliance, China Merchants Bank stated that blockchain has great potential in the banking field and hopes to apply blockchain technology to banking business to improve financial services and processes.
Since then, the "blockchain + finance" field that China Merchants Bank has cultivated is cross-border finance.
CMB's cross-border RMB interbank agency clearing customers are numerous, with clearing business volume exceeding one trillion yuan annually. In the traditional cross-border settlement, each link needs to be carried out in order, the communication cost is huge, and the settlement efficiency is low. Therefore, an efficient solution is urgently needed.
China Merchants Bank believes that the blockchain decentralized distributed architecture is more suitable for cross-border business scenarios, so it can use blockchain technology to establish a cross-border settlement system. The blockchain-based cross-border clearing system has the advantages of decentralization, high availability, high security, and scalability, and can solve existing problems.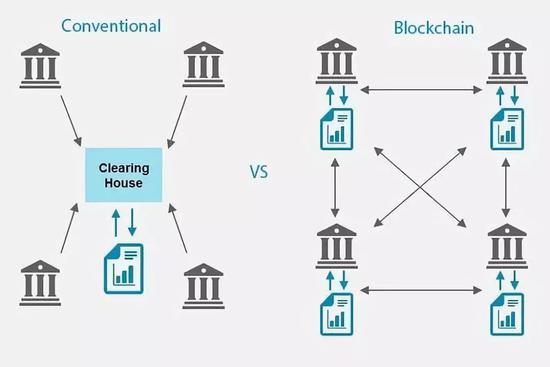 Blockchain solves cross-border settlement problems / Graph Source Network
In 2017, after half a year of trial operation of the simulated environment, China Merchants Bank applied the blockchain technology to the three major scenarios of cross-border direct settlement of global cash management, a unified view of global accounts, and cross-border fund collection. This is the first commercialization of a blockchain project in China.
In 2018, China Merchants Bank teamed up with Wing Lung Bank and Wing Lung Shenzhen Branch to realize the world's first cross-border cross-border RMB clearing business based on blockchain technology.
Cross-border direct clearing is obviously the blockchain application area that CMB attaches the most importance to and is good at. China Merchants Bank's future plan is to first include all its overseas institutions in the global blockchain cross-border settlement system, and then establish a broader cross-bank platform among its peers.
Blockchain technology is highly adaptable in the field of cross-border and cross-border finance. If more banks participate in the construction of a blockchain cross-border clearing platform in the future, the banking clearing process and user experience will be improved.
In addition to cross-border business, China Merchants Bank is also exploring inter-bank digital signing based on the alliance chain and building a customer-centric customer information sharing platform. These explorations are all designed to help banks increase efficiency and reduce risk when conducting business.
However, it needs to be seen that China Merchants Bank has a single development direction and application scenario in blockchain finance, and is basically concentrated in the cross-border settlement field. At present, there are few achievements in other applications such as government affairs and enterprises. In the future, in addition to promoting its cross-border business success experience among peers, CMB should also consider how to broaden the application scenarios of blockchain technology.
Conclusion
Overall, the two banks have their own long and short boards in terms of "blockchain + finance". ICBC has a strong operating capability. Its blockchain platform is particularly experienced in the application of government affairs and people's livelihood. However, ICBC's overall technological innovation capability needs to be improved. The strength of China Merchants Bank's blockchain cross-border settlement platform can effectively solve the efficiency pain points of cross-border finance, but its blockchain technology application scenarios are not rich enough.
Of course, the two banks' choice of different application areas is also related to their nature and positioning. As one of the state-owned banks, ICBC is bound to make more attempts in the direction of government affairs. In recent years, China Merchants Bank has mainly promoted international development. Therefore, it is necessary to use blockchain and other technologies to enhance cross-border financial service capabilities.
ICBC and China Merchants Bank have set up fintech related organizations at the level of the head office this year, which shows the importance they attach to innovative technologies. Today, the strength of fintech has become the core competitiveness of the banking industry. Among them, the blockchain will also play an important role in the new competitive landscape and help the comprehensive upgrade of the traditional banking industry.