Author: Jane
Source: Blockchain and Domain Investment
The biggest news in the domain name circle this year is the news that well-known blockchain company blockone bought voice.com for $ 30 million, and recently blockone has given us a surprise! According to Jamie Zoch's news on social media: Block.one bought two miscellaneous domain names B1.com from the previous holders. Some friends speculated that the transaction price is likely to reach seven digits.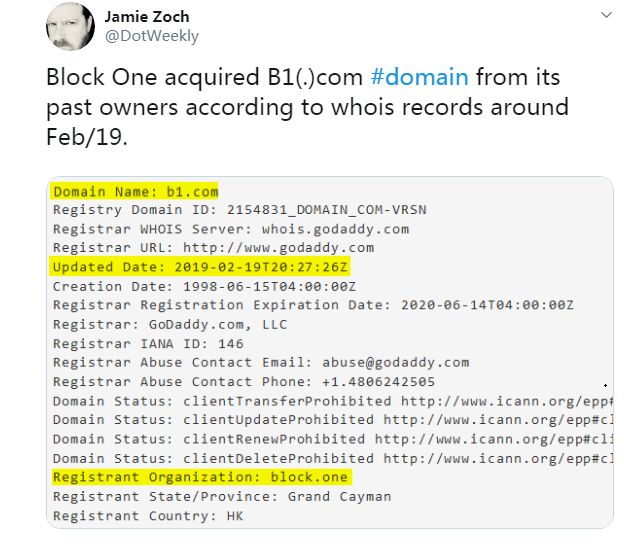 Blockone is a well-known blockchain software company. The company is located in Hong Kong, Los Angeles, Blacksburg and other places, and employs more than 200 employees worldwide. It focuses on software publishers of high-performance blockchain technology, and the official website enables the domain name Block.one.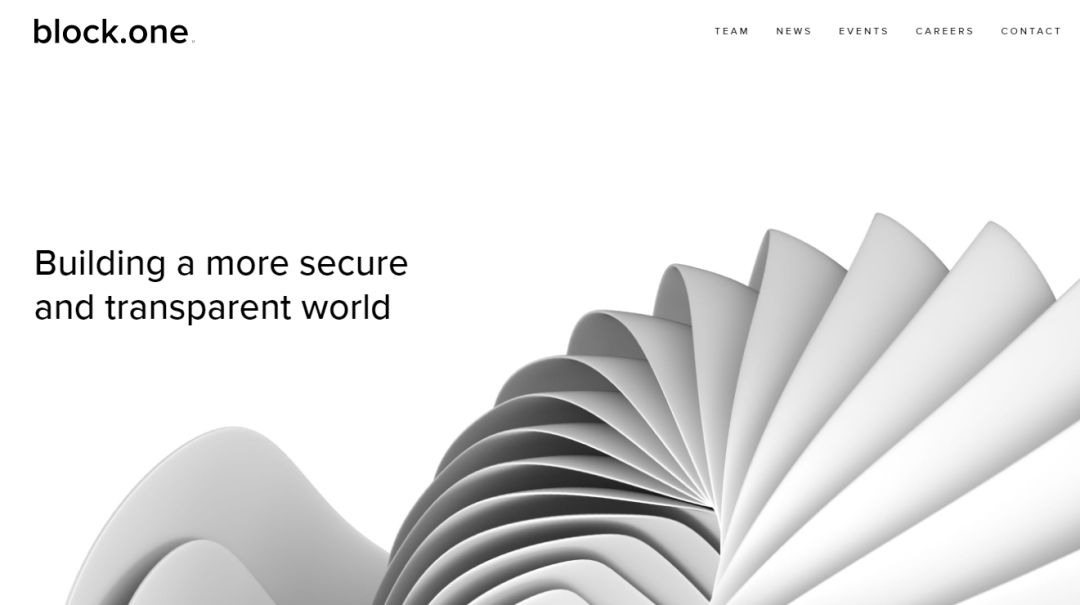 Its blockchain project, EOSio, is thunderous in the currency circle.In 2018, EOS.io received a total investment of nearly 350 million US dollars, and the official website launched the domain name EOS.io. Voice, another project's blockchain social software, has also enjoyed great popularity in the currency circle because Block one acquired the domain name voice.com for $ 30 million in cash. This transaction is also the highest all-cash domain name sale publicly known in history.
B1.com was registered in June 1998 and has a 21-year history. B1.com belongs to two miscellaneous domains. The characters are very short, which is more conducive for users to write and remember. Moreover, B is the first letter of Block. 1 represents one, which directly corresponds to the brand of Block One. It is said that B1.com also has an advantage in promotion and input memory.
According to whois information, Blockone Company acquired the domain name B1.com in February this year, and B1.com is currently not active, but the editors speculate that Blockone is likely to acquire the domain name for reasons of brand name protection. After all, too many companies didn't pay much attention to domain name protection at the beginning, and they finally started to change domain names when they were troubled by the cottage website.
Soufang.com is a living example. In 2014, Douglas won the lawsuit and obtained the trademark of "soufang". The seven-year struggle between Soufangwang and Real Estate came to an end. Fang Tianxia officially announced that it would be renamed "Fang Tianxia" and bought fang.com as the main domain name. But it is too late at this time, after all, Soufang.com, which has accumulated more than a decade of brands, has long been popular. When the stock price reached its peak, and suddenly chose to change the domain name to rebuild the brand image, it would be difficult to accept, thus losing many users. Once the total market value was tens of billions of dollars, but now it is only 187 million dollars. Therefore, in the protection of the brand domain name, rather than make up for it, it is better to take precautions to put it under the umbrella.