USDT used the reserve fund to help Bitfinex cover 850 million US dollars of losses, misappropriation of funds or bridge loans?
The New York State Prosecutor's Office felt it was misappropriation.
According to Bloomberg News, on April 25, New York State Attorney General Letitia James said in a press release that the crypto exchange Bitfinex lost $850 million and then used Tether's funds for secret compensation.
After the news was released, the stable currency USDT issued by Tether showed a downward trend. After this news broke, USDT responded with a downward trend. According to the latest data from AIcoin, it fell from the 1.004USD to the lowest point of 0.966USD, the 24-hour drop was 3.58%, and the USDT latest offer was 0.969USD.
The USDT is a dollar-based stable currency introduced by Tether, with 1USDT = $1. Tether promises to have a $1 guarantee for each bank account issued. However, the market has always had a voice of doubts about Tether and USDT. The stable currency is "unstable", the amount of funds in the Tether account is insufficient, the Tether bank account information is not disclosed, and Tether has never published a credible audit report to prove that it owns The corresponding dollar reserve, which makes many people doubt whether these US dollar reserve funds exist.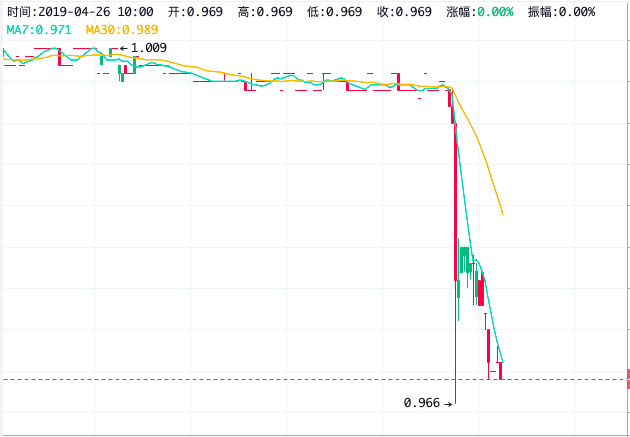 According to the chain financial report, after Bitfinex misappropriated the Tether reserve to make up for the deficit report, a large company transferred 3999 BTC from Bitfinex to an unknown wallet.
It is reported that the findings of the New York State Prosecutor's Office came from a survey of cryptocurrency exchanges initiated in 2018, and the investigation is still continuing. A report issued by the New York Department of Justice in September 2018 stated that many digital currency exchanges lack basic security measures that make investors and their vulnerability to market manipulators.
According to the Wall Street Journal, the Office of the Attorney General said that it has now obtained a court order requiring iFinex to stop transferring funds from Tether's reserves to Bitfinex's bank account, stop distributing any dividends or other dividends to executives, and hand over documents and information. According to the Office of the Attorney General, Bitfinex "borrowed" from Tether's reserves by at least $700 million. People familiar with the matter said that in order to hide the lost funds, Bitfinex and Tether carried out a series of operations, exhausting Tether's dollar reserves. These reserves are basically all from customer deposits. The current funding trend of Bitfinex is still unknown.
The Wall Street Journal reporter contacted David Miller, a lawyer at Morgan Lewis, a New York law firm representing two companies, but declined to comment. The reporter was temporarily unable to contact the company representatives of Bitfinex and Tether to respond to the matter.
According to the Wall Street Journal, the New York State Attorney General said that Bitfinex's $850 million fund loss investigation began in 2018, when the company handed over $850 million to Panama-based third-party payment processing company Crypto Capital Corp. The public information shows that it has participated in the investment of Cybermiles, Abra, only chain, and many projects such as Bytom. But in the next few months, Crypto Capital failed to successfully process these requests from Bitfinex. The exact reason is not clear, the Wall Street Journal reporter also failed to contact the company representative of Crypto Capital.
According to The Block, on March 14, Tether quietly modified the components of its mortgage assets on its official website, announcing that each USDT now corresponds to a corresponding asset reserve, which can now include: cryptocurrency, cash equivalents, and Third party accounts receivable. Previously, Tether also claimed that 100% of their asset reserve components were derived from US dollar reserves.
Zheng Li, a senior analyst, said that I saw it here. "I understand this. Tether's accounts receivable originally meant to be lent to Bitfinex. I wonder if I have to modify the source of asset reserves. I still don't understand Tether. There is an account receivable." Zheng Li believes that if Bitfinex can still pay this amount, this becomes a bridge loan (also known as a bridge loan, which refers to the financial institution A's own loan project, which is due to the temporary Lack of funds and inability to describe, so I asked financial institution B to discuss and let it help to distribute funds. When A financial institution funds are in place, B withdraws. This loan is called "bridge loan for B". But the core of this matter depends on whether New York State will ask Bitfinex for sky-high compensation.
Zheng Li also said, "If the USDT is still in the range of US$2 billion to US$3 billion, the US$800 million accounts receivable will mean a reserve ratio of around 70%, which is roughly equivalent to the Bank of England's reserve ratio in 1790" Here, Zheng Li treated Tether as a bank, and he thought that Tether had become a bank, and that it is sooner or later to set up a reserve system. But Tether is not yet a bank, and there is no clear legal and regulatory authority to define Tether as a bank attribute.
In addition, there may be many people who wonder why Bitfinex will lose $850 million. Industry insiders said that it may be to make up for the loss caused by Bitfinex's stolen 120,000 bitcoin in 2016. 120,000 bitcoins were worth 70 million US dollars at the time; even that it was not a secret that many people in the currency knew it at the time.
Xiong Yue, vice president of the credit letter, also made a similar public comment on this, he said:
"1. Bitcoin is the cornerstone of the real digital currency world; 2. Most people who entered the market after 16 years actually have a hard time understanding the situation. BFX and Tether are definitely not doing it right, but at that time, it is not How wrong."
Just now, Bitfinex issued a notice on the misappropriation of funds, the announcement said, "The New York Attorney General's court documents were maliciously written and full of false assertions, including the $850 million 'loss' allegedly occurring at Crypto Capital. We have been told that the amount of these encrypted capital has not been lost, but it has actually been sealed up and protected." The announcement also stated that Bitfinex is trying to release these funds, Bitfinex and Tether are in good financial condition, and how will the funds be released, Not mentioned in the announcement.
Author: Tea cold
Source: Planet Daily
We will continue to update Blocking; if you have any questions or suggestions, please contact us!
Was this article helpful?
93 out of 132 found this helpful