"Death sentence" on Telegram? Interpretation of the latest interview of the SEC "crypto old godmother"
This article comes from Cointelegraph , the original author: Kollen Post
Odaily Planet Daily Translator | Moni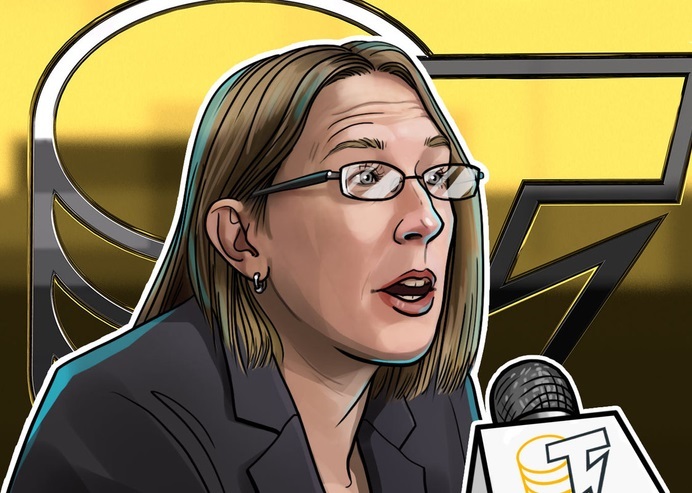 As five members of the United States Securities and Exchange Commission (SEC) questioned, Hester Peirce's words and deeds in the blockchain and cryptocurrency industry have received attention, and her optimism about the future of this emerging industry has made the community close to say This is the "crypto old godmother".
Recently, Hester Peirce talked about the latest changes in regulatory methods in an interview, such as the US Securities and Exchange Commission is trying to update securities product registration exemptions, how crypto companies and lawmakers are engaged in an ongoing tug of war on how to handle cryptocurrencies, etc Wait. Now, let Star Jun (WeChat: o-daily) and everyone take a look at Hester Peirce's opinion.
About Securities Product Registration Waiver Update
On December 18, the US Securities and Exchange Commission announced plans to add a new accredited investor credit list. At this stage, credible investors are defined as those with net assets exceeding US $ 1 million (or annual income exceeding US $ 200,000). Individuals, organizations, banks and institutions with assets exceeding $ 5 million.
According to Bloomberg, becoming a trusted investor can give entities and individuals more access to private investment, including participation in some of the more risky investments and hedge funds. Under the SEC Amendment, the new definition of "trusted investor" will be expanded to include "natural persons," "qualified employees" eligible for certain private funds, companies that meet certain restrictions, and companies that meet certain restrictions, An entity that has an 'investment' by definition, a family investment agency with at least $ 5 million in assets, and can pool funds to qualify for a spouse. The proposal will be published in the Federal Government's Federal Register for 60 days for public comment.
"Trusted investors" can participate in securities issuance projects that are not subject to registration with the Securities and Exchange Commission under Regulation D. For those who have already acquired the status of "trusted investor", this change opens up a whole new field of early private investment for them.
In the blockchain and cryptocurrency communities, there are constant disputes over whether an initial coin offering (ICO) should be considered a security issue, so the latest statement of the US Securities and Exchange Commission also seems particularly meaningful. The US Securities and Exchange Commission recently sued two cryptocurrency companies for their products: one is EOS of block.one, and the other is Telegram's $ 1.7 billion TON token sale. In fact, the parent companies of these products have been seeking registration exemption requirements from the Securities and Exchange Commission, and the regulatory changes now proposed by the regulator are undoubtedly critical for future initial coin offerings.
Hester Peirce said she is looking forward to the proposed "trusted investor" rule change by the SEC, but at the same time Hester Peirce believes that regulators are not seeking answers to the basic question "Will this be a good framework in the end?" In fact, the SEC has even greater "ambitions."
About the greater "ambition" of the SEC
Hester Peirce's attitude actually reflects the general tendency of liberals to the government's role in protecting investors. In September 2019, the House Financial Services Committee held a hearing during which Hester Peirce stated that the current oversight was "humble." In fact, the SEC has not yet attempted to register for exemptions on large projects, but has only experimented with a small number of them, Hester Peirce commented:
"Trusted investors are just part of the SEC's attempt, and that doesn't mean we won't do anything with other crypto projects. At least for me, the SEC is interested in trying to see if it can be The blockchain and cryptocurrency industries do something, but implementing a comprehensive registration exemption would be a big project. "
Speaking of the "Securities Law" and the future direction of investment, Hester Peirce stated that he wanted to see that investors can accept that "there is inherent risk in investment, there is no absolute freedom, and freedom is often accompanied by responsibility." The logic of Hester Peirce is that "credibility" is a state that shows that investors can accept risk as long as it is not considered a guarantee, she added:
"If you walk in and say, 'Okay, Hester, I want to invest in a wider field, and we want to have access to private equity.' I will tell you that I agree with your goals because you have the freedom to decide Put your money in there, but if you do, you need to understand that there are risks to investing at any time, whether in the private market or the open market, so you may lose money by doing so. "
The SEC has chaired meetings to coordinate existing registration exemptions, but as Hester Peirce points out, these registration exemptions are currently extremely complex, opaque, and these things "have accumulated for a long time."
In fact, Hester Peirce believes that the SEC should be open to reclassification of cryptocurrencies, she explained:
"The blockchain and cryptocurrency industries are not all investors, and there are some token buyers. According to existing registration exemptions or current policies, people who want to invest in crypto projects are likely not eligible to become qualified investments. By."
What the token classification means for the industry
From the perspective of the "Securities Law", the current implementation of registration exemption for the initial token issuance is basically a "daydream." However, Hester Peirce is very interested in reconfiguring existing regulations, especially for emerging financial technology-related regulations including crypto and blockchain. Hester Peirce cited the Token Taxonomy Act currently circulating in the US Congress as an example, and pointed out that there are obvious differences between the two types of tokens. One is a cryptocurrency that represents corporate investment behavior. Therefore it is regarded as a security; another is a token with a practical purpose. Hester Peirce states:
"What the crypto community needs most is to tell them how to distinguish between security tokens and utility tokens, because utility tokens are not subject to securities laws (and certainly not protected by securities laws). Some crypto projects issue tokens if Subject to securities laws, it is likely that the token network will not be able to start normally and operate in the future. "
However, Hester Peirce is very optimistic about the ability of the blockchain and cryptocurrency industries to come up with innovative solutions, and she continues:
"I really like the blockchain and cryptocurrency industries, these people come together and then create a new form of civil society. They are working together and being accountable for their actions. So stop asking the government for more Your savior or rescuer, because if you have that expectation, it will make you look no different from the traditional model. "
About seeking guidance from the U.S. Congress
Although Hester Peirce is optimistic about the future of blockchain and cryptocurrencies, she has repeatedly reiterated that the SEC cannot provide all the answers for this industry. When talking about the Token Classification Act, Hester Peirce deliberately avoided direct comments, saying only:
"I'm familiar with this, but in my capacity, I can't comment arbitrarily because it's legislative, but I'm glad someone in Congress is very interested in this area. Congress has the ability to provide a clear explanation-I Do you think I have the ability to give a higher degree of policy clarity than in the past, and Congress is clearly capable of this? "
Hester Peirce pointed out that the U.S. Congress has the ability to replace the regulatory framework of the U.S. Securities and Exchange Commission, and there have been precedents, such as the 2012 Jobs Act, which has greatly expanded the crowdfunding requirements of the previous SEC Regulation A Exemption scope. In fact, the SEC can do very little, and they need to be able to work with confidence with their legislative support.
Hester Peirce believes that the core issue of future regulation is the need for better collaboration between regulators. In addition, many regulatory policies were formulated during the Great Depression in the United States, so they are not suitable for the current blockchain and crypto industries. Hester Peirce states:
"Many issues between regulators have deep historical roots, and if you want each regulator to express a clear positive attitude, you need to coordinate among the regulators."
So what conclusion does Hester Peirce give? In any case, she said, it will ultimately be affirmed by Congress. Although it doesn't specify which form to take, Hester Peirce said that despite the historical frictions among the various regulators, they have worked better in recent years.
About the SEC's suit and settlement
Hester Peirce seems to be more comparable to the SEC's prosecution and settlement issues in the blockchain and cryptocurrency industries. In response to questions about the motivation to sue Telegram or other token issuers, Hester Peirce strongly denied that the SEC sued because of the large amount of financing for these initial token offerings, she explained:
"I don't think people should read too much about this kind of issues, because you don't know what the SEC is doing, and we will look at the situation as a whole. What makes me wonder is that people will The Commission 's law enforcement behavior reads a variety of interpretations. The advice I usually give is: What do you need to focus on? What is your project? Is what you are doing legally compliant? "
In fact, Hester Peirce's explanation on this issue does not help much, especially when some blockchain and crypto companies seek applications for inaction, the SEC's response is usually very slow.
Finally … About Telegram
In the Telegram case, the company claimed that the SEC had not responded to their Regulation D registration waiver application in a timely manner, and that this unresponsive approach was extremely irresponsible. Hester Peirce acknowledged that she had heard of Telegram's complaint about the SEC's slow response time, and she explained that:
"We did hear a lot of such concerns, and obviously all of us know that a lot of terrible things have happened in the cryptocurrency industry. Some projects are fraudulent activities and they will say," We are in the process of initial token issuance and hope you can invest Money. 'Then run away with money. "
Hester Peirce declined to comment directly on the ongoing Telegram case, but said she wants to track down real bad actors in the blockchain and cryptocurrency industry, rather than "one size fits all," because it will also hit some good projects.
However, given that the US Securities and Exchange Commission has not given a clear regulatory standard to date, many who wish to make an initial token offering remain uneasy.
Asked if the SEC's ongoing registration exemption changes would affect Telegram, Hester Peirce replied:
"Usually, any rule changes will only apply in the future."
For Telegram, hearing Hester Peirce's response may be bad news, as the public comment period for investor waiver ends, meaning that Telegram will continue its legal battle with the SEC.
If reprinted, please indicate the source.
We will continue to update Blocking; if you have any questions or suggestions, please contact us!
Was this article helpful?
93 out of 132 found this helpful