1. New York State prosecutors have been paying attention to Bitfinex for a long time;
2. The New York State prosecutor established a special observation team and filed a lawsuit;
3. Bitfinex and Tether manage the funds of the two businesses together;
4. The USDT reserve bank and reserve amount are still a mystery;
5. Bitfinex and Tether black box operations, transfer Tether reserves to make up for Bitfinex's financial losses;
6. Bitfinex and Tether have never disclosed "credit quota" information to their investors or Tether holders. This article was compiled from the financial network chain of financial indictment from the New York State Attorney General (NYSAG) on the encrypted digital currency exchange Bitfinex and its affiliate Tether.
The Office of the Attorney General of New York claimed that Bitfinex, a cryptocurrency exchange, used its affiliated stable currency operator Tether to cover up $850 million in losses. According to NYAG, Letitia James announced that she had obtained a court order to sue iFinex. It is reported that iFinex operates both Bitfinex and Tether. The company was asked to stop operations because they violated New York law and deceived New York residents.
James said, "We will continue to stand up and speak for investors. If these companies mislead or deceive investors, we will try our best to find a legal solution for them. According to the statement, Bitfinex to Crypto Capital Corp. Transferring $850 million in customer and company funds, Crypto is a payment processor, and it is reported that in addition to Bitfinex funds, there are funds from other exchanges, such as QuadrigaCX. They use Tether's reserve funds to make up for the deficit. However, the amount of the loss and the flow of funds of Tether were not disclosed to the client."
It is reported that Bitfinex has transferred at least $700 million so far.
According to a document submitted by Assistant Attorney General Brian Whitehurst, "OAG has reason to believe that Bitfinex still allows retail investors in New York State to trade on the Bitfinex trading platform, replenish virtual currency and engage in other businesses."
According to court orders, iFinex's directors, officers, principals, agents, employees, contractors, assignees or any other affiliated individuals will be prohibited from accessing the Tether's US dollar reserve on the grounds of loans or other forms.
At the same time, iFinex employees and their affiliates are not allowed to tamper with any documents, including meeting minutes.
It is worth noting that the document shows that the AG office did not prevent Bitfinex from legally trading or ordering redemption of Tether; instead, the office hoped that the court would approve a preliminary ban on "maintaining the status quo" before the investigation was completed.
Tether's reserves have been the focus of public attention, and it is related to the long-term review of the company and the USDT stable currency. Some people have questioned that the USDT with a market value of more than 2 billion US dollars does not actually have enough funds to be supported by its operators. Moreover, Tether failed to publish the audit as originally promised, and this behavior is further questionable. In March of this year, Tether official website revealed that the reserve fund supporting USDT is no longer composed of a single legal currency.
Financial Network – Chain Finance has compiled the indictment of the New York State Attorney General (NYSAG) on the encrypted digital currency exchange Bitfinex and its affiliate Tether:
Bitfinex does not have enough cash reserves to meet the user's withdrawal requirements.
The documents provided by OAG are displayed. As of mid-2018, Bifinex had difficulty coping with customers' requests to withdraw funds from their trading platforms, as Bitfinex almost transferred all of its funds to Crypto Capital. However, Crypto Capital refused or was unable to return any funds to customers' requests. Give Bitfinex.
During the period from April 2018 to early 2019, a Bitfinex executive ("Merlin") repeatedly negotiated with Crypto Capital's related personnel ("Oz"), hoping to revert the funds back to Bitfinex. For example, in August 2018, Bitfinex executives made it clear that Bitfinex could not meet the user's withdrawal requirements due to the inability to obtain funds for transfer to Crypto Capital:
In early October 2018, there were rumors circulating on the Internet that Bitfinex had gone bankrupt. And many users reported that they were unable to extract their assets from the Bitfinex trading platform. In response, on October 7, 2018, Bitfinex issued an announcement to investors stating that their company did not go bankrupt. And indicate that the relevant rumor is "targeted filth, no meaning other than fiction."
Similarly, on October 15, 2018, Bitfinex issued an announcement to the market: "We must clarify: all cryptocurrencies are as usual, always functioning properly… all legal tender currencies (US dollar, British pound, Euro, etc.) The extraction is in progress."
But the above announcement is not true. The documents provided by Source to OAG show that during this period, Bitfinex encountered serious problems in handling customer extraction. On October 15th, the same day of the announcement. Bitfinex executives ("Merlin") leave a message to Crypto Capital ("CCC"):
Merlin: "I have been in contact with you for a long time."
Merlin: "A lot of user extractions have been put on hold."
Merlin: "Is there any way we can get the money? Through Tether or other means? In addition to Crypto Capital, our cash reserves are very small."
Merlin: "Emergency! Please handle it quickly."
CCC: "We are also actively negotiating with the bank to resolve the problems you have reflected as soon as possible, but every time we urge the bank, we are beaten back without reason."
Merlin: "You have to know that this is very dangerous for the entire encryption market."
Merlin: "If we don't make a difference, BTC may drop below $1,000."
The document shows that the Foundation's funding shortage before the end of 2018 made it difficult for Bitfinex to enforce the investor's obligation to withdraw assets. In the last few months of 2018, Bitfinex executives continued to negotiate with Crypto Capital: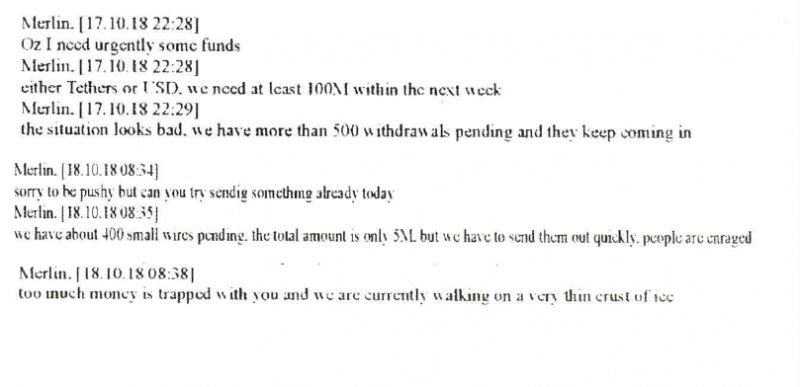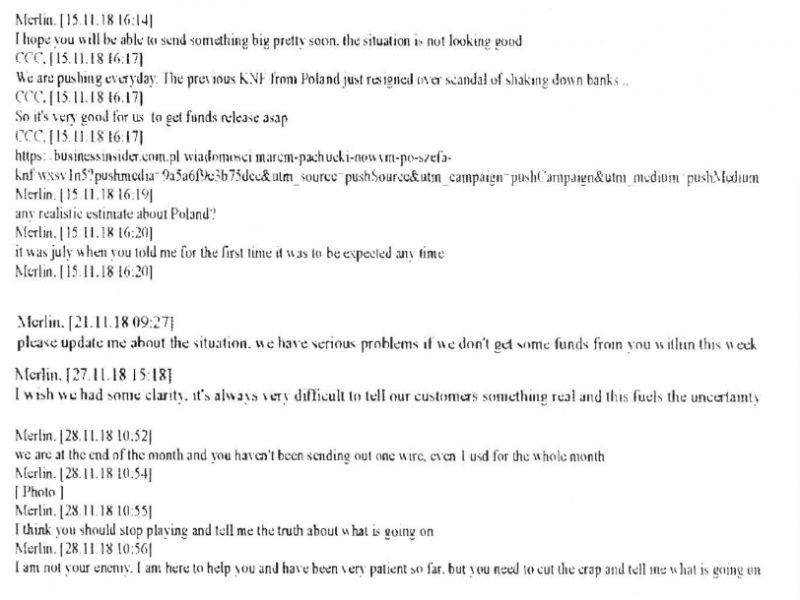 Merlin: "Oz we need urgent funding."
"Tether or US dollars, we need to get at least $1 billion in the next week."
"The situation now looks terrible, with more than 500 withdrawals pending, and orders continue to flow in."
"You have gone too much money, we are now nowhere to go."
CCC: "We are also trying our best every day. The Polish Financial Bureau has heard the rumors that the bank account of the digital currency exchange has been closed."
"So now may be a good time for us to get back the money."
Merlin: "How much money can we get back from Poland?"
"Trouble you to update me with the latest information. If you don't give us any funds this week, we will have trouble."
"We need to make a statement, but the more obscure it is, the more likely it is to cause suspicion."
"This month is almost over, but you didn't even call us for $1."
The letter submitted to OAG and the statement provided by Xinyuan showed that a Crypto Capital insider told Bitfinex executives that a total of $851 million in funds could not be returned to Bitfinex because the funds were used by Portugal, Poland, and US government officials are detained. But Bitfinex lawyers said they did not believe the reasons given by Crypto Capital.
According to the data, the $851 million in funds has not yet been credited to Bitfinex.
Bitfinex has not publicly disclosed the loss of this fund.
Crypto Capital's funds include client funds and company funds from Bitfinex. For example, a file submitted by a source shows that at least $23 million in the funds appears to be a Bitfinex customer from New York.
Use Tether's reserve funds to make up for Bitfinex's losses
In a closed meeting on February 21, 2019, Bitfinex and Tether's attorneys explained that in order to make up for the $851 million loss of Crypto Capital. Bitfinex and Tether are considering using Tether's cash reserves to make up for losses.
As lawyers say, Bitfinex will receive $600 million to $700 million in "credit lines" in support of Tether's reserve funds. If this is done, the holder of Tether, or Tether, will provide the amount of the loss, and at the same time, the lawyer did not mention that the amount will be disclosed to the public and not to the trader or Tether on the Bitfinex platform. The holder disclosed.
When asked if Bitfinex and Tether were operated by the same team and there was a conflict, the lawyer stated that it applies to the "fair trade" principle.
In a closed meeting, when Bitfinex plans to borrow Tether reserve funds, the lawyer did not inform OAG of any repayment arrangements, including related terms or timetables.
The disclosure of lawyers at the February 21 meeting raised serious questions about whether Bitfinex has the ability to continue to operate. Providing a Tether reserve as a make-up loss may be at risk of being exhausted or unrepayable, and there is a risk that Bitfinex and Tether mislead users.
During the February 21 meeting, OAG asked lawyers to provide more information to understand the financial losses of Crypto Capital and the imminent "credit line" for users to cover Bitfinex's financial losses.
On February 26th, OAG asked the lawyers of Bitfinex and Tether for the relevant materials and requested it to be available by March 7, 2019.
At the same time, OAG's letter asked Bitfinex to disclose the number of New York residents who traded on its trading platform and the number of holders of Tether held in the New York area.
On March 4th, representatives of Bitfinex and Tether responded to OAG's inquiries, stating that it was difficult to submit the required material information by March 7, but did not provide a new filing date.
On March 11, 2019, the source submitted a document stating that "Bitfinex's tweets and blog posts by Bitfinex and Tether have never mentioned credit line information.
In November 2018, Tether transferred $625 million from the Deltec account to Deltec's Bitfinex account. Bitfinex transferred 625 million from Crypto Capital's Bitfinex account to Crypto Capital's Tether account. Through the edge tool of Crypto Capital, Tether's account was placed on a $6.25 million account for $625 million and credited to the Bitfinex account with the appropriate amount. The purpose of this transfer is to let Bitfinex solve the liquidity problem.
Around December 2, 2018, the company and its lawyers began to look up the actual amount of money transferred to Crypto Capital, totaling more than $850 million. Although the head of Crypto Capital said that the Polish, Portuguese, and US government authorities have confiscated or otherwise frozen the funds. The company is concerned that the head of Crypto Capital may be fraudulent.
Bitfinex immediately entered into a series of negotiations with Tether to reach an agreement under which Tether will extend a credit line of up to $900 million in accordance with commercially viable terms (three-year term and 6.5% loan rate). The transaction is guaranteed by iFinex Inc. And get the acquiescence of DigFinex. Negotiate in a company, negotiate with an independent legal counsel over the length of the company, and approve as required by each company's corporate governance process. According to this transaction, the transaction was completed around March 19, 2019.
On March 27, 2019, Bitfinex and Tether launched a deal with an advance payment of $625 million, which was included in Tether's account at Crypto Capital. The funds were then transferred to Bitfinex's account at Crypto Capital. The reason for this is that the transfer of the previous assets was guaranteed by DigFinex.
Compile: LornaQ
Source: Finance and Economics Network on Finance