Text: Interchain Pulse · Yuan Shang
Source: Interchain Pulse
The natural year ends on December 31. Remember that at the end of 2018, almost all major assets recorded losses. At the time, it was said that "the situation was bad in 2018, but it was even worse in 2019."
Fortunately, this sentence does not work. In 2019, all major investment categories recorded positive returns. Bitcoin increased by 107% year-on-year, becoming the most profitable asset for the year, and China's real estate price index continued to decline in November, and the index is likely to continue to decline in December. Become one of the world's few big money-making assets in 2019.
Magic year
From an economic fundamentals perspective, 2019 is indeed bad. Around October, the World Bank lowered the global GDP growth rate to 2.5%, the OECD lowered the global GDP to 2.9%, and the IMF lowered its GDP forecast to 3.0%.
However, the prices of major global assets have achieved a resonance rise, and equity assets have increased significantly. Both A shares and US stocks have good returns on asset appreciation. The Shenzhen index rose 43.68%, ranking first in the world. Nasdaq and Dow Jones rose more than 35% and 24%, respectively, and have become Trump's proud capital. European equity investment products also performed well, representing the European Stoke 50 Index rising over 18% throughout the year.
Equity assets are followed by commodity assets. Crude oil, metals, and agricultural products have risen in the past year. The Reuters CRB representing commodities has risen by 10.28%, a record high since 2013.
The bond market is also good. Both U.S. Treasury and ChinaBond have stepped out of the unilateral rise.
Of course, bitcoin is the best performer among all major global assets, with an annual increase of 107% (as of December 31, 2019, 16:00 Beijing time).
The only loss turned out to be China's real estate, which is known as "steady earning and not losing."
It is worth noting that these asset classes have been used for hedging many times in the past. Such as stocks and bonds, such as commodities and gold. But in 2019 they are moving forward together.
This situation is the result of the market's expectations of the government to stimulate the economy and the market's demand for safe-haven assets in the context of a bad economy.
Because the economy is not good, the market expects more favorable stimulus policies, and the government does continue to stimulate the economy in response to this expectation, so equity assets and commodity assets have risen.
But the logic of investing in safe-haven assets, such as bond markets and gold, is that the economy is indeed declining, and safe-haven assets are king.
As a result, global assets are relatively accommodative, and various assets have performed well.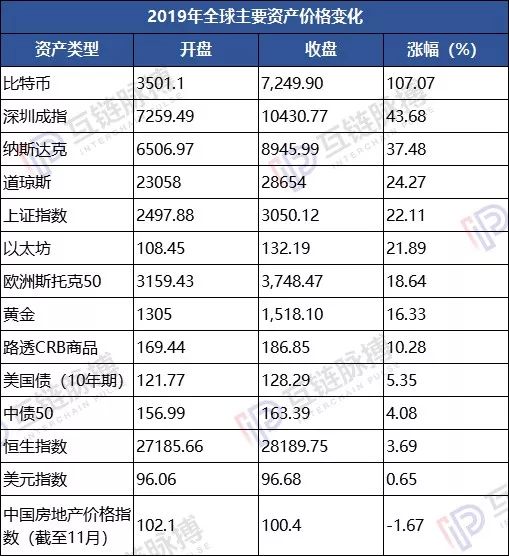 (Tabulation: Interchain pulse as of 16:00 Beijing time on December 31, 2019)
Bitcoin show is not spring
Bitcoin has become the largest asset class with the highest rate of return in 2019 in two ways. In the first half of the year, Bitcoin ushered in a retaliatory rebound from March to May, and the revenge Bitcoin dropped from a high of $ 2,000 to $ 3,000.
But in June, a large number of institutional investors entered the market and considered Bitcoin as a safe-haven asset. It is clear that after June, Bitcoin's movement is very close to gold.
Bank of Communications International Peng Fei pointed out that the scarcity of Bitcoin will approach gold as mining approaches its limits. However, the market value of gold is about 9.6 trillion US dollars, and bitcoin is about 180 billion US dollars, which is about 53 times the difference. The small scale makes Bitcoin not yet able to build a mature and stable financial system, so its ability to resist risks is weak and price fluctuations are large. Bitcoin's trend is more "exaggerated" than gold.
Bitcoin chart since April
Gold chart since April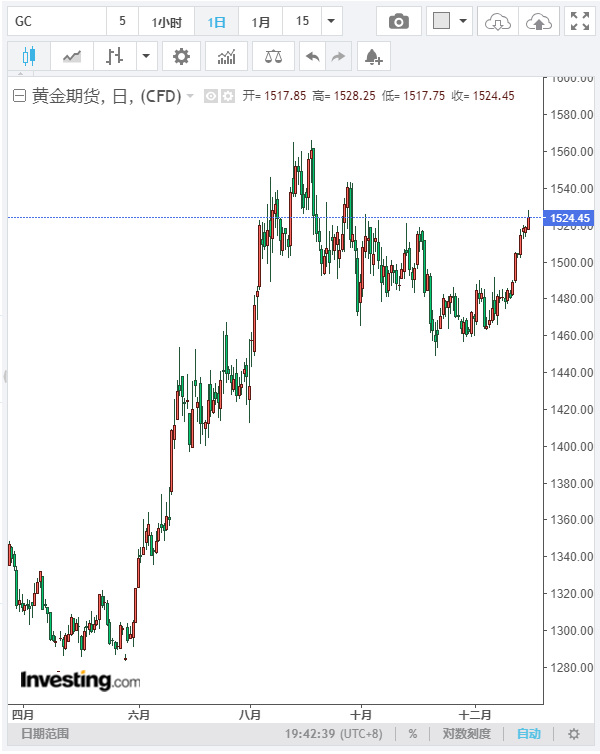 However, currently only Bitcoin has gained a relative consensus in the market. Most crypto assets are still in a bear market.
It is worth noting that in 2020, digital currencies in many countries may be issued. By then, the role of Bitcoin as a payment function will be greatly reduced. It will have an impact on other crypto assets in the market, such as stablecoins and digital silver. The value of various altcoins will also become lower and lower.
However, if the value of Bitcoin's safe-haven assets is strengthened and the economy is not good in 2020, it will support the price of Bitcoin. At least for now, in the digital world, there is no asset type that can replace Bitcoin.