Disappointment is not always bad. It can be an incentive to motivate people to work harder to achieve expectations and goals. It is in this spirit that Cointelegraph conducted an informal survey of members of the crypto community to understand industry promises that have not been fulfilled in the past year.
Here are the most disappointing 2019:
Almost no application
Where are the large-scale blockchain or crypto projects? These companies have captured people's imagination, attracted the attention of the public, and calmed the voice of crypto sceptics. As Nouriel Roubini pointed out last year, " blockchain still has only one application: cryptocurrencies. " Many in the industry are still waiting. Lanre Sarumi, CEO of crypto derivatives exchange Level Trading Field, told Cointelegraph:
The most disappointing thing is that there is no groundbreaking project that can open the eyes of skeptics. The launch of Libra is the most promising, but nothing else will appear in 2019.
We can't get much comfort from the 50 top fintech companies listed in Forbes. Only 5 cryptocurrency and blockchain companies are on the 2019 fintech 50 list: Coinbase, Ripple, Bitfury, Gemini and Circle, compared to 11 in 2018. The industry is still looking for flagship applications. "People need a simple use case to make the benefits of blockchain technology clear, such as email," Chris Hart of Civic Technologies recently published on the Zage marketing platform. The report says.
Institutions are still scarce
Killer applications, extensibility, and institutional applications are generally considered to be the three elements missing from the blockchain reaching the critical point of public acceptance. On the institutional side, some progress has been made in 2019 with the addition of institutions such as Fidelity and Intercontinental Exchange (ICE) Bakkt. But is this enough?
The failure to attract institutional investors is certainly disappointing,
Sarumi told Cointelegraph.
Bakkt futures contracts are specifically designed to attract institutional and retail investors, but the response has been modest. The same is true of the recently launched Eris (credit and interest rate) futures.
User adoption lag
Many experts believe that usability must be improved before the wider public adopts encryption and blockchain networks. In Zage's survey of 102 blockchain technology project leaders, 41% of respondents believe that a seamless user experience is the key to large-scale adoption. The blockchain DApp experience needs to be more like the web and mobile phone user experience. KoryHoang, co-founder and CEO of the stablecoin platform, said:
To use most blockchain and cryptocurrency products now, you must be an expert.
Stephen Pay, CEO of Bitpay, hopes to make faster progress on consumer adoption of cryptocurrencies in 2019. "More people are adopting cryptocurrencies because it has become easier to use," he told Cointelegraph And continued:
It's like not having to deal with Bitcoin addresses directly. It would be different if we could solve some simple problems like this, ideally in an industry standard way.
Pell is also disappointed with the portfolio of products currently purchased using cryptocurrencies:
I want to see a healthier combination of everyday consumption items and services, such as consumers paying for mobile phone bills in cryptocurrencies or paying DirecTV bills in cryptocurrencies.
Pell added that he also believes that
People often tend to spend BTC on expensive items like Lamborghini when prices are high. There is nothing wrong with this, but he wants to see more everyday items.
Insufficient compliance
In some crypto / blockchain worlds, compliance with regulations is still an afterthought. In late November, CipherTrace, a security company, reported that about 65% of the top 120 cryptocurrency exchanges lack a strong KYC (Know Your Client) policy. In addition, 24% of exchanges are "weak" in compliance, which means that these exchanges allow CipherTrace researchers to withdraw at least 0.25 BTC per day without asking any questions, and researchers don't even have to show their identity verification.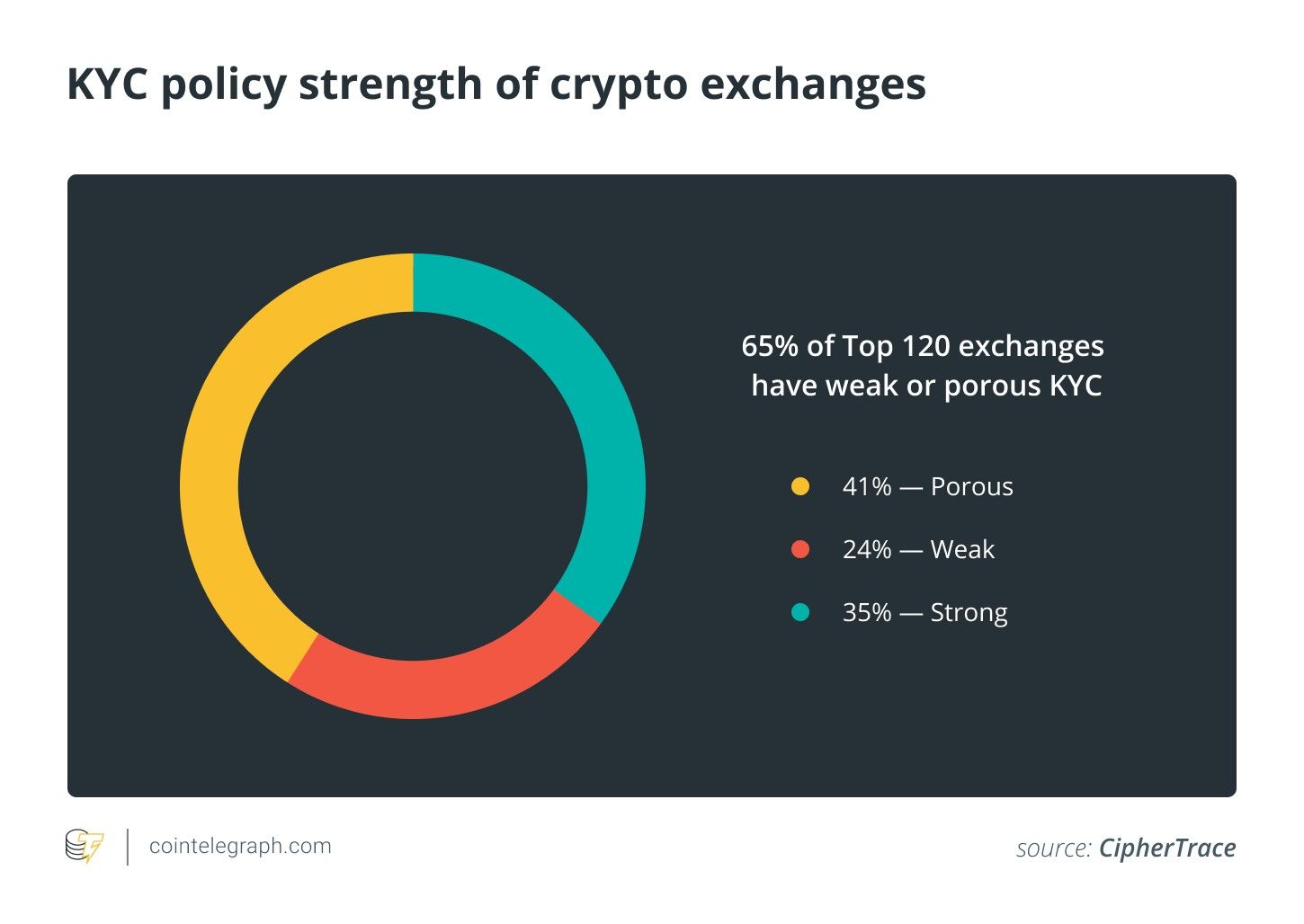 Henry Aslanian, head of global cryptography at PwC Hong Kong, told Cointelegraph,
Anyone who launches a cryptocurrency exchange in 2019 without considering KYC or AML may not have in mind the future of the crypto ecosystem. Regulatory non-compliance, especially anti-money laundering, remains a barrier to widespread acceptance of cryptocurrencies,
Arslanian continued:
Today, a large-scale anti-money laundering or sanctions violation scandal could wipe out years of community efforts, and they are trying to show that encryption is more than just the Silk Road or the dark web.
The industry not only has to comply with regulations, it should welcome them-at least if it wants to grow, Concordium is a blockchain solutions company and its CEO Lone Fønss Schrøder told Cointelegraph:
I am convinced that large companies will not go beyond the proof-of-concept stage on a chain, making it impossible for authorities to regulate. Businesses need to be recognized by regulators.
Education for All
Misunderstandings of cryptocurrencies and blockchain technology remain. When Nordea Bank banned 31,500 employees from trading in bitcoin or other cryptocurrencies-even during non-working hours (also restricting cryptocurrency transactions)-he expressed concerns that employees might be involuntarily Involved in unethical or completely illegal activities, the bank told Cointelegraph last December. Schrøder states:
Most people still associate blockchain with volatile cryptocurrencies and IPO scams,
He added:
In the field of blockchain, we shoulder the responsibility of jointly educating business leaders, not only to understand what blockchain is, but more importantly what it can do for businesses and institutions.
In accordance with these ideas, in late December 2019, Concordium announced the establishment of the Blockchain Academy Network, a collaboration between Concordium and academia to promote the use of blockchain within enterprises.
Nick Saponaro, co-founder and CIO of the Divi project, added in an email to Cointelegraph that the industry needs to better engage the non-crypto public , including through various meetings:
I was disappointed that educators and meetings failed to attract new participants (what they did was nothing else) to create the echo chamber effect. Expensive prices and luxurious venues discourage those who will benefit the most from this technology.
Editor's note: The echo chamber effect in the media means that in a relatively closed environment, some similar opinions are repeated and repeated in exaggerated or other distortions, which makes most people in relatively closed environments consider these distortions The story is all about the facts.
Crypto crime still exists
CipherTrace reports that in the third quarter of 2019, cryptocurrency crime significantly decreased. "After two years of large-scale, high-profile exchange hacking and exit scams," this is good news. That said, " a lot of cryptocurrency crimes still happen in 2019-more than $ 4.4 billion so far," a big increase compared to 2018.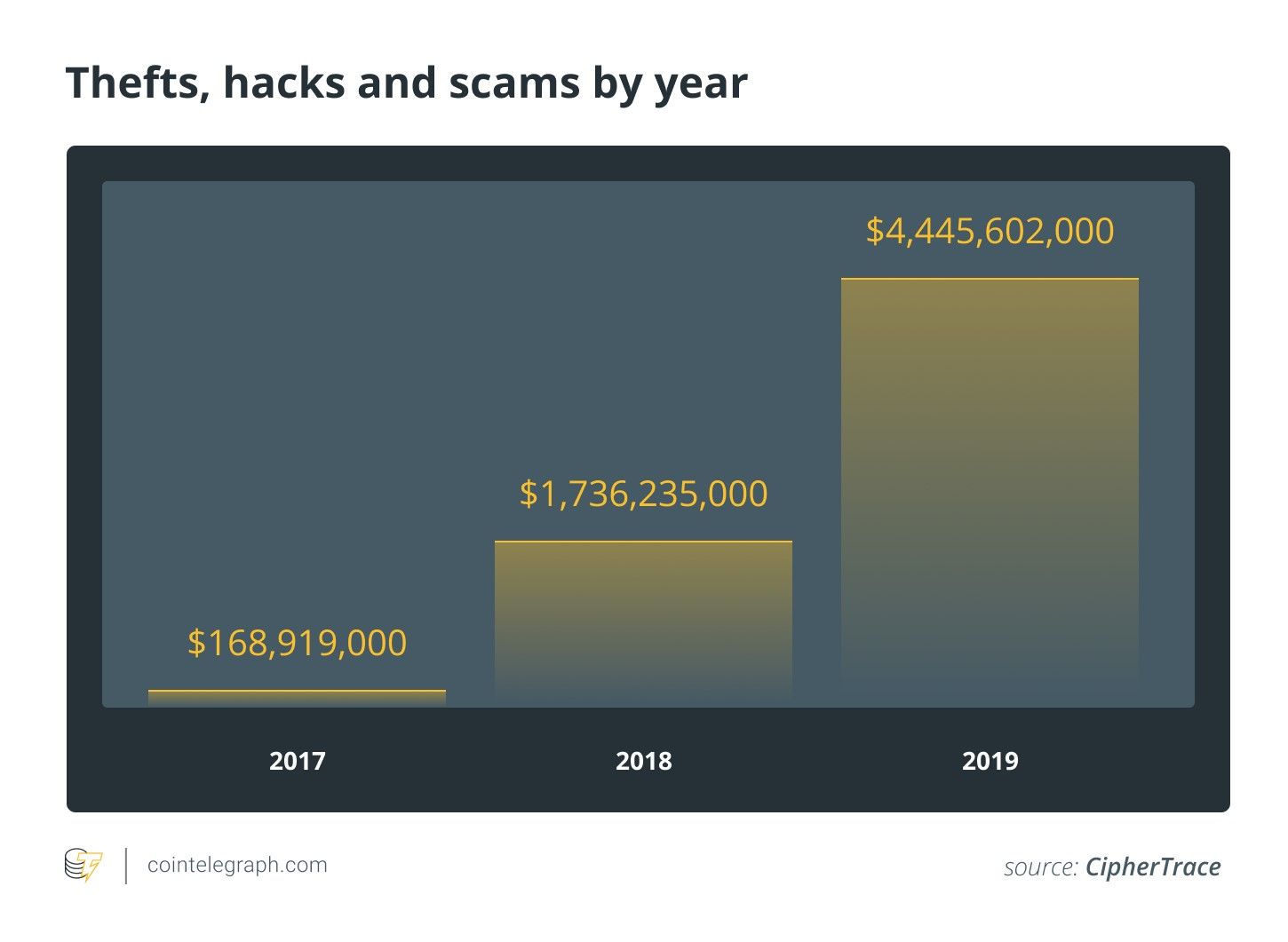 The security company listed several large-scale exit scams and misappropriation of funds in 2019: PlusToken for a total of $ 2.9 billion; QuadrigaCX for a total of $ 192 million; Bitfinex misappropriated $ 851 million. Among them, China's Ponzi scheme PlusToken is particularly likely to disrupt the crypto market, Chainalysis reported on December 16 that:
We believe that when the criminals behind the Ponzi scheme PlusToken clear their stolen funds through OTC brokers, they may drive down the price of Bitcoin.
In fact, shortly after the publication of the Chainalysis report, Ethereum plummeted by 10% in a matter of minutes -some believe it was the result of the PlusToken sale. According to Cointelegraph, on December 19, the price of ETH subsequently faced greater selling pressure due to several large transactions related to PlusToken disrupting traders. The industry clearly needs more self-regulation. Arslanian says:
As a community, we need to do better and pick out the black sheep.
Integrity issues
According to Saponaro, the most disappointing thing for him in 2019 is a lack of integrity,
There are still a lot of exit scams, Ponzi schemes, price hikes and extortion in the entire crypto space.
Aslanian of PwC said the crypto / blockchain community's constant lack of integrity (or people's perception of this integrity) has damaged their reputation.
We are always as strong as the weakest members of the community.
Speculation is a terrible business strategy, according to Felix Hartmann, managing partner of Hartmann Capital:
Whoever it is, whether it is creating a community-first, integrity-oriented business / network model, or putting technology and usability first, will succeed.
Lost year?
Instead of citing a disappointment or a series of unfulfilled promises in 2019, Vinvic Lingham, co-founder and CEO of Civic Inc., chose to look at this year as a whole. He told Cointelegraph:
When the crypto community looks back on 2019, it will be remembered as a lost year. This is not surprising, because 2017 was a landmark year. What I want to say is that the larger the size of the crypto community, the more serious the problems. We are still working on the issues.
Sarumi also saw a year with unfinished potential:
After the crypto winter, the general idea is that the departure of rent seekers and payers will make true believers roll up their sleeves and tap the true potential of blockchain / encryption. Well, true believers may have long arms and / or long sleeves because they are still rolling up their sleeves.
However, one may underestimate the progress made this year. As one industry executive told Cointelegraph, it's like an iceberg; the largest capacity is underwater and invisible. But once these blockchain network projects reach a certain scale, those followers will start to see the power it creates-"In the next three to five years, it will be huge." Maybe it will take more time, but The voice of justice in the field of groundbreaking projects in the past was the most disappointing to me, "concludes Sarumi." Hopefully there will be some in 2020. "
Original link:
https://cointelegraph.cn.com/news/did-2019-deliver-on-all-that-was-promised-for-the-crypto-industry?
Learn more about Cointelegraph in Chinese: CointelegraphChina (WeChat)