Source | BitcoinMagazine
Translation | First Class (First.VIP)
A report on the Bitcoin mining network released by digital asset management company CoinShares Research in December 2019 shows that the industry is in good condition at the end of the year, and the computing power has almost doubled in the past six months. The market has launched a more powerful and efficient Next generation technology and continue to use sustainable renewable energy.
The report shows that based on the average price, rate and block production frequency of Bitcoin this year, the total revenue of miners in 2019 will reach $ 5.4 billion, slightly lower than 2018, but much higher than 2017's $ 3.4 billion.
The report states:
"Unlike previous reports, in the past six months, everything has been relatively calm in terms of large-scale structural changes. Despite large bankruptcies and capital transfers between November 2018 and June 2019 , But the mainstream in the past 6 months has been expansion. "
From the end of 2019 to 2020, the bitcoin mining field is built on this positive momentum. Factors such as increasing computing power, new hardware, and upcoming halving of rewards will determine the overall growth of the industry and bitcoin.
Good news for Bitcoin mining industry in 2020
CoinShares reports a "huge increase" in mining hashing power. Over the past 6 months, hashing power has almost doubled, from approximately 50 exahashes (EH / s) per second to nearly 90 EH / s, with a peak of more than 100 EH / s.
The report attributes this growth to the availability of a new generation of more powerful and efficient mining equipment, as well as a strong average Bitcoin price.
Source: CoinShares Research
After the release of this report (December 3, 2019), Bitcoin's hashrate continues to grow.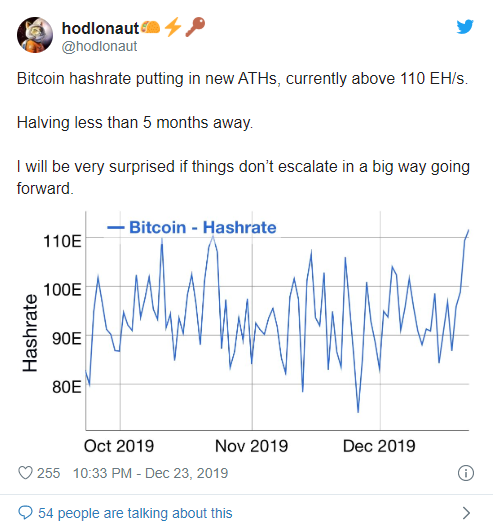 In a recent issue of What's Halvening podcast, CoinShares research director Chris Bendiksen discussed the growth of computing power. He said that especially in China, its mining business accounted for nearly 70% of the growth rate. China's computing power currently accounts for 65% of the global Bitcoin computing power.
Bendiksen pointed out that the increase in computing power is mainly the result of technological improvements, and because most of the new mining machines are produced in China, Chinese miners took the lead in obtaining the right to use the new generation of technology. He predicts that as new technologies enter Western markets, computing power there will also rise.
He also pointed out that there are signs that as the Chinese mining machine upgrades, they are shipping the old ant mining machine S9 to places such as Iran and Kazakhstan.
Blockstream's chief strategy officer, Samson Mow, which has mining operations in Quebec, Canada and Adel, Georgia, agrees with Bendiksen's optimistic view of 2020.
Mow said in an interview with Bitcoin Magazine:
"Bitcoin's network computing power will continue to climb because miners will replace older equipment with newer and more efficient equipment."
Will China continue to dominate Bitcoin mining business in 2020?
CoinShares also pointed out in its report that as much as 65% of Bitcoin's computing power is in China-the highest level since the network monitoring started at the end of 2017.
Although bitcoin mining activity is growing around the world, such as North America, Russia, and the Middle East, China still dominates the industry. Some people may be worried about this, especially China's dominance is expected to grow further after entering 2020-because mining machines are one of the most critical industries for Bitcoin.
As far as Mow is concerned, China's dominance is certainly worth noting, but he ultimately believes it is "not a problem". He stated:
"I will not worry about China's dominance in the bitcoin mining field. The main advantages of China's mining industry are faster set-up time and lower initial capital expenditure, coupled with being closer to the ASIC assembly location, which can promote the industry's Development … Now that we have established mining infrastructure in North America, such as Blockstream, the advantage of capital expenditure is not so important, and we have an additional advantage in reducing electricity costs. "
The CoinShares report states that the Chinese government has made a significant "policy shift"-from listing mining as a bad industry in April 2019 to removing mining entirely from this list (although Bitcoin itself is still illegal of).
However, Mow does not consider the dominance of China's mining industry to be the number one issue in 2020. "Just like in North America or anywhere else, the mining industry in China is still done by individuals and companies," Mow said. "In addition, the concept of 'Chinese computing power' is misleading because mining in China It also includes foreigners and foreign companies, just like there are Chinese miners in North America. "
How will the halving in 2020 affect Bitcoin mining?
We (Bitcoin Magazine) contacted some Bitcoin mining leaders and CEOs to ask them about their priorities for 2020. Some people mentioned that the upcoming Bitcoin halving, which is expected to take place in May 2020, is worth watching.
"Half halving will be the biggest factor affecting the mining industry in 2020," said Andrew Kiguel, CEO of Hut 8 Mining.
"All miners should be prepared for several scenarios that may occur in the future. As the reward decreases from 12.5 BTC to 6.25 BTC, the less efficient miners will be forced to withdraw."
Regarding Bitcoin mining hardware, the CoinShares report states that by the spring of 2020, rewards will be halved and old equipment still widely used in the network, such as the ancient Antminer S9, will be eliminated unless the price of Bitcoin rises sharply, or More operators are able to get around 1 cent / kWh or less.
Bitcoin mining computing power will also be affected by halving. In an interview with What's Halvening, Bendiksen said that if the price of bitcoin stays the same, the hashrate will drop by 50%, and some companies will fail by then. But if the price of Bitcoin doubles, the hashrate will return to its original level.
When it comes to halving and its impact on prices, Mow remains optimistic. He says:
"The forthcoming halving will reduce the output of Bitcoin from 1800 to 900. As the overall awareness of Bitcoin has increased significantly, the number of Bitcoin trading platforms has also increased more than four years ago. I expect the price of Bitcoin to rise -Even if not half the price, it will happen in the next few months. "
In the end, the halving will affect all major indicators of Bitcoin mining in 2020: the equipment used, the hash rate, and the price. However, the extent to which the mining industry is affected remains to be determined.
Will network computing power decrease significantly after halving? Kiguel says:
"I believe it will, because miners will no longer be able to use old equipment. Will the price of bitcoin increase by halving? Or is this the final price? I think we will see the price increase, but maybe not like Some people expect it to be so high, it may be 50% to 100% higher than the current level. "
Of course, with the advent of 2020, the halving and its expected impact is a top priority for every important Bitcoin mining machine manufacturer.
Bitfarms CEO Wes Fulford said:
In order to make the income after the halving equal to the income before the halving, the price of BTC needs to be greatly increased, otherwise the network computing power will decrease sharply as more expensive miners close the mining machine.
Will mining technology continue to develop in 2020?
Bendiksen pointed out that the current mining technology is developing faster than ever, because mining hardware companies like Canaan and MicroBT are intensifying competition with hardware giant Bitmain.
At the same time, companies such as Canaan and Bitmain have also applied for IPOs in the United States. By 2020, the hardware market will become more fragmented.
In the report, CoinShares includes BitU and its Antminer 15 and 17 series, MicroBT and its Whatsminer 10 and 20 series, Bitfury and the latest Clarke chipset, Canaan and its Avalon 10 series, Core Motion and its T3 series, Ebang and its E10 model are listed as major players in the manufacturing market.
"These new models generate five times the unit computing power of their predecessors, which means that on a unit basis, Bitmain and MicroBT have the ability to provide the vast majority of the computing power to the network," the report said.
It's no surprise that Fulford understands the importance of using the latest and most efficient technology in 2019, as this could make Bitfarms more productive in 2020.
He said: "We have added 13,300 new-generation mining machines, which has increased the hash computing power by 291% this year. The new generation of mining machines now represents 73% of our computing power, which makes us the most energy-efficient in the public market. Of cryptocurrency miners. "
Plouton Mining is a solar bitcoin mining company that operates in the Mojave District of California. Ramak J. Sedigh, CEO of Plouton, said in an interview with Bitcoin Magazine:
"In 2020 and beyond, we will continue to focus on running the most efficient hardware and maintaining extremely high power utilization rates, which is a key foundation for maintaining operating profitability."
However, this investment in the latest technology certainly depends on the continued profitability of Bitcoin mining in 2020. To this end, Sedigh explained that his biggest concern is whether Bitcoin can maintain a stable price. Sedigh says:
"The success of any mining activity, or even the entire industry, depends on the stability of Bitcoin. We plan to survive a long period of lows, but the price of Bitcoin needs to be maintained at a high average level. This traditional investment Only then can they have confidence in investing in Bitcoin-related projects. For this reason, I am more worried about price manipulation, because it is estimated that when the total market value of Bitcoin reaches $ 150 billion, it is easy to manipulate its price through the exchange, which will Increase volatility. "
According to CoinShares, Bitcoin mining will not be the choice of the timid in 2020, as price volatility is still a huge unknown.
In an interview with What's Halvening, Bendiksen was appalled by the decision of those adventurers who are still preparing to invest billions of dollars in Bitcoin mining despite many questions. He said that any risk analysis will tell those investors that this is a high-risk investment. However, the behavior of participants showed that Bitcoin miners are clearly confident in Bitcoin and the Bitcoin network.