Source: 21st Century Business Herald, the original title "The nation's first unsecured blockchain loan issuance, Guangdong has launched a SME financing platform, and more than 11 million enterprises have" portraits ""
Author: Zhao Xin Following
As the country's largest economy, Guangdong has launched the "Guangdong Model" to solve problems such as financing difficulties and expensive financing for SMEs.
On January 2nd, Guangdong Province's SME financing platform was officially released in Guangzhou, and the nation's first online unsecured blockchain financing loan was issued.
At present, Guangdong Province's SME financing platform has accessed 213 types of government data from 26 government agencies. The comprehensive collection of information on more than 11 million enterprises across the province, and corporate risk ratings and portraits, is the first platform in the country to conduct commercial credit analysis and evaluation of small and medium-sized enterprises across the province.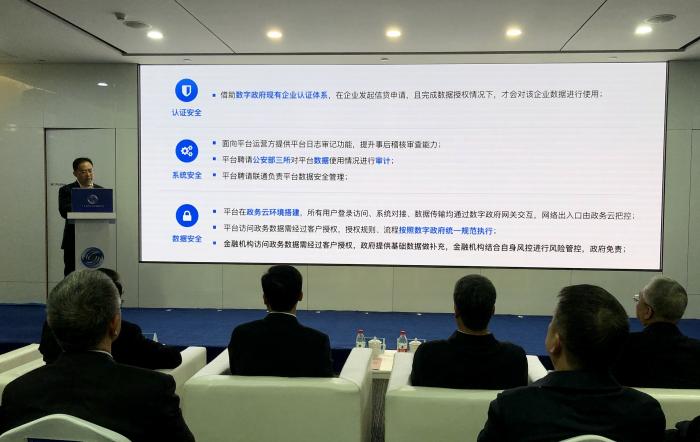 (He Xiaojun, Director of Guangdong Local Financial Supervision and Administration Bureau, introduced Guangdong Province's SME financing platform. Photo by Fang Xiaorong of Southern Finance and Economics)
11 million companies have portraits
The 21st Century Business Herald reporter learned that the platform has been linked with Ant Financial and Baixing Credit Reporting. In the future, it will create a financial service ecology for SMEs, giving priority to 45,000 state-level high-tech enterprises, as well as small upgrading enterprises, specializing in special new technologies. Enterprises solve financing problems on the platform.
Under the unified deployment of the Guangdong Provincial People's Government, "Several Policies and Measures to Support Financing of Small and Medium-sized Enterprises" in Guangdong Province, He Xiaojun introduced 22 measures to deepen financial supply-side structural reforms and strengthen the financial services real economy capacity. Specific measures include the use of financial technology to build SME financing platforms.
To this end, the Guangdong Provincial Financial Supervision and Administration Bureau together with the Guangdong Provincial Government Service Data Administration took the lead in creating a "digital government + fintech" Guangdong model, which addresses the problems of financing difficulties, slow financing and expensive financing for SMEs.
As the nation's first platform for conducting commercial credit analysis and evaluation of small and medium-sized enterprises across the region, the Guangdong Small and Medium Financial Platform combines the advantages of Guangdong Province as a major manufacturing province, foreign trade province, and scientific and technological innovation province through intelligent financing and intelligent supply. Development of supply chain finance to support advanced manufacturing SMEs, encourage trade financing to support export-oriented SMEs, promote intellectual property financing to support technological innovation-oriented SMEs, and create one-stop online financing Smart "ecosphere".
A related person from CCB said that Guangdong Province's SME financing platform integrates data from various functional departments and can fully reflect the operating conditions, credit situation, and development prospects of small and micro enterprises in the future. It will effectively solve the problem of information asymmetry. Through financial technology and big data, Technology enables commercial banks to make a more accurate portrait of small and micro enterprises and provide more efficient services. The establishment of the platform reflects the confidence and determination of the Provincial Party Committee and the Provincial Government to optimize the business environment and promote high-quality development. It means that there is a new platform for corporate financing and new tools for banking services. It also means that finance and technology are closer. Get closer to the entity.
ICBC related people also believe that with the deepening of cooperation with Guangdong's SME financing platform, accelerating the in-depth integration of the industrial chain, blockchain technology and the real economy, it can truly achieve "science and technology goodness, financial inclusion" and effectively solve Difficulties in financing SMEs, difficulties in bank risk control, and difficulties in departmental supervision provide Guangdong's SMEs with more comprehensive integrated financial service support and a better service experience.
Six function modules
He Xiaojun introduced the six major function modules of Guangdong's SME financing platform. The first is the smart financing module. Directly connect the supply and demand sides of funds, integrate a variety of financial institutions, and build supermarkets for financing products, and directly match financial products for them based on corporate portraits, actual business conditions and capital requirements.
The second is the intelligent supervision module. It can achieve a variety of regulatory requirements such as data collection and analysis, risk early warning, consultation and complaints, create a fair and just financial environment for the market, and help financial regulatory authorities prevent and resolve risk events.
The third is the intelligent supply chain module. Through the integration of information flow, capital flow, and logistics, a standardized supply chain financial asset is formed to increase financing speed and reduce financing costs.
The fourth is the intelligent direct integration module. By integrating regional equity market information, companies can be financed directly beyond their debts.
The fifth is the intelligent risk control module. Before the loan, during the loan and after the loan, the 360-degree non-dead-end risk control management is achieved through different risk control mechanisms and grasps.
Sixth, the intelligent operation module. Support multiple external third-party data engines, comprehensive judgment from multiple perspectives, avoid one-sided decision-making, and keep the platform open, compatible and advancing with the times.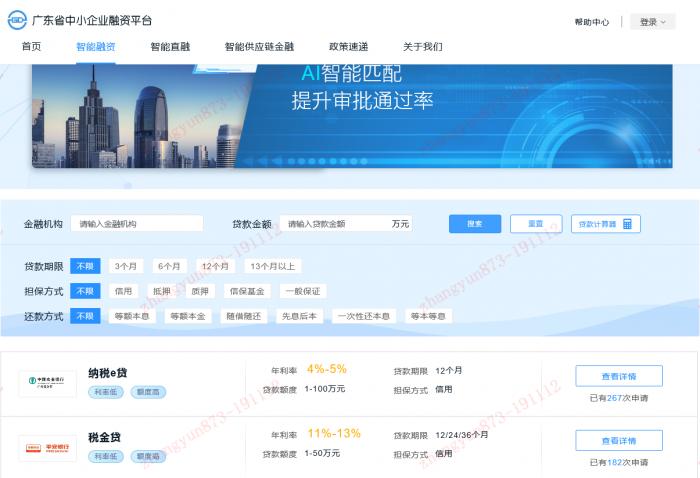 First blockchain loan
After the launch of the small and medium financial platform, the platform accepted the first online unsecured financing credit based on blockchain technology and passed the quota review in less than 3 minutes.
In just ten minutes on the spot, Huizhou Shenghua Industrial Co., Ltd. received 1.12 million yuan of supply chain financing credit from Industrial and Commercial Bank of China, and Wanluo Luomumu Electronic Material Technology Co., Ltd. received 200,000 yuan from China Construction Bank's knowledge industry financing credit. Amount, Guangdong Xulong Wulian Technology Co., Ltd. was awarded the Ping An Bank's 500,000 yuan foreign trade financing credit.
According to the introduction of Ping An Group, a financial support company of the small and medium-sized financial platform, through the use of emerging technologies such as artificial intelligence, blockchain, cloud computing, and big data, the small and medium-sized financial platform has comprehensive products, accurate matching, and fast financing. , Service spirit, strong security, and strict supervision.Especially through the use of blockchain technology, information sharing, privacy protection and mutual trust mechanisms have been established, which not only makes corporate information authentic and tamper-proof, but also enables financial institutions to comply with laws and regulations. Querying enterprise information can play a role in solving the financing pain points of three types of small and medium-sized enterprises such as manufacturing, foreign trade and science and technology innovation.
For example, when a manufacturing company applies for supply chain financing, the blockchain technology on the platform can cross-validate order data to ensure authenticity while avoiding long lending. For foreign trade companies, previously, it was impossible to establish risk control because data was not shared. Now, through the small and medium financial platform, customs and logistics data and credit of foreign trade companies are clearly presented to banks. Information transparency is improved, and banks dare to lend money. For science and technology enterprises, due to the integration of a large number of intellectual property loan products on the small and medium-sized financial platform, the application process for corporate loans has been simplified by 60%, and many offline costs have been eliminated.
"Aiming at the problems that core enterprise credit can only cover first- and second-tier suppliers, that intellectual property cannot be effectively used as a financing method, and that import and export trade volumes cannot be recognized by banks, the use of blockchain technology will be used to transfer electronic certificates to core and upstream and downstream enterprises. Through circulation, and cross-checking with government authority data, it solves the problem of the authenticity of SMEs' credit and turns business information into corporate credit. "Ye Wangchun, chairman and CEO of Financial One Account Express said.
As an important local financial infrastructure in the Guangdong-Hong Kong-Macao Greater Bay Area, the small and medium financial platform will not only strive to be the first to become the nation's leading digital financial service platform with benchmarking significance. In the future, the small and medium financial platform will also cooperate with the Hong Kong blockchain trade financing platform and Macao trade. The financing service platform was opened to create an integrated platform for trade finance in the Greater Bay Area and provide integrated services for trade and finance in the Guangdong-Hong Kong-Macao Greater Bay Area.
At present, the small and medium financial platform has successfully connected with 129 financial institutions in the province, such as Industrial and Commercial Bank of China, Construction Bank, and Ping An Bank, and launched 319 financial products. It has become an important carrier to effectively solve the financing difficulties of SMEs, and optimize the business environment to help the development of the real economy. Important initiative.