"Traders look for simplicity, but the exchange can't meet it. 80% of participants have entered the market for less than 3 years and they want to find tools for beginners on the exchange; 71% of users use demo trading accounts and tutorials as The key factor in choosing an exchange; 37% of users consider an intuitive, easy-to-use interface to be important, and most exchanges' interfaces are full of intricate features and charts. "
With hundreds of cryptocurrency exchanges active in the market, it is difficult to decide which cryptocurrency exchange is best suited to their needs. In fact, most traders use more than just platforms: they are designed to both avoid risks and maximize returns.
But how do they choose? In order to find out, the BDCenter Digital team began a survey of more than 800 cryptocurrency traders in the summer of 2019. They were from 75 countries and regions around the world, and the statistical results were surprising.
01
What is the ideal exchange?
In addition to being beginner-friendly, transactions must also be conducted quickly and customers should not be charged any fees other than the transaction itself.
Among them, 54% of respondents believe that the speed of deposits and withdrawals are the key factors, and 53% think that the scale of fee collection is an important factor. Although 65% of people think that collecting miners' fees for withdrawals is OK, only 36% think that transaction fees for withdrawals are acceptable.
When it comes to fiat currency withdrawals, acceptance is even lower (only 29%).
According to the data, we can see that the five most important factors for traders to choose an exchange are:
Deposit and Withdrawal Speed-54.26%
Commission Amount-53.18%
Diversity of trading pairs-44.5%
User-friendly interface-37.21%
Simplicity of the verification process-29.77%
Surprisingly, traders are not paying much attention to security: only 37% of people make security a priority-slightly higher than liquidity (34%).
Traders seem to trust their money: 32.5% say they store all crypto assets on exchanges. However, nearly 70% of respondents still said they would consider switching to another platform if the current exchange is hacked.
The data shows that the least important are the availability of third-party programs and localization of interfaces.
User rewards, margin trading and analysis tools are considered decisive for less than 17% of traders.
This phenomenon can be explained by the relatively young age of the cryptocurrency market: most users have less than three years of experience .
71% of respondents said they need to open a demo account to learn how to trade and get familiar with the interface . The need for this feature is widespread.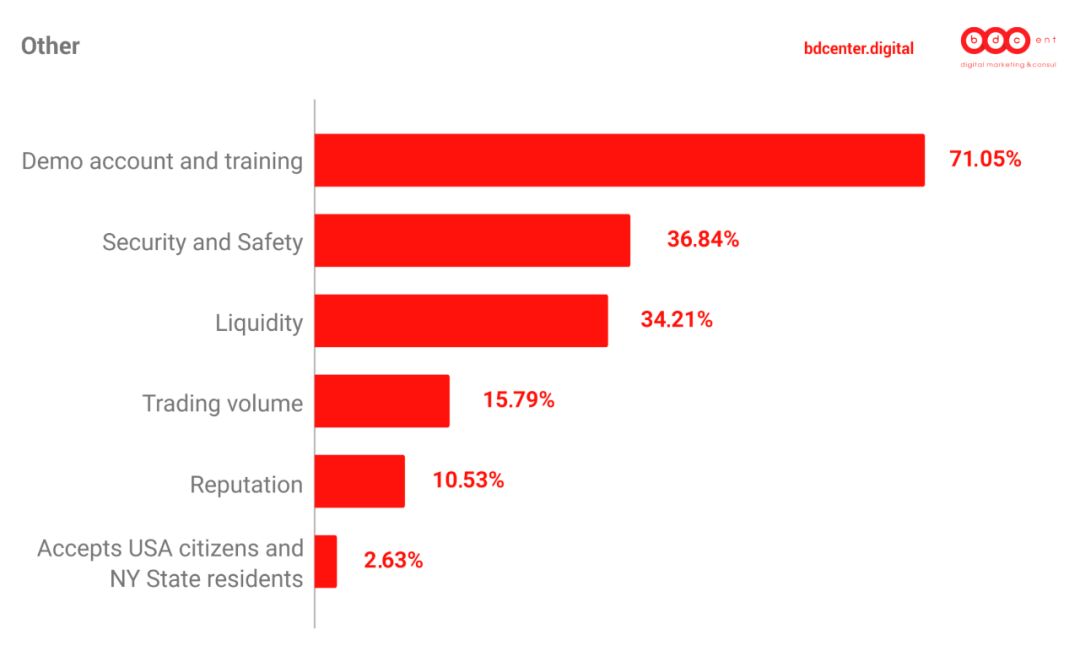 In the "Other" chart, traders are allowed to specify other factors they consider important, but they are not mentioned in the mandatory checkbox.
02
One exchange is never enough
Even though there have been hundreds or thousands of cryptocurrency exchanges on the market, it seems that none of them has met users' expectations of the ideal exchange.
40% of participants stated that they regularly use three or more exchanges, while only 19% of participants use only one exchange.
This may be due in part to the availability of trading pairs. Unlike forex platforms that offer more or less the same trading pairs, cryptocurrency exchanges differ greatly in this regard. Some exchanges have hundreds of trading pairs, some have less than 12; some allow fiat currency withdrawals, and some do not. 44.5% of traders give priority to the diversity of trading pairs.
It is also worth noting that the efforts of the exchange to attract viewers through trading competitions, membership programs, etc. have been largely unsuccessful : 57% of people participated in at least one airdrop, but trading competitions and other events only attracted 10% and 13% of customers. Only 11.6% of people prefer exchanges with invitation reward programs.
Compared to any other region, traders in Russia tend to rely on only one exchange (27%) and rarely use decentralized exchanges (23%). Their choice of exchange depends on the type of trading pair (60%) and the size of the fee (52%). Compared with users in other regions (64%), Russians are more inclined to use altcoins for transactions, but the percentage of users of OTC services is the lowest (17%). This is also the region with the most female users (12%).
The survey also found that crypto platforms have poached some traders from the foreign exchange market: about 17% of respondents are from foreign exchange, while another 9% continue to use both systems for trading.
Compared to a well-established foreign exchange brokerage mechanism, cryptocurrency exchanges still lack an understanding of user needs and therefore cannot provide them with all the necessary tools. For example, forex traders can use demo accounts, which will help them learn how to trade faster and adapt to the platform interface. Although this feature is widely used by forex brokers, crypto exchanges have few such features. Considering that 80% of the respondents have traded for less than 3 years, demo accounts will play an important role for them.
In addition, traders interested in analytical tools or other options of exchanges (such as lending) have entered the industry from the foreign exchange or securities markets. At the same time, for those who are using cryptocurrency for the first time, simplicity is more important than adding features.
When trading on a smartphone, users pay less attention to cross-platform usability than users using a desktop version, but show more interest in exchange ratings:
Considering that 69% of traders use the exchange for trading purposes, the rating of the exchange becomes very important: once the rating of the exchange drops, only 20% of the respondents will ignore the rating. This phenomenon can be described as "only one chance to make a first impression."