Andrew Yang, a 2020 US presidential candidate from the Democratic Party, said he plans to host a party for his cryptocurrency friends at the White House after winning the election. Coindesk recently published an article analyzing the outlook of Andrew Yang.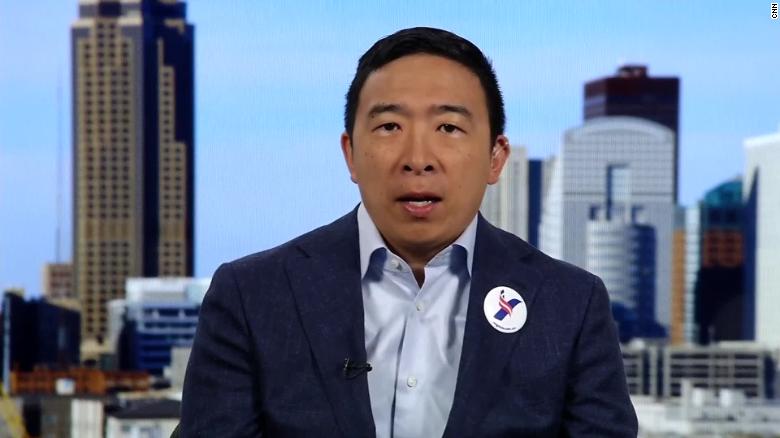 Ken Yang, one of the co-founders of YangDAO, a decentralized autonomous organization (DAO) based on Ethereum, is an avid supporter of Andrew Yang. He is also the content manager of UBI Works in Canada. They all support the national dividend policy, and they are also very interested in cryptocurrencies.
Ken Yang stated that he met Andrew Yang at a private fundraising dinner last April, and then had the opportunity to meet with Ameen Soleimani, the CEO of SpankChain and the creator of MolochDAO, an Ethereum-based decentralized donation system. Soleimani suggested that Ken Yang fork the MolochDAO fork to create a DAO that supports Andrew Yang's campaign. This is YangDAO. YangDAO currently has 32 members and the current funding pool is close to $ 5,000.
Andrew Yang has tremendous energy in the crypto space. Yang, 44, is currently the only presidential candidate who has a formal policy on cryptocurrencies. He hopes "to develop clear guidelines in the world of digital assets so that businesses and individuals can invest and innovate in this area without worrying about regulatory uncertainty."
He also advocates clear token definitions and tax rules. He claims to work with the initiators of the Token Classification and Wyoming lawmakers, and he is an advocate of the blockchain voting system. "Other countries that are ahead of us in terms of crypto regulations are leading the way in this new market, and they set the rules that we need to follow when catching up," he said in a blog post.
Seth Adam Cohen, one of the founders of Humanity and co-founder of HumanityFWD, said, "If we can lead the crypto and blockchain industry, we can make these technologies work for the common good. As far as I know, Andrew Yang Is the only one who recognizes this and he is driving this development. "
"He knows what Bitcoin is, he knows what Ethereum is, and he knows what mining is," said Amentum CEO Steven McKie.
Rakul Sood, CEO and co-founder of crypto gaming and esports company Unikrn, said, "I think a lot of cryptocurrency people see him as a member."
Soleimani said, "It's great to see comments from technicians. This is not what he advertises, this is his way of life. In the debate, everyone is attacking each other, he just waits for his turn and then starts speaking, telling How to move things forward instead of swinging left and right. This is a way of thinking for engineers. How do we really solve problems? "
Yang's stance on crypto sets him apart from the Democrats, which also stands in stark contrast to the current US President Trump who claims to be "not a fan of Bitcoin and cryptocurrencies." Speaking at the New York Consensus, Yang said, "If I enter the White House, it will be interesting for the cryptocurrency community." He said that if he wins the presidency, he will host "a party for the entire crypto community in the White House. Because If I win, it's largely because of your help. "
David Hoffman, the operating director of RealT, a tokenized real estate company on the Ethereum blockchain, said he appreciates Yang's clarification of cryptocurrency-related rules. He said, "The lack of clear regulation is one of the biggest obstacles to blockchain and cryptocurrency innovation in the United States. But even if Yang didn't mention cryptocurrency and blockchain technology, I would be his supporter. But if It would be strange to me that a tech savvy person like Yang doesn't understand the blockchain world. "
Hoffman also said that he could not imagine how Bernie Sanders, 78, knew about blockchain and cryptocurrencies. "If you don't understand or have the ability to understand the new things in the world, then I don't understand how they guide the United States into the future."
Of course, not everyone in the crypto community supports Yang. Nic Carter, a partner at Castle Island Ventures, was an early supporter of Yang. According to Carter, "Yang is a very interesting candidate, and he has put forward some very interesting policy suggestions. But then he became mainstream and it was no longer so interesting."
Carter believes that Yang knows nothing about the blockchain, and he mentions Yang's support for the blockchain voting system. "You don't have to do much research to prove that this is a complete disaster." He also believes that Yang's freedom Dividend policy runs counter to the philosophy of Bitcoin creators, because "free dividend policy is an extreme paternalistic policy. This means that the government will be the key to solving everything."
Cohen believes that "in our opinion, the cryptocurrency and blockchain community should have Andrew elected because he is the only candidate to accept these technologies. Other candidates have largely ignored it completely." He believes that the crypto donation platform is "A very powerful application scenario."
Justin Seidl, a supporter of Yang and co-founder and CEO of Vertbase, said, "He brings more awareness to blockchain, cryptocurrencies and financial freedom programs. For me personally, this stuff has always been very important."
Image source: Pixabay
Author Xiu MU
This article comes from bitpush.news. Please reprint the source.