Source: Sina Finance
On January 3, upstream news reporters learned from the National Public Security Grand V Summit that e-commerce giant Alibaba released the "Alibaba Intellectual Property Protection Annual Report 2019". In 2019, Ali opened to the whole society and represented the intellectual property protection technology brain. Core technology, together with Ali, the district and county law enforcement agencies surrounding the source of counterfeit goods increased from 227 in 2018 to 439, an increase of 93% in one year, and the number of suspects involved in manufacturing and selling fake crime increased from 1953 in 2018 To 4,125 people, a year-on-year rise of 111%.
"In 2019, consumers and rights holders have increased their trust in the platform unprecedentedly." Zheng Junfang, chief platform governance officer of Alibaba Group, told upstream journalists that in 2019, 96% of suspected infringing links on the Alibaba platform were blocked as soon as they went online, and consumers reported the possibility of deletion The amount of infringing links dropped by another 57%. In the year to the end of September 2019, 90 million new active users were added to the platform; 96% of intellectual property complaints were processed within 24 hours, and the number of brand owners of Ali Intellectual Property Protection Platform increased by 20%; per 10,000 transactions The number of suspected infringing goods traded was only 1.03, down 67% in 5 years.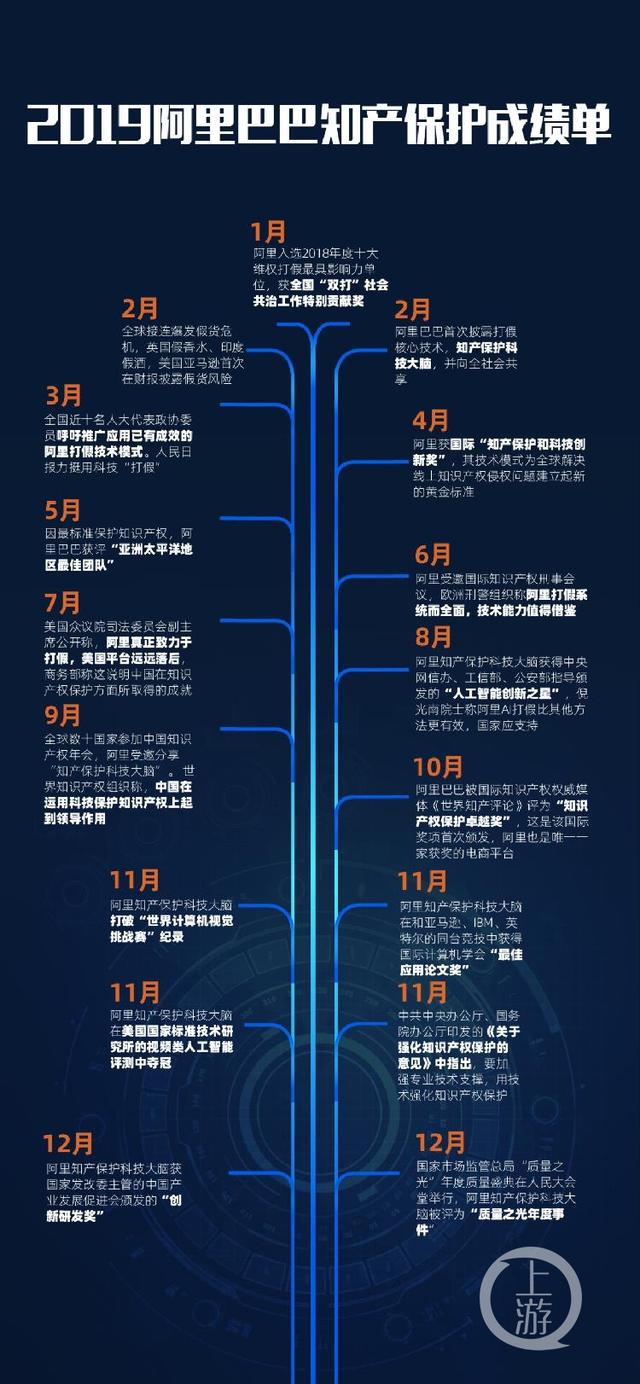 2019 Alibaba Intellectual Property Protection Transcript. Photo courtesy
The gang attempted to sell fakes 32 times in 7 years
Upstream news reporters combing through the 2019 Ali Anti-Counterfeiting Annual Report found that a group of counterfeiters attempting to sell counterfeit products 32 times in 7 years were blocked by the intellectual property protection technology brain. The gang tried to open a store on the platform more than 30 times through relatives and friends registration, store sales, and other methods. The counterfeit goods that it tried to sell include electronics, luggage, toiletries, and brand-name lipsticks, all of which were hit by Ali Technology.
It is understood that the intellectual property protection technology brain has covered various business links such as store opening, product release, marketing activities, consumer and rights holder evaluation, etc. It has hundreds of millions of product characteristics, more than a hundred algorithm models, and abnormal marketing action warnings … A set of algorithmic technology system that has accumulated a large number of online and offline counterfeit feature libraries and counterfeit experience accumulated in Ali's 20 years. The sample size is equal to 186 national libraries of China. It is equivalent to 50,000 people working at the same time and can be found in milliseconds. Among the 10,000 balls, a ball with slight black spots was mixed.
In 2019, more and more law enforcement agencies and brand owners are actively seeking Ali in cracking down on manufacturing fakes and intellectual property infringement. The anti-counterfeiting and co-governance system of "law enforcement agencies + brand rights holders + Ali" has raised the ability of all parties to counterfeit technical resources to unprecedented heights.
On July 30, 2019, Ali used technology to assist the police in China and the United Arab Emirates in cracking down on the 1.8 billion yuan "world's largest transnational fake LV case".
The latest data show that the district and county law enforcement agencies that cooperated with Ali to siege the source of offline fakes increased from 227 in 2018 to 439, arrested 4,125 suspects, and destroyed 2,029 offline dens; the Ali Anti-Counterfeiting Alliance (AACA) Its membership has also increased from 30 startup brand owners to 170 in 17 countries around the world. At home and abroad, it has been stated publicly that Ali is an Internet company with the most efforts in cracking down on counterfeiting.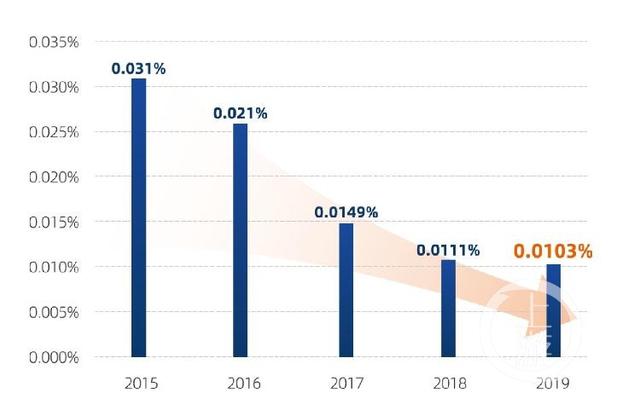 The number of suspected infringing goods per 10,000 transactions was only 1.03, a decrease of 67% within 5 years. Photo courtesy
Intellectual property protection helps 10 billion box office of "Reunification 4"
"In 2019, the era of passive anti-counterfeiting has come to an end, and continuous innovation of the intellectual property protection mechanism has become a new driving force driving innovation and creation." Alibaba's director of intellectual property protection Li Xihan introduced to upstream journalists, from books to videos, from original protection to serving the market Ali comprehensively explores vertical intellectual property solutions to provide convenient and diversified intellectual property business services to rights holders at home and abroad. Under the empowerment of intellectual property rights, Tmall's new products show explosive growth, becoming a new growth point for brands at home and abroad.
The data shows that the Ali Book Copyright Protection Program has protected nearly 20,000 books in total, of which the turnover growth rate of publishers participating in the program is 4-5 times the industry's average growth rate. Ali Video's copyright protection plan has cumulatively protected hundreds of publicly-released films such as "Reunion 4", and has continuously helped to create box office records for films without worries about piracy.
In 2019, Ali's original protection platform introduced blockchain technology, which has protected more than 400 million pictures, more than 2 million short videos, and more than 100,000 design manuscripts. The average annual GMV (gross turnover) of the stores in the original protection platform is close to 20 million, and the average annual GMV of the original innovative merchants is 10 times that of ordinary new merchants.
International luxury brand MCM said that intellectual property protection is one of the important reasons why MCM chose to open an official flagship store on Tmall platform. Nestlé, an international brand that cooperates with Tmall and constantly incubates new products to generate explosive models, points out that "Ali not only protects the brand's intellectual property rights, allows brands to rest assured to launch new products, but also facilitates brand innovation."
In 2019, under the empowerment of Ali's commercial operating system and Ali's intellectual property protection system, 5,000 C2M factories have undergone digital transformation, and over 90 million new products have been released on Tmall, an 80% increase over 2018.
Zheng Junfang stated that Ali will continue to innovate and improve the intellectual property protection system in 2020, so that intellectual property will become an accelerator of business growth and a booster of economic development in the digital economy era. Ali will also continue to use new technologies and new models to assist law enforcement agencies in seizing the source of offline fake production and unite the whole society to squeeze the living space of fake manufacturers.