Source | HackerNoon
Translation | First Class (First.VIP)
Marketing in the blockchain industry is not for the timid.
Like other emerging technology industries, blockchain is a highly technical field, facing major financial, political, and regulatory challenges, but it also has great temptation and explosive growth potential. Although you may think that blockchain marketing methods are a bit outdated, target customers and competitors do not think so.
The new year has come, let's talk about the six major marketing trends of the blockchain in 2020:
Trend 1: Twitter replaces Reddit, Telegram and BitcoinTalk
In 2019, Twitter replaced Reddit, Telegram and BitcoinTalk as the main communication platform for the US blockchain industry. There are two reasons for this:
① With the maturity and institutionalization of blockchain companies, the communication between them has become less and less. Major brands have chosen community-driven platforms like Reddit, Telegram, and BitcoinTalk, and crypto wars, malicious attacks, and FUD (fear, uncertainty, and doubt) marketing are becoming more common. Telegram in particular, its purpose is to provide a way for users to get quick answers to their questions, thereby facilitating token sales. However, with the sharp decline in token sales and serious functional flaws (such as the inability to provide verification codes to users), Telegram, which is a community growth channel, is becoming obsolete.
② Another catalyst for the increasing use of Twitter in the crypto industry is Jack Dorsey. As a long-time advocate of Bitcoin, Jack Dorsey supports Lightning Labs and has set up Square's cryptocurrency unit, which is currently funding Bitcoin core development, and also provides Square's cash application App) to become one of the leading retail websites in the United States. A few days ago, Jack announced that Twitter would fund a small independent team of up to 5 open source architects, engineers and designers to develop an open and decentralized standard for social media, which allowed his community (Twitter Special) received full support.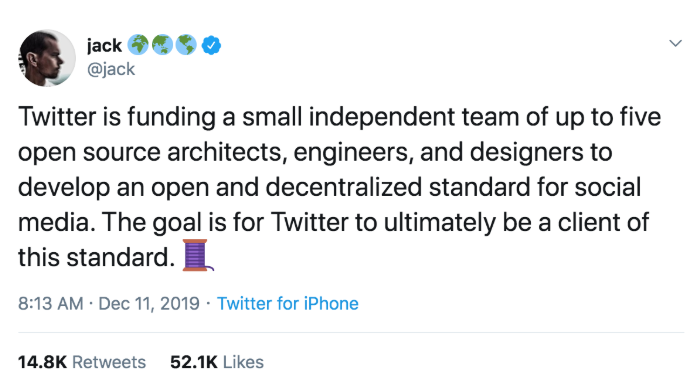 In addition to Twitter, I also have confidence in LinkedIn. Over the past three years, LinkedIn has transformed from a job seeker platform to a content platform with extremely high natural reach. LinkedIn is like Facebook 7 years ago, and if the blockchain project misses the opportunity in 2020, it will be a failure.
Trend 2: Goodbye Medium, Hi Ghost
In 2020, more and more blockchain brands will transfer their blogs from Medium to their own websites, and establish local blogs or use Ghost (an open source publishing platform with more "crypto-friendly" value). The reasons are as follows:
When you publish content to Medium, you lose control of your content. Medium now owns your content and drives traffic to its services. You can link to your website, but few people click on your website after reading your article.
Medium is an aggregator. At the end of the day, you still need to promote your content through your marketing channels to attract attention. Instead of sending readers to your own website to let them know more about your work, you send them to another website and enter the customer acquisition channel of another company.
Unlike Ghost or native blogs, Medium doesn't allow you to set custom domains for blog posts, reducing the natural visibility and search engine optimization (SEO) value of your content.
Medium's increasingly scrutiny of cryptocurrencies (and the threat of possible account freezes) has caused some concerns and opposition from the blockchain community.
Whether for censorship reasons or for better SEO optimization and traffic conversion, the blockchain is expected to continue to withdraw from Medium in 2020.
Trend 3: Apart from brands, moats almost disappear
The moat in the blockchain field is slowly disappearing. Competitive projects are plagiarizing each other. Just relying on cool technology to survive or continue to develop ICOs is not enough to improve operational efficiency. Although something may still be profitable for you now, it will not last forever. For a blockchain organization in 2020, what is a powerful moat? ——Brand.
If your brand does not occupy a clear position in the minds of users, customers, and potential markets, then others will better express their value than you and occupy the position you want.
It doesn't matter if you are the first person to launch a product. It is important that you first occupy a specific position in your target market. Here are some examples of blockchain projects that successfully completed this task:
Bitcoin → Digital Gold
Ethereum → Programmable Blockchain
Coinbase → Simple Cryptocurrency Trading
MakerDAO → Powering Decentralized Finance
Tether → stablecoin
Cosmos & Polkadot → Blockchain Interoperability
Either build a brand or wait for bankruptcy.
Trend four: education is better than fear
New things scare people. We live in an era where people have a solid point of view before they learn the facts. If something raises fear, uncertainty, and suspicion (FUD), most people will naturally avoid it.
The countermeasure to fear is education, and the public still lacks the understanding and basic knowledge of the crypto industry. As practitioners in this industry are plagued by the dark history of hacking (Mentougou, Coincheck), dark web (Silk Road) and fraudulent ICOs, we are forced to explain the blockchain to customers and partners The true value of technology. This requires us to spend a lot of time talking about or writing about the benefits of blockchain and the opportunities it brings.
Being a thought leader in any cutting-edge industry is priceless. In terms of traffic and marketing, companies using content marketing are significantly better than those without content marketing. Blockchain novices in the traditional retail and corporate world are increasingly starting their own research, so the lack of content that can help crypto startups conduct research may mean they are not competitive.
As brands like Messari raise the bar on content this year, blockchain marketers in 2020 must have a solid knowledge of the blockchain space and understand their customers.
Trend 5: The growth indicators of blockchain projects will be more perfect
99% of blockchain organizations operate like traditional enterprises. These companies need paid employees, so they need customers who use their agreements to generate revenue for these companies.
Just as daily active users (DAU) is a key growth indicator for Facebook, or the number of reservations is a key growth indicator for AirBnb, the blockchain project will also refine its growth indicator in 2020, no longer just looking at price and market value.
However, unlike traditional digital platforms, token holders in the blockchain use protocols differently. Some miners run blockchain nodes in the form of a passive income model, some miners build infrastructure or applications based on basic layer protocols, some are speculators, and some are ordinary users who use the blockchain to achieve their intended functions .
Identifying each segmented user, understanding their needs and behaviors, and maintaining these users are necessary to transition from an entity to a healthy business model.
With the help of blockchain business intelligence service providers such as Flipside Crypto, blockchain organizations can mark users (holders, traders, speculators), operators (nodes, miners, validators) and enterprises (dapps, exchanges) , And track growth metrics specific to each segmented user.
Understanding these metrics will help guide business and marketing decisions for 2020.
Trend 6: Customer acquisition channels are still working
Although many marketing channels, strategies, and tools in the blockchain space are unique, the core digital marketing principles are the same. The same will be true in 2020.
From visitors to paying customers, every business has a unique set of channels to acquire users.
By mapping the data collected by the analysis tools to the user usage process, you can see the bottleneck of user churn, and take measures to improve the conversion rate at each stage of the channel. Start your analysis with a series of questions about how users interact with the product:
1. How do users change from visitors to payers?
2. When did users really realize the value of your product / service? (Your task is to get people to that goal as quickly as possible, especially in complex areas like blockchain)
3. At what stage does the profiler indicate that users abandoned your product? (Use a tool like Google Analytics to detect conversions at each step of the user 's visit to identify issues)
4. Why do users give up at those stages? (User testing and session recording tools will greatly help you understand)
5. What channels can you use to divert yourself? (Whether it's an email newsletter, content, live chat, or redirected ads, try to use all possible touchpoints to drive users through the entire channel) Paradoxically, the marketing trend of blockchain in 2020 is more technical and humane. In the end, marketers must work more closely with their product teams than ever before, pre-define value, replace complexity with simplicity, and provide customers with what they need.
Original: https://hackernoon.com/6-blockchain-marketing-trends-for-2020-ql28360s
Manuscript source (translation): https://first.vip/shareNews?id=2672&uid=1