Source: Chinanews
Editor's Note: The original title was "Zhejiang Court Launches" e-Key Smart Delivery ", No Manual Interference in the Whole Process"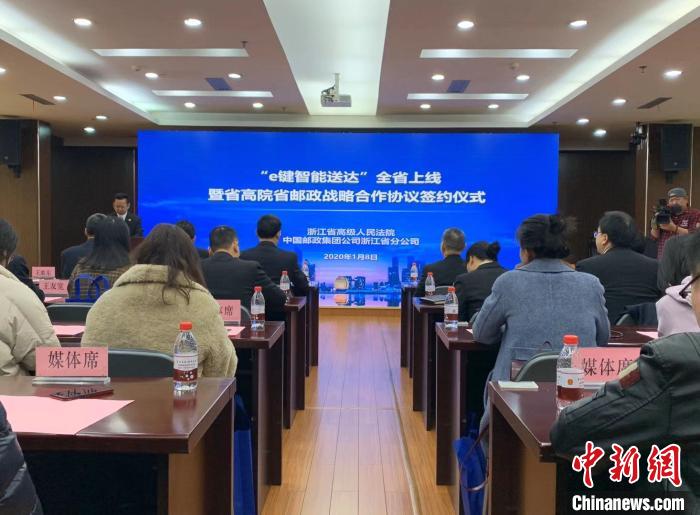 "E-key smart delivery" launch ceremony. Photo by Guo Qiyu
China News Network, Hangzhou, January 8th (Guo Qiyu) On January 8th, the "e-key intelligent delivery" system was launched in the courts of Zhejiang Province. The system uses big data information technology to build a complete addressing party address database. Assistant "Xiaozhi" relies on the Zhejiang court case handling office platform to independently complete the delivery task, forming a full-process delivery mode without court manual intervention. "E-key smart delivery" shortens the time limit for court service from 0-10 hours to 3-6 days.
Serving, that is, the action of delivering a legal document or legal document to the recipient. In the past, court staff had to print documents at each delivery node, sign and seal them, and sometimes deliver them to the door. Intelligent delivery has changed the previous work mode that required court staff to participate, and improved the trial process and litigation efficiency.
According to Chen Zengbao, Director of the Trial Management Division of the Zhejiang Provincial High People's Court, in "e-key intelligent delivery", "Xiaozhi" confirmed the parties' delivery address and whether they agreed to be delivered electronically through intelligent voice calls. If the party does not provide a detailed address, "Xiaozhi" will actively query in the party's delivery address database, relying on the Zhejiang court case handling office platform to complete the delivery task independently, and the entire process of delivery will be verified by blockchain technology. .
"'Xiaozhi' can independently generate and sign the legal documents to be delivered at each delivery node, intelligently recommend the best delivery method to initiate delivery, and feedback the results." Chen Zengbao explained, according to preset delivery rules, "Xiaozhi" will also intelligently judge the effectiveness of delivery and decide whether to choose another delivery path to initiate delivery again until all delivery methods and delivery addresses have been exhausted. In the case of an agent, the electronic litigation documents will also be pushed to the lawyer's case handling platform.
In addition, if the parties do not agree with the electronic service or the need for paper documents, "Xiaozhi" will send the relevant information of the person to be served and the electronic materials of the service documents to the postal platform. The traditional mode of delivery is printed directly by the postal department of the recipient's location and delivered by hand. And real-time information such as GPS positioning, the actual situation of the place of delivery, and whether the delivery was successful, etc., will be sent to the electronic dossier.