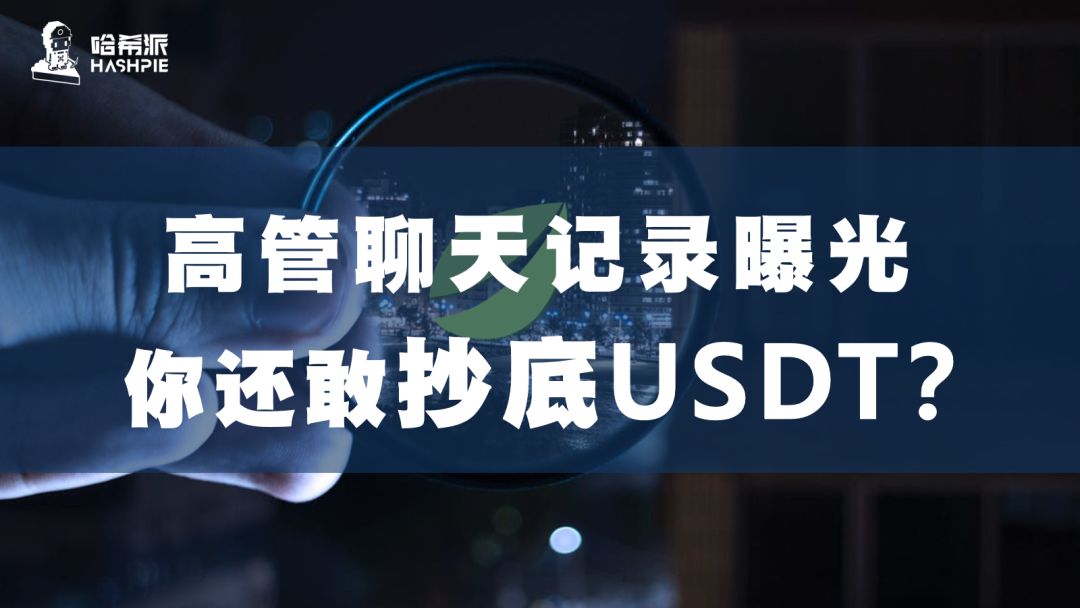 Author | Hash pie – not broken Article words: 2100 words or so Reading time: about 3 minutes
How to judge whether USDT is over-issued?
Bitfinex's shareholder Zhao Dong said on the afternoon of the 25th: "One situation is that the USDT issuance exceeds Tether's USD reserve, but as long as Tether does not misappropriate the reserve, this situation does not exist."
Eight hours later, the Wall Street Journal issued a message "i Finex transferred 700 million from Tether's reserves in 2018 to make up for the bitfinex 850 million deficit. " The most loyal caller of the domestic USDT fell into his own digging In the pit.
In addition to super-issuance, the answer to questions raised by bitfinex about funds, runs, and manipulation of the market seems to have surfaced with the release of some survey content.
We found that many things bitfinex didn't tell the truth.
In a paper filed by New York Attorney General Letitia James for the prosecution of bitfinex and Tether, we found a relationship between the "Merlin" executive of Bitfinex and the staff member "CCC" of Crypto Capital Corp, the partner involved in the misappropriation of the fund. chat history.

From the conversation record we can see that bitfinex's first call to Crypto Capital Corp was in mid-August last year when bitcoin prices fell to around $6,300. At that time, it was widely believed that Bank Noble, which cooperated with bitfinex, had not been exposed to the shortage of funds, and the run-off crisis has not yet erupted.
But the problem is that at this time, Crypto Capital Corp may be in the midst of allegedly laundering money for international drug trafficking groups, and can't afford to support their teammates.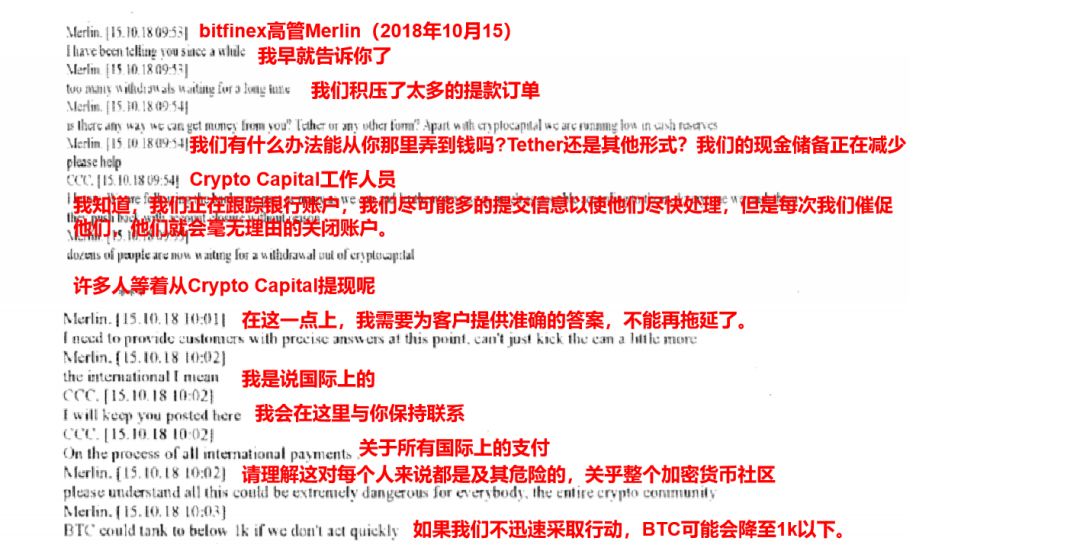 For the first time, helplessness failed. Two months later, bitfinex once again slammed the door of Crypto Capital Corp. They clearly stated that they needed a billion dollars.
At this time, Noble's bankruptcy news has been exposed. USDT suffered a lot of selling, and the price plummeted 13%. Investors rushed to submit withdrawal orders to bitfinex and Tether, and the run-off phenomenon began to be serious. The Hash faction has previously reported that some of the withdrawal orders have not been processed for six months.
This time, bitfinex got the answer "can keep in touch with international withdrawal orders." However, Crypto Capital Corp is clearly still in the negative impact of the money laundering incident, the account may be closed at any time, subsequent chat records confirmed that bitfinex did not get a penny.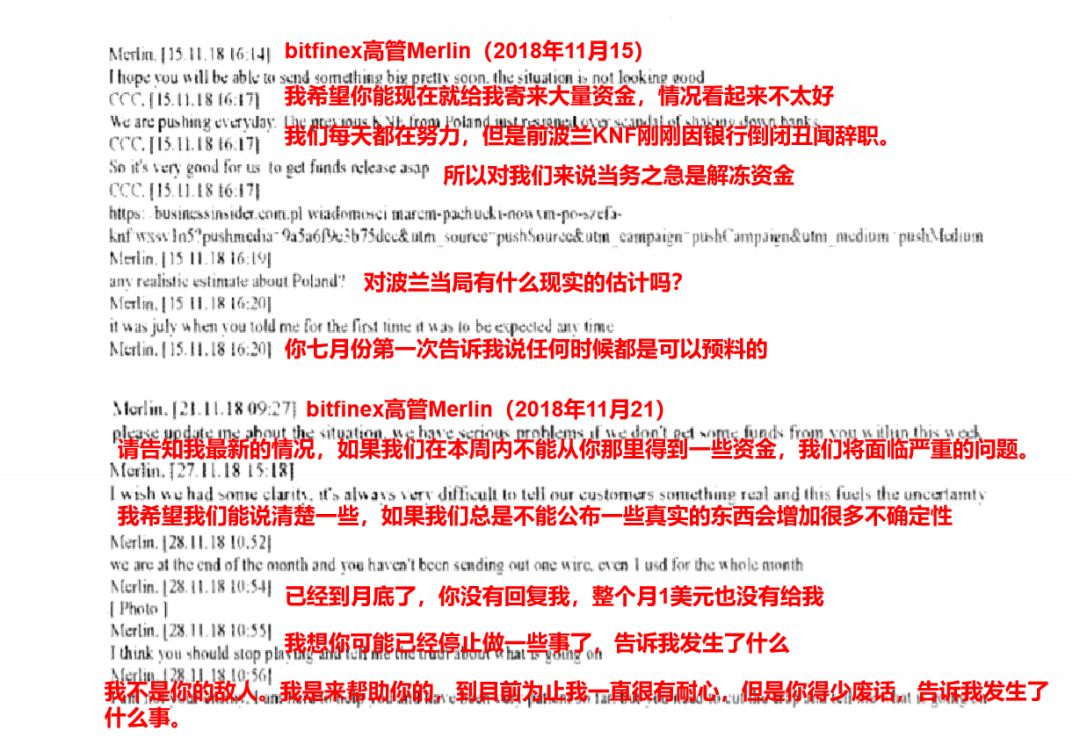 In November 2017, bitfinex opened an account with the Społdzielczy w Skierniewicach Skierniewice bank in Poland and launched the BTC against the euro. The company name used to register the account was Crypto SP ZO.O. According to the records of the Internet sleuths survey website, Crypto SP ZO.O is a wholly owned subsidiary of Crypto Capital Corp.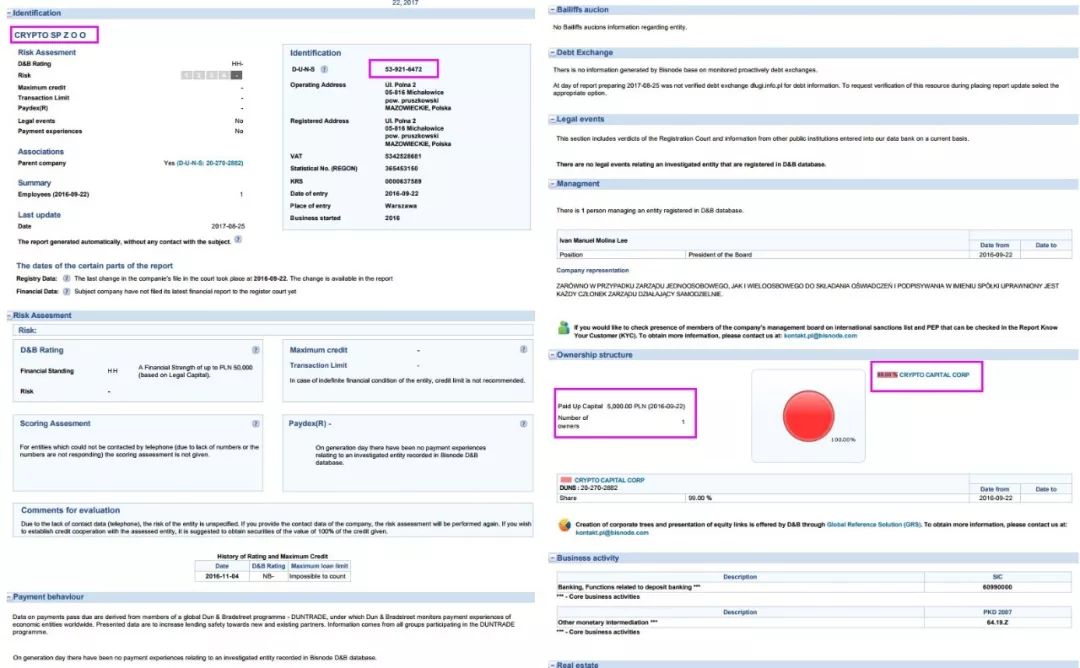 Prior to April 2017, Crypto SP ZO.O's bank account in Taiwan was one of the accounts of four banks that Bitfinex represented as Wells Fargo Bank, and was banned by Taiwan after April.
According to information from Crypto Capital Corp, the chairman of the two companies, Ivan Manual Molina Lee, found that at least six of his Panamanian companies were directors. It seems that this Ivan Manual Molina Lee is more like a name only. The appointment of a director.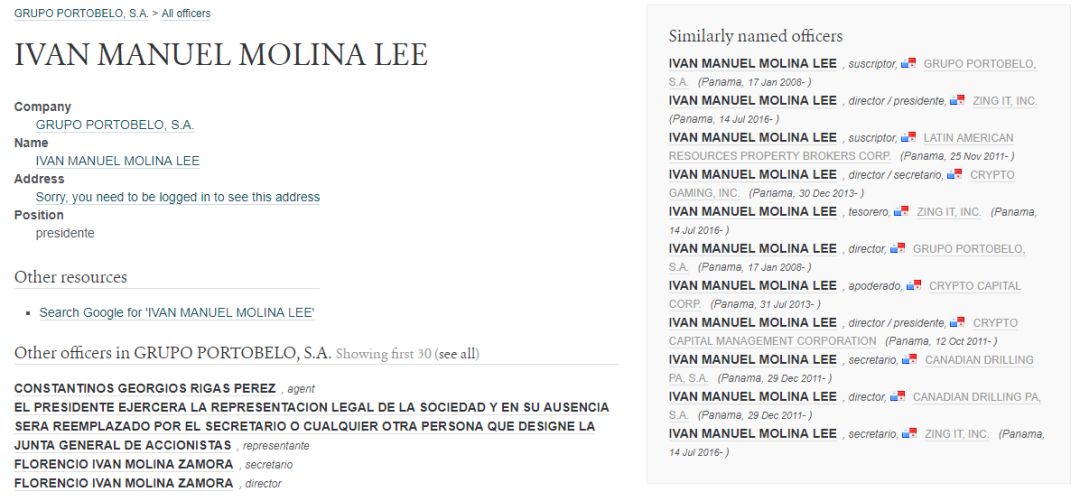 In a report from financemagnates in April 18, a company owned by a Panamanian Canadian and a company owned by a Panamanian Colombian were suspected of laundering money for Colombian drug trafficking groups and helping criminals hide through cryptocurrencies. Identity, where Company C is in close contact with a large cryptocurrency trading platform, and the two companies were eventually confiscated by the Polish authorities for $371 million. Combined with the above chat content, Crypto Capital Corp and bitfinex seem to have a subtle relationship with this matter.
Later, in the face of media questions about this matter, bitfinex said it would resort to legal means to solve the problem.
But the result is that it is gone.
More notably, Merlin said in mid-October that " if you don't take action, the BTC price will drop below $1,000. "
From this day on, bitcoin prices have fallen all the way from $6,631. On November 15th, bitcoin prices fell to $1,000. A month later, Merlin's serious problems in the community seemed to have appeared, and BTC prices fell to the bottom. Once fell below $3,200. Bitfinex executives' estimates of BTC price movements can be said to be very accurate. Coincidentally, on November 20th, Bloomberg reported that the US Department of Justice and the CFTC are investigating Tether's alleged manipulation of bitcoin prices.
At the time, we attributed this price decline to the computational battles of CSW and Bitland, but ignored it. During the two months, Tether destroyed 500 million USDT. 80% of the flow in the BTC market is provided by Tether.

Yesterday morning, for the complaint of the New York Attorney General, bitfinex officially responded that the documents submitted were not true. They did not lose 850 million funds, but were sealed and frozen. "Bitfinex and Tether are committed to combating this serious and ultra vires behavior in the Office of the Attorney General of New York."
Mr. Zhao, who has been working on filling in the USDT, also posted a clarification on bitfinex in the telegram group that afternoon.

However, this pit seems to fill more and more. Whether it's a loss or a freeze, it's certain that bitfinex is lying on the funding issue.
Bitcoin was born only ten years ago, and bitfinex has been around for seven years. From income to status, it should have been a huge industry giant, but in the past seven years, it has continued to consume the trust of investors and step by step to push themselves into the abyss.
In 2016, bitfinex was hacked and stolen 119,756 bitcoins, worth $73 million. After the incident of the stolen currency, the platform's treatment plan is that no matter whether Bitcoin is lost or not, each user deducts 36.067% of the funds and issues the corresponding amount of BFX platform coins as compensation. Each BFX is equivalent to 1 US dollar. Until April 2017, all users received US dollar compensation, and BFX tokens were all destroyed. The price of Bitcoin has doubled in the first half of the year.
Bitfinex has passed the dangerous period by the user's flat loss.
In 2015, the bitfinex team set up Tether to start issuing USDT. In less than four years, the market value of USDT has reached $4.8 billion.
In June of the second year after the release of USDT, Tether asked Noble Bank consultant Eugene Sullivan to act as partner's law firm FSS to issue an audit report to prove that his reserves were sufficient. . After Taiwan's account of bitfinex was banned in April 2017, Noble Bank took over its banking business.
Since March of this year, Tether has changed "USDT 100% supported by currency reserves". "USDT is supported by reserves such as foreign exchange, cash equivalents, other assets and accounts receivable".
In the highly speculative market, USDT has also changed from stable currency to highly speculative speculative tools. Yesterday, the news of bitfinex misappropriation of funds, the USDT fell by 1.4%, many speculators seem to have seen the skyrocketing after the USDT crash in November last year, and they are eager to see the bottom.
Those who have been in the gambling gambling for a long time seem to be beginning to believe that "Never care if you get a bad card, as long as you always have a good hand."
But don't forget, the second half of this sentence is "You have to choose the right time to leave the table."
Reference materials:
[1]Paul Vigna, Bitfinex Used Tether Reserves to Mask Missing $850 Million, Probe Says, Wall Street Journal
[2] Vlad Costea, Bitfinex executive Merlin: "BTC could tank to below 1k if we don't act quickly", cryptoinsider.com
[3]Simon Golstein, Bitfinex is Mixed Up with Colombian Cocaine, Polish Media Reports, financemagnates.com
※ For more exciting content, please pay attention to the Hash Pai public number or click to read the original text.