1.   Severe face ? Satoshi Aumoto was exploded by lawyers and does not own $ 8 billion in Bitcoin private keys
BSV has earned enough attention recently. The price of BSV rose from a maximum of US $ 85 on December 20, 2019 to US $ 392 on January 15, 2020. The increase of nearly 500% caused a lot of heated discussions. There was controversy behind the heated discussions. Cointext CTO Vin Armani said The main and billionaire Calvin Ayre is the biggest operator of this time. He deployed mining power on BCH to mine BCH, which was then used to pull the disk for BSV.
With the "swelling" price falling, BSV initiator and controversy Craig Wright (Amoto Satoshi) was blasted out by his lawyer today. He did not own the private value of Satoshi Nakamoto's early mining of 8 billion US dollars of Bitcoin. Key .
Wright filed a statement in the Southern District of Florida on Tuesday night saying that he had received information to unlock encrypted files of the thousands of public Bitcoin addresses he claimed to have. Wright once stated that there was an "encrypted file" that contained both a list of public addresses and a private key. Many believe this means that when the courier delivered the documents on Tuesday, Wright finally received the private key.
Craig Wright's lawyer Andres Rivero, a partner at Rivero Mestre, told cryptocurrency media Decrypt: " The documents he received did not contain the private key ." However, Wright still hopes that he will receive the private key in the future. Rivero said that the private key may be received in full form or also separately, but declined to discuss further details of who owns the key and when it was received .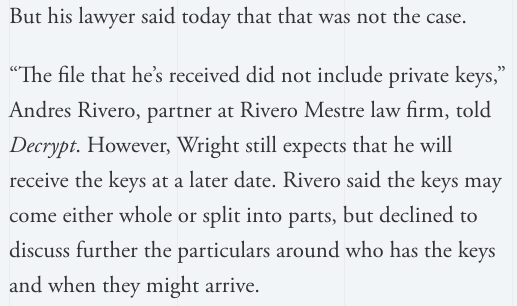 Craig Wright claims to claim the controversy caused by Satoshi Nakamoto. Although he has not been able to provide the only evidence to prove that he is Satoshi Nakamoto-private key, he still has many supporters. When he forks from BCH, he claims that BSV will stick to the bit The initial course of the coin has received a lot of reinvestment from the original BCH supporters. Wright himself has been publicly boycotted and condemned by many big cryptocurrencies, including Binance CEO Zhao Changpeng and Blockstream CEO Adam Back. The crypto community headed by Bitcoin has initiated a wave of resistance against it, because Hodlnaut, one of the earliest public opponents of Wright and a popular Bitcoin supporter, was sued by Wright in 2019, which caused the crypto community to anger . On January 16, Hodlnaut announced on Twitter that Wright's defamation lawsuit was rejected by the British High Court :
The High Court of England today ruled in a defamation case brought against me by CSW.
The judge ruled that Britain did not have jurisdiction and the lawsuit against me would be dismissed.
Norway has jurisdiction.
We will go to court there to end this scuffle.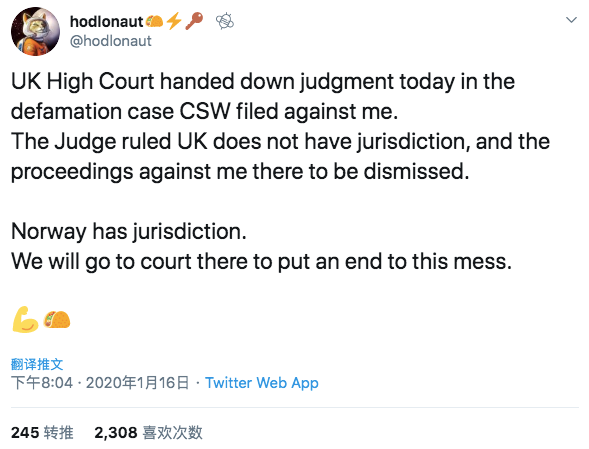 Note: It is unknown whether Satoshi Nakamoto actually owns $ 8 billion in bitcoin. Former Blockstream co-founder and Bitcoin core developer Greg Maxwell has stated that it is not true that Satoshi Nakamoto has $ 8 billion in bitcoin.
2. Will the Chinese Spring Festival trigger a big dive in Bitcoin price?
Generally speaking, during the Chinese New Year, the financial market showed negative sentiment, so it is generally believed that the prices of financial products such as stocks need to be warned. This sentiment has also spread to cryptocurrencies such as Bitcoin. The reason is that due to the increase in expenditure during the Spring Festival, it is used for tourism expenses, gift expenses, and red envelopes, and there will be a wave of selling financial products for cash. The Bitcoin price curve in 2018 and 2019 both showed a downward change before the Spring Festival.
Well-known economist and cryptocurrency trader Alex Kruger believes that the price of Bitcoin will not cause a significant decline before the Chinese New Year:
Some people think that the Chinese New Year may have a negative effect on BTC, as people sell bitcoins to buy gifts.
The Spring Festival begins on the second new moon after the winter solstice. This year's Spring Festival is January 25.
Data show that before the Chinese New Year , BTC's performance was not inferior .


If you look at earnings for the first few days of the week before the new year, you're clearly underperforming.
For example, in 2020, the 5-day average daily rate of return 7 days before the New Year represents the average daily rate of return between January 12 and January 17. This is something to watch out for in 2021.


According to data provided by Alex Kruger, the minimum return rate during the week before the Spring Festival was -1.2% , and the average return rate on the 3rd day was + 1.6%, and this week's Bitcoin price has shown a 9% upward trend.
One week before the Spring Festival, do you think the price of Bitcoin will fall?
3. Take down the old blocktream's desk? Bitcoin developers urge netizens not to use Liquid
Lightning Network parent company Blockstream announced that Liquid Payment has been integrated into BTCPay Server, indicating that users and stores can use L-BTC / USDT to pay.
* Liquid network is a Bitcoin sidechain that provides asset issuance, fast settlement and confidential transaction functions.
Former Blockstream co-founder and Bitcoin core developer Matt Corallo (now a member of Twitter CEO Jack Dorsey's Square team) tweeted that netizens should not use :
Don't use this (Liquid).
For end users, the trust model is scary, and the Lightning Network in BtcPay Server is better.
If you want to transfer funds between exchanges for payment services, use Liquid, and if someone tells you to use Liquid for other purposes, you should treat them like they are trying to steal your Bitcoin.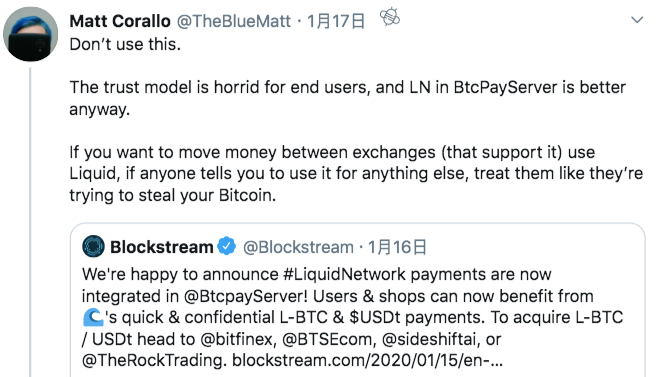 In the comment area, Matt Corallo answered crypto users' questions and said that his suggestion was to use the Lightning Network for small payments on the chain. This is not because it is "more inclined to the Lightning Network", but about whether to trust a centralized third party. Centralized third parties not only collectively control users' money, but users also need help from third parties to withdraw money. This is an "abnormal" trust model for end users, and it is better to use a bank.
So, what are the conveniences of Lightning Network Payment? Lightning web developer Alex Bosworth mentioned multi-path lightning payment:
Multipath Lightning Payment allows you to use all channels as a disposable disposable balance. Interestingly, you can also use multiple separate wallets for single payment. So it's not just a single balance for all your channels, it's a single universal balance.

The crypto community has super-popular Bitcoin evangelist Andreas Antonopoulos commented:
I did n't know before that I could make multi-path payment from different wallets, but now I know what I heard. Thank you for pointing this out, Alex.
Netizen JAF received a message from Antonopoulos:
Not many concepts I understand, but … it sounds awesome! !!

4.Libra Association appoints independent technical steering committee, calling Libra an autonomous project
Twitter account Libra Dev (Libra Development) tweeted that the Libra Association Board appointed an independent technical steering committee to manage the technical development of the Libra project. Libra official blog post:
On December 16, 2019, the Libra Association Council voted to establish a Technical Steering Committee (TSC) for the Libra project and elected five members, each of whom contributed a unique perspective and brought valuable expertise to the project.
TSC's role is to oversee and coordinate the technical design and development of the Libra network . Duties include:
-Guide the technical roadmap of Libra network
-Set up technical working groups to quickly study specific issues
-Guide code base development
-Build a healthy, highly engaged Libra developer community
The establishment of an independent TSC responsible for the development of Libra network technology is an important step forward for the Libra project. The association has always believed that the Libra project will be autonomous and not under the control of any organization.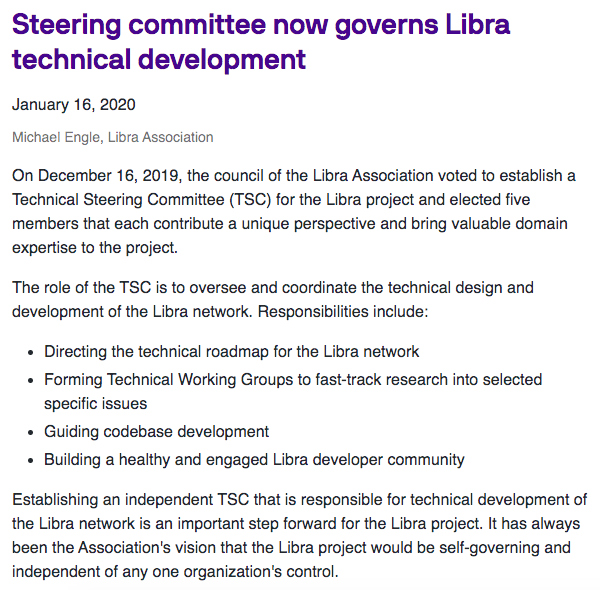 The five members are: Diogo Monica, co-founder of Anchorage, a digital asset custodian, George Cabrera III, Calibra's core product leader, and Bison Trails, a blockchain infrastructure company.
CEO Joe Lallouz, venture capital firm Union Square Ventures partner Nick Grossman, and Ric Shreves, director of emerging technologies at non-governmental, global humanitarian organization Mercy Corps.
On January 9, 2020, Facebook CEO Mark Zuckerberg posted: "One of the main issues of the next decade is: how should we manage the emerging large digital community based on the Internet "He believes that the digital world requires oversight, referring to government oversight as a potential solution, calling community autonomy " another better way. "
5. Industry News
a. Binance cooperates with Yahoo's Japanese subsidiary and Japanese cryptocurrency exchange TaoTao to establish an independent trading platform in Japan. Earlier, Binance had stated that it would gradually limit the trading function for Japanese users, pointing out that it would establish an independent exchange in Japan.
b. European Central Bank Board member Yves Mersc said in an interview with the financial magazine TFG that currency is part of monetary policy. The European Central Bank is technology neutral, and technology should serve the purposes of the central bank, not the other way around.
c.Compound data shows that the Fed's balance sheet rose to $ 4.176 trillion, the highest level in 15 months, and increased by $ 416 billion in the past 4.5 months.
d.skew data shows that open interest in bitcoin futures on the Chicago Mercantile Exchange has increased by 100% since the beginning of 2020.
The latest report by e.CoinDesk states that the high-profile Block.one social media application Voice will be available in Beta on February 14th and will not run on the EOS mainnet. The app will run on a "private" network.