The wave of open source cryptographic assets is shaking the world. The blockchain revolution represented by Bitcoin and Ethereum has sparked new enthusiasm in the intersection of technology, monetary policy, social impact, and governance.
But where is the fun of blockchain?
We use an analogy here to answer this question.
The Internet represents a new set of protocols for transmitting information worldwide. Over the past 30 years, the Internet has completely changed the way a society operates. It changed business, media, politics, and even relationships.
-Centralized ledger vs. decentralized ledger-
In our opinion, the blockchain (and the set of technologies that support this ledger system) is the internet of money . If you know how the Internet has profoundly changed the world, and you can imagine that the blockchain is changing the currency in the same way that the Internet transforms the information transfer process , you should not doubt how much the blockchain has affected the world?
Open over closed
Our friends working at Origin Protocol drew the following excellent map to show the development over time (X-axis) and changes in network application architecture (Y-axis).

This picture predicts that in the future, the data layer will be open and portable between apps.
This kind of data portability is important because it means that your data can be easily migrated between different, free (translator's note: suspected as "complementary") apps. In Web 2.0, your social data is tied to Facebook, your email data is tied to Gmail, and the cost of migration is high; but with the blockchain, applications can share data layers and interoperate.
A brief understanding of the concepts can be read: https://media.consensys.net/a-warm-welcome-to-web3-89d49e61a7c5
We are not just talking. Gitcoin's project browser is based on an open bounty standard called " Standard Bounties ". We have connected to the Bounties Network , and we plan to start interoperating with Status Open Bounties , another mainstream project in this field.
Now, we will talk about why we believe that open systems will win. We will also explain why these open systems can finally bring vitality to the open source currency ecosystem.
Open source currencies: past and future
Open source has undoubtedly created a lot of value to the world-hundreds of billions of dollars in economic output each year.
However, those who contribute to open source code have never been properly paid for their time and energy.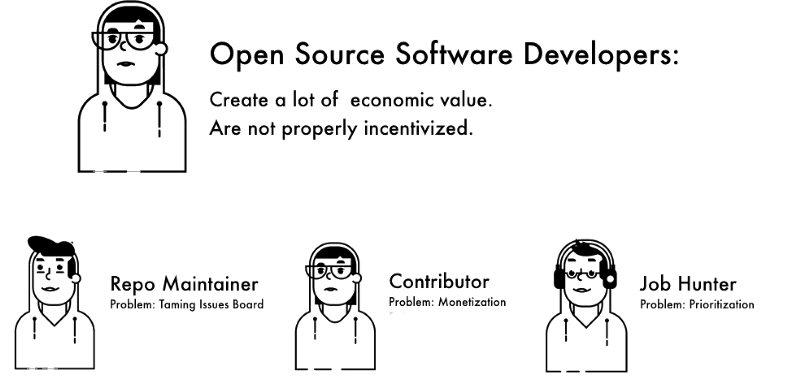 -Inspirational absence in open source software development-
If you've read our " Promoting Open Source Growth " series of articles, you must know this entire history. From the free software movement led by Richard Stallman to The Cathedral and Rally by Eric Raymond, open source software has a rich history. These stories show how generations of cities are working together to bring us today's technology world.
Details can be found at: https://media.consensys.net/a-warm-welcome-to-web3-89d49e61a7c5
However, despite the economic value they create, developers of open source software do not always receive fair compensation. They usually only work on open source development after work and on weekends-those with better luck can get involved in development through paid work (corporate sponsorship).
Interaction: Blockchain and Open Source
We believe that the blockchain revolution has created a new era in the history of open source software. To discuss Bitcoin, Ethereum, and other open, cross-border cryptocurrencies with strong transaction records, it is impossible to ignore the philosophy of their open source design .
Open source blockchain systems can capture the value they create. Therefore, the structural problems of open source funding activities can also be solved in the blockchain ecosystem .
Despite the rumors of thousands of ICOs, some of the best projects are standing out. At the time of writing, the open networks of Bitcoin and Ethereum total more than $ 200 billion. The 5 best blockchain projects are all open source. "Open" is actually a powerful sign.
As long as 5% of this market value is invested in the #BUIDLing movement, the open source movement can be supported by $ 13.75 billion. Even with a small amount of additions and subtractions, at least $ 13 billion is spent on open source development.
Technical experts keenly seized the opportunities created by the blockchain movement. For the first time, the incentives for maintaining an open system have become permanent. This is the golden age of open source systems.
In technology, one of the problems we have been facing is not enough financial support to create and maintain open source protocols. Because they are doing open source projects, it is naturally difficult to obtain income through traditional means. However, this situation is changing after the advent of blockchain technology and tokens. -Fred Wilson , " The Golden Age of Open Protocols "
The world of open source work
To prove that open source work is the future of the web, let's paint a vision of open source work.
In the future, you can use the open source version of Gmail, which is as secure and confidential as Gmail, but there will be no such user-oriented business model.
In the future, there will also be an open source version of Facebook, which is the same as Facebook today, but with data portability.
This article is not about how we develop these products. This article is about how we can build an incentive structure to facilitate the emergence of these products.
Gitcoin ecosystem: open source economic incentives
To promote the growth of the open source world, Gitcoin has tried many different incentive schemes. It all starts with Issue Explorer , our main product, and then with other experiments we are trying to align with our mission. We have listed some key examples below.
Gitcoin: Issue Explorer
Gitcoin is a two-way market that matches employees and employers.
With Gitcoin, employers can find skilled people to solve their problems and use bounty as an incentive.
Skilled people can take up employment and find jobs in the intersection of blockchain and open source software. They can find a community that cares about development (not speculation), and they can influence their ability to find work in the blockchain world by developing relationships and products.
We have reached many successes of this bounty platform. For the past 4 months, $ 30,000 a week has been done through this platform. Representative projects include Augur, MetaMask, Truffle, Solidity, ETHGasStation, etc. (see project here ) : This article was written in April 2018).
If you want to know how to use the bounty platform, please see here .
Gitcoin: Dev Grants
Later, using a new feature module called "Dev Grants", developers could receive direct sponsorship from the community.
The bottom layer of this function is StakeTree 's smart contract. Developers can receive circulating funds issued on a monthly or weekly basis, and the form is not limited to ETH or ETC20 tokens.
Imagine that a developer can spend 8 hours per month on an open source project and receive $ 800 a month in compensation.
CodeFund : sustainable open source advertising
We also just released CodeFund .
CodeFund is a platform that matches open source software developers and advertisers who want to reach their audience. With CodeFund, developers can benefit from their work in open source software, and they can keep their focus on a job.
To learn about CodeFund, please see here .
What does open source work look like?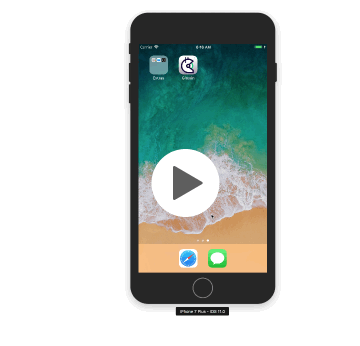 We believe that finding a job in the open source software world will be as easy as finding passengers with an Uber driver.
Employment mobility will be greater in the future. This will also change the relationship between capital and workers.
In the previous model, the business-to-employee relationship was one-to-many. In the future, this relationship will become more and more many-to-many.
-Traditional employment model (one-to-many) vs. open source work (many-to-many, data collected from actual Gitcoin data)-
According to Gitcoin's "many-to-many work" model, we can imagine a future when the work of the entire open source software world will be transformed into such a "many-to-many" model, and participants will alternately play capital as the scene changes. Party and laborer roles.
That's a working mesh network .
-Open source the whole world! –
It can be expected that this mesh network will have a property that is very different from the traditional enterprises that will form geographical agglomerations. The future work network will continue to flow and form clusters around the following factors:
Collaboration : Some people are extremely focused on collaboration, others stick to it alone, and most are in the middle
Free skill set : "It is unrealistic to expect a developer to have all the skills we need to advance the project. Rather than trying to find a red rabbit, it is better to find a horse with their own strengths." — Phil Elsasser , MARKET Protocol (Again , "Free" suspected of "complementary")
Sense of mission : Strong sense of mission, values ​​and community will attract and retain the brightest people
Capital : The open source community will have a whole new mechanism for generating capital
Inverse bell curve for software engineer compensation
We expect that a good software engineer will trigger an auction to buy his time, because he can find multiple customers and then choose the one with the highest bid. This creates an inverse bell curve of reward.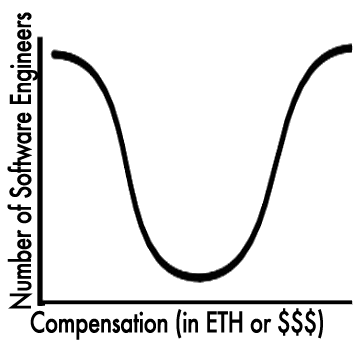 -The horizontal axis is compensation, and the vertical axis is the number of software engineers-
Software is a key strategic advantage in many areas, and developers can leverage to create leverage from:
How distinctive your personal brand is
How valuable is the niche being managed
Ability to deliver products on time and quality
In the blockchain's open network model clock, software revenue models will become increasingly important. If it were not for the problem, no one wanted to pay for open source software. Then, pay for a moment, cool for a while, keep paying, always cool.
"Emergence" in networked open source software work networks
"Living with dreams, make up for the current lack." —— PG
If you agree with the worldview mentioned above, you have many opportunities to shape the future.
Flash organization
Because the new work model is very networked and highly fluid, the Flash Organization will also be possible. Employees will work on multiple projects at the same time; it is also possible to start a project, use DAOStack to generate revenue, use Aragon to manage the project, use Opolis to manage compatibility, use Gitcoin to hire engineers, use CodeFund to market, and after completing the project Just let it go.
Tokenization everything
At that time, Credit will become peer-to-peer, which means that everyone has a bank in their pockets and has the ability to use smart contracts to lend to others seamlessly. You can also insure your projects with one click, and you can tokenize your assets and distribute them to other organizations.
Because tokenization will become very common, we believe that some projects will use a combination of salary and tokens to pay early teams (whether functional tokens, security tokens, or protocol tokens).
Spin-off of welfare services and employment
Some services have traditionally been tied to work, such as retirement benefits, health care, insurance and vacations. These things will change in the mesh network world.
This is both an opportunity and a threat to the capital side and the workers. Efficient and customized services will usher in new opportunities. This also means that a stable and safe market price will be borne by some combination of capital and laborers.
We are very interested in what Opolis friends are doing and can't wait to see their product launch.
How to move into the future?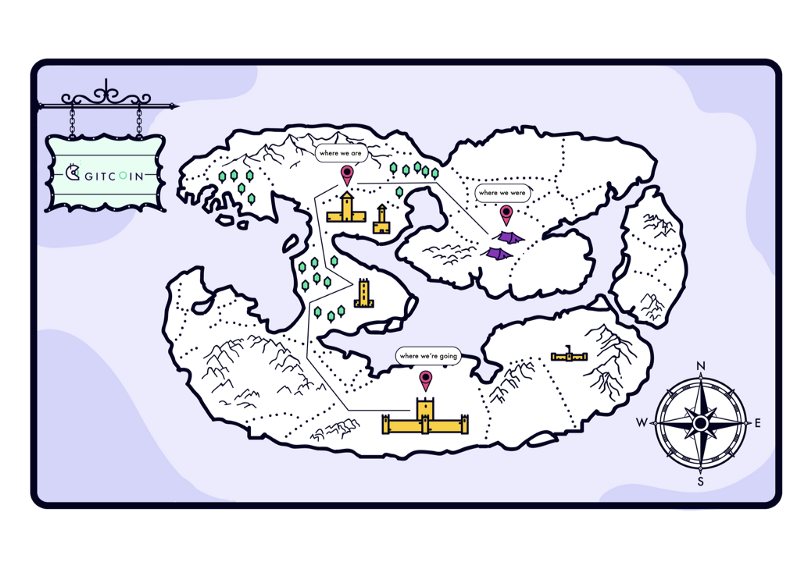 We believe that the future of blockchain must be built on a product, interoperable ecosystem clock. Our products are one of them and will support new scenarios for finding and managing jobs.
There are many other good projects that we are working with to build the "Future of Work", including: Bounties Network , DaoStack , Opolis , Aragon , Colony , Status , Bounty 0x , and Origin Protocol . Many other projects are also working on the development of blockchain-critical infrastructure that promotes interoperability.
The road to the open source world is not easy. Helping one or two individual open source projects also requires thought, ability, and action.
Just like open source, we believe in elite attention. New ideas always come from space! Join us in driving the growth of the open source world.

(Finish))
Original link: https://gitcoin.co/blog/open-source-money-will-buidl-the-open-source-ecosystem/ Author: KEVIN OWOCKI Translation: A Sword