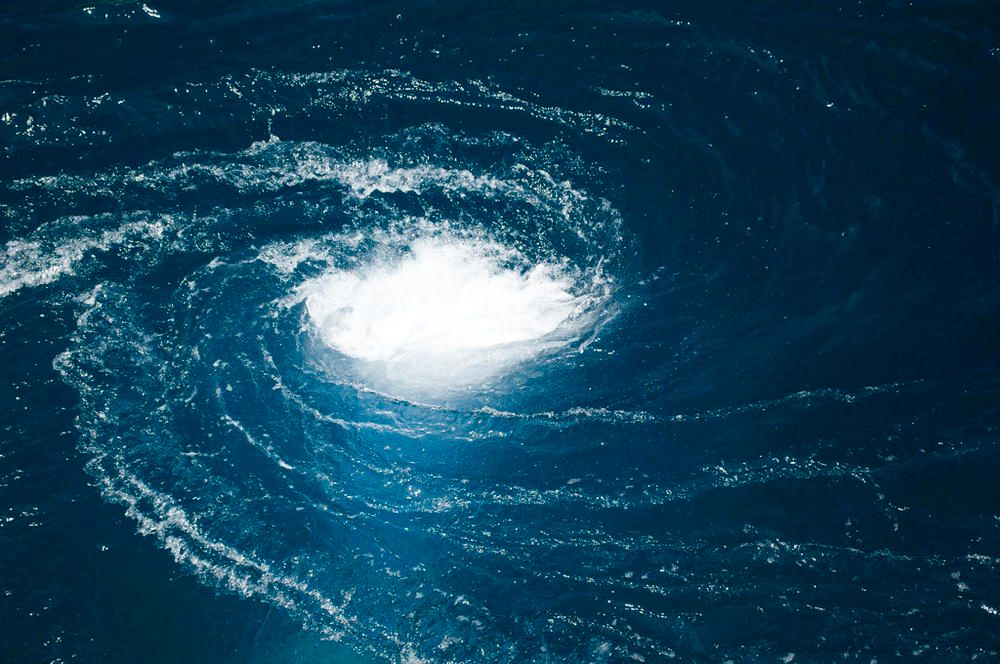 Survival or destruction? This is the ultimate torture that many currency projects are facing.
In 2019, 518 digital currencies were declared dead; once there were tens of thousands of public chains, there are now only about 200 left.
At the same time, the funds in the currency circle from prosperity to decline. The crash, running, and being arrested have become the outcome of a large number of funds and exchanges.
The scammers are almost all out, and the regular army, which has deeply cultivated the underlying technology, has begun to gain a foothold.
A new round of shuffling is quietly underway.
In 2019, multiple star blockchain projects were shut down. The most well-known one is probably ONO.
The founder of ONO is Xu Ke, a post-95 influencer.
In 2012, she became popular due to an accident. At that time, she was dressed in clothing, exposed herself to drink and drove, and pulled out an international driver's license, claiming to have just returned from the United States.
Since then, Xu Ke has become a social app and announced a relationship with a well-known e-sports player. "Internet celebrities", "rich second generation" and "post-95 women entrepreneurs" have become their labels.
In 2018, Xu Ke entered the blockchain industry, and ONO was born-it claims to be a decentralized social APP based on blockchain, mainly targeting post-95s and post-00s.
In publicity, ONO officially uses a broader term: "Users can freely share and obtain valuable content, chat, learn and communicate, and participate in ecological construction, and obtain equal rights while creating and obtaining traffic value."
"Investment must be invested in the internet celebrity project, and there is traffic." Li Xiaolai bluntly said in the widely leaked recording. He invested nearly $ 7 million for ONO.
However, ONO did not last long.
In July 2019, ONO's APP suddenly stopped, and the ONOT tokens that KOLs obtained in the APP could not be withdrawn.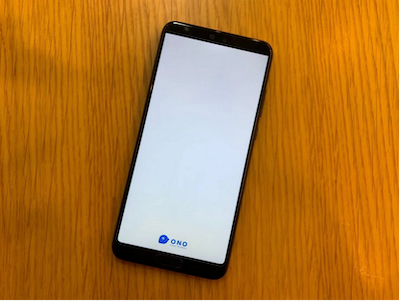 ONO APP can no longer be opened
Investors panicked. They suddenly discovered that the official public account of ONO had been changed, and people in the office had left the building empty.
After three weeks of suspension, the official public account of ONO started to publish the weekly report of Nuozhou Group.
Some investors bluntly said that Xu Ke had to start another stove. Nuozhou Group is the parent company of her new company.
With regard to the shutdown, Xu Ke explained that ONO will complete the "closed upgrade" within 2019, re-launch the "innovative model", and launch the "complete mainnet plan".
"The team is still running, just ready to go," she said.
But even today, the ONO APP cannot be opened.
Some people in the currency circle pointed out that, as a leek cutting project, ONO had only one problem-it was too late to go online.
ONO follows the routine of issuing coins and ICOs. In June 2018, ONO completed the first round of fundraising.
"At that time, the leek was already cut by others." A coin circle practitioner commented.
Even Xu Ke himself admitted that as soon as ONO's fundraising was over, ETH began to plummet, "in terms of fiat currencies, it lost 66%."
Today, ONO has become history, and Xu Ke has become a net red. Seven of her latest 10 Weibo posts are selfies and chicken soup. Some netizens asked ONO for the latest developments, and she did not respond.
On January 6, she posted her Alipay and bank statements on Weibo. The bill shows that in 2019, her Alipay total expenditure was 7.11 million yuan, and her bank card total expenditure was 15.73 million yuan.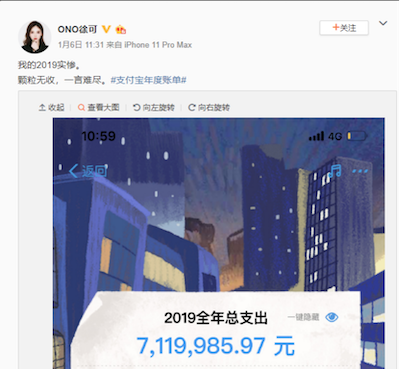 "Congratulations to President Xu for being a 'female version of Jia Yueting'." Some netizens ridiculed so.
How many blockchain projects are coming to an end in 2019?
Data from foreign website DeadCoins.com shows that in 2019, 518 digital currency projects were declared dead.
In the currency circle, DeadCoins.com has another name for "digital currency cemetery". It contains all the digital currency projects that have died since September 2017, totaling 1840. In 2018, 647 projects were terminated; in 2019, this number was reduced by 20%.
According to the cause of death, DeadCoins.com divided the project into four categories: Deceased, Hack, Scam, and Parody.
Among them, in 2019, 58% of the projects belonged to Scam (scam), that is, ended with a crash, running or being caught by the police.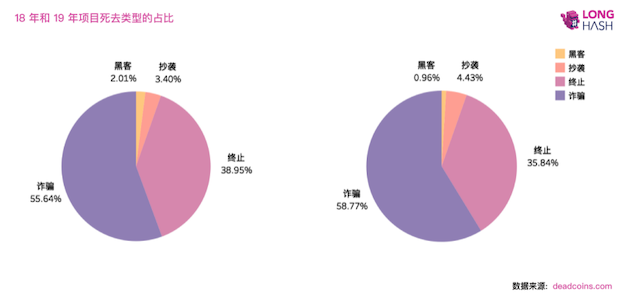 Data source: DeadCoins.com Charting: LongHash
The fund disk is the representative of the running road project.
"In 2019, the currency circle will have at least 20 heads of money on average every month." A money player said.
But they soon collapsed. This year, in addition to well-known funds such as PlusToken, BHB, and Youbank, there were more than 200 funds that ended.
Hacking is one of the common causes of death in blockchain projects.
In 2018, the digital currency BEC, which is closely related to Meitu, was hacked. With a total circulation of 7 billion BEC, 5.7 trillion trillion trillion billion were generated by hackers out of thin air.
In March 2019, DragonEx was hacked and digital assets worth USD 6.02 million were stolen. For a small exchange, this money is not a decimal.
It is reported that Longnet was stolen because the customer service received a document of unknown origin. Hackers directly stole the platform's private key. Subsequently, Longnet chose to file for bankruptcy in Singapore.
Regulations have also led to the demise of many exchanges.
On December 10, 2019, CCTV reported that since 2019, local regulatory authorities have closed a total of six newly discovered domestic virtual currency trading platforms.
CCTV also pointed out that for overseas exchanges, relevant departments have processed 203 exchanges in 7 batches and closed nearly 10,000 non-bank payment institution accounts involving virtual currency transactions. On the WeChat platform, there were also 300 small programs and public accounts promoting virtual currency transactions.
Under the heavy blow of regulation, many exchanges have announced that they will no longer provide services to Chinese users. In the face of the arrest tide, many employees of small exchanges hurriedly resigned, rushing to flee.
There are also some exchanges that are "soft running" when supervision is coming, such as Rongan Exchange and Sun Exchange. (For details, please refer to: "Zero Funds Zero, Exchange Runs, Currency Scam Begins Final Harvest …" )
Data from the Interlink Pulse Research Institute show that in 2019, at least 20 small and well-known exchanges ran away or shut down services on their own.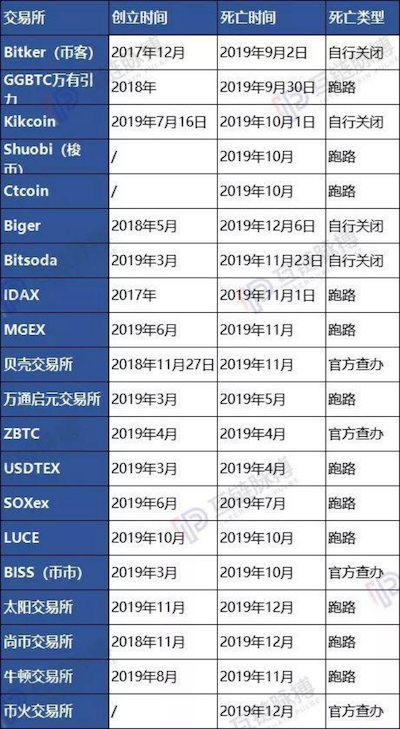 Digital Exchange Death List (Data source: Interlink Pulse Institute)
"Small domestic exchanges can no longer work, and our company's exchanges have been closed." Xiao Zhi, an operator of a Shenzhen exchange, told a blockchain.
The scene of the battle of thousands of exchanges in the currency circle in 2018 is gone forever.
In the process of "self-solving" the blockchain project, there are many tragedies that make people sigh. The outcome of the blockchain market data analysis and service platform BitEase is quite surprising.
In June 2019, Bit Yi founder Hui Yi committed suicide, and Bit Yi was disbanded.
There are rumors that BitEase, as a data platform, has limited profitability in a bear market, so it has expanded digital currency asset management services. Before Hui Yi committed suicide, she used 100 times leverage to open a bill, resulting in a loss.
"Two-thirds of domestic blockchain projects have died in 2019." Zhang Wei, a blockchain practitioner, told a blockchain.
In fact, many blockchain projects have failed to meet public expectations, and the public chain is typical of them.
There was a popular phrase in the blockchain industry: "The winner of the public chain wins the world." As the underlying operating system of the blockchain world, whoever can take the lead in the chain competition, it is possible to control the entrance of the blockchain world.
The public chain was once the most crowded circuit in the blockchain industry. The Blue Book on Technical Evaluation and Analysis of Public Chain Projects jointly released by Tiande Technology, Chain Tower Think Tank and other institutions shows that between 2017 and 2018, more than 20,000 public chains have emerged worldwide.
But in 2019, the public chain has contracted and stopped.
Take ELF as an example. In October 2019, the ELF project party disbanded the community for no reason. In addition, the founder has not appeared for a long time. Everyone suspects that ELF is running away. Although ELF officially issued a clarification in the near future, investors' doubts have not been eliminated.
What is the biggest problem with the public chain?
From the perspective of many practitioners, the biggest problem with public chains is that they cannot find suitable scenarios.
In mid-2018, the highly anticipated EOS mainnet of the public chain was launched. It claims to support a million-level TPS and is known as "Blockchain 3.0".
However, one year later, EOS is full of various gaming games, and there has been no phenomenal DAPP.
In September 2019, Jiang Guofei, vice president of Ant Financial and head of the blockchain business of Ant, said in an interview with the media that the biggest problem with public chains is that it is difficult to find suitable application scenarios other than speculation. In contrast, alliance chains customized for scenarios may be more popular.
"Many public chain projects still have prices, but no one buys or sells them, and they have no vitality. They are no different from zombies." Zhang Wei told a blockchain.
In this context, a large number of blockchain technology practitioners have begun to migrate from public chains to industrial blockchains and government blockchains with more landing value.
"In October 2019, after the national leader 's speech on the blockchain was made public, the whole society released a lot of budget for the blockchain industry." Zhang Wei said, "whether it is To B's industrial blockchain or To G The government's government blockchain has been fairly moist. "
He said that in 2018, the "big orders" received by BAT's blockchain practitioners were "basically on the order of 5 million yuan"; and in the second half of 2019, the "big orders" at the level of tens of millions More and more.
"In 2020, the industrial blockchain will definitely develop in a better direction." He said.
The currency circle is declining, the chain circle is improving, and the blockchain industry has ushered in the moment when good coins expel bad coins.

In 2019, the currency circle is very busy, and the funds are flooding into disasters. However, the material must be reversed. The leeks will eventually fall down.
At the same time, the underlying technology of the blockchain has attracted the attention of the whole society. After a long period of silent cultivation, the spring belongs to it.
More blockchain applications are landing in all walks of life. The blockchain industry is being purified.
In 2020, the industry will finally be on track.
* Some respondents in the text are pseudonyms.