Money laundering, stolen money, murder, Malta's bad crypto dream
Malta's colorful blockchain dream turned into an ominous gray shadow.
Last weekend, the former Maltese Prime Minister Joseph muscat was forced to step down during the murder of investigative journalist Daphne Caruana Galizia.
Joseph Muscat is a strong promoter of Malta's blockchain policy. Under his policy, Malta has launched a series of explorations in the areas of blockchain + gaming, AI, and finance, which has made Malta a cryptocurrency startup and Utopia of investors.
However, under the temptation of promises such as tax relief and clear supervision, the companies that came here in 2018 found that they either had no money in the bag, had a bleak future, or simply abandoned the blockchain island.
Nowadays, as the international community pays more and more attention to the events that led to the downfall of Muscat, Malta's leaders have begun to adopt more conservative policies on previous blockchain startups. In this case, the authorities found a scapegoat: for example, a law firm in Malta, which was the first law firm in the world to tokenize its business, and its business license was revoked last month. Oddly, this could be related to the murder of another reporter.
In fact, many crypto people interviewed in this article believe that Malta's blockchain dream began to deteriorate long before the recent disclosure. Daphne Caruana Galicia was one of the first to see it, and her allegations—many of which have proven to be correct—are perhaps just the beginning.
Metamorphosis of the Malta blockchain
In October 2017, reporter Daphne Caruana Galicia died in an assassination. Prior to this, Galicia had filed corruption allegations against the Muscat government and its business partners via a blog.
Galicia has criticized Malta's "cash-for-passports" scheme, which grants foreign merchants Maltese citizenship in exchange for their large investments in the National Development Fund. At the same time, she also revealed the ties between Muscat's associates and Panamanian companies.
"Malta will be a Bitcoin money laundering center, and preparations are already underway," Galicia wrote when he learned that the island plans to become a leader in the cryptocurrency industry. "Whoever has a vested interest in strengthening the use of cryptocurrencies, he is already sending funds (to Labour and several Panamanian companies) and giving orders."
The anonymous Maltese blogger BugM is one of many bloggers determined to bring the killer of Galicia to justice. He believes that the government has used a policy that actively supports the blockchain to divert attention from murder investigations.
"The problem is that the government is overhyping it." The blogger told reporters: "This happened after an early election, the purpose of which was to bury some very serious allegations of corruption (now clearly related to the murder of Galicia), and then Galicia was assassinated , So the government wants to find something to show off. "
If this is indeed a plan, then its success (at least in the initial stages) is beyond the boldest imagination.
Binance takes the lead
Malta's plan to allow cryptocurrency exchanges and other institutions to operate without anti-money laundering (AML) laws until 2020 has quickly yielded results. There is a year to apply for formal authorization (the deadline is October 2019), plus the loose tax policy, the advantages are obvious.
However, to date, the Malta Financial Services Authority has not issued any licences.
In March 2018, Binance, the world's largest cryptocurrency exchange by volume, announced its move to Malta after receiving warnings from Japan, the Chinese mainland and Hong Kong about its weak anti-money laundering compliance.
It was soon followed by other exchanges, especially OKEx and BitBay.
In July 2018, Malta announced compelling cryptocurrency legislation, the first comprehensive distributed ledger technology regulatory framework.
By the end of 2018, Malta became the country with the largest volume of cryptocurrency transactions.
On Twitter, Binance founder Zhao Changpeng personally thanked Muscat for welcoming the company and highly praised Malta's goal of becoming a global pioneer in the regulation of blockchain companies.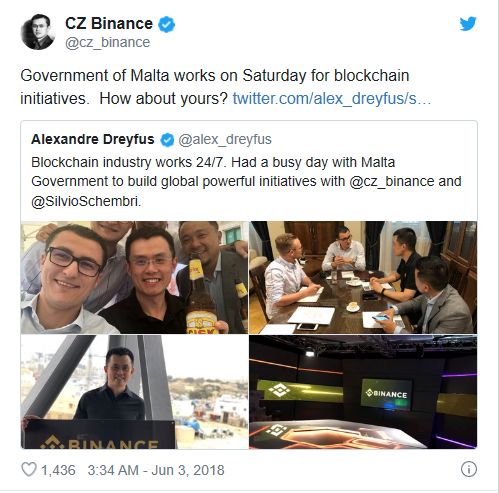 The exchange enthusiastically announced plans to hire hundreds of employees and even wanted to set up a bank. But earlier this month, BugM questioned Binance's actual activities on the island, claiming that the exchange was just a "ghost" and had no transactions and no taxes on its 2018 financial records. When Decrypt asked Binance about the allegations of BugM, the counterparty did not respond.
The disintegration of a blockchain island
To date, no license has been issued by the Malta Financial Services Authority (MFSA). In fact, Malta has been surpassed by Estonia, Switzerland, Germany, Finland and Austria.
Of the 340 preliminary applications received by the MFSA from cryptocurrency exchanges and other service providers, only 34 were finalized.
Malta's legislation was initially known for innovation and robustness, but the end result was damaged by two flaws. The first is unfortunate timing, which was published during the crypto winter. Secondly, this is a very strict set of rules and requirements that must employ a team of Malta's legal advisers and accountants.
More than one source told reporters that many potential applicants were frightened by the heavy fees, not to mention the 10,000 euros (about $ 11,000) required for the MFSA to process initial applications. In the end, fewer than 12 licenses are expected to be issued.
As of now, the MFSA has not responded to requests for comment.
Although Binance's strong financial means that Malta is not the only place to apply for a permit (the exchange is reportedly applying for permits in places such as the Isle of Man and Singapore), other exchanges are already seeking a more friendly coast . In recent months, at least three crypto companies have announced their withdrawal from Malta.
Not only that, the plight of start-ups on the island is exacerbated by the lack of banks. The European Central Bank revoked the bank's license after U.S. prosecutors charged the owner of Malta's Pilatus bank with alleged money laundering. Since then, Malta's banks have been reluctant to lend to cryptocurrency companies for fear of further damaging their reputation.
But some crypto businesses on the island appear to be booming and working with foreign banks to ensure competitiveness. For example, the Malta-based ZBX exchange has partnered with Switzerland's Dukascopy Bank to allow its users to link bank accounts directly to the exchange.
ZBX CEO Dave Pulis told reporters that the company is optimistic about obtaining a license from MFSA and plans to submit further applications later this year to list security tokens. But he said, "only time will tell whether Malta will become a global exchange hub."
Others are less optimistic, noting that the number of customers left by Malta's virtual financial agencies has dropped significantly.
Window of opportunity is closed
"The hype is really over. Internationally, Malta is no longer a hot spot. Germany now allows domestic banks to keep bitcoin wallets. This means that the time window for a small country to come up with an attractive framework is over." Block Malta Leon Siegmund, a member of the Board of Directors and founder of BitClub Malta, told reporters.
Germany is also the first (and unlikely to be the last) country to require cryptocurrency exchanges and other cryptographic services to hold a local license in order to provide services to German citizens.
As a result, Siegmund said that Malta's license is now far less popular than it used to be: "It's too expensive, it doesn't provide any value. As long as you don't need a passport, this market is small and useless."
Siegmund believes that the makers of Malta's regulations were very bold, but Malta's position within the European Union and the goal of adjusting policies under Article 5 anti-money laundering directives still brought unpopular scrutiny to the island nation. Bank of Valletta, Malta's oldest banking institution, has lost its correspondent bank license and will also lose its US dollar license. Therefore, the authorities cannot afford any risk.
The world's first tokenized law firm
In March 2018, the Malta E & S Group Law Firm made history and became the first law firm in the world to tokenize its business and link tokens to profitability-its goal is to involve less finance and more Demonstrate your participation.
After 10 years of expansion in gaming, shipping and aviation, the company became one of the first companies to provide services for ICOs. Lawyers developed early expertise in this area, and that year they provided crypto services to as many as 120 clients, including Binance and esports' tokenization platform chilliZ.
However, on November 28, 2019, the Malta Financial Services Authority stripped the company's corporate services department of its license to E & S Consulting, making it the first company in Malta's financial services history to lose its license without paying a fine. s company. The operation coincided with Malta's worst anti-government demonstration in decades-opposition to the handling of the Galician murder.
E & S co-founder Christian Ellul said in an interview with reporters that the behavior was very abnormal.
"This is truly unprecedented. This has never happened before," said Ehrul. "No one has ever lost their license, so we are the first company in Malta history to lose its license, but this is not caused by Caused directly by our own mistakes. "
Its high profile and lack of political rhetoric make it easy for E & S to be targeted by the authorities, which seized the opportunity to investigate the murder of journalist Jan Kuciak.
Kuciak and his girlfriend were shot dead at their home in Slovakia in 2018. The person charged with the crime was millionaire entrepreneur Marianne, who happened to be Erul's former father-in-law.
In this regard, MFSA claimed that E & S had helped Marianne set up a company in Malta, and thus revoked E & S's license. Ehrul said that the allegations that the company was used for money laundering and tax evasion were unproven, and that he provided the services if the businesses were legitimate.
It is worth mentioning that apart from E & S, the Malta authorities have not taken any regulatory action against other Malta service providers, including the provider of the billionaire Jorgen Fenech, the main suspect in the Galician murder. But the search for a scapegoat may have just begun.
the dream shatters
The idealism surrounding the "blockchain island" is rapidly dissipating. Perhaps the unofficial end was at the end of November, when Malta's problems could no longer be covered up by dodgy politicians and sleek brands; Ao Satoshi, who claims to be the Bitcoin inventor, advocated the anti-fraud capabilities of the blockchain on the island Protesters on the other side of the island are clamoring to bleed corrupt politicians.
Last December, European Parliament officials accused Muscat of posing a "serious and persistent" threat to democracy and the rule of law.
With Muscat's final agreement to step down, the country's new prime minister, Robert Abbala, was sworn in on January 12.
Galicia's son, Matthew Caruana Galicia, said that most of the members of the new cabinet were Muscat's subordinates, guaranteeing that they would not be prosecuted for Muscat's role in the murder.
He also indicated that Muscat's policy on blockchain-friendly may not change fundamentally.
To be sure, Malta's competitors Singapore, Switzerland and Liechtenstein will point out the "blockchain island" mistake.
"Malta has very good and high levels of regulations. However, under current market conditions, they may be too burdensome for most potential customers."
E & S still negotiates with blockchain companies, although this is only a small part of its business. The company is challenging the loss of the license. Although it can continue to work without a license, the challenge is a question of reputation, and Ehrul has reason to be confident in its success. "We will oppose this unfair and discriminatory decision at all costs," he said.
This could open a problematic Pandora's box between Malta's service providers, banks, lawyers, and accountants, including those who have served the country's cryptocurrency startups, like hanging on the balcony of Malta's ancient streets The same laundry room.
Source: Decrypt
Compilation: Share Finance Neo
We will continue to update Blocking; if you have any questions or suggestions, please contact us!
Was this article helpful?
93 out of 132 found this helpful