Today, Bitfinex and Tether are undoubtedly the biggest "victims" of the entire event. On the one hand, Bitfinex's funds were frozen, and they couldn't even get substantial evidence that their money was frozen, just listening to Crypto Capital's side; on the other hand, private transfer transactions to solve customer withdrawal delays were Strictly checked by the regulatory body.
So, what about Crypto Capital behind it? They seem to have never happened.

Recently, Bitfinex once again stood on the cusp of public opinion because of the $850 million deficit in the Office of the Attorney General of the United States. In fact, while Bitfinex caught the attention of the community, people also found that the history of the development of this cryptocurrency exchange did not seem so good.
01 Bitfinex's past and present
Few people know that Bitfinex's predecessor was a little-known cryptocurrency exchange called Bitcoinica. Founded in 2011, Bitcoinica was originally positioned to become a platform for providing complex cryptographic trading activities and to provide leveraged trading services to users.
However, only after one year of establishment, they were hacked, resulting in more than 43,000 BTCs being stolen (at the time worth about $200,000). According to Ars Techina's report at the time, the participants in the theft may also include people from inside the Bitcoinica exchange.
However, just a few weeks after the theft, the second theft occurred again, which resulted in more than 18,000 BTC being stolen (according to the price of the time approaching $90,000). The incident eventually led to the closure of the Bitcoinica exchange, and subsequent lawsuits mentioned that its founder, Zhou Tong, might be behind the scenes of a series of thefts.
After a civil lawsuit, the Bitcoinica exchange eventually collapsed.
But less than a year after the Bitcoinica exchange collapsed, Bitfinex went live. Many people suspect that Bitfinex is a "rebirth version" of Bitcoinica because they use the Bitcoinica source code as their platform. This time, however, the Bitfinex exchange did not place the registration in Hong Kong, but in the British Virgin Islands, and the registered company name is iFinex Inc., which has two subsidiaries and one is located in Hong Kong. The cryptocurrency exchange Bitfinex, the other is the US BFXNA. (Please remember the iFinex company because there will be more discoveries later)
In fact, since its inception in 2012, the Bitfinex exchange has attracted a large number of customers through services such as margin trading, but they still have no lessons in security protection. In May 2015, the "new" established exchange was hacked and stolen about 1500 BTC.
In May 2016, the US Commodity Futures Trading Commission ordered a fine of $75,000 for Bitfinex because they were not registered as futures brokers, so the provision of non-exchange commodity trading services in the United States violated the Commodity Trading Act.
In August 2016, Bitfinex was "re-" hacked and lost nearly 120,000 BTCs, with losses exceeding $60 million. However, "interestingly", Bitfinex finally let the user "share" 36% of the loss, which means that about 21.6 million US dollars of stolen funds can no longer be recovered, "disappeared" out of thin air.
02
"Paradise File" unveils the mysterious relationship between Bitfinex and Tether
Tether's predecessor was a company called "Realcoin", which was founded in July 2014 in Santa Monica, USA. The three co-founders are Brock Pierce, Reeve Collins and Craig Sellars. On October 6, 2014, their first token was released on the Bitcoin blockchain using the Omni Layer Protocol. On November 20, 2014, Reeve Collins, then CEO of the company, announced that the project was being renamed "Tether" and launched a private test to support the three legal currency anchors of the US dollar, the euro and the yen.
According to Tether, each transaction pair is 100% supported by fiat currency and can be redeemed at any time without exposure to exchange rate risk.
In January 2015, cryptocurrency exchange Bitfinex "suddenly" added a Tether transaction to its platform, when representatives from Tether and Bitfinex claimed that there was no relationship between them. However, the "Paradise Papers" disclosed in November 2017 showed that Bitfinex's Philip Potter and CFO Giancarlo Devasini were in 2014. Established Tether Holdings Limited in the British Virgin Islands. Subsequently, Bitfinex and Tether spokespersons had to admit that the CEOs of both companies were Jan Ludovicus van der Velde and shared executive team members.
(Note: The Paradise Document refers to a financial report that was exposed on November 5, 2017. The report revealed the offshore interests of hundreds of well-known companies and individuals. This leaked document not only exposed members of the Trump cabinet. A large number of overseas transactions also revealed that Queen Elizabeth II invested millions of pounds in a Cayman Islands fund known as a "tax haven" with private property. The news was the result of a long-term investigation by nearly 100 media, BBC And the Guardian is a member of nearly 100 investigative media groups who surveyed 13.4 million documents from professional services companies and offshore company registries. Most of the data came from a Bermuda island called Appleby. A high-end legal service provider for the marine industry, whose main business is to help customers provide services in overseas jurisdictions with low or zero tax rates, and the source of this document has not been disclosed.)
Bitfinex executive team (Figure: https://www.bitfinex.com/about)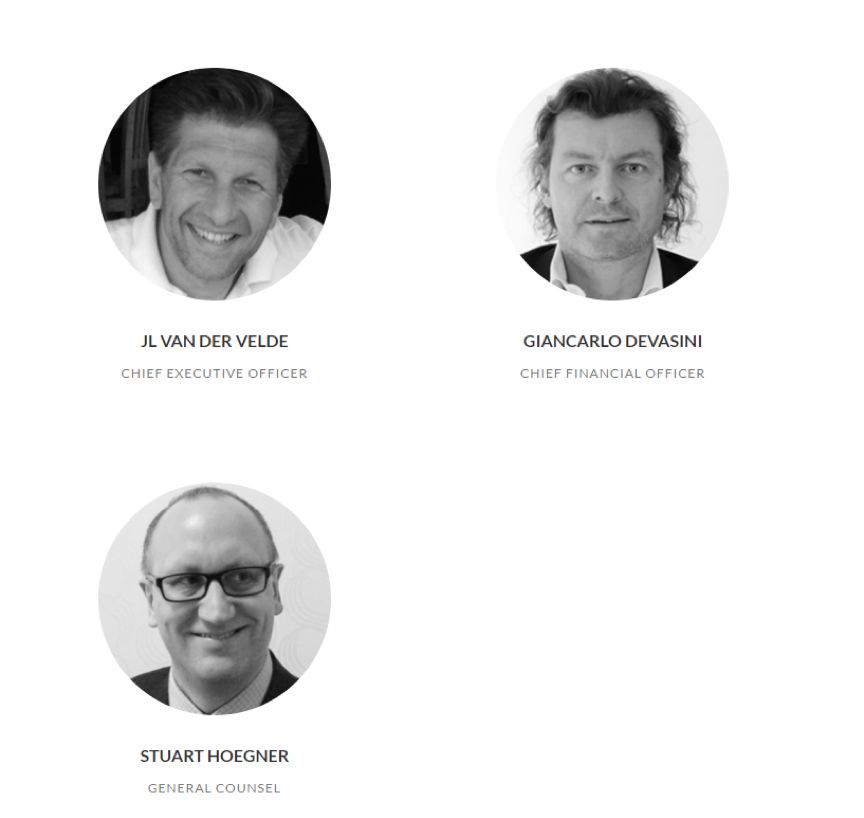 Tether executive team (Figure: https://tether.to/about-us/)
03
Without traditional bank support, Bitfinex cannot support customer withdrawal services.
At first, Bitfinex handled dollar transactions through several Taiwanese banks that flowed funds through Wells Fargo to the rest of Taiwan. However, on April 18, 2017, Bitfinex's international remittance business was blocked by Wells Fargo. This move caused Bitfinex and Tether to suffer a lot of damage, so the two companies filed a lawsuit against Wells Fargo in the District Court for the Northern District of California, but quickly withdrew the lawsuit.
Since Wells Fargo cut off its Bitfinex business, Bitfinex has been looking for new partner banks, otherwise it will be difficult for them to transfer legal tender money to customer accounts. At this time, Noble Bank of Puerto Rico took over Bitfinex's banking business and opened a bank account for USDT to provide USD equal guarantees. However, the relationship between the two sides seems to have recently become a problem, and Tether has established a banking relationship with the Detroit of the Bahamas Bank.
In the period between the end of Bitfinex's cooperation with Noble Bank and the establishment of banking with Deltec, they had to use the services of Crypto Capital, another "banking service provider".
Why does Champion and Bitfinex use Crypto Capital, is it the biggest "black swan" in encryption history?
In fact, whether it was recently announced by the Office of the Attorney General of New York, $500 million in Bitfinex, or the $190 million Canadian cryptocurrency exchange QuadrigaCX, they all relied on a dark Panamanian "bank" Crypto Capital to deal with it. Payment transaction.
The parent company of Crypto Capital is Global Trade Solutions AG, which is licensed by a financial institution in Zug, Switzerland. The reason for this "bank" is that many traditional banks are reluctant to cooperate with encryption companies for reasons such as money laundering. Like Crypto Capital and Noble Bank, they appear as bank service providers, providing them with banking services.
According to Wei Zhou, chief financial officer of the company, and Christina Lee, chief brand officer of the Kraken exchange, the two cryptocurrency exchanges, Chanan and Kraken, have also cooperated with Crypto Capital in the past.
As of this writing, Crypto Capital has not commented on Bitfinex and previous QuadrigaCX issues.
Curiously, the Crypto Capital website still claims that QuadrigaCX is one of its main partners, and according to Alex Hanin, chief architect of QuadrigaCX, the reason why the exchange customers have delayed withdrawals is because they have problems with banks in Taiwan. The transaction could not be successfully processed by Crypto Capital – the situation seems to be very similar to the current Bitfinex.
So, how does Crypto Capital provide so-called "banking services" for these cryptocurrency exchanges?
In fact, Panama-based Crypto Capital seldom reveals its deep relationship with cryptocurrency exchanges. Instead, it opens a large number of bank accounts in the name of a series of shell companies. The company names and bank accounts used in these bank accounts include:
To put it simply, there is currently no mainstream bank that is willing to provide services for cryptocurrency exchanges such as Bitfinex. They have no choice but to rely on Crypto Capital, a "pseudo bank" to handle legal currency deposits and withdrawals. However, Crypto Capital's opening of a large number of accounts will attract the attention of the regulatory authorities. If it is found that suspicious behavior will be frozen, if the evidence of money laundering is not found, the account will be reopened.
According to information released in November 2017, Crypto Capital was seized by the Polish authorities for a bank opened by Bitfinex in a Polish bank, freezing about $500 million, and the money should belong to Bitfinex/Tether.
In October 2018, it was reported that Bitfinex used Crypto Capital to send funds in a private account called "Global Trading Solutions" at HSBC, which sounds the same as their previous practice of using shell companies. This account caught the attention of regulators. As Crypto Capital's accounts in banks around the world were closed, Global Trading Solutions and its related entities were denied banking services in the US, Europe and other countries. Institutions are also beginning to investigate whether they have money laundering and other financial criminal activities.
In fact, Bitfinex's withdrawals have already started at this point, because according to Crypto Capital, Bitfinex's funds were frozen and frozen – the account freeze order was deposited in London's HSBC account and in the US and Portugal. In the account. Later, although Crypto Capital has been guaranteeing to its partners that its services will be restored within three months, today its customers have not been spared – QuadrigaCX is already filing for bankruptcy, and Bitfinex is in the Office of the Attorney General of New York. In the midst of the investigation.
04
Bitfinex's current dilemma
Since the funds in the bank account were frozen, Bitfinex had to start thinking about other solutions. They therefore thought of transferring Tether's reserves to their bank accounts, and they could transfer the money to the customers as long as they had money in their bank accounts. This will also solve the problem of delays in withdrawals that customers frequently complain about.
In November 2018, one month after Crypto Capital claimed that Bitfinex's bank account was frozen (although Bitfinex did not believe Crypto Capital's rhetoric), Bitfinex asked Tether to transfer their $625 million in their Deltec bank account to their own In the Deltec bank account. Later, Bitfinex transferred its $625 million in Crypto Capital account to Tether's Crypto Capital account – a loan, although the funds on the books did not change, but Bitfinex's bank account could flow. The "real money", their liquidity problems can also be solved temporarily.
However, the Office of the Attorney General of New York considers this practice to be a violation.
By communicating with the attorneys of Bitfinex and Tether, the Office of the Attorney General of New York believed that the transfer of funds by Bitfinex and Tether was not disclosed to the public, nor did they inform investors and USDT tokens on the Bitfinex trading platform. Holder. Not only that, but the legal representatives of Bitfinex and Tether, lawyers from New York law firm Morgan, Lewis & Bockius LLP of New York and Washington, DC law firm Steptoe & Johnson LLP, revealed to the Office of the Attorney General of New York that they are at Crypto Capital. The frozen funds amounted to $851 million, and the issue left the attention of the Office of the Attorney General of New York, because they can be clear: Bitfinex's operating funds have at least a gap of $851 million.
Soon, the Office of the Attorney General of New York also found that after Bitfinex and Tether completed the fund transfer transaction, the two sides signed a credit cooperation arrangement of up to 900 million US dollars to provide a three-year loan at a rate of 6.5%. And there are 60,000,000 shares of iFinex Inc. owned by DigFinex as collateral guarantees – obviously, the deal is also problematic because iFinex Inc. is the operating parent of Bitfinex and Tether. In response, New York Attorney General Letitia James revealed that the court has ordered iFinex Inc. to conduct virtual currency operations in accordance with New York State law, and the New York Attorney General's Office will continue to protect investors and avoid them. Be misled and deceived by the company and help them seek justice. In addition, the court required iFinex directors, officers, officers, agents, employees, contractors, assignees and any other affiliated individuals not to continue to access their services, nor to obtain loans or US dollars held against Tether. Reserve any other requirements. Not only that, any iFinex affiliated individual is also ordered not to tamper with any documents, including a record of the above-mentioned related behavior.
Today, Bitfinex and Tether are undoubtedly the biggest "victims" of the entire event. On the one hand, Bitfinex's funds were frozen, and they couldn't even get substantial evidence that their money was frozen, just listening to Crypto Capital's side; on the other hand, private transfer transactions to solve customer withdrawal delays were Strictly checked by the regulatory body.
So, what about Crypto Capital behind it? They seem to have never happened.
Reference media:
Https://decryptmedia.com/6759/crypto-capital-quadrigacx-bitfinex
Https://cointelegraph.com/news/mutual-owners-mutual-funds-what-we-know-about-the-bitfinex-tether-scandal
Https://www.bloomberg.com/news/articles/2019-04-26/bitfinex-crypto-case-shows-little-guy-at-risk-of-holding-the-bag
Author: White Night
Editor: Jiang Xiaoyu