Author: Joyce
Source: Blockchain Outpost
According to coindesk news, confirmed on Tuesday that British telecommunications operator Vodafone has withdrawn from the Facebook Libra Association, the eighth company to withdraw from the association.
Dante Disparte, director of policy and communications at the Libra Association, said in a statement:
"Vodafone is no longer a founding member of the Libra Coin Association. Although the membership of the association may change over time, Libra's governance and technical design ensure that this payment system will have strong resilience. We are continuing Strive for early deployment of a secure, transparent and consumer-friendly Libra payment system. "
Vodafone also said in a statement that it does not rule out the possibility of future cooperation with the Libra Association.
However, as of this writing, Vodafone has not been removed from the show of members of the association on the Libra website.

Vodafone: I am going to do my own thing
Vodafone is now one of the world's largest mobile network companies, with approximately 333 million users worldwide. Unlike previous exits for Visa, MasterCard, PayPal, eBay, Stripe, Booking Holdings, and Mercado Pago due to regulatory issues, Vodafone said that the exit was to dedicate resources previously used for Libra to its digital payment service M-Pesa, The company plans to expand the service from the current six African countries to more regions.
M-Pesa was founded by Vodafone's Kenyan partner Safaricom on March 6, 2007. It is Africa 's leading mobile money service and provides financial services to those without bank accounts and limited access to bank accounts. In the Democratic Republic of the Congo, Egypt, Ghana, Kenya, Lesotho, Mozambique and Tanzania have more than 37 million active customers and nearly 400,000 active agents in 7 countries. People can recharge phone bills, pay bills, collect salaries, and obtain short-term loans on the M-Pesa platform. The M-Pesa platform has over 11 billion transactions in 2019.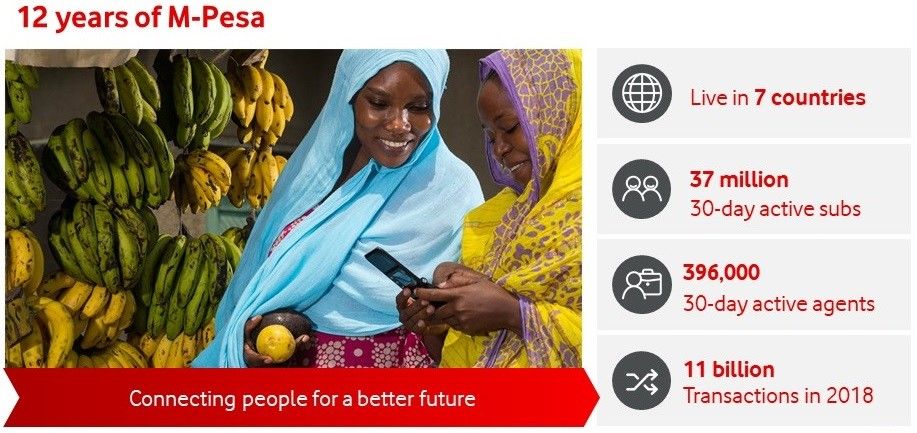 According to previous news, Vodafone has officially signed the Libra Association Charter with 20 other initial members in October 2019 and established the Libra Association Board, but the "membership fee" of $ 10 million per member has not been paid so far. According to Patrick Ellis, Libra's head of distribution and management, members may begin paying this fee in the first or second quarter of next year. Withdrawing at this time, Vodafone will not have to pay this cost.
"Vodafone believes that by focusing on M-Pesa, we can most effectively provide affordable financial services to the world's poor. We have stated from the beginning that Vodafone's desire is to make a real contribution to expanding financial inclusion. We We remain fully committed to this goal, "a Vodafone spokesman said.
According to people familiar with the matter , the Libra Association plans to recruit new members in 2020. More than 1,500 companies are currently awaiting approval to join, and new members need to be approved by about two-thirds of existing members.
Libra: I'm still doing development and persuading supervision
In contrast to the Libra project, the Libra testnet has been published on GitHub. On January 16, the Libra Association announced that it has established a Technical Steering Committee (TSC) to oversee the project's technical roadmap, guide code base development, and try to build a developer community around the Libra project. Its members currently include Diogo Monica, co-founder and president of Anchorage, George Cabrera III, core product director of Calibra Libra, Joe Lallouz, CEO and founder of Bison Trails, Nick Grossman, partner of Union Square Ventures, and Ric Shreves, director of emerging technologies at Mercy Corps And there is a project technical manager waiting for confirmation.
Earlier news, Facebook has begun to use Libra. Facebook's Calibra team will be fined for Libra if an employee arrives late for a meeting. These Libras are recorded on a "test network" without the support of fiat currency reserve funds.
According to a survey by The Block, most respondents believe that Facebook-sponsored cryptocurrency project Libra will not start this year. But Patrick Ellis, a board member of the Libra Association, has previously said that Libra will still be released in 2020. In order to achieve an early release, the Libra Association currently travels among the regulatory authorities of various governments.
However, people familiar with the matter said that Vodafone's withdrawal was not related to Libra's launch date.
Libra is registered in Switzerland, and Swiss Finance Minister Ueli Maurer said late last year that the country cannot currently approve Libra. Maurer said the project "failed" in its current form because a basket of digital currencies proposed by Libra to support digital currencies has not yet been accepted by the national banks that issued them.
Nils Reimelt, of Zurich-based financial services consultancy Capco Digital, said that Libra had made a strategic mistake: it had not applied for a bank license from Swiss bank supervisor Finma before the Geneva plan was announced, and the Libra Association subsequently decided not to place the safe-haven currency in Swiss francs The inclusion of a basket of currencies supporting cryptocurrencies has created further uncertainty.
On January 21, the Australian Prudential Regulation Authority (APRA) submitted a proposal to the Senate Financial and Regulatory Technical Task Force, stating that any large deposits in excess of $ 50 million will be subject to ASIC and APRA. Under the proposal, APRA's role in the framework will be to oversee wallets that are widely used as a means of payment and store large amounts of value in a reasonable amount of time (for example, Facebook's Calibra). This development implies the fact that Libra will be subject to a higher level of scrutiny by the Australian financial authorities. Earlier this month, Bundesbank President Jens Weidmann called on banks to develop faster and cheaper payment products to combat Libra.
"In order to improve the project launch strategy, we still have a lot of issues to communicate with the regulators," said Patrick Ellis, Libra's head of release management.