Recently, the Chicago Mercantile Exchange (CME) bitcoin options trading volume has surged 200%, and bitcoin derivatives trading has once again become a "bullying brick" in the eyes of the public.
On January 2nd, the OK Blockchain Intelligence Bureau published an article "What's New in the Market in 2020? CME Group will launch bitcoin options on January 13 " , mentioning that CME Group will launch bitcoin options on January 13 and predicted the event. Now that CME Group Bitcoin options have been online for 10 days, what kind of impact has it had on the market? The year has come, OK Blockchain Intelligence Bureau will take everyone to review the event, and I wish you a happy Chinese New Year, a good year of the rat!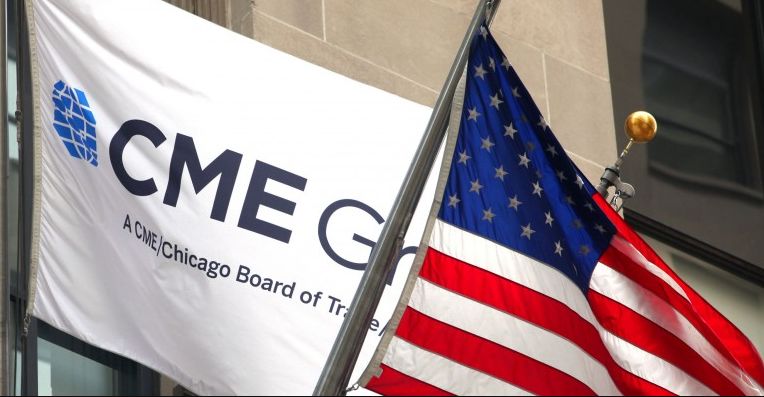 1. Only 10 days after launch, transaction volume has grown rapidly
CME Group Bitcoin Options will be open for trading at around 23:00 Beijing time on January 13, Beijing time, relying on the transaction flow data of several large Bitcoin exchanges to accurately track the price of Bitcoin. Each contract is quoted in U.S. dollars, representing 5 bitcoins, and is centrally cleared to avoid counterparty risk.
A CME Group spokesperson said that on the first day of Bitcoin options, 55 contracts, about 275 bitcoins, were valued at approximately $ 2.1 million, exceeding the trading volume of Bakkt Bitcoin options on the first day of approximately $ 1.15 million.
Encrypted data analysis platform Skew said that CME Group's bitcoin options trading performed strongly in the first week, trading 610 BTC on Friday. According to the official data of CME Group, 122 bitcoin options contracts were traded on January 17, and the price of bitcoin showed an upward trend on that day. Last Friday alone, the trading volume was about 610 BTC (about $ 5.3 million). For comparison, Bakkt's transaction amount on the same day was only $ 178,000.
In addition, CME Group tweeted today that in the first week of CME Bitcoin options trading, 231 contracts were traded with a trading volume of 1155 bitcoins and a value of about $ 12 million.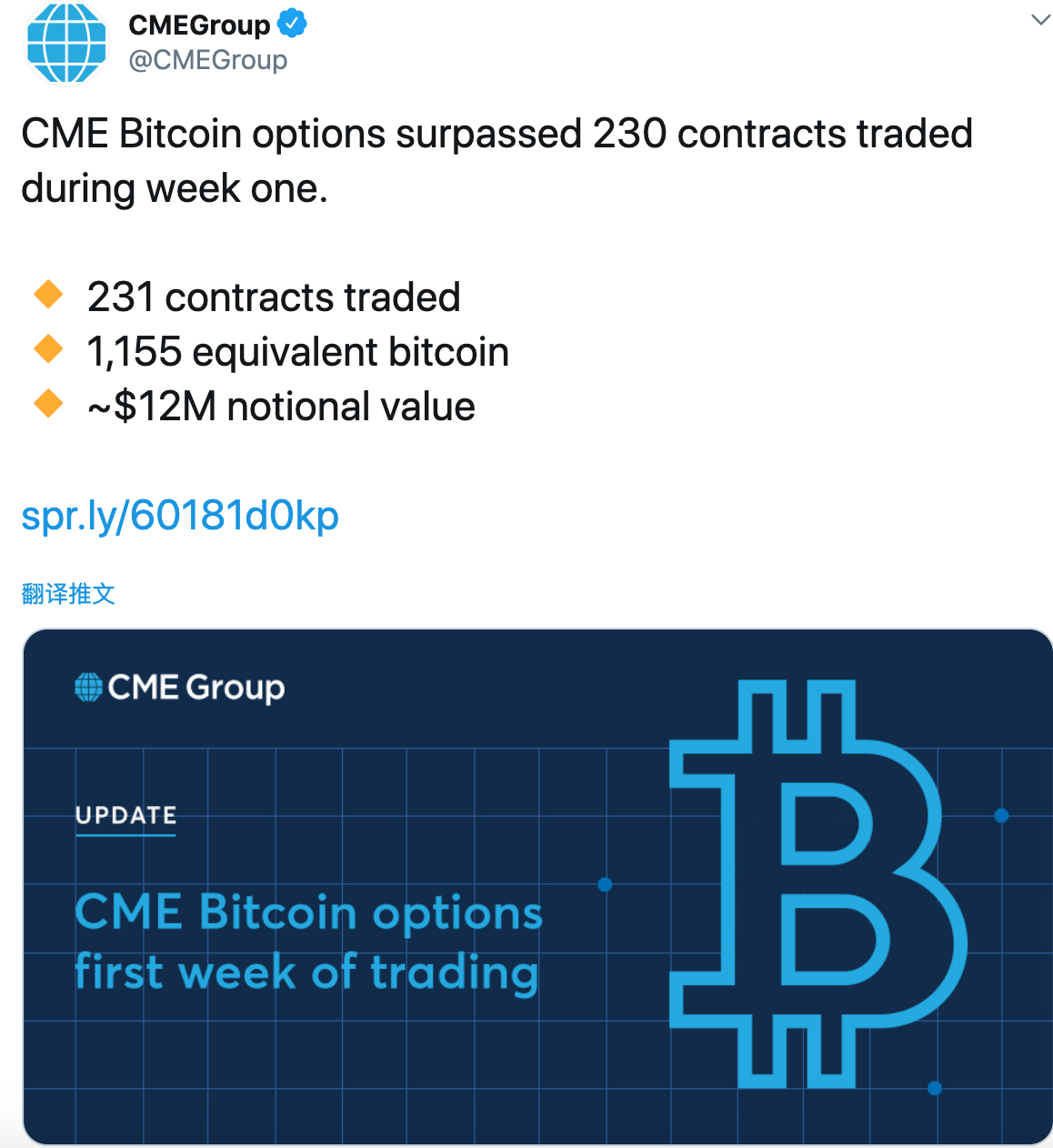 In addition, open positions for bitcoin futures on the Chicago Mercantile Exchange doubled earlier this year. On January 17, the CME Group opened a total of approximately $ 235 million in positions (5,329 contracts), compared to $ 110 million in early December. (Open positions are the sum of all contracts that have not expired, have not yet been exercised or have not actually been delivered.)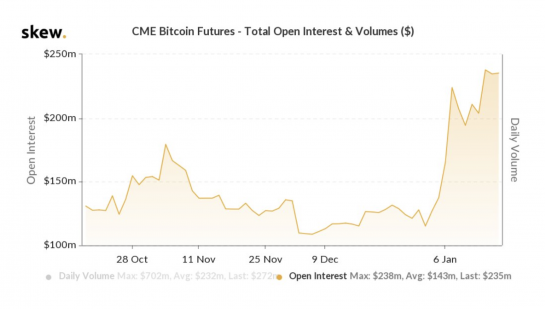 CME Group's open positions for Bitcoin futures Source: Skew
Open positions have soared with the price of Bitcoin, as if confirming the overall upward trend to the market. Bitcoin dropped to around $ 6,430 in mid-December and rose to a high of $ 9,188 in nearly two and a half months last Sunday. As of today's press release, Bitcoin has fluctuated around $ 8,700, and overall Bitcoin has grown by about 20% this year.
Arcane's latest research also points out that compared to Bakkt, the CME Group platform is becoming more popular and favored by many institutional investors. In addition to CME Group, Deribit and OKEx also contributed a lot of bitcoin options trading volume, occupying a large share in the market.
Research shows that most traders show a positive attitude towards the future of cryptocurrencies. In addition to Bitcoin, the Ethereum market is also forming an interesting trend. Skew market data shows that traders currently seem to be willing to retain Ether options and not to sell them. Compared to Bitcoin, the implied spread is already widening.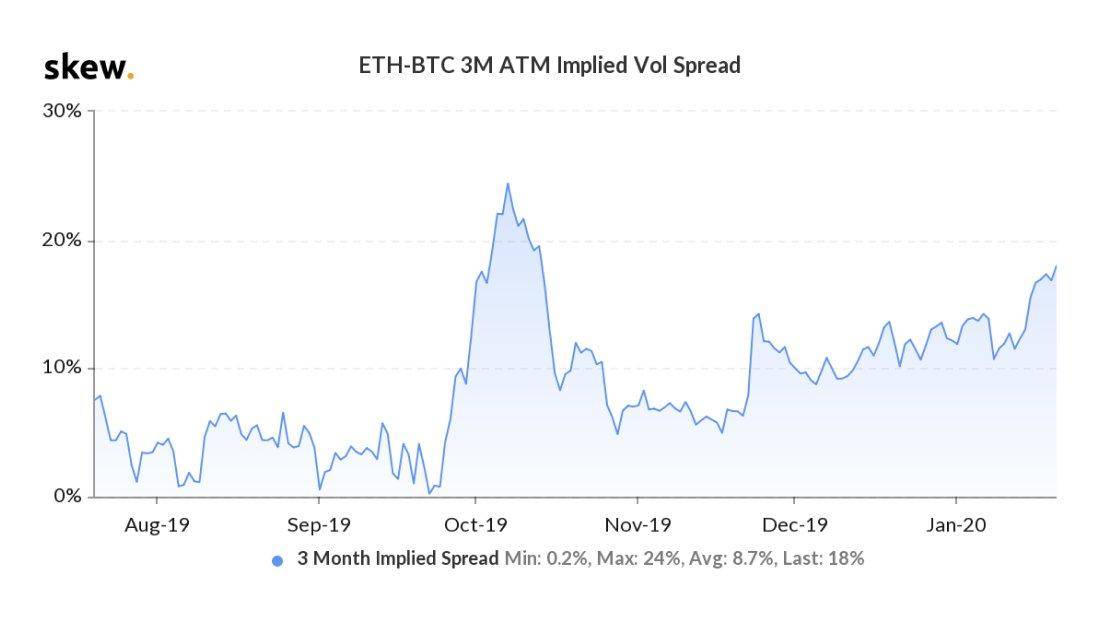 Source: Skew
At present, the market is full of retail investors. As the implied spread widens, the future of the market will be full of fluctuations.
2. Or influence the future direction of the Bitcoin market
We know that the Chicago Mercantile Exchange is the world's largest futures options platform, with the most complete and extensive range of CBOT agricultural futures and options. In 2019, the average daily trading volume of CME Group's options contracts reached more than 4 million. .
In December 2017, the CME Group launched bitcoin futures. By 2019, the total number of CME bitcoin futures transactions in the year will exceed 2.48 million, equivalent to 12.5 million bitcoins, with an average daily trading volume of 6,200. , Quickly developed into one of the world's most liquid Bitcoin derivatives trading market.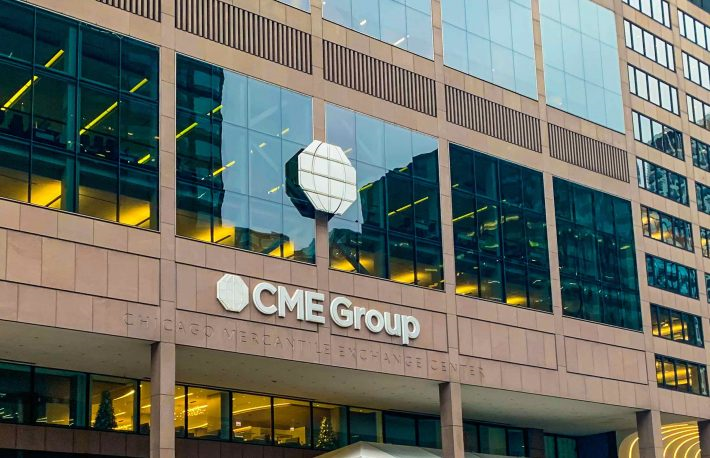 At present, CME Group has introduced Bitcoin options, which is also a major milestone for the crypto field. Just one week after the launch, these increasing numbers may reflect the increasing interest of institutions in cryptocurrencies and may accelerate the development of Bitcoin as a mature asset class. Most importantly, it reflects the huge prospects and hopes of the Bitcoin market in the future. .
Based on the existing bitcoin futures trading, Tim McCourt, the managing director of the CME Group, believes that bitcoin options products are a "new chapter" in the options contract market, and bitcoin options are the market Participants provide more flexibility to trade on regulated exchanges to hedge their Bitcoin price risk .
Prior to the listing of CME Group's options, Nikolaos, managing director of JP Morgan Chase Global Markets, stated that although Bakkt, an Intercontinental Exchange, began providing options business in December 2019, the trading volume and positions were small, and The firm is different. CME Group has always dominated the market in bitcoin futures trading, especially in the past few days. Positions in the past few days have increased by 69% from the end of 2019. The number of large positions has increased significantly. The abnormal market activity may reflect the market. Participants have high expectations for options products, so the options contracts launched by CME Group are likely to affect the market direction .
Bloomberg analyst Mike McGlone has always been very optimistic about the prospects of Bitcoin. He believes that the introduction of futures and the listing of options are an important step to increase the market's acceptance of Bitcoin. CME Group Bitcoin Options Going online will once again increase the channel for traditional markets to invest in Bitcoin.
Compile and reference source:
https://www.coindesk.com/cme-open-interest-for-bitcoin-futures-up-100-since-start-of-2020
https://eng.ambcrypto.com/bitcoin-options-on-cme-report-610-btc-trading-in-one-day/
https://baijiahao.baidu.com/s?id=1655780604093620922&wfr=spider&for=pc