1.High-profile Bitcoin update Schnorr / Taproot proposal released as BIP
Bitcoin core developer Pieter Wuille announces submission of Schnorr / Taproot proposal:
Schnorr / Taproot proposals have been published as BIP340, 341 and 342. See github.com/bitcoin/bips/ for details
Please note that the assignment of BIP numbers does not constitute any form of approval, it only means that the process has been followed (including some public discussions).
The general counsel of CompoundFinance Jake Chervinsky believes that the significance of the proposal includes providing data for the study of governance models:
Schnorr / Taproot is not only an important update for Bitcoin, but also an important data point for the study of Bitcoin governance models.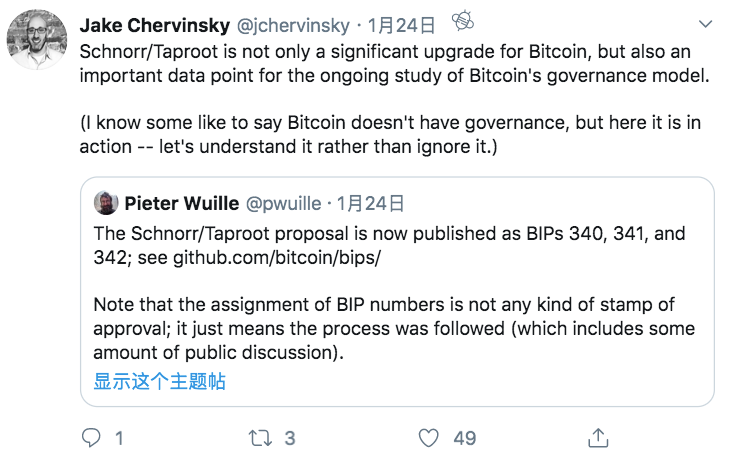 The Schnorr / Taproot proposal has attracted much attention due to privacy / extensibility. Taproot was originally proposed by Bitcoin core developer Greg Maxwell in January 2018. The Pieter Wuille proposal was published on github as a "pull request", which means that the code will be seen by more developers. A "pull request" does not mean that the change is formal, but it is a critical step. Developers John Newberry, Ben Woosley, and Adam Ficsor have commented on the proposal,
A cryptographic signature scheme that Schnorr uses to prove currency ownership. Its benefits are to pave the way for scalability improvements and allow developers to build new technologies on top of Bitcoin. With Schnorr, Taproot has added smart contract capabilities to Bitcoin, thereby increasing privacy.
Due to the decentralized nature of Bitcoin, a so-called "soft fork" similar to this proposal must be implemented with the consent of all members. During the Bitcoin expansion problem, Segwit, a soft fork solution as one of the solutions, was put on hold due to controversy, and it has been slow to achieve large-scale implementation.
2. Ripple CEO: We have the opportunity to create a more inclusive financial system
Ripple CEO Brad Garlinghouse tweeted after participating in the Davos conference:
The Davos 2020 conference challenges each of us to take a step back from our daily work and examine how we can (must!) Contribute to a larger group. Everything we do is more important than ever, and we have the opportunity to create a more inclusive financial system.
Brad Garlinghouse said at the Davos forum on Thursday that in the next 12 months, there will be IPOs in the crypto and blockchain fields, and Ripple will not be the first or the last. Garlinghouse believes that an IPO is a natural process for the company .
TechCrunch CEO Michael Arrington is bullish on Ripple's possible IPO and believes that if the Ripple IPO happens, it is a healthy and great thing.

Ripple raised $ 200 million in Series C funding in December 2019 with a valuation of $ 10 billion.
At that time, financing caused controversy in the crypto community. Messari founder Ryan Selkis questioned the essence of financing and still sold XRP for Ripple. In addition, previous data showed that 90% of Ripple's revenue came from XRP sales.
3. Coinbase CEO : Central bank digital currency has less influence than cryptocurrency , but the two will complement each other
Reuters reports that Japan is working on developing a national digital currency. People familiar with the matter said the move was intended to address Facebook's Libra and China's DC / EP. Some lawmakers believe that China's digital currency DC / EP will be a major problem if it is widely used in international settlement. Due to a series of regulatory obstacles to be overcome, Japan's national digital currency will not be released in the short term.
Coinbase CEO Brian Armstrong believes that central bank digital currencies will complement cryptocurrencies:
I am glad to see more and more CBDC (Central Bank Digital Currency) appear. I don't think they will have global / decentralized cryptocurrency influence, but in other ways they will be complementary.

4. Will cryptocurrency take off in 2020? $ 2 billion flows into U.S. cryptocurrency funds
Ash Egan, partner at venture capital firm Accomplice, tweeted:
About 2 billion U.S. dollars of unannounced funds flow into the US cryptocurrency fund . Funds are distributed in 3 large funds (with a size of more than 300 million US dollars), 4 large funds (with a size of 100 million to 300 million US dollars), and 4 funds with less than 100 million US dollars.
2020 will be a crazy year.

In sharp contrast to this view is a tweet posted by Avichal Garg, co-founder of Electric Capital, on January 4, stating that investors in the cryptocurrency fund industry have left the fund and cryptocurrency industry :
This week I spoke with a digital mobile crypto fund manager. They all happen that investors leave their funds and say goodbye to cryptocurrencies.
It felt like the real disarming surrender had finally happened.
Garg mentioned that most investors are impatient. Although the two-year period is not long from the perspective of cryptocurrencies, when public equity is performing well, this is enough to keep investors from persevering.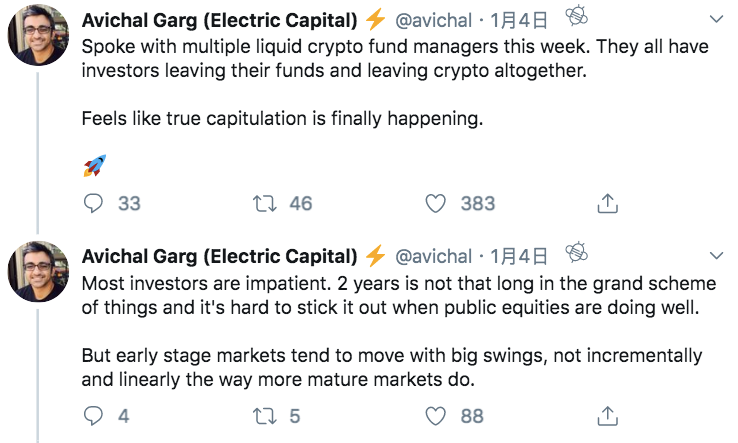 5. Following the pace of BCH? Li Qiwei solicits opinions on miners donating 1% of block rewards to support Litecoin development
The Block Hub reported on January 23 that the BCH burst will fund BCH development and infrastructure construction by collecting 12.5% ​​of block rewards from miners, and will conduct solitary block processing for miners who do not follow. At the time, Litecoin founder Li Qiwei's own opinion on this claim was that Antpool, BTC.TOP, ViaBTC and other mining pools that agreed to implement the claim accounted for only 28% of the total hash power. Perform a mandatory soft fork, and this may lead to more forks. At the same time, the execution of this soft fork will cause instability, as it may induce BTC miners to conduct a 51% attack on BCH.
Just one day apart, Li Qiwei himself solicited opinions from netizens on Twitter regarding the source of Litecoin development funding:
1 / I think a better way to fund development is to volunteer a part of the block reward to the mining pool . For example , the Litecoin mining pool donated 1% (0.125LTC) of block rewards to the Litecoin Foundation? If every miner / mine pool can do it, the annual donation amount is equivalent to 1.5 million US dollars !
2 / At present, through the combined mining of Dogecoin and other Scrypt currencies, miners can get 105% + of the block reward. Therefore, 1% is a reasonable percentage of public goods .
3 / Better yet, the mining pool allows miners to decide for themselves which organization to donate the 1% block reward to . It could be the Litecoin Foundation, Litecoin.com, The Lite School (designed to advance cryptocurrency adoption through education), or other Litecoin projects.
What do you guys think?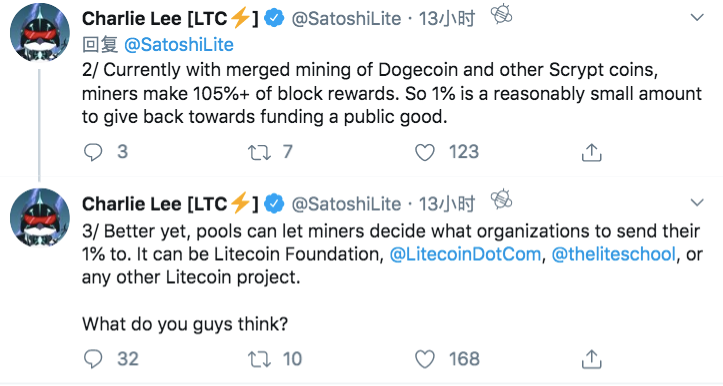 In the comment section, some netizens questioned why Li Qiwei did not use the funds earned by selling LTC at a high level to fund development. Litecoin full-time developer Loshan clarified:
Charlie did not sell off high. The average price is $ 180. He is also the largest donor of the Litecoin Foundation and has donated more than 1,000 LTCs. Recently, he is matching funds for MimbleWimble (a privacy & alternative technology) ( meaning that every time an LTC / BTC donation is received, Li Qiwei himself will pay the same amount) . In the first month, he has matched more than 200 Litecoins .

The official account The Lite School has a deadline for voluntary contributions:
Voluntary contributions should end in 2-3 years, the budget should exist, and there should be an income model to achieve sustainability.

In addition, there were voices questioning whether the donation amount would go into some people's pockets, and Loshan replied:
The Litecoin Foundation is a non-profit organization, and our mission is to be transparent about donation funds. All funds and payments will be made public.
Loshan also said that it was ultimately up to miners to decide whether to make a donation.
In October of last year, the Litecoin Foundation had raised the question of "fund exhaustion". The reason is that the amount of donations from July 2018 to March 2019 compared to January to June 2018, has plummeted from $ 829,000 to $ 3674, and the business income portion has turned from a previous profit of $ 190,000 to a loss of $ 75,000. . Previously, the Litecoin Foundation maintained operations mainly through Li Qiwei's own donations (commercial revenue accounted for a small portion), and the decline in the prices of cryptocurrencies such as LTC and BTC also affected the profitability of the Foundation.
6. Industry News
a. The World Economic Forum Davos meeting closed on January 24, announcing that in order to design a governance framework for digital currencies, an international joint organization will be established. Governance objects include cryptocurrency stablecoins.
b. The United States Blockchain Association established a working group called Market Integrity, chaired by Ripple and Coinbase management, to promote transparency and fairness in cryptocurrencies.
c. Tether launches Tether Gold (XAUT), a gold-backed stablecoin, which will be issued on the Ethereum blockchain and TRON blockchain as ERC-20 tokens and TRC20 tokens. The exchange Bitfinex has launched XAUT trading.
d. Gavin Andresen stepped down as technical consultant of Zcash development company Electric Coin Company (ECC). Andresen has been an ECC technical consultant since the launch of Zcash in 2016. Andresen himself has acknowledged Zcash's privacy technology. In addition, Vitalik Buterin, the founder of Ethereum, still serves as Zcash / ECC technical consultant.
Disclaimer: The opinions of institutions and people in the text do not represent the position of The Block Hub and do not constitute investment advice.