1. Ethereum stablecoin transfer amount exceeds ETH, stablecoin 2020 usher in a bumper year?
Data released by Messari researcher Ryan Watkins shows that the amount of stablecoin transfers on Ethereum has exceeded ETH . The dark blue part at the bottom of the figure is the curve of the amount of ETH transfer, which showed a downward trend from January to December 2019. In contrast, stablecoins including USDT / USDC / PAX / DAI / TUSD / GUSD are on the rise . Ryan Watkins noted that the shift occurred in mid-2019 and has become more pronounced since.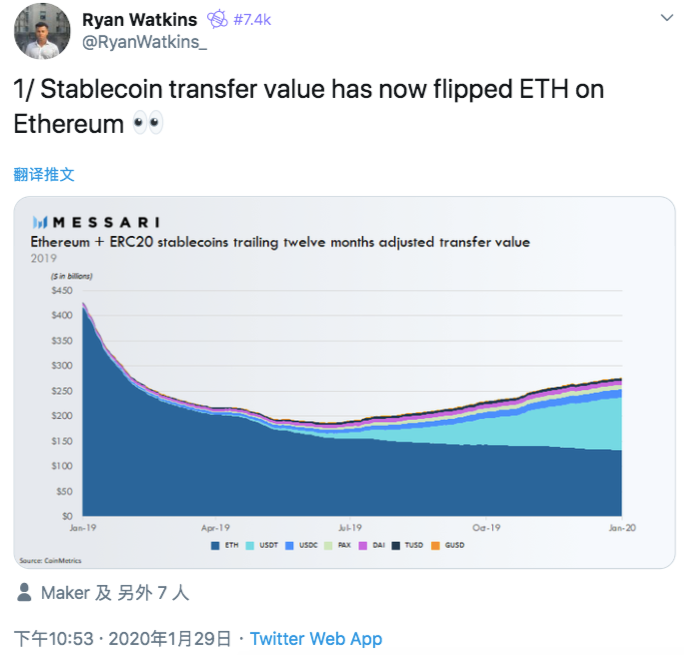 Circle CEO Jeremy Allaire thinks this is a good sign. The killer application of the public chain is stablecoin:
This is very inspiring and proves that the killer application of the public chain is stablecoin . The next important stage is the growth of stablecoin use in smart contracts and the ability for developers to integrate stablecoins into their business!

Blockchain giants such as Bitmain, Baidu and other investments announced in mid-December 2019 that 2020 will focus on the stablecoin platform market for global developers and enterprises, especially UDSC, and that they are the global public, enterprises and governments Great possibilities. Circle believes that in the next two to three years, the mass market phase of adopting cryptocurrencies will come. Twitter investor and Silicon Valley top VC Fred Wilson talked about the relationship between technology and portals in his blog in mid-December, saying that one of the portals he looked for when considering cryptocurrencies might be stability running on closed or semi-closed networks currency. These stablecoins may cause hundreds of millions of people worldwide to own and trade crypto assets.
According to a report released by ConsenSys in late 2019, there are approximately 200 stablecoin projects, with 66 active stablecoins. 50% of the active stablecoins are developed on the Ethereum network . There are three main types of stablecoins: stablecoins mortgaged by fiat currencies (such as Tether, USDC, Gemini dollar), stablecoins mortgaged by cryptocurrency (such as MakerDAO, Steem), and unsecured stablecoins (such as Terra, Element Zero). More well-known stablecoins include Tether (USDT), MakerDAO's DAI, Coinbase's USDC, Gemini dollar, etc.
2. Chaialysis: Darknet cryptocurrency transactions accounted for doubled in 2019 compared to 2018, and privacy currency usage may increase
The report released by Chaialysis shows that compared to 2018, the amount of cryptocurrency transactions on the dark web in 2019 has doubled:
After a slight decline in 2018, the total sales of the dark web market increased by 70% in 2019, which is equivalent to more than $ 790 million in cryptocurrencies, which is the first time that sales have exceeded $ 600 million. Not only that, since 2015, the dark web market has increased the amount of cryptocurrency transactions for the first time, which has doubled from 0.04% in 2018 to 0.08% (about 630,000 US dollars) in 2019.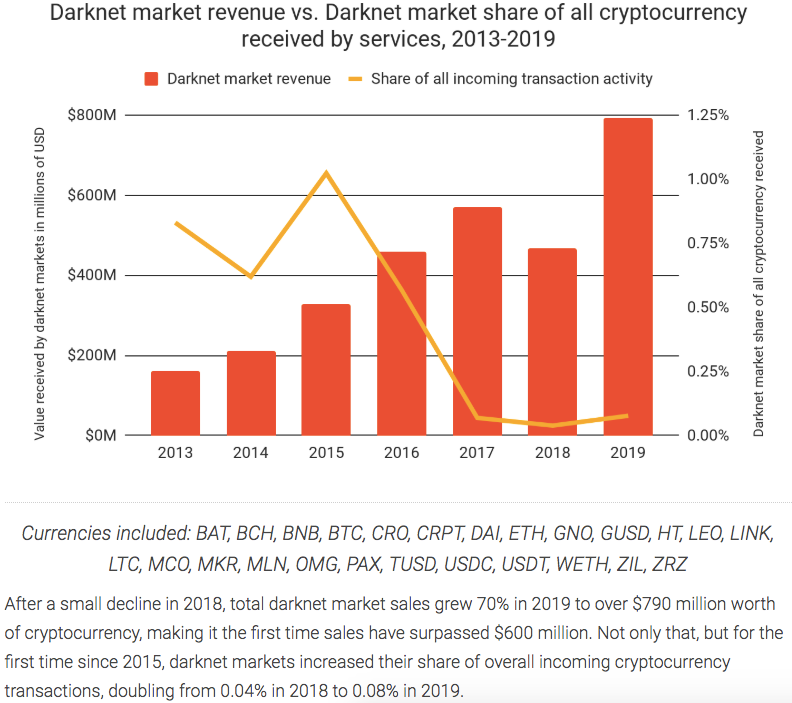 Among the sources of funds flowing into the dark web market in 2019, peer-to-peer exchanges accounted for 38.6%, ordinary exchanges accounted for 31.8%, high-risk exchanges accounted for 8.8%, and darknet markets accounted for 8.8%. The currency included BCH, BTC , LTC, USDT . Of the funds flowing out of the dark web market, ordinary exchanges account for 42.8%, peer-to-peer exchanges account for 23.2%, unknown services account for 11.7%, and currencies include BCH, BTC and LTC .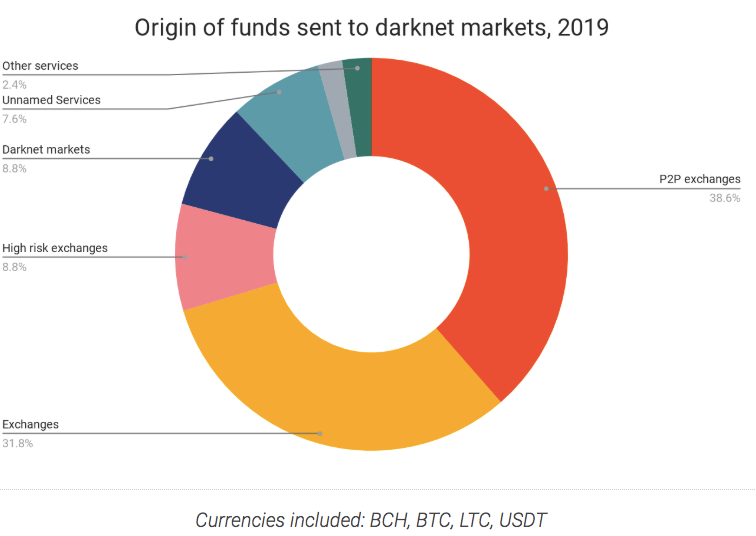 The report mentions that, similar to previous years, the vast majority of darknet market transactions are funded through exchanges. So far, exchanges are the most common service that customers use to send cryptocurrencies to sellers and for sellers to use their funds to cash out. Although the amount of cryptocurrency transactions in the entire dark web market is still very low, only 0.08%, but in the face of increasingly stringent law enforcement reviews, the recent increase in transaction volume indicates the flexibility of the dark web market.
Perhaps the most interesting finding in the report is that compared to other services, trading activities in the dark web market appear to be less affected by the rise and fall of the cryptocurrency market and other seasonal effects .
In addition, the increasing share of cryptocurrencies entering the dark web market may be due to the implementation of new technologies, which make operations more decentralized. To avoid law enforcement closures, some dark web markets are adopting new infrastructure with a completely decentralized structure similar to the Tor Web browser or the "blockchain itself." The report states that there may be more dark web markets accepting or even requiring the use of privacy cryptocurrencies such as XMR.
For the analysis of Chainalysis, Binance CEO Zhao Changpeng pointed out:
People misunderstand the cause and effect here. Technology makes privacy blockchain possible, but it will not promote its popularity. The more you "analyze" the "non-privacy" blockchain, the more people will adopt the privacy chain.

3. Is Bitcoin entering a bull market? The number of Bitcoins hoarded has increased dramatically
BitMEX CEO Arthur Hayes tweeted:
Futures basis is at a high point. The spot is climbing. The blow-off top seems to be coming.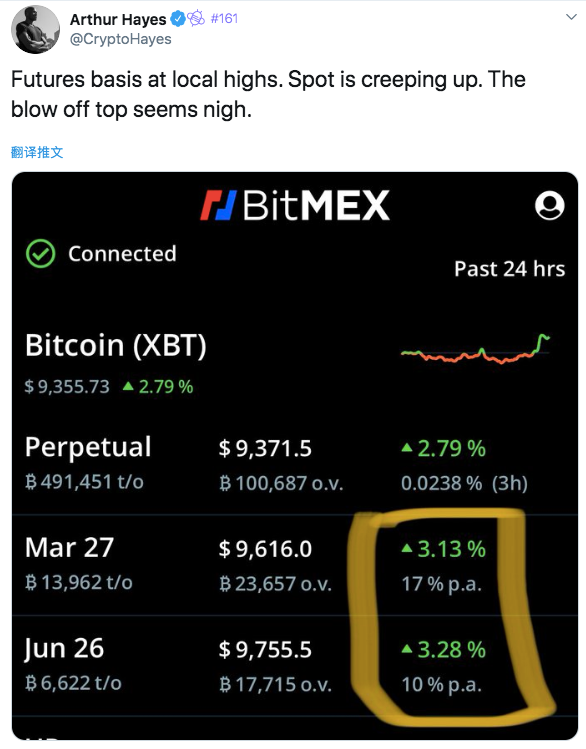 Note: The fall of the peak refers to the situation in which the transaction volume increases sharply and the price drops rapidly after the price rises. Basis refers to the difference between the spot price and the futures price. Hayes means that it is easy for investors to buy spot and short futures and only earn premium.
On the same day, Thomas Lee, co-founder of Fundstrat, believes that Bitcoin is entering a bull market:
Bitcoin is back above its 200-day moving average at 1/27 … This is a positive milestone and enhances the possibility of becoming the year of BTC in 2020.
-Whenever BTC> 200-day moving average, the winning percentage (6 months later) jumps to 80% and essentially "re-enters" the bull market (> 200-day moving average).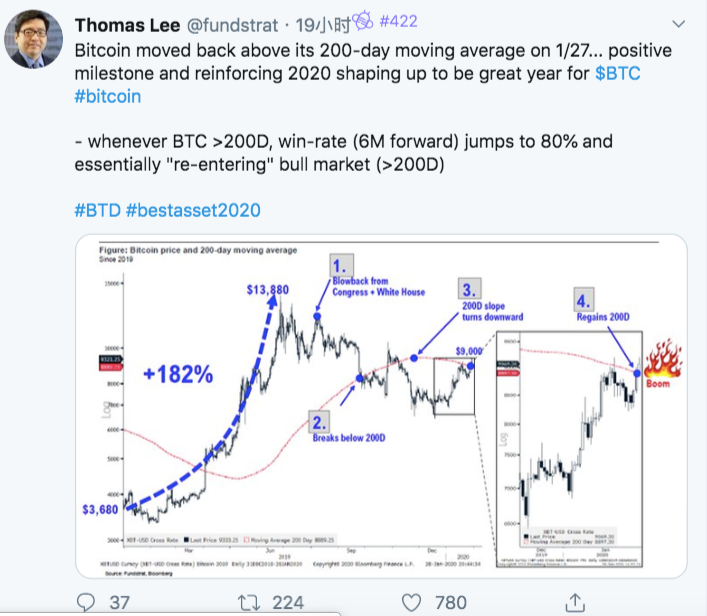 In addition, Glassnode's official Twitter account states that the number of Bitcoins being hoarded is increasing sharply:
As we enter 2020, the number of Bitcoins being hoarded is increasing dramatically . Currently, at least more than 40% of Bitcoins have not been transferred for 2 years .
Previously, we saw this behavior initiating a new bull market by limiting circular supply and increasing demand.
Subsequently, Glassnode launched a survey "What do you think is a bull market, a bear market, or a neutral market"? 75.9% of netizens considered a bull market signal in 731 votes, 15.3% of netizens considered a neutral market, and only 8.8% of netizens considered a bear market signal . What do you think?
4. TruStory Cosmos Ecological Project ceases operations
Coethmos Eco Project TruStory CEO Preethi Kasireddy announced that it has decided to stop operating TruStory and return the funds raised to investors:
Considering things have leaked: we decided to stop TruStory and refund the investor funds.
why?
We concluded that it was too early to bring TruStory to market. The market is not enough to support what we want to build.

In a subsequent blog post, Preethi Kasireddy mentioned the reasons for shutting down TruStory:
However, we finally realized that the market timing that TruStory faces makes it difficult to turn it into a sustainable business.

TruStory is a digital debate game that was founded in 2017 and has been in operation for 1.5 years. TruStory has raised USD 3 million in seed rounds. Investors include Pantera Capital, Coinbase Ventures, etc. Its mission is to create a place where people can come together for a productive debate. At TruStory, anyone can participate in the debate by staking TRU tokens to show their position.
The further analysis of the reasons for the shutdown emphasized the importance of the market and mentioned three reasons:
1) Tokenization is very difficult . The regulatory and compliance risks of issuing tokens are too high, especially in the United States.
2) Infrastructure is not ready . Examples include cryptocurrency wallets, transaction signing, and more. Cannot satisfy the speed and convenience that users care about.
3) The customer base is insufficient. The number of people exposed / accepted for cryptocurrencies other than investment purposes remains a minority.
On the same day, the media reported that Jae Kwon, co-founder and CEO of Tendermint, the company that developed the Cosmos SDK, and President of the Interchain Foundation resigned from Cosmos to work on the sub-project Virgo. Virgo is committed to providing the best open collaboration technology worldwide . Kwon himself said on Twitter that this did not mean he left Cosmos and Tendermint.
5.Coinbase CEO: cryptocurrencies will be treated as real money that cannot be tampered with
The Wall Street Journal reported that the U.S. Congressional Budget Office on Tuesday predicted that after experiencing multiple rounds of tax cuts and continued growth in federal spending, the national debt and continuing federal budget deficit will reach their highest level since World War II.
Coinbase CEO reprinted the article, calling on netizens to consider cryptocurrencies, and stated:
Today, most people may still see cryptocurrencies as a category of counterfeit money or speculative assets.
But I believe we will see a change in this view, which may start with young people and change from many things, and the government currency held will be regarded as fake money.
Cryptocurrencies are considered real money that people cannot tamper with (at least its controls are decentralized, and people will definitely censor open source code).
Why bet your jobs on things you haven't invested in and could be manipulated or devalued?
6.Brendan Blumer: As the blockchain wins , all of us will win
Block.one CEO Brendan Blumer called Twitter for Block.one and the blockchain:
B1 (Block.one) is working in the direction of EOSIO technology, scalability, and security, which were previously only theoretically established. Our goal is to conquer the impractical and irrational traditional database infrastructure and introduce an era of unavoidable provable data integrity.
B1's engineering and technical strength has maintained rapid growth in both scale and skills, led by the world's most talented blockchain architect. I am confident that we will reach an unprecedented level in the industry and further expand our lead. 2020 is our beginning. #EOSIO
Today, traditional database architectures are justified by performance, tools, and ease of development. As EOSIO bridges these gaps while providing native security and provable data integrity, traditional architectures will become incompatible with best practices.
Only performance can stand on the full reconstruction of blockchain and social digital infrastructure. In the future, auditors will not even be willing to participate in structures that do not prove national integrity. As the blockchain wins, all of us will win. #EOSIO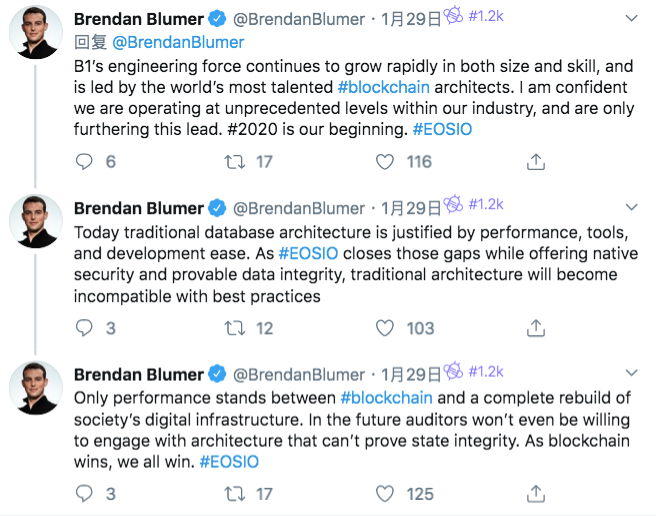 7. Industry News
a. Binance USA announced that it will increase support for Algorand and Cosmos staking in February. In December 2019, Binance USA launched support for Tezos staking. CEO Catherine Coley recently stated in a podcast that the exchange hopes to list and add staking support for more PoS assets in the near future.
b. The Swiss company Overfuture has obtained regulatory approval to allow public trading of its shares (IPO) in the form of tokens on the Ethereum through smart contracts provided by the digital asset exchange EURO DAXX. Overfuture plans to raise € 10.5 million through an IPO.
c. Mitsui Sumitomo Financial Group of Japan and SBI Holdings Group will jointly build blockchain financial services for individuals and businesses. In the field of personal cashlessness, Sumitomo Mitsui Bank will invest in Money Tap using Ripple technology.
d.LINE, the company that operates the cryptocurrency exchange BITMAX, LVC, announced that it will list LINE cryptocurrency LINK in Japan. LINK previously traded on BTIBOX, a global exchange other than the United States and Japan. LINE's move is considered to be intended to build an economic circle centered on LINK.
e. Google Play removed Bitcoin Blast, a game that converts points to BTC. The game was launched in Android in May 2019 and has about 800,000 users. No official explanation has been provided yet. Google has removed the ETH wallet application MetaMask in December 2019.
f. Zermatt, a ski resort in Switzerland, allows residents to pay taxes in bitcoin. Taxes are paid through the Swiss cryptocurrency financial services company Bitcoin Suisse.
g.The Block reports that a Chinese DeFi startup, dForce, has been accused by Compound of stealing its copyright-protected code. Over the past two months, dForce's loan agreements have grown significantly.
h.Skew data shows that the amount of Bitcoin options traded by Bakkt has been zero in the past 10 days. At the same time, analysis of data from 12 exchanges including OKEx, Kraken, Huobi, Deribit, Binance, and Bakkt showed that futures trading volume continued to increase for 4 consecutive days.
i. Social media giant Facebook revealed on Wednesday that it has reached a $ 550 million settlement over a class action lawsuit against the company's facial recognition software. According to the relevant litigation lawyer, this settlement agreement is the largest settlement agreement in privacy-related lawsuits ever.
Disclaimer: The opinions of institutions and people in the text do not represent the position of The Block Hub and do not constitute investment advice.