Author: Grace repair
"Some people believe that bitcoin will continue to rise as the risk aversion dominated by coronavirus impacts traditional markets; others believe that anyone who claims that the price of bitcoin is organic or follows real-world events is Nonsense. "
The cryptocurrency with the highest market value broke through the 200-day moving average in the Asian trading session last week, reaching $ 9,000, and quickly rose to a high of $ 9576, bringing the cumulative increase so far this month to more than 30%.
Despite a slight pullback this week, as of press time, Bitcoin's transaction price remained high at $ 9,405.
Despite the good start to bitcoin this week, global stock markets are facing selling pressure. It is worth noting that the Dow Jones Industrial Average fell more than 450 points last Monday, and travel-related stocks suffered severe losses due to concerns that the outbreak of the Chinese coronavirus may spread globally and hurt global economic growth.
01
Bitcoin favorable theory
As bitcoin outperformed stocks in the panic of the corona virus, some experts are convinced that cryptocurrencies are attracting safe haven bids. What's more, the classic safe-haven asset so far this week: gold has only risen by 0.65%.
For some cryptocurrency analysts and enthusiasts, the moment of global crisis and geopolitical turmoil has become an opportunity to explain the price fluctuations of Bitcoin.
This phenomenon has even inspired a popular pattern: arbitrarily attribute any negative or seemingly unrelated event to the value of cryptocurrencies.
"Bitcoin Favor said" states that in uncertain times, investors will seek non-sovereign assets and currencies to protect their wealth.
For those who insist that Bitcoin is a safe-haven asset, Bitcoin's price performance has been exceptionally good throughout the 2020 chaos, and its value has increased by almost a third since the beginning of the year, which seems no coincidence .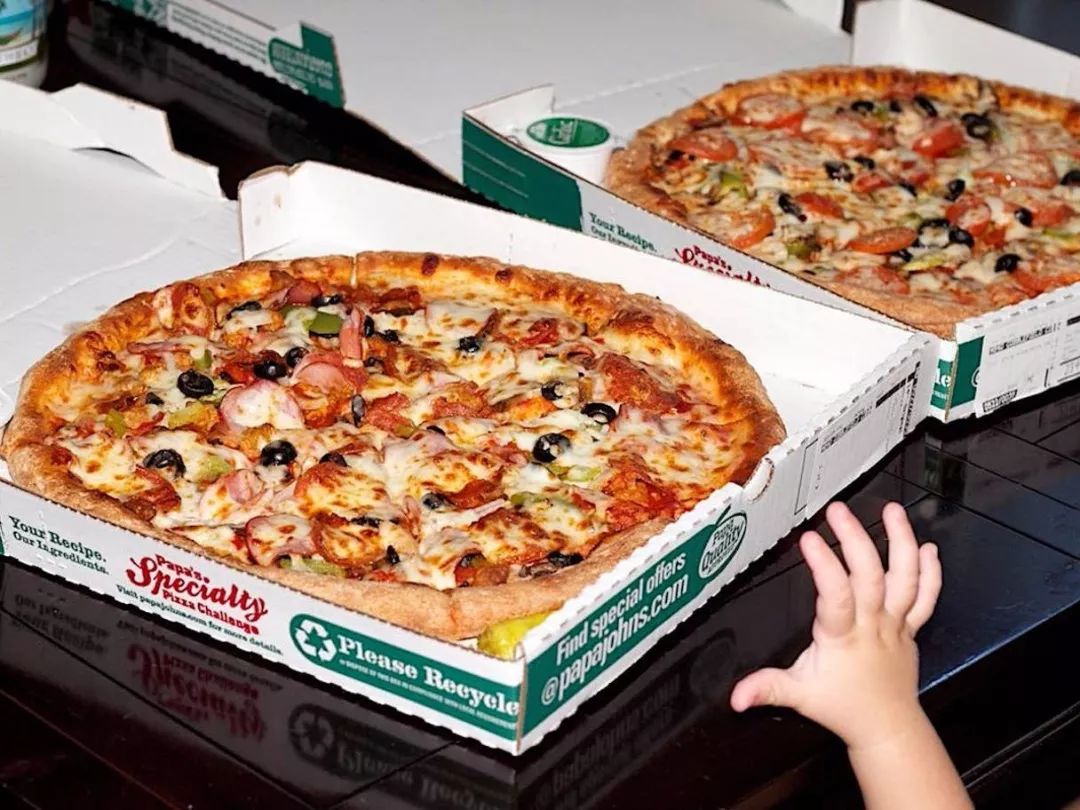 On May 22, 2010, Lazlo Hanyecz made the first real-world Bitcoin transaction: two pizzas were purchased with 10,000 Bitcoins, which is equivalent to $ 90 million at today's prices.
Now, some people think: its price seems to be directly related to increasing concerns about the global coronavirus epidemic.
02
Is Bitcoin Price Really Affected by Corona Virus?
Since Wuhan was isolated on January 23, the price of bitcoin has been rising every day, and the value has increased by 10% in less than a week. Its price has broken and maintained above $ 9,000, its highest level since November last year.
And mainstream cryptocurrencies such as Ethereum (Ether), Ripple (XRP) and Bitcoin Cash (BCH) have also achieved considerable gains, and other cryptocurrencies have followed suit.
Cryptocurrencies seem to be mimicking the classic safe haven of gold, and this response has soared in recent days due to concerns that the coronavirus is now spreading globally.
Apart from the coronavirus incident, similar conclusions were reached in August 2019 and early January 2020 during the growing tension between the United States and Iran and the escalating trade war between China and the United States.
Still, few real studies support the theory that such events are directly related to the fate of Bitcoin. Instead, market trends are related to the development of the cryptocurrency industry, such as the introduction of favorable regulations, or rumors that a country is developing its own cryptocurrency.
Its value is also fixed in the whimsical of a trader who owns a large amount of Bitcoin (called a whale).
Crypto author David Gerard claims that the crypto market is "closely linked to internal transactions" and that many bitcoin whales have "collusioned" for years to manipulate their prices.
Whales definition : In the bitcoin world, the mysterious "whales" refers to individuals who have a large number of digital currencies. The Bitcoin whale has long been a source of speculation and anxiety. According to Chainalysis's research last year, there are 32 whales holding more than 12,000-85,000 bitcoins.
He wrote in a blog post:
"Bitcoin price is a game where whale beats small players. Anyone who claims that Bitcoin price is organic or follows real-world events is nonsense."

Well-known analysts like Alex Kruger believe that Bitcoin's risk aversion is not strong.
He tweeted on Tuesday that the coronavirus pushed Bitcoin down until the 1.25 narrative, and now you say that coronavirus pushed Bitcoin up. Some people work very hard to write stories.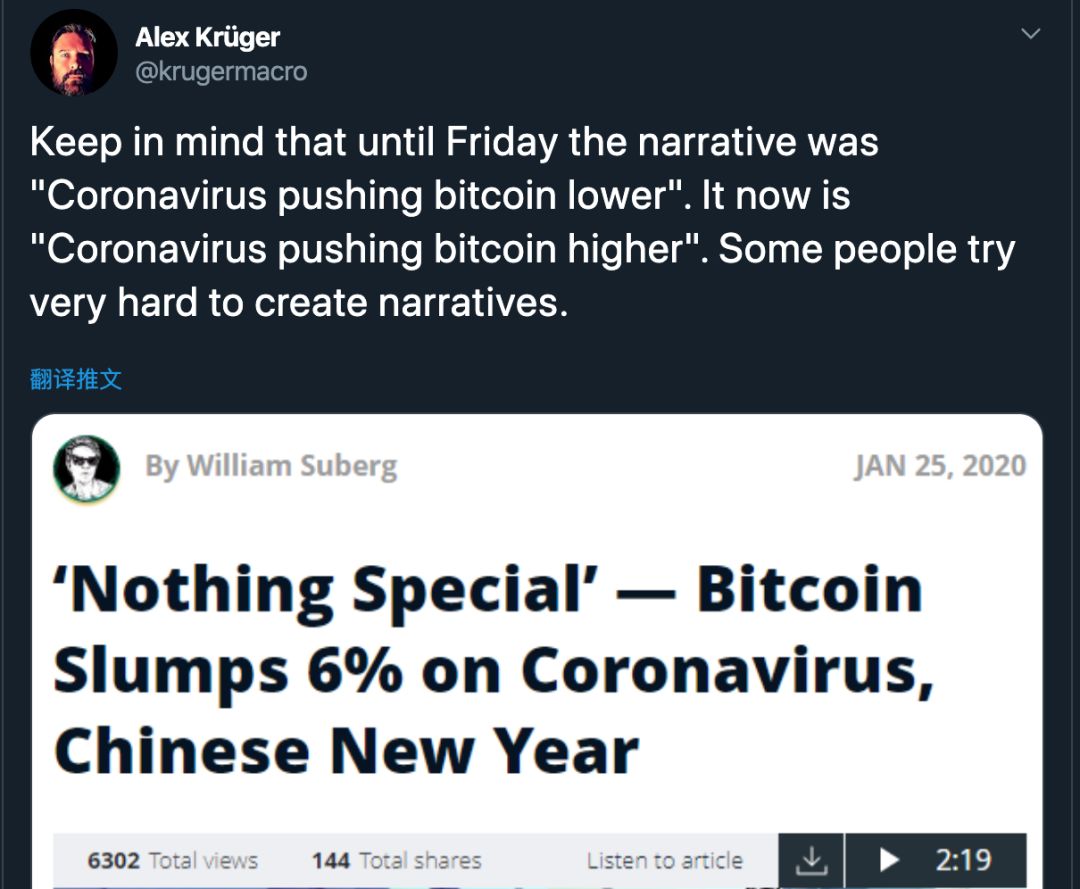 In addition, before the Chinese authorities segregated Wuhan for at least two weeks on January 23, Bitcoin was strongly bought for less than $ 7,000, which has put the stock market in trouble and expanded its gains over the past week.
Jason Wu, CEO and founder of DeFiner, an unregulated crypto lender, said:
"The virus outbreak may eventually have a negative impact on the crypto market. Many Chinese cryptocurrency retailers tend to cash in before the Spring Festival holiday and reinvest in the market next year. With the outbreak of the virus, this money may not be returned To the cryptocurrency market, which ultimately led to price drops. "