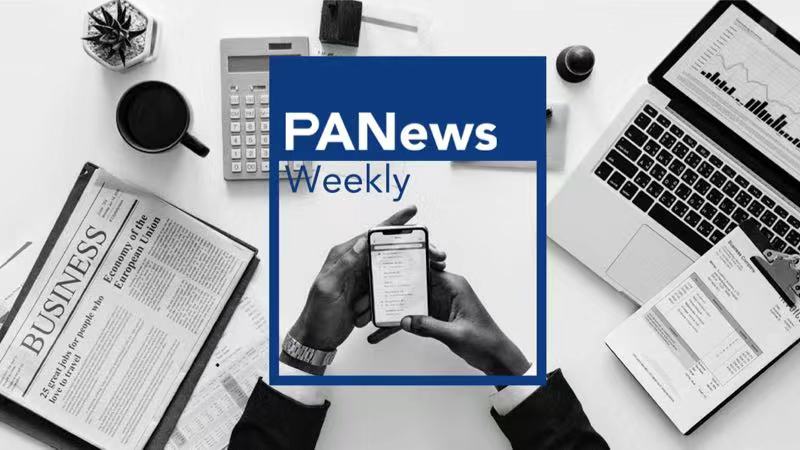 PA Weekly 91st Issue 2020.01.27-2020.02.02
Special attention | Wuhan new coronavirus supports Hubei, the blockchain industry is in action! (Update)
Eurotech Group: The first batch of medical supplies to Hubei was delivered, and the second batch of medical supplies arrived in Hubei
The Oke Group has mobilized staff at home and abroad to carry out material procurement on a global scale. The purchased anti-epidemic materials include medical protective clothing, medical goggles, medical latex gloves, etc. The first batch of materials has now reached all hospitals in Wuhan, Huanggang, Ezhou, Xianning, etc. The second batch of materials will also arrive in Hubei. In addition, Eurotech Group established a special fund of RMB 10 million for the prevention and control of the outbreak, and worked with the Chinese Charity Federation to support front-line protection.
Huobi: Huobi's procurement of anti-epidemic materials has arrived in many hospitals in Hubei, Hunan and Beijing
At present, the staff of Huobi Group's offices in more than ten countries are making full efforts to purchase medical masks, gloves, protective clothing, oximeters, disinfection water and other medical supplies in short supply. At present, a total of 600,000 pairs of medical-grade gloves, 200,000 sets of medical masks and gloves, 1,000 oximeters, 50,000 pieces of protective clothing, and 9 tons of disinfection water have been purchased. Some materials have been shipped to Hubei and Hunan, and other materials are in the process. En route to 20 demand hospitals including Hunan, Hubei and Beijing.
Jianan Technology: Donated RMB 1 million to Beijing Red Cross and Hangzhou Institutions
Canaan Technology donated a total of 1 million yuan to the Beijing Red Cross and relevant social organizations in Hangzhou for the prevention and control of emergency materials procurement and other needs to fight the epidemic. At the same time, Zhang Nan, Chairman and CEO of Jia Nan, donated 200,000 yuan in his personal name.
BitWei: donated RMB 2 million to Hubei and Shenzhen Charity Federation
BitWei has donated RMB 1 million to the Charity Federation of Hubei Province and RMB 1 million to the Shenzhen Nanshan Charity Association to support the prevention and control of a new type of coronavirus in Wuhan.
Gate.io: The first batch of targeted aid aid has arrived
Gate.io's first batch of targeted donated protective materials totaled nearly 90,000 pieces. Through contacting hospital volunteers, it has donated a total of 20,000 protective masks, 20,000 latex gloves, and 240 sets of protective clothing to two medical institutions in Danjiangkou City, Hubei Province. , 200 sets of goggles and 400 kg of disinfectant. In addition, a total of 20,000 latex gloves, 5,000 medical masks, and 200 kg of disinfectant were donated to a medical institution in Hong'an County, Huanggang City, Hubei Province.
The WikiChain Foundation: donated 210,000 yuan to Huanggang Huangmei County Charity Association
The Wikki Chain Foundation donated 210,000 yuan in cash to the Huangmei County Charity Association in Huanggang City, one of the worst-hit areas, to purchase medical masks, protective clothing, goggles and other anti-epidemic materials.
Blockchain industry practitioners have joined the industry and institutions to launch a charity donation of medical supplies in Wuhan and surrounding cities, and donate medical supplies to Wuhan and surrounding cities. Follow Weibo's "Blockchain Charity Organization" to participate in industry donations.
o1 U.S. and Spanish tax authorities both say 2020 will focus on cryptocurrencies
According to News.Bitcoin on February 2nd, the tax form released by the Internal Revenue Service (IRS) this year includes cryptocurrency issues for the first time, and the deadline for submitting and paying taxes due is April 15, 2020. The IRS is expected to return more than 150 million individual tax returns. IRS Commissioner Charles Rettig said that this emerging field of cryptocurrencies is a priority for the IRS and they want to help taxpayers understand their obligations related to virtual currencies. At the same time, the IRS announced that cryptocurrencies will remain an important focus in 2020.
According to Cryptonews news, the Spanish tax agency AEAT also said that it will strengthen the review of cryptocurrencies in 2020. The agency also emphasized its position on Bitcoin and altcoins: using them poses significant financial risks.
o2 French central bank's deputy governor said that stablecoin may bring considerable risks, and regulatory coordination requires a global framework
According to Forbes, the deputy governor of the French central bank, Denis Beau, recently pointed out that although stablecoins provide opportunities for improving the payment system, they may also bring considerable risks that must be addressed. It made three recommendations for regulators, including, first, that French and European regulators should respond to the potential positive impact of stablecoin innovation, and second, that regulators need to coordinate the regulatory framework from an international perspective. Third, policy makers should conduct on-site trials and other measures to address current deficiencies in the payment and settlement fields.
o3 Ukraine will oversee crypto transactions above $ 1200
According to Newsbitcoin, Ukrainian Finance Minister Oksana Markarova announced that Ukraine will strictly monitor cryptocurrency transactions, review and verify the operations of cryptocurrency companies and exchanges, all valued at 30,000 hryvnia (about $ 1200) or more Crypto transactions are subject to government oversight. Markarova said the legalization of cryptocurrencies remains a top priority as the government has made it clear that its benefits outweigh the risks.
o4 The Bank of Japan's deputy governor says to be ready to respond to public demand for digital currencies
Japan 's central bank deputy governor, Yumiya Masaka, said that some US scholars said that the central bank 's digital currency will deepen negative interest rates, which is worthy of attention. We need to be prepared to respond to the rapid digitalization driving public demand for digital currencies.
In addition, according to Jp.cointelegraph, at the Senate Budget Committee meeting on January 30, the Japanese Parliament discussed whether to use blockchain in official document management. Senator Otoki of the Japan Reform Commission proposed the digitization of official documents and the application of blockchain technology. Regarding the electronicization of administrative documents, Seibu Kitamura, special minister of the Cabinet, said that "the specific implementation method is being discussed."
o5 Singapore's Payment Services Act officially enters into force
According to Bloomberg News, the Monetary Authority of Singapore (MAS) recently announced that the Payment Services Act (PS Act) has officially entered into force. The new Payment Services Act is the first comprehensive regulatory requirement for companies engaging in activities ranging from digital payments to token transactions such as Bitcoin and Ethereum (ETH). In addition to including crypto companies under the supervision, the law will also give the Singapore Monetary Authority (MAS) formal supervisory powers, monitor cybersecurity risks, and control money laundering and terrorist financing.
The implementation of the new bill will improve Singapore's regulatory framework for payment services, strengthen consumer protection, increase confidence in the use of electronic payments, and provide global cryptocurrency companies with the opportunity to expand their operations in the country by applying for an operating license for the first time.
o6 Cambodia to launch central bank digital currency payment system
According to Bitcoinist, the Central Bank of Cambodia will launch the "Project Bakong" project, a central bank digital currency (CBDC) payment system. Chea Serey, director general of the National Bank of Cambodia (NBC), said it has now received support from 11 commercial banks in the country. According to Serey, once the project goes live, more financial institutions will join the platform and use CBDC.

o1Mimblewimble can realize non-interactive transactions, Litecoin and Grin will benefit
Grin ++ wallet developer David Burkett has proposed a proposal to support Mimblewimble non-interactive transactions, which can be applied to blockchain projects such as Litecoin and Grin, thereby removing major user experience barriers and supporting cold storage. Receive, making the hardware wallet easier to support. On the development side, the build process has been determined for libmw and local builds are working for libmw-ltc. LBMW will be integrated into the existing Litecoin code base after completing the consensus rules for the Litecoin Extended Block (EB) in February.
O2 Baidu launches online learning resources including blockchain
According to Sina Education Network, it is currently in a critical period of prevention and control of the new coronavirus epidemic. In order to ensure that teachers and students are suspended from school, from February 1st to February 8th, Baidu Yunzhi Academy will open all online learning resources for free , Including special topics in artificial intelligence, deep learning, virtual reality, blockchain, IoT and other cutting-edge technology directions, as well as full-stack courses in programming languages ​​such as Python.
o3Bitcoin.com announces no longer support for "BCH Development Fund" proposal
On January 29, Bitcoin.com announced that without more participants in the BCH ecosystem, Bitcoin.com will no longer support the "BCH Development Fund" proposal.
The BCH Development Fund proposal was initiated by Jiang Zhuoer, CEO of BTC.TOP, and signed by the chairman of Bitmain Wu Jihan, ViaBTC founder Yang Haibo, and Bitcoin.com founder Roger Ver. The proposal requires miners to donate 12.5% ​​of the block reward to a fund that supports the Bitcoin Cash infrastructure for a duration of six months. The proposal states that all donated funds will be used to pay for development costs, covering the implementation of the full node and R & D of other critical infrastructure. Any miner who is unwilling to make a donation will be lonely and cannot get any profit.
The proposal caused widespread discussion across the cryptocurrency community. An organization composed of anonymous miners in North America and Europe said that assuming the proposal has not been withdrawn, it will continue to mine until the hard fork. Due to changes in the consensus rules introduced by the signatory, the hard fork will create its own chain.
o4 Bitcoin's entire network computing power is mainly controlled by five Chinese mining pools
According to Bloomberg, a new analysis by TokenAnalyst found that five mining entities in China control 49.9% of all computing power on the Bitcoin network, the most concentrated mining power in history. The five major mining entities include AntPool, BTC.com, BTC.top, F2 Pool and ViaBTC. Cloud computing contract provider BitDeer acts as a connection organization between the five mining pools, each of which allows individual miners to extract resources and share newly minted bitcoins as a reward. The problem is that miners with more than 50% of the hash power can disrupt the network, increasing the possibility of double counting tokens, stopping payments and stalling transactions.
o5 Google Trends Shows "Half-Bitcoin" Search Volume Increases 12 Times This Year Compared to 2016
According to Google Trends, search interest in halving Bitcoin is much higher than it was four years ago. In 2016, 97 days before the second Bitcoin halving, the Google trend indicator was only 3, and now, about three months before the halving, the indicator has reached 38, a 12-fold increase.
o6Facebook is developing a digital wallet for use with Libra
According to Ejinsight, during this week's earnings call, Facebook CEO Zuckerberg said that the work of the Libra program is being handled by the Libra Foundation and emphasized the separation between the foundation and the social network. In addition, he said that Facebook is developing a digital wallet for use with Libra to make payment infrastructure around the world, especially cross-border transfers, more efficient.
o7 The new crown epidemic has caused mining machine manufacturers or delayed shipments of ASIC mining machines for at least one week
Affected by the new coronavirus epidemic, the three major ASIC miners of Shenma Mining Machine, Bitmain and Canaan Jianan will have issued announcements to postpone production, delivery, and after-sales time. CoinDesk judges that the delayed delivery time is at least one week. In addition, according to "Wu said Blockchain" news, the core technology in Wuhan is affected by factors such as the closure of the city, and the situation is even more severe. Chinese mining machine manufacturers will be under greater pressure in 2020.
o8 U.S. Commodity Futures Trading Commission Chairman Reiterates Ethereum Futures Coming
According to U.today, US Commodity Futures Trading Commission (CFTC) Chairman Heath Tarbert reiterated in an interview with Bloomberg that Ethereum (ETH) futures are in the pipeline. As early as last October Tarbert stated that Ethereum futures may start trading in 2020, and also said that the CFTC is willing to give a green light to new products.
According to PANews statistics, there were 3 blockchain project financings announced last week with a total value of more than 7.1 million US dollars (excluding projects for which specific investment and financing amounts have not been disclosed), involving areas such as corporate services and trading platforms.
o1 Enterprise Blockchain Platform SettleMint Announces € 1.9 Million Financing
SettleMint, an enterprise-level blockchain platform that provides infrastructure and low-code development solutions for enterprise customers, announced that it has received 1.9 million euros in financing. The participating parties are KPN Ventures (a venture capital agency of Royal Dutch Telecom) and Medici Ventures (a subsidiary of Overstock Venture capital institutions). This financing will further accelerate the international expansion and commercialization of SettleMint's enterprise and blockchain solutions, including the expansion of markets in Europe, the Middle East, Africa and Asia Pacific.
O2 blockchain oil trading platform VAKT receives $ 5 million investment
VAKT, a blockchain-based oil trading platform, announced that it has received a $ 5 million investment from Saudi Aramco's investment agency Saudi Aramco Energy Ventures Fund (SAEV). VAKT future users. This financing will further develop the VAKT platform and expand the global market, especially the Asian market. Earlier, oil and gas giants Chevron, Total and Reliance have joined its blockchain-driven new commodity trading platform.
o3 Standard Chartered Bank invests further in Contour, a blockchain trading platform
Standard Chartered Bank has invested the undisclosed amount in Contour, a Corda-based blockchain trading platform, to streamline the transaction settlement process. Earlier, Contour also received funding support from Bain & Company, Bangkok Bank, BNP Paribas, HSBC, Dutch International Group, SEB, R3, CryptoBLK and CTBC Venture Capital.