Author: Xi breeze
When it comes to bitcoin derivatives, the most notable ones are the Chicago Mercantile Exchange (CME, CME Group) and the Intercontinental Exchange Group (ICE) cryptocurrency derivatives exchange Bakkt, both of which have launched their own Bitcoin futures and Bitcoin options products.
Recent research has shown that, although bitcoin options are becoming more popular among institutional investors, this sector is dominated by unregulated participants, not derivatives exchanges such as CME and Bakkt.

Bitcoin options: less than 7% of positions held in compliance exchanges in January
A recent research report by institutional data analysis platform Arcane Research has attracted much attention. The report refers to the January 2020 bitcoin options trading volume data collected by encrypted data monitoring resource service provider Skew Markets. From the data of the four exchanges listed in the chart, the three exchanges of CME Group, LegerX and Bakkt There was a big gap between the trading volume of options in January of this year and the cryptocurrency derivatives exchange Deribit, especially Bakkt. After January 18, there was almost no trading volume. CME is the one with the highest trading volume among the three compliant exchanges except Deribit, but its maximum trading volume is also less than 6% of Bitcoin futures trading volume on Deribit Exchange over the same period. The value exceeds 120 million US dollars, and the average transaction value is between 20 million and 60 million US dollars.
Arcane Research analyzed in the report that the unregulated market is dominating bitcoin options, and after both Bakkt and CME have started offering bitcoin financial derivatives, bitcoin options have recently become increasingly popular among institutional investors . However, the volume of transactions in these regulated markets seems to be very different from the level of transactions in those unregulated derivatives markets. Bakkt's option trading volume has been zero in the past week, although the CME Group's newly launched bitcoin options transaction is better than Bakkt OK, but they all have a long way to go.
Prior to this, Bakkt was the first to introduce bitcoin options to CME Group for more than a month, but the CME Group bitcoin options were revealed on the first day of trading and the trading volume had surpassed Bakkt. According to media reports at the time, a CME spokesperson stated that its Bitcoin options traded 55 contracts (about 275 Bitcoins, valued at approximately $ 2.1 million) on the first day, surpassing the first day of Bakkt Bitcoin options. Volume ($ 1.15 million).
Since its launch on December 9, 2019, the bitcoin transaction value of Bakkt's option contract transactions has only been at a level slightly above $ 1 million. And from the data provided by Skew this time, since the CME Group launched its own bitcoin options on January 13, Bakkt's trading volume has shrunk to a certain extent, and until January 18, Bakkt did not generate new ones. Transaction volume.
From the option expiration list of Option on Bakkt ™ Bitcoin (USD) Monthly Futures displayed on Bakkt's official website, the three option contracts currently listed are on December 9, 2019 and 2020, respectively. Options contracts opened on January 14th have expiry dates of February 14, 2020, and March 13th, respectively.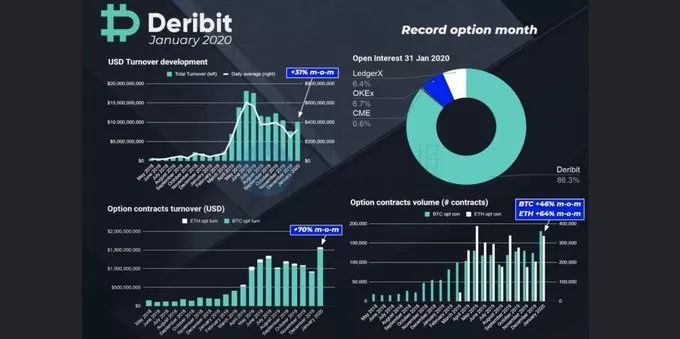 In addition, according to a chart published by Deribit in its tweet, USD options trading volume increased by 70% in January 2020, and the trading volume of bitcoin options contracts reached a record high since May 2018. And as of January 31, 2020, in open interest options contracts, Deribit accounted for more than 86%, which is an absolute leader, while OKEx, which ranked second, accounted for 6.7%. The total holdings accounted for 93%; in the regulated trading platform, LegerX accounted for 6.4%, CME Group, which just launched in January, only accounted for 0.6%, and Bakkt did not enter the statistics.

Bitcoin futures: more than half of open positions come from BitMEX and OKEx
In addition to bitcoin options, in the case of bitcoin futures, an earlier derivative of bitcoin, it is reported that according to another chart data from Skew, the number of open contracts for bitcoin futures contracts will start to soar in early 2020. It's 60%, with positions of more than $ 4 billion. However, it is worth noting that more than half of their positions come from the two exchanges BitMEX and OKEx, and their positions have exceeded $ 1 billion, BitMEX reached $ 1.43 billion, and OKEx was $ 1.11 billion.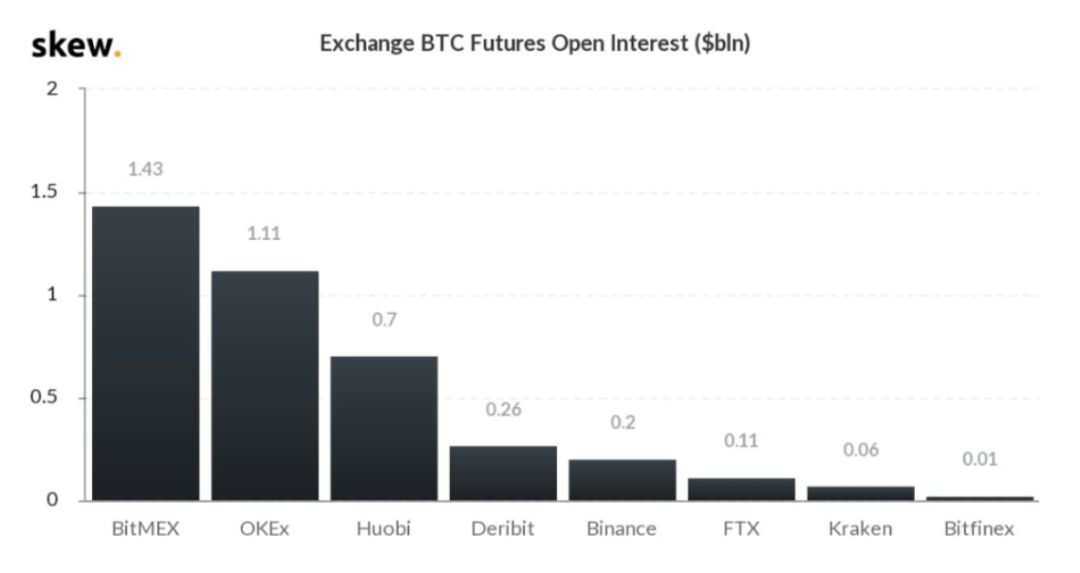 According to the "Bakkt Volume Bot" Twitter account that tracks data from the Bakkt Exchange, monthly delivery futures contract trading volume in the five weeks since 2020 was $ 467 million, with the lowest weekly trading volume of only $ 41 million, and the most recent week The trading volume was US $ 76 million and the positions were US $ 111.6 million.
Also recently, Tim McCourt, Managing Director and Global Head of Alternative Investment Products for the Stock Exchange Group (CME), Tim McCourt, stated: "Since its launch in December 2017, the total nominal trading volume of CME Group Bitcoin futures has exceeded 1,000. One hundred million U.S. dollars".
Since January 2020, CME Bitcoin futures transactions have increased compared to the previous two months. The current transaction volume is $ 846 million, the highest value in nearly three months, and the average three-month trading volume is $ 280 million. ; The current position is US $ 226 million, and the average position in the past three months is US $ 154 million.
Although the volume of CME is much larger than that of Bakkt, and it has seen a substantial increase in the past month, there is still a certain gap compared with the bitcoin futures trading volume of BitMEX and OKEx.
Institutional investor participation is limited, Bitcoin derivatives are still being explored
FTX CEO Sam Bankman-Fry said in an interview that the Asian and US derivatives markets cater to different types of customers. Although Asian derivatives exchanges such as OKEx and BitMEX are more efficient in guiding new users to retail traders, the US market is dominated by regulated exchanges such as CME Group and is more suitable for traditional Wall Street institutions. Together, these two markets are designed to serve two different types of users. "One of the structures is perfect for crypto native and retail traders to get up and running quickly, and the other is great for Wall Street institutions to interact with easily and seemingly securely."
For the financial derivatives market for institutional investors, in this round of bitcoin rally, in addition to a slight improvement in CME, the transaction volume of other institutional platforms including Bakkt and LedgerX is still at a low level. This also means that the home of the Bitcoin derivatives market is still an "unregulated market", and the participation of traditional financial sectors and institutional investors is still very limited.
But there are also opinions that the authenticity of unregulated platform data is questionable. Bakkt president Adam White said in an interview that he believes unregulated exchanges face challenges because their market data is self-reported and there is no regulatory oversight. Although regulators are slow, they are persistent and the unregulated situation of cryptocurrency derivatives exchanges will not last forever.
However, it is clear that the exploration of cryptocurrency derivatives continues in both the traditional financial sector and the regulator.
Recently, Nasdaq CEO Adena Friedman said in an interview with the media that he is currently discussing the launch of bitcoin futures with a partner who has not been disclosed for the time being.
Nasdaq had previously stated that it would launch bitcoin futures in the middle of 2018, and this plan was once postponed to the first half of 2019, and there will be no more after 2019. In this re-introduction of Bitcoin futures, Adena Friedman believes that two factors may affect the launch of Bitcoin futures products: first, the company wants to ensure that it can bring a product different from competitors to the market; second, it wants to ensure that it owns Appropriate risk management foundation.
The CFTC Chairman Heath Tarbert also recently reiterated that Ethereum futures are in the pipeline.
Similar to the currently available Bitcoin futures, Ethereum futures refer to standardized contracts based on the ETH price index. As early as 2018, the CFTC has closely followed Ethereum transactions, and because an exchange operator sought to list Ethereum-based futures products, it launched a public comment on Ethereum, seeking technology and markets for cryptocurrencies. And mechanism information.
Previously, there have been many long-standing risks in Ethereum futures controversy, such as high leverage of crypto derivatives, excessive price volatility, regulatory issues, technical loopholes, and transparency of funds. For a long time, there has been no sufficient effective solution. With the positioning of Ethereum becoming clearer, the market conditions warming, and the gradual increase in market investment demand, Ethereum futures have returned to the public eye.
As early as October 2019, Tarbert has stated that Ethereum futures may start trading sometime in 2020, and also said that the CFTC is willing to give a green light to new products, "I think we will most likely in the next six months to one year See a (Ethereum) futures contract. "