Source: LongHash
Editor's Note: Originally titled "Low Trading Volume of Bakkt Options Shows Wall Street Silence During This Bitcoin Rally"
Skew's data shows that throughout the entire week, option products on the Bitcoin futures market Bakkt operated by the New York Stock Exchange (NYSE) parent company Intercontinental Exchange (ICE) saw almost no trading volume.
The relatively sluggish trading volume of the Bakkt options and futures market may indicate that the recent rise in the price of bitcoin is mainly driven by retail or individual investors.
Wall Street stays silent amid bitcoin rally
For Mati Greenspan, a former eToro executive and founder of Quantum Economics, Wall Street didn't make a shot at the January Bitcoin rally. Greenspan told LongHash in an exclusive interview:
"Wall Street has been quite indifferent to the recent currency price increase, but they are not completely inactive. The CME Group's cash-settled bitcoin futures contract transaction volume has undoubtedly increased. At present, the main transaction volume comes from crypto Exchange. "
Leveraged trading data shows that retail investors have played an important role in this currency price rebound. Since January 1, the price of Bitcoin against the US dollar on BitMEX has risen from $ 6,950 to $ 9,500, an increase of nearly 38%.
The short-term price movements of the cryptocurrency market are usually affected by the leveraged market. On the Bitcoin leveraged trading platform, traders can use up to 125 times leverage to bet on BTC's price trend. On platforms such as BitMEX, Derbit and Binance Futures, the sudden up or down of the currency price will cause a series of long or short contracts to be liquidated.
Bitcoin's recent rise appears to be caused by a lot of activity on leading leveraged trading platforms. At the same time, platforms such as Bakkt, which target qualified investors, are not very active. This suggests that institutions are largely not involved and stimulates the perception that current gains are unsustainable.
For example, as of February 1, BitMEX had a daily trading volume of $ 2.5 billion. Even considering an average leverage of 22 times, its daily trading volume is still $ 100 million. By comparison, Bakkt had a maximum daily trading volume of $ 44 million in January.
On BitMEX, Bitcoin's open interest (OI) has remained at around $ 1 billion for several days, which is quite high. In leveraged trading, OI is the sum of open long and short contracts in the market. When the OI reaches 1 billion U.S. dollars, this situation often occurs after a long currency price rebound, and the market tends to have great fluctuations.
There are other bearish signs. Greenspan emphasized that the on-chain activity of the Bitcoin blockchain has not increased significantly in the entire range of rising currency prices. This shows that prices have not risen in line with the fundamentals.
Blockchain.com, which tracks all the data on the Bitcoin blockchain network, shows that the number of unique addresses and transactions per day have not increased over the past eight months.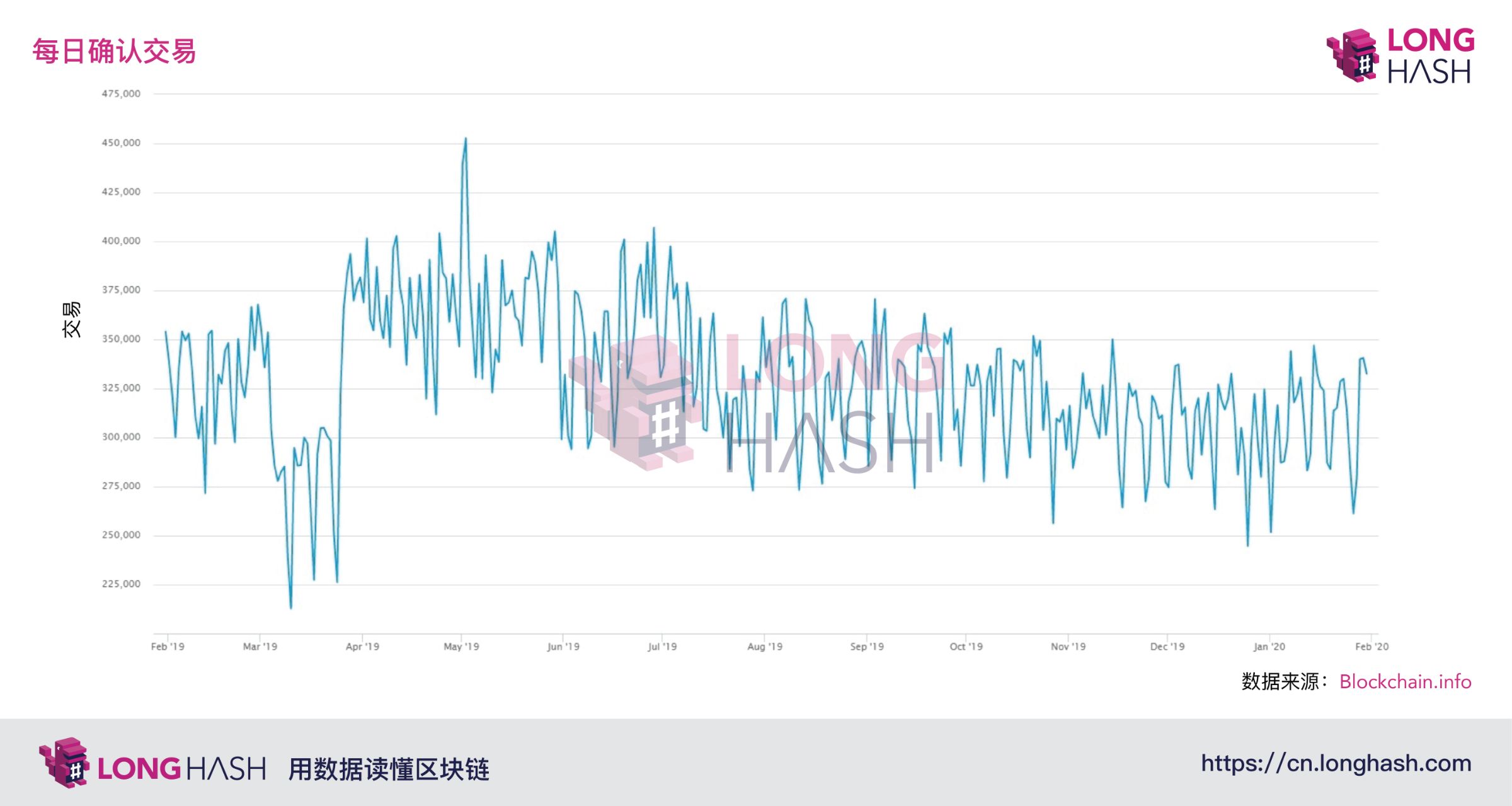 The slow growth of these fundamentals compared to Bitcoin prices has led commentators such as CNBC contributor Brian Kelly to comment that the current rally may not last.
"Activity on the Bitcoin blockchain has not seen any significant rise. In fact, it has remained essentially unchanged during this round of gains," Greenspan said.
Another possible cause of low option trading volume: Bakkt itself
On some days in January, such as January 7 and January 14, Bakkt's daily trading volume reached $ 40.8 million and $ 28.8 million, respectively. The data comes from Bakkt Volume Bot, an automated system that tracks official trading activity on Bakkt and is publicly displayed by the exchange.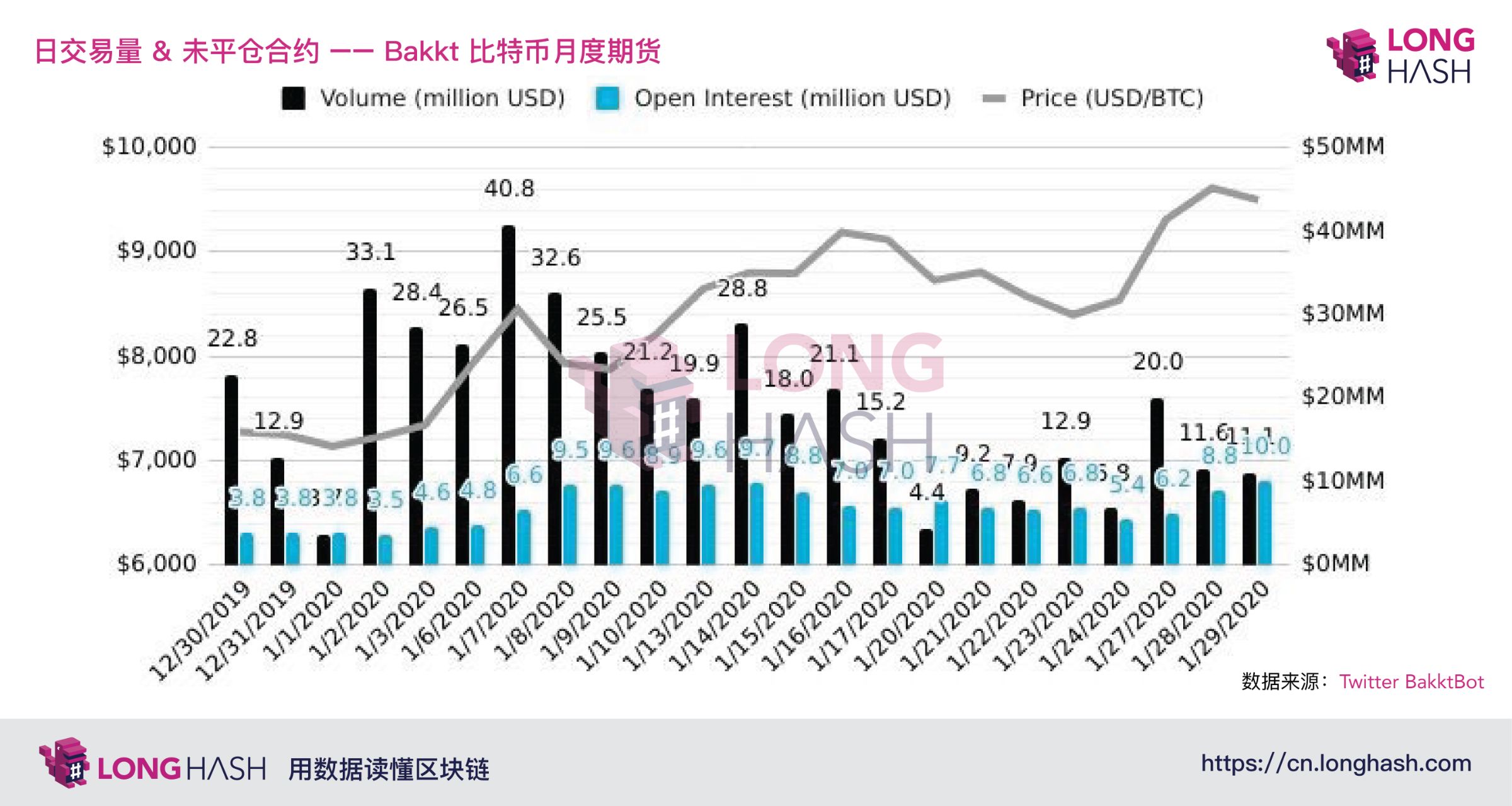 For a platform that is heavily regulated and targeted at institutional investors rather than retail traders, such numbers may already be high. But there is no doubt that compared to major cryptocurrency exchanges such as Coinbase and Binance, daily trading volume of less than $ 100 million is insignificant.
The question is: to what extent is Bakkt itself responsible for the status quo? It's unclear whether the low trading volume of the Bakkt options market is because it has been less than two months since its launch, or it is simply because the existing options platform in the cryptocurrency market is more attractive than Bakkt.
Skew released a chart of total open options options for Bitcoin on January 21. It compares the OI of all major options exchanges, including Deribit, OKEx, Bakkt, CME and LedgerX.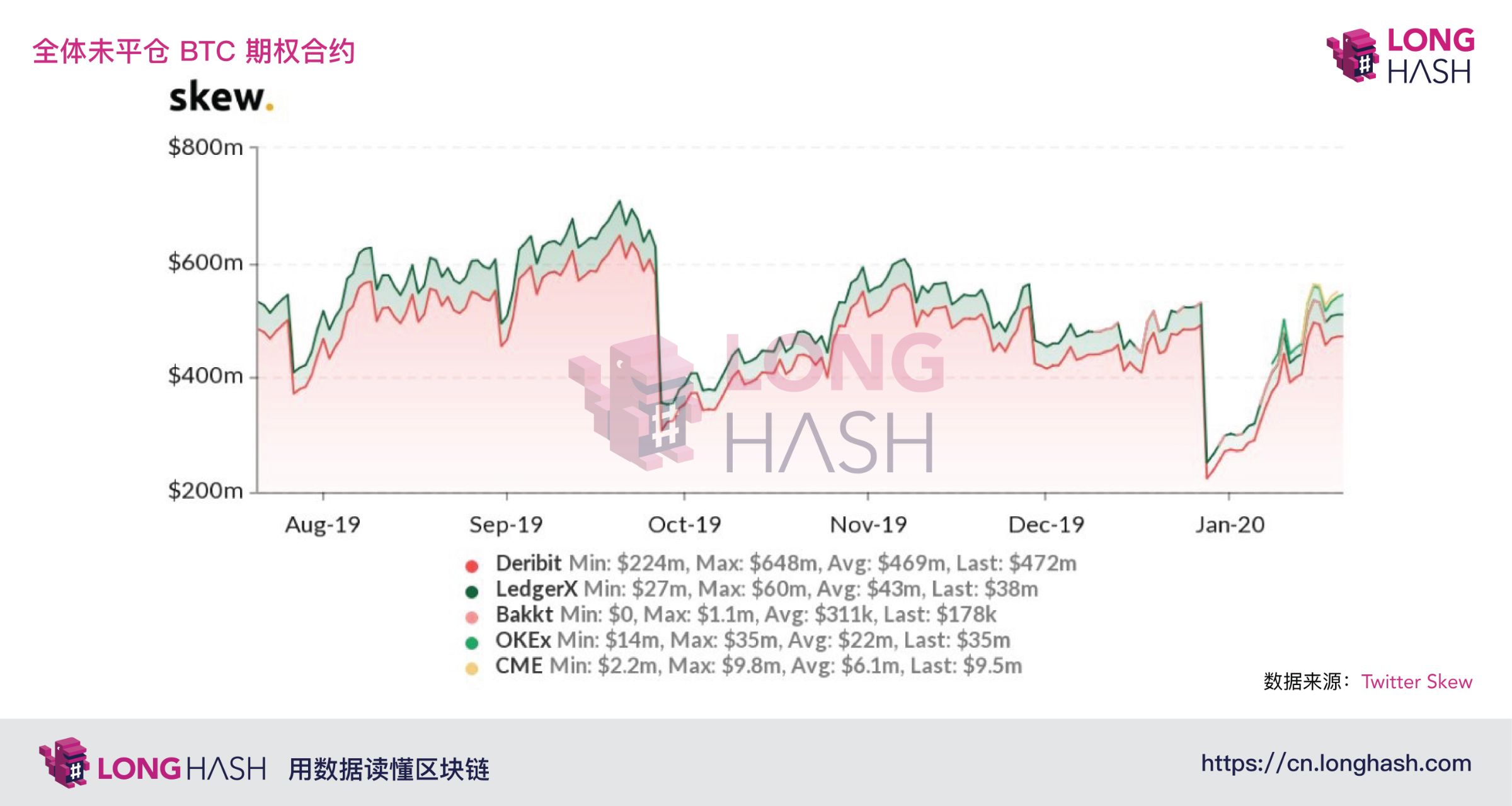 Skew found that Deribit accounted for $ 472 million of the $ 554.6 million open positions, dwarfing CME and Bakkt.
Although Bakkt launched its options product on December 9, 2019, and CME only launched its options contract on January 13, this year, the daily trading volume of Bakkt options is 2% lower than the daily trading volume of CME.
Taking into account the OI of all major options exchanges, despite the large market volatility, Bakkt's options market trading volume may be lower than other platforms. The futures market is becoming saturated, and it is unclear whether Bakkt has the necessary conditions for competition.
Will Wall Street trading volume decrease after the monthly close?
Except for CME, the trading volume of institutional platforms is not high, although the monthly bar chart of Bitcoin on the price chart is about to close. The monthly close of this market-leading cryptocurrency coincides with the expiry of CME's January futures. Futures expiration refers to the situation where futures contracts are settled on a monthly basis and investors need to adjust their positions.
Historically, futures expirations coupled with rising prices and OI of leading leveraged trading platforms have led to extreme volatility at the beginning of the month.
Futures do not necessarily point to a bullish or bearish trend in the market. Traders usually adjust their positions at this time. "Don't let your guard down because futures are about to expire. Be prepared for surprises," said cryptocurrency trader Jacob Canfield.
But overall, this time the rise in bitcoin, mainly driven by retail traders and leveraged trading platforms, is raising questions about whether the January rally can be sustained.
LongHash , read the blockchain with data.