Text | DappRadar
Joint Release | PANews
Under the epidemic, the game rushed to the top of the "home economy". While traditional Internet game transaction data has soared, PANews has found that the transaction value of chain games has been declining during the epidemic. Insiders sighed that the chain tour missed a window period. On the one hand, the performance of the underlying public chain is insufficient, and the team did not seize the opportunity of the Spring Festival marketing operation. On the other hand, it also responded that the chain game that has not received many customers has a low user retention rate, a short life cycle, and a relatively early None of the chain games of the fire remained hot during the Spring Festival.
What is the general user retention rate of chain games, and what types of games have high retention rates? Dapp data platform DappRadar and PANews jointly published a number of games with high retention rate analysis.
Insights
The monthly retention rate of the most popular blockchain games is over 75%.
Most games have proven their ability to keep retention rates above 60%.
Some game Dapp retention rates are below 50% within a few months, which means their user base is declining.
Although some of these trends are unique to the blockchain, the design of individual game features is a major factor in determining retention.

Chain game users grow 118% in one year
The game field is the largest single dapp category, and as of December 31, 2019, 19,310 daily active records were recorded in all games running on the four major smart contract blockchains (Ethereum, EOS, TRON and Ontology) Independent wallet.
In this year, the cumulative increase in users of all games was 118%. As of 2019, Ethereum has become the leader in blockchain with 44% of the total wallet share. EOS accounts for 41% of the wallet business, and TRON and ontology business account for 9% and 4%, respectively.
It is worth noting that the success (and failure) of each game is based on the active players, which is obviously more driven by the behavior of a single player than by the overall scale of events on the blockchain Decisions, although they also have an impact on results.
In this case, this report focuses on monthly player retention as a key indicator of success.
After analyzing the dapps with the highest retention rates of different public chains, it is found that games running on Ethereum are more likely to establish user retention rates in a year. In part, this is due to the fact that these games were launched long ago as products and how they interact with the Ethereum blockchain.
In contrast, games running on the EOS blockchain are not mature enough in function and need to handle systematic EIDOS airdrops, so dapp activity on the EOS blockchain is significantly reduced.
But more generally, with few obvious exceptions, few blockchain games have learned from non-blockchain games to build strong user retention features, such as daily and weekly login rewards and monthly rewards. , As well as VIP subscription model rewards.
The good news in this case is that these functions are relatively easy to implement. Therefore, we expect the industry's user retention rate to grow strongly in 2020.
Of course, all game developers with retention rates below 50% need to seriously consider their products. As examples like My Crypto Heroes and CryptoDozer show, even those game operators with 60% user retention need to have a plan in place to increase it to more than 75%.

The most popular chain tour monthly retention rate reaches 75%
There are many ways to measure retention, but for clarity and timeliness of the report, in this report, we consider the monthly retention of independent wallets in each game.
This metric divides the monthly audience of each game into two parts: new users and retained users, which are compared with the independent wallet data of the previous month. This effectively shows whether the player likes to experience and continue to play the game on a monthly basis, or quickly exits the game.
Please note that this method is not suitable for measuring mid-term or long-term re-engagement of an audience over two months or more.
Such an analysis yields a wide range of retention rates. Some of these retentions are attributed to the type of game, while others are related to blockchain characteristics.
But the main reason for retention is the interaction between players and in-game features.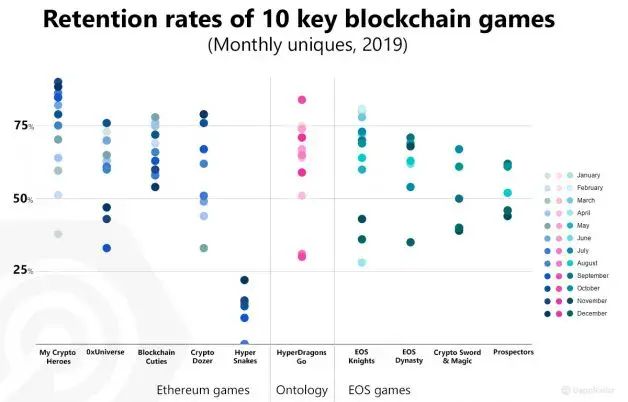 In this report, we have considered the performance of 10 blockchain games; 5 are running on the Ethereum blockchain, 4 are running on EOS, and 1 is running on the ontology. TRON was excluded because, despite its large number of games, none of the games maintained a large user base on TRON during 2019 to provide useful data.
We can clearly see that during 2019, the monthly retention rate of each indie game varies widely.
Some games have monthly retention rates above 75%, while most games have monthly retention rates above 50%. All games have an influx of new players for more than a few months, which means that they rely on new players to achieve overall growth.

Highest ranked Ethereum game retention rate
The first games considered were five games running on the Ethereum blockchain.They mainly used the blockchain to obtain NFT ownership, and several games also used it for payment and subscription.
MyCrypto Heroes
In terms of overall retention, the best-performing blockchain game in 2019 is "My Crypto Hero" developed by Japanese studio Double Jump.Tokyo. In terms of user numbers and growth, it is also one of the most popular Ethereum games, with nearly 5,000 active independent wallets per month by the end of this year.
One of the reasons for staying active is the retention rate of the game, which steadily increased in the second half of 2019 and continued to exceed 75%, reaching 89% by the end of the year. This situation is not accidental, but results from a high degree of attention to iterative product improvements and community development.
Especially worth mentioning is the main monthly subscription of "My Crypto Hero", which attracts users through daily login rewards.

From the monthly wallet data, the progress of My Crypto Heroes in 2019 is obvious. However, the increase in retention can also be seen as a decline in new users. In the first quarter, more than 1,500 new players started playing the game each month, but over time, that number dropped to less than 1,000.
Nonetheless, My Crypto Heroes has done a good job of retaining the player base, and by December it was still able to steadily increase the total number of monthly active wallets to nearly 4,000.
0xUniverse (Ethernet)
In the first half of 2019, the monthly retention rate of 0xUniverse of 0xGames was stable above 60%, while the results in the second half of the year were ups and downs.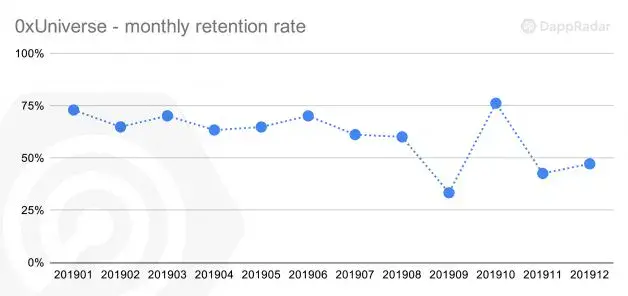 There are two main reasons for this. Most players in the game are using Ethereum transactions, so 0xUniverse was severely affected by the doubling of Ethereum fuel costs in September. This caused its retention rate to drop to 33%, with more than 2,000 active independent wallets lost during the month.
When the Ethereum fuel bill returned to normal in October, many "lost" players returned. However, even if the total monthly number including new players reaches a peak of 4,260 in 2019, the number of retained players has not rebounded to the summer peak.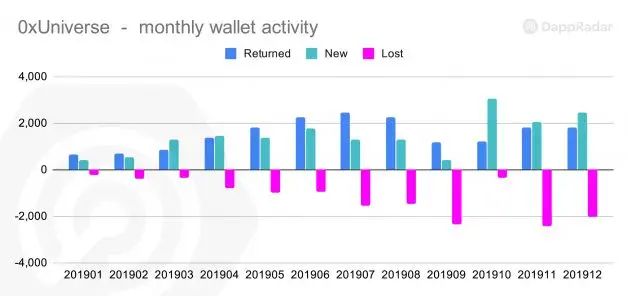 Another major reason for these trends is that 0xUniverse is a game that lacks strong appeal to users, especially in terms of first-time user experience. This means that when the number of new players increases (as happened at the end of 2019), retention rates tend to decline as new players find the game difficult to understand.
BlockchainCuties
Latvian developer We Can Games 'blockchain cute pet is the one with the narrowest fluctuations in retention rates among the games surveyed. It maintained a high retention rate during the first five months of 2019, reaching a peak of over 75% in May.
However, it was less successful in the second half of the year, partly because in May and June, more new players started to play on the blockchain. Such influxes tend to reduce retention unless a game can provide a perfect user experience, allowing players to return every month.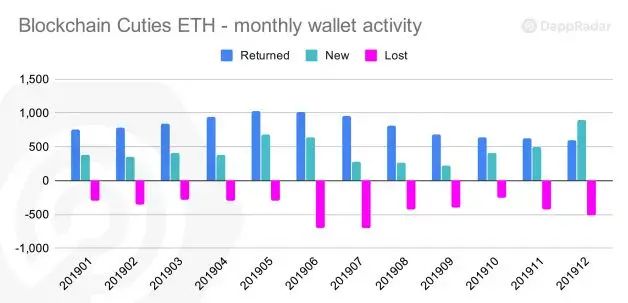 Despite this, blockchain cuteness is still the only game in the survey to maintain a retention rate of more than 50% during 2019.
When Forge was launched in December, its number of new users also surged. This will re-engage a large number of lost players more than a month ago. This also contributed to the strong growth in the number of "new wallets" that month.
CryptoDozer (crypto coin pusher)
As a casual arcade collection game, new users can easily understand how CryptoDozer works. In addition, it gives away free tokens every 30 seconds to promote daily games. Let players spend ETH to buy items in the game and return more valuable rewards weekly and monthly.
However, how did CryptoDozer develop with a user retention rate of less than 50%. As Korean game developer PlayDapp focuses on meta-game elements, including those that use its ERC20 PLA ​​token, the retention rate has steadily increased to over 75%.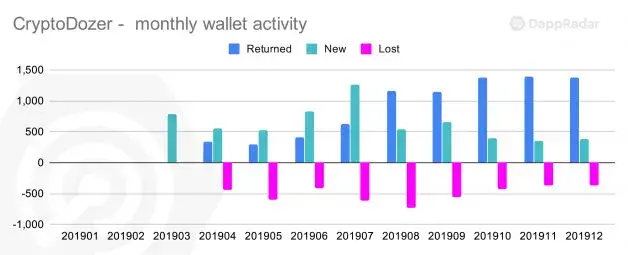 This can also be seen by tracking the flow of retained, lost and new wallets.
CryptoDozer has a fixed user base since August, but in terms of casual games, it has added less than 500 monthly players during this period, compared with the 1,300 new wallets in July. Less amazing.
HyperSnakes
Based on our previous analysis, Mixmarvel's HyperSnakes monthly retention data graph results are also somewhat shocking. Of the 10 games analyzed for this report, it showed the lowest retention rate to date, at best only 25%.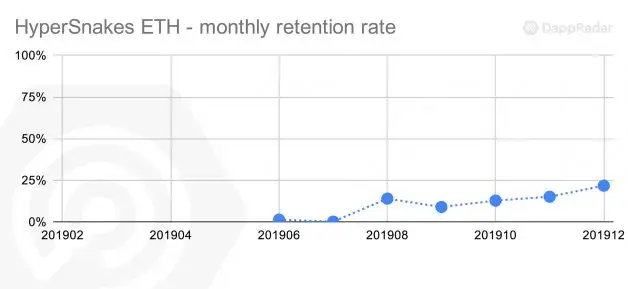 Part of the reason is that the game is in a trial phase before it is officially released; due to its simple gameplay, discounted items and speculative rewards, it will attract thousands of new wallets every month.
In fact, in July 2019, HyperSnakes attracted a total of 47,336 new wallets, but only 102 remained in the following month. This is also a warning to developers that having a strong incentive mechanism for the game during the release process does not mean that it can automatically build a long-term audience. This requires the game operator to consider the inherent complexity of the blockchain dapp.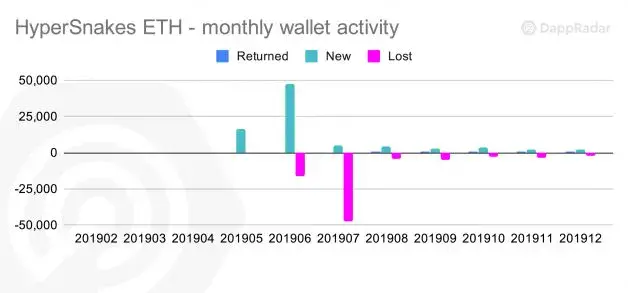 After the game was released, the monthly inflow of the new wallet dropped to thousands, and on the other hand, the retention rate of the game also improved. However, the vast majority of new wallets no longer enter this game after first experiencing HyperSnakes.

Highest retention rate of ontology games
Ontology is an enterprise-centric smart contract blockchain that also supports a small number of games.
HyperDragons Go
Running on the ontology blockchain, it is clear that for HyperDragons Go of Mixmarvel, 2019 is a year that can be divided into two phases, although it cannot be immediately seen from its monthly retention rate.
However, the ratio is wide: as low as 30% in September and peaking at 84% in October, suggesting that its data is undergoing significant changes.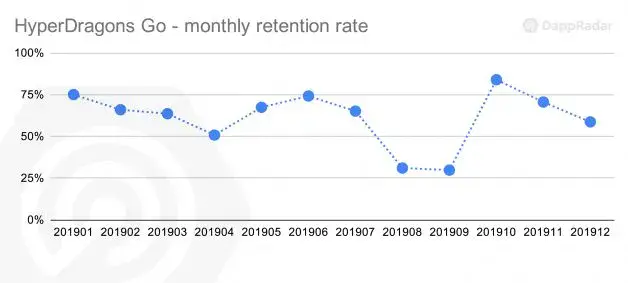 To understand this, we must look at wallet activity. As of July, both new wallets and retained wallets have shown high user traffic. Indeed, no game other than HyperSnakes' release month recorded thousands of monthly active independent wallets like HyperDragons Go recorded in this report.
However, after July, this figure dropped sharply. Starting in September, it is measured by thousands of wallets per month, which is roughly similar to the data of other blockchain games.
In this case, the retention rates in August and September dropped sharply, apparently because a large amount of previous traffic was generated from the gaming experience, and this experience does not seem to have the characteristics to attract long-term retention users.
This is also reflected in the decline in HyperDragonGo's retention rate in the last three months of 2019, from 84% in October to 59% in December.

Top ranked EOS game retention
Here, we consider four of the highest ranked games running on the EOS blockchain.
EOS Knights
In the first half of 2019, Korean developer Biscuit Labs' EOS Knights is the most popular game on the EOS blockchain. During February and March, its active standalone wallet peaked at no less than 10,000, which also reflects its accessibility as a free mobile idle RPG game.
However, this situation is changing rapidly, and the retention rate of the game has dropped from 80% in April to 28%.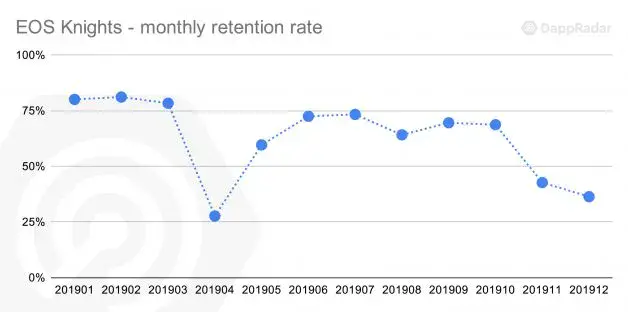 Although idle games often lack long-term user retention, it's unclear why this happens. Similarly, it is well known that similar blockchains such as the EOS Blockchain and TRON Blockchain that use Proof of Stake Consensus (Pos) will be disturbed by robot activities, which may cause high monthly user activity fluctuations.
It is worth noting that April is the peak month for new users-more than 5,500 independent wallets.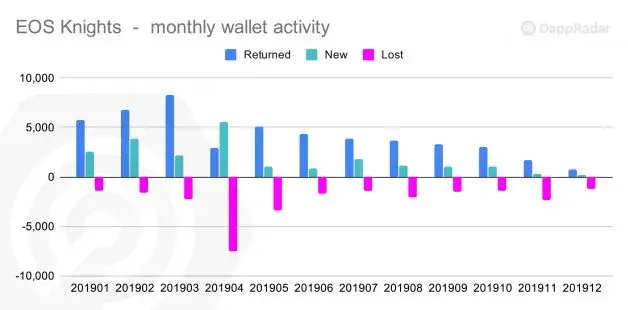 Since then, EOS Knights has continued to lose more users than it has added or retained, although its monthly retention rate has remained stable through November.
However, at this stage, the entire EOS ecosystem is suffering from network congestion caused by the EIDOS token airdrop, which means that many wallets with a small amount of EOS can no longer access the EOS blockchain.
Based on the above factors, EOS Knights has less than 1,000 active independent wallets per month at the end of 2019.
EOS Dynasty (EOS Three Kingdoms)
Launched in the summer, EOS Dynasty is actually an "EOS Knights" version for Chinese audiences, with the artistic theme and background of "Three Kingdoms". It also has its own in-game tokens that can be used for its item market and bonus rewards.
These features have allowed EOS Dynasty to maintain a retention rate of 71% to 54% in most months. Subsequently, in December last year, the index fell sharply to 36%.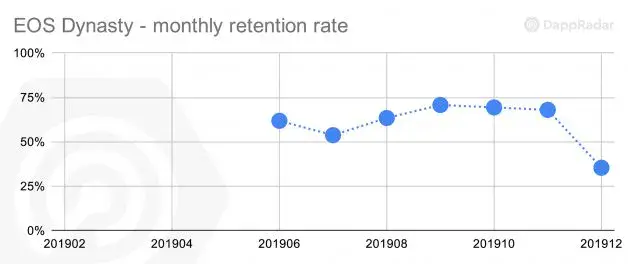 The reason was a large influx (over 7,500) of new wallets in November. However, these wallets have not been successfully converted by the game, and more than 7,000 wallets were lost in December. This reminds us again that it is not a wise choice for developers to attract a large number of wallets through promotions or marketing, unless they can ensure that their games are accessible and can bring players into longer-term meta-game features Medium, and players can be included in the long-term gaming experience.
However, by the end of 2019, the total number of EOS Dynasty's retained wallets has increased to nearly 4,000, and the total number of active wallets has exceeded 6,000, making it the most popular blockchain game.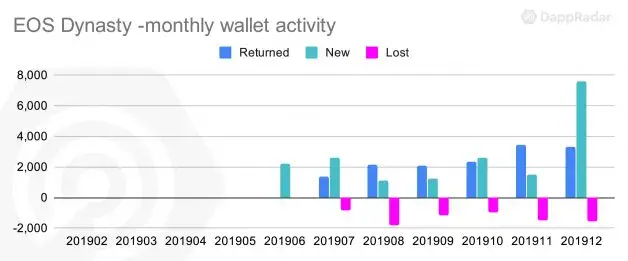 Prospectors
Prospector is an economic simulation game based on the California gold rush. It was launched in July by a development team in Ukraine. Like EOS Dynasty, it uses its own in-game tokens to obtain value. While this may provide a powerful long-term retention feature, it also adds complexity to the early stages of the game.
This is also one of the underlying reasons for the relatively low retention rate of prospectors. Except for one month after listing, the retention rate of prospectors has been declining, and will be less than 50% by the end of 2019. Of course, there is also the impact of EOS network congestion in November and December, especially in terms of monthly retention users.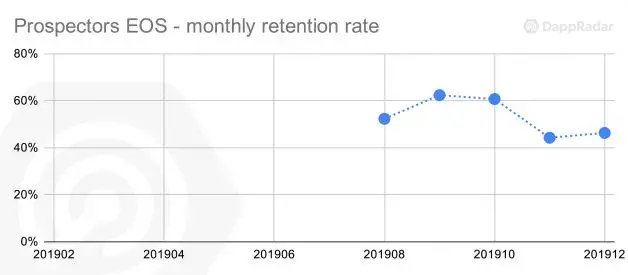 On a more positive note, prospectors do attract a large number of new independent wallets each month. It attracted more than 6,500 independent wallets when it was released, and thereafter attracted more than 1,500 each month, including more than 6,000 in November.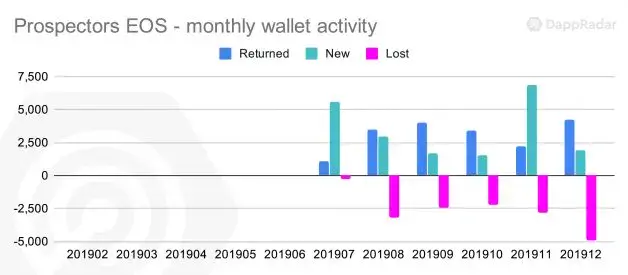 Crypto Sword & Magic
Crypto Sword & Magic's user retention in 2019 seems to be typical of many games running on EOS. Prior to the EOS Blockchain congestion in the last two months of 2019, it launched strongly, then fell, and finally rebuilt.
But even rebuilding hasn't helped much in attracting users, because Crypto Sword and Magic is a mobile RPG game that was accessible at an early stage, but it has relatively weak meta-game capabilities.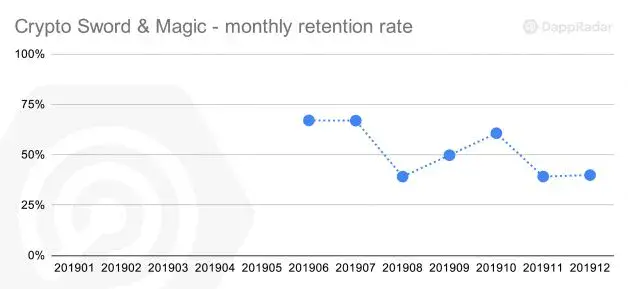 However, considering that the total number of unique wallets active each month peaked in November and the total retention peaked in October, the biggest problem with Crypto Sword & Magic seems to be EOS congestion.